Principle and Power Plays: the Situational Ethics of Union 'Raiding'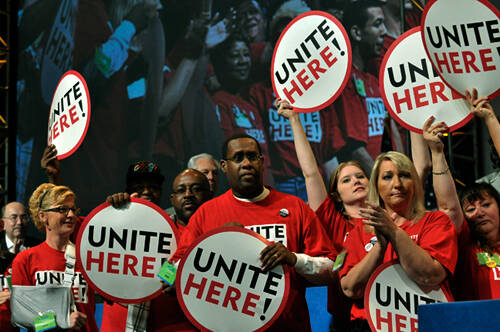 PITTS­BURGH — No sub­ject ignites the pas­sions of labor offi­cial­dom more than ​"raid­ing." In his blus­tery maid­en address as pres­i­dent of the AFL-CIO, Rich Trum­ka won thun­der­ous applause this week at the federation's con­ven­tion in Pitts­burgh by announc­ing that any­one dar­ing to ​"raid an AFL-CIO [affil­i­ate] will find 1,000 orga­niz­ers com­ing to the res­cue of that union."
In trade unions that too often treat their own mem­bers like chat­tel, there are few threats greater, with­in the ​"house of labor," than an affil­i­ate which tries to steal the dues-pay­ing ​"prop­er­ty" of another.
The very term used to describe this activ­i­ty con­jures up images of unfriend­ly Native Amer­i­can vis­its to the first Euro­pean colonies in North Amer­i­ca. In labor cir­cles, ​"raid­ing" almost always has a neg­a­tive connotation.
Unless, of course, your own union is the one dis­patch­ing the ​"raid­ing party."
The AFL-CIO has had ​"no-raid­ing" rules in effect for 54 years. For the last half cen­tu­ry, this has made it much hard­er for legit­i­mate­ly dis­grun­tled work­ers to switch unions. They could only replace their exist­ing bar­gain­ing rep­re­sen­ta­tive with an ​"unaf­fil­i­at­ed" union (such as the Unit­ed Elec­tri­cal Work­ers or the Nation­al Edu­ca­tion Asso­ci­a­tion), form a small inde­pen­dent union of their own, or hook up with a for­mer AFL-CIO affiliate.
A num­ber of major unions have end­ed up in that last cat­e­go­ry since 1955. A few have been expelled for cor­rup­tion (like the Team­sters and oth­er mobbed-up labor orga­ni­za­tions in the late 1950s).
Some unions dis­af­fil­i­at­ed and then regrouped with oth­er defec­tors in for­ma­tions such as Wal­ter Reuther's short-lived Alliance for Labor Action (that includ­ed the rack­et-rid­den Team­sters) or Andy Stern's four-year old Change To Win, now equal­ly trou­bled and down to only five of its orig­i­nal sev­en unions.
What­ev­er their roots or ratio­nale, schisms in the ​"house of labor" are invari­ably accom­pa­nied by much-feared ​"rogue union" activity.
That's why, in Pitts­burgh this week, AFL-CIO con­ven­tion­eers called a brief halt to an end­less stream of speech­es and res­o­lu­tions about cor­po­rate mis­be­hav­ior to deal with a men­ac­ing labor mis­cre­ant and out­lier — Doug McCarren's Unit­ed Broth­er­hood of Car­pen­ters (UBC).
The 500,000-member UBC left the AFL ahead of oth­er CTW unions, say­ing its per capi­ta dues were being wast­ed on the inef­fec­tive ​"New Voice" pro­grams of John Sweeney. Then, in 2005, it joined CTW. Then, last Fall — in a devel­op­ment con­cealed by CTW until this month – the UBC stopped pay­ing dues to Stern's new fed­er­a­tion as well.
A week ago, McCar­ren made it offi­cial — he's now out of Change To Win too, sev­er­al steps ahead of John Wilhelm's UNITE-HERE, which reaf­fil­i­at­ed with the AFL-CIO yesterday.
In the mean­time, McCarren's crit­ics say, he has been under­cut­ting AFL con­struc­tion unions by offer­ing con­trac­tors wall-to-wall labor agree­ments designed to replace oth­er skilled trades­men with his own mem­bers, who will be employed for less pay under more ​"flex­i­ble" work rules.
Not sur­pris­ing­ly, this has made his fel­low build­ing trades­men – plus man­u­fac­tur­ing and even pub­lic employ­ee union­ists – quite irate.
Mike Sul­li­van, gen­er­al pres­i­dent of the Sheet Met­al Work­ers, was among those who took the mike Wednes­day in Pitts­burgh to denounce the Car­pen­ters and bemoan his union's expen­di­ture of ​"mil­lions of dol­lars defend­ing the rights of mem­bers who don't want to be in their union."
Tom Buf­fen­barg­er, pres­i­dent of the Machin­ists (IAM), declared that ​"this is not just a build­ing trades issue. This is an issue for all oth­ers" in the fed­er­a­tion (as indeed it is, since the IAM has been poach­ing truck­ers from the Team­sters in the Midwest!)
These more con­ser­v­a­tive speak­ers were joined by for­mer UE orga­niz­er Ken Allen, now the top AFSCME offi­cial in Ore­gon and a past Labor Notes con­fer­ence par­tic­i­pant. Allen blast­ed both the UBC and SEIU, head­ed by Andy Stern. (Stern's top-down ​"mod­ern­iza­tion," cen­tral­iza­tion of con­trol over bar­gain­ing, and forced con­sol­i­da­tion of locals has often been com­pared to the Car­pen­ters' own restruc­tur­ing under McCarren).
Allen told the con­ven­tion that affil­i­ates ​"who left in 2005 opened the door for all kinds of trou­ble… SEIU and the Car­pen­ters are doing the boss­es' work when they raid our unions."
All of these speak­ers favored adop­tion of Res­o­lu­tion 70, which calls for the cre­ation of an AFL-CIO-backed ​"Car­pen­ters' Orga­niz­ing Com­mit­tee" — if and when the UBC fails to return to the fold, and, hence­forth, stick to its own jurisdiction.
The res­o­lu­tion was passed unan­i­mous­ly. Its spon­sors are clear­ly hop­ing that the Car­pen­ters' ​"raid­ing" of them will be curbed by the AFL-CIO threat­en­ing to recruit car­pen­ters to a new enti­ty that would com­pete with the UBC (a move some might call ​"raid­ing").
Opin­ion was divid­ed on the like­li­hood of this hap­pen­ing. An Oper­at­ing Engi­neer from Chica­go expressed skep­ti­cism about the COC scheme and demand­ed to know why oth­er Change To Win defec­tors weren't get­ting sim­i­lar treatment.
Sal Rossel­li, inter­im pres­i­dent of the Nation­al Union of Health­care Work­ers formed last win­ter to replace SEIU in Cal­i­for­nia, was at the con­ven­tion as a guest. He cer­tain­ly would have wel­comed mate­r­i­al aid for NUHW's chal­lenge to Stern — the prod­uct of real rank-and-file ini­tia­tive and work­place orga­niz­ing, not mere res­o­lu­tion-pass­ing by the AFL.
Over­looked in the Res­o­lu­tion 70 debate was one bit of insight into the dynam­ics of inter-union com­pe­ti­tion — and a pos­i­tive effect often unap­pre­ci­at­ed even by those on the left in labor.
"The UBC pres­i­dent has made me a bet­ter rep­re­sen­ta­tive," said a Painters' union offi­cial from Philadel­phia last Wednes­day (while still decry­ing the $9 mil­lion his union had spent keep­ing the UBC at bay).
The Painter was admit­ting to oth­er del­e­gates that McCar­ren had forced him to work hard­er and be more respon­sive to his mem­bers' job-relat­ed con­cerns. If he didn't, the siren call of the Car­pen­ters might suc­ceed in lur­ing them away.
And that's exact­ly why all so-called ​"raid­ing" is not mere­ly employ­er-assist­ed, busi­ness union poach­ing. Raid­ing can also take the form of a work­ers lib­er­a­tion move­ment — like the bot­tom-up effort of Cal­i­for­nia health­care work­ers to build the NUHW as an alter­na­tive to SEIU, after the lat­ter took over their local, stripped them of elect­ed lead­ers down to the stew­ard lev­el, and pro­ceed­ed to offer McCar­ren-style con­tract con­ces­sions to hos­pi­tals and nurs­ing homes that pre­vi­ous­ly had to deal with a more aqgres­sive union.
If the UE hadn't ​"raid­ed" the com­pa­ny union that pre­vi­ous­ly rep­re­sent­ed (in shod­dy fash­ion) the work­ers at Repub­lic Win­dows and Doors in Chica­go, would there have been a fac­to­ry sit-in last Decem­ber and a now-suc­cess­ful cam­paign to keep the plant open under new own­er­ship? I doubt it.
If there was more ​"employ­ee free choice" of unions among the already orga­nized, we might even see more work­place sit­u­a­tions where sol­i­dar­i­ty, uni­ty and ​"fight­ing back" aren't just words in a resolution.
Steve Ear­ly worked for 27 years as an orga­niz­er and inter­na­tion­al rep­re­sen­ta­tive for the Com­mu­ni­ca­tions Work­ers of Amer­i­ca. He is the author of sev­er­al books, includ­ing Refin­ery Town: Big Oil, Big Mon­ey, and the Remak­ing of an Amer­i­can City (Bea­con Press).