Unpaid Prison Barber Made to Work During Covid Says, "We Aren't Properly Disinfecting Anything"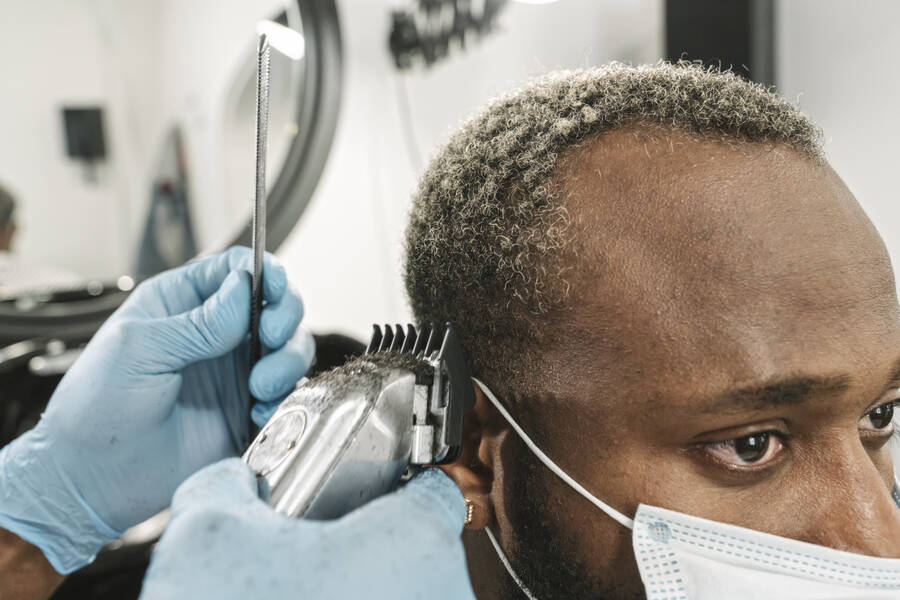 Each morn­ing at 8:30, Ron begins trim­ming hair and beards at a bar­ber shop from hell. As soon as he walks in, some­one is wait­ing for a cut in a lit­tle plas­tic chair. Over the course of the next three hours, he flies through about 35 cuts, and anoth­er 35 in the after­noon, along­side sev­er­al oth­er barbers.
"It's roach-infest­ed, the mir­ror isn't cleaned," says Ron, who asked In These Times to with­hold his real name for fear of retal­i­a­tion. ​"There's no brooms, no mops, there's no dust­pans, the sinks are clogged with hair. Dis-gust-ing."
On a reg­u­lar day, a long line forms out­side the shop. Every­one is sweaty in Flori­da's heat. ​"The bar­ber shop does­n't have much ven­ti­la­tion or air con­di­tion­ing and there's a lot of hair every­where," one ​"client" says. ​"Hair is stuck to every­thing, the capes are reused, they are wet and sticky with oth­er people's hair. The chairs are broken."
Such an enter­prise in a nor­mal set­ting would swifty receive harsh reviews. But Ron is a bar­ber at a prison in Flori­da. (In These Times is not reveal­ing his spe­cif­ic loca­tion in order to pro­tect him from retal­i­a­tion.) He's been clip­ping hair for about 20 years at com­pounds across the state, and he has nev­er had any con­trol over his labor con­di­tions. Like ​"essen­tial work­ers," incar­cer­at­ed labor­ers must risk their well-being for their jobs. Unlike essen­tial work­ers, in Flori­da, they aren't paid. ​"I got­ta go to work every day," Ron says. ​"They don't care. They are telling us that we are doing social dis­tance, but I'm a foot away from the next man trim­ming his beard, shav­ing him, cut­ting his hair…I could com­plain about it till king­dom come and they don't care."
After an out­break at sev­er­al facil­i­ties, the Flori­da Depart­ment of Cor­rec­tions used uncom­pen­sat­ed prison labor to make masks for the oth­er 176,000 incar­cer­at­ed peo­ple and staff across the state. But the masks are small, frag­ile and bare­ly cov­er the nose and mouth, accord­ing to Ron. He says he was lucky to pur­chase a N95 mask from the cus­to­di­al staff to use instead.
As of June 21, 1,704 incar­cer­at­ed peo­ple and 365 prison staff have been infect­ed with the virus in Flori­da, accord­ing to the Flori­da Depart­ment of Cor­rec­tions. At least 548 incar­cer­at­ed peo­ple in the Unit­ed States have died from Covid-19.
Dis­eases were like­ly spread­ing in the bar­ber shop long before Covid-19 hit. Per fed­er­al bar­ber shop reg­u­la­tions, all tools ​"that come in con­tact with the head, neck or face of a patron, should be dis­in­fect­ed before use upon any patron." But prison bar­ber shops in Flori­da typ­i­cal­ly don't allow time, and in some cas­es, san­i­tiz­ing sup­plies for prop­er dis­in­fect­ing, Ron says. Flori­da reg­u­la­tions spec­i­fy that bar­ber­shop tools must be dis­in­fect­ed by a prod­uct reg­is­tered with the Envi­ron­men­tal Pro­tec­tion Agency ​"as a bac­te­r­i­al, viru­ci­dal and fungi­ci­dal dis­in­fec­tant, and approved by that agency for use in hos­pi­tals, for one to five min­utes." Then, tools should be stored in an ultra­vi­o­let ray san­i­tiz­ing cabinet.
Accord­ing to Ron, Flori­da pris­ons aren't abid­ing by these reg­u­la­tions. ​"If we did what we are sup­posed to do, per OSHA, we would only be able to cut one every fif­teen min­utes because it takes fif­teen min­utes to dis­in­fect," explains Ron. Since he only has one clip­per, he wouldn't be able to trim everyone's beard on a week­ly basis if a prop­er pro­ce­dure were in place. And they don't have the dis­in­fec­tants reg­is­tered with the EPA or UV san­i­tiz­ing cab­i­nets. ​"We aren't prop­er­ly dis­in­fect­ing any­thing," Ron says. ​"That's man­dat­ed by the state of Flori­da. I don't know how they passed inspec­tions." He says staff won't address his con­cerns. ​"When you bring it up they say they don't care…cut hair, or else."
The ​"client," who request­ed anonymi­ty to avoid retal­i­a­tion, describes hair­cuts in prison as ​"scary," cit­ing tools ​"not being san­i­tized, and some of these blades are not prop­er­ly adjust­ed." He explains, ​"you get cut, the guy before you gets cut, the guy after you is get­ting cut and you don't have a choice because you have to get a hair­cut." Every incar­cer­at­ed per­son in Flori­da must keep a clean shaven, or up to a half-inch, beard. Men in soli­tary con­fine­ment at Ron's prison get hair­cuts in their cells while stand­ing, says Ron.
Mean­while, a right-wing, astro­turfed ​"reopen Amer­i­ca" move­ment guid­ed by cor­po­rate inter­ests has been push­ing for reopen­ing non-essen­tial busi­ness­es, while sci­en­tists urge them to remain closed.
Con­tro­ver­sy around hair­cuts have become sym­bol­ic of the Amer­i­can cul­ture wars sparked by the move­ment. In May, the Michi­gan Con­ser­v­a­tive Coali­tion, which has ties to the fam­i­ly of Edu­ca­tion Sec­re­tary Bet­sy DeVos, orga­nized an ​"Oper­a­tion Hair­cut" demon­stra­tion with free hair­cuts, a line that has inspired some Amer­i­cans to com­plain that their shag­gy hair is a vio­la­tion of their con­sti­tu­tion­al rights.
Oth­ers, like a small coali­tion of Rhode Island restau­rants, have point­ed out that shel­ter­ing in place and bank­rupt­cy are a false dichoto­my: ​"Rather than call on work­ers and cus­tomers to risk their lives for a liveli­hood and social expe­ri­ence that we all have been deprived of," the coali­tion wrote. ​"We instead sug­gest that this ener­gy and effort be direct­ed at our gov­ern­ment and its offi­cials to do their job and pro­tect this extreme­ly impor­tant and equal­ly vul­ner­a­ble indus­try dur­ing this cri­sis." The coali­tion sug­gests rent and mort­gage freezes and unem­ploy­ment ben­e­fits as two such efforts.
Pri­or to the reopen­ing of some salons in Flori­da on May 11, Ron ques­tioned the incon­sis­ten­cy of the labor sit­u­a­tion. ​"If my sis­ter can't get her hair and nails done, and she is dying to get them done, why should we not walk around with an afro? It doesn't make any sense."
But he answers his own ques­tion: ​"I know what's going on, it's all about con­trol, it's all psy­cho­log­i­cal. We out­num­ber them. But as long as we are killing each oth­er and fight­ing each oth­er we're not look­ing at the prob­lem which is them. We will always be los­ing, and they will always be laugh­ing at us."
Ella Fassler
is an inde­pen­dent writer, researcher and prison abolitionist.