A Nationwide Campaign to Take Back Cities From the Corporations That Rule Them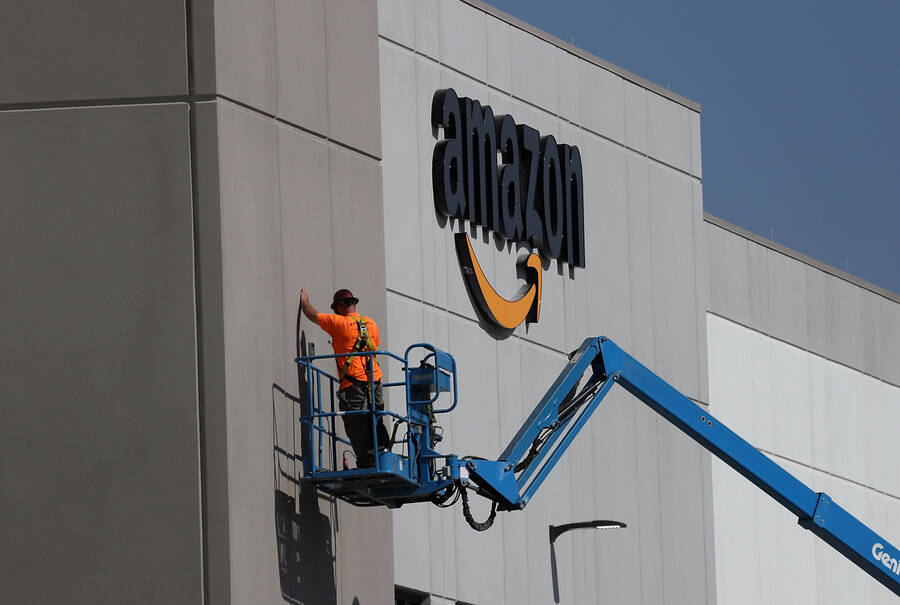 On June 20, the Part­ner­ship for Work­ing Fam­i­lies, a nation­al net­work of advo­ca­cy orga­ni­za­tions, announced the launch of a brand new cam­paign dubbed ​"We Make This City." It con­sists of 10 cities — Atlanta, Boston, Den­ver, Los Ange­les, New York, Oak­land, Pitts­burgh, San Diego, San Jose and Seat­tle — fight­ing for access to and a say over pub­lic infra­struc­ture, from tran­sit to hous­ing to schools to water.
"It is a reac­tion to … the ero­sion of the pub­lic sec­tor, the ero­sion of pub­lic goods and the ero­sion of reg­u­lar peo­ple hav­ing a direct say in shap­ing the futures of the areas in which they live," Part­ner­ship for Work­ing Fam­i­lies deputy direc­tor Lau­ren Jacobs told In These Times. It's also in oppo­si­tion to ​"the rise in cor­po­ra­tions hav­ing an out­sized role in shap­ing the direc­tion and future of cities," she said.
There's increased urgency as tech­nol­o­gy behe­moths hold sway over cities, from Amazon's beau­ty pageant for its sec­ond head­quar­ters to its defeat of a new tax in Seat­tle. ​"Com­pa­nies like Ama­zon or Google come in and want to try to dri­ve deci­sions around the make­up and nature of the city," Jacobs said. ​"We don't show up to somebody's house and say, ​'Well unless you remod­el the bed­room or put in the finest linens and have break­fast for me I'm going to wreck your front yard.'"
We Make This City is ​"a cam­paign but also an agen­da," Jacobs added. The mes­sage is: ​"We have enough," she said. ​"The oth­er side often talks as though we don't have enough mon­ey… We want to expose that, actu­al­ly, we do have enough mon­ey in cities and metro regions. [The ques­tion] is about who con­trols it." The coali­tion wants ​"to put for­ward a vision of abun­dance and fight back against the use of scarci­ty as a way to dri­ve an extrac­tive agen­da," Jacobs explained.
There's good rea­son to focus on cities. For one thing, about two-thirds of the country's pop­u­la­tion lives in them. For anoth­er, they are hotbeds of orga­niz­ing, from Occu­py Wall Street to Black Lives Mat­ter. The Part­ner­ship for Work­ing Fam­i­lies aims to con­nect those orga­niz­ers so they can help each oth­er build their movements.
In New York, as Gov­er­nor Andrew Cuo­mo invests in new sub­way lines and upgrades, such as elec­tri­fy­ing city bus­es and adding a new train to con­nect Man­hat­tan with LaGuardia air­port, ALIGN, a com­mu­ni­ty orga­ni­za­tion in the city, wants to ensure that mon­ey is also going to serv­ing ​"tran­sit deserts" that don't cur­rent­ly have access to the sub­way. ​"We want to have tran­sit equi­ty," said Mar­itza Sil­va-Far­rell, the group's exec­u­tive direc­tor. Invest­ment ​"needs to be giv­en pri­or­i­ty to those com­mu­ni­ties so folks can get to and from work and real­ly allow folks to be able to live in the city." One par­tic­u­lar goal is to turn the city's school bus sys­tem into a work­er-owned coop­er­a­tive while also tran­si­tion­ing to elec­tric bus­es to ben­e­fit stu­dents' health.
Advo­cates are also look­ing to expose the banks and real estate com­pa­nies that may be prof­it­ing from the Met­ro­pol­i­tan Tran­sit Authority's woes, includ­ing ​"fig­ur­ing out why it is that we are so much in debt and how we're cov­er­ing the inter­est that we are pay­ing," Sil­va-Far­rell said. ALIGN is work­ing on a map of the cor­po­ra­tions and banks that wield influ­ence over the gov­er­nor and state leg­is­la­ture as they make deci­sions about things like pub­lic transit.
It's about ​"how we as peo­ple who live in the city can define, and will be defin­ing, what kinds of trans­porta­tion, hous­ing, infra­struc­ture over­all we want in our city," she said. ​"We're try­ing to trans­form sys­tems from the bot­tom up."
Coali­tion mem­bers in Atlanta are also focused on trans­porta­tion. ​"Traf­fic here in Atlanta is now so severe … it's real­ly become an issue," said Amari Fos­ter, an orga­niz­er with Geor­gia STAND-UP. But cur­rent­ly, the Met­ro­pol­i­tan Atlanta Rapid Tran­sit Author­i­ty only serves a few counties.
In its most recent ses­sion, the Geor­gia leg­is­la­ture vot­ed to give 13 com­mu­ni­ties not cur­rent­ly served by MAR­TA the oppor­tu­ni­ty to opt into an expan­sion. So now Geor­gia STAND-UP is push­ing to get the issue on the bal­lot in three coun­ties that are pre­dom­i­nant­ly African-Amer­i­can or Hispanic.
The group also wants to install a tran­sit rid­er on the com­mit­tees that make deci­sions about pub­lic tran­sit. Right now it's made up of posi­tions filled by elect­ed offi­cials. There's no one ​"from the com­mu­ni­ty that would have the community's best inter­est in terms of new devel­op­ment and where they're going to put sta­tions," Fos­ter said.
"Peo­ple are pay­ing into this, they're being taxed for the ser­vice, and it's not every­where that it needs to be," she added. And yet it's clear ​"how crit­i­cal and impor­tant trans­porta­tion is in terms of jobs and health and every­day life."
Oth­er cities are focus­ing on issues most impor­tant to them. In Pitts­burgh, a group called Pitts­burgh Unit­ed is high­light­ing the con­nec­tion between pri­va­tiz­ing the city's water sys­tem and the high con­cen­tra­tion of lead in the water. To deal with mas­sive debt, the city hired pri­vate firm Veo­lia in 2012 to over­see oper­a­tion of the sys­tem. But the firm has been accused of cut­ting cor­ners that led to high lead con­cen­tra­tions of lead in the water.
The lessons learned in that fight are also help­ing to inform LAANE in Los Ange­les, which is also focused on pub­lic access to water.
While each city has its own agen­da and goals, the gen­er­al thread of pub­lic goods and pub­lic con­trol binds the cam­paign togeth­er. The cities are in reg­u­lar con­tact, shar­ing best prac­tices on research, tac­tics, and how to expose the ills of privatization.
The struc­ture, in which a coali­tion of cities band togeth­er but focus on their own grass­roots ini­tia­tives, is pur­pose­ful. ​"A lot of times there has been a move to think that you can come up with one-size-fits-all solu­tions you dri­ve down to the local lev­el," Jacobs said. Instead, We Make This City is focused on lift­ing up what's going on at the grass­roots. ​"There are a lot of solu­tions and inge­nu­ity on the ground," she said. ​"How do we learn from each oth­er, share wis­dom, share tac­tics, share strate­gies, and look at ways we can com­bine forces at key moments?"
Bryce Covert
, a con­tribut­ing op-ed writer at the
New York Times
, has writ­ten for
The New Repub­lic, The Nation,
the
Wash­ing­ton Post
, the
New York Dai­ly News
,
New York Mag­a­zine
and
Slate
, and has appeared on ABC, CBS, MSNBC and NPR. She won a
2016
Excep­tion­al Mer­it in Media Award from the Nation­al Women's Polit­i­cal Caucus.