Privatization Is Fundamentally An Attack on Democracy. The Teachers Strikes Show Why.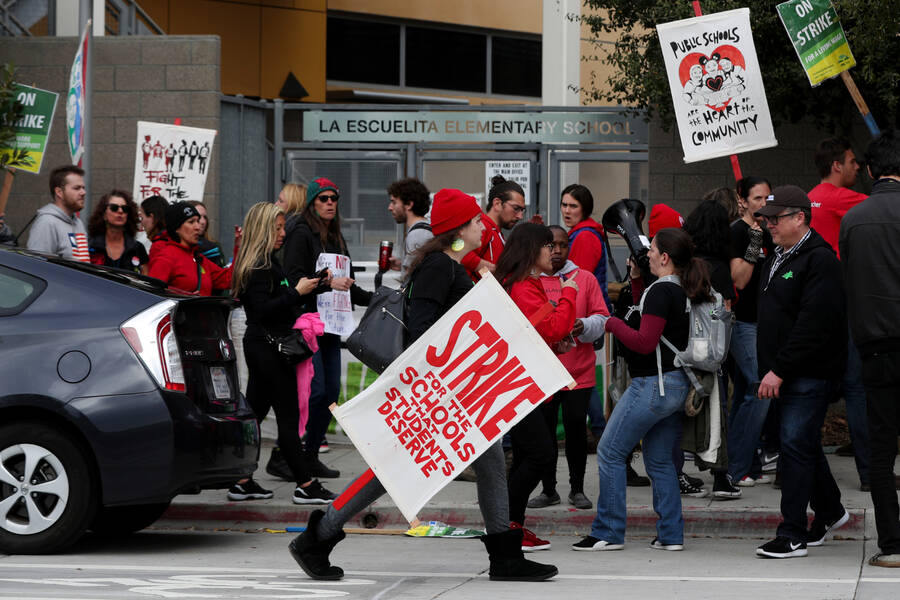 One key fea­ture of the Trump era is a renewed pub­lic focus on the issue of democracy.
Last year's con­gres­sion­al elec­tions had the high­est midterm vot­er turnout since 1966. Amer­i­cans across the coun­try have poured into the streets and packed the halls of Con­gress to protest Pres­i­dent Trump's pow­er grabs. Over one mil­lion peo­ple con­vict­ed of felonies have regained the right to vote in Flori­da, thanks to a suc­cess­ful statewide bal­lot mea­sure. New York City res­i­dents pushed their elect­ed offi­cials to all but force the world's rich­est per­son, Ama­zon CEO Jeff Bezos, to walk away from $3 bil­lion in tax breaks.
But leave it to pub­lic school teach­ers to edu­cate us about a direct attack on democ­ra­cy that's been hid­ing right under our noses since long before the Trump pres­i­den­cy: Privatization.
A wave of teacher strikes is high­light­ing the country's deep­en­ing edu­ca­tion fund­ing cri­sis while also rais­ing con­cerns over the expan­sion of char­ter schools.
Last month, West Vir­ginia teach­ers walked off the job to protest leg­is­la­tion that would have opened up the state to char­ter schools and pri­vate school vouch­ers. Also in Feb­ru­ary, teach­ers in Oak­land walked off on strike in the midst of their district's fund­ing cri­sis, which is being fueled by out-of-date state laws that allow a vir­tu­al­ly unlim­it­ed num­ber of char­ter schools to open. And in Jan­u­ary, Los Ange­les teach­ers walked out, forc­ing their dis­trict to demand that state leg­is­la­tors reeval­u­ate California's char­ter school laws, which they've agreed to do in the com­ing months.
West Vir­ginia teacher Katie Endi­cott from Min­go Coun­ty — which Trump won in 2016 with more than three-quar­ters of the vote — didn't pull any punch­es. ​"It's infu­ri­at­ing that peo­ple would try to prof­it off us: Pri­va­ti­za­tion would give mil­lions of dol­lars to elites and it would cre­ate even more haves and have not," she told Eric Blanc for Jacobin.
There should be no doubt that char­ter schools are a form of pri­va­ti­za­tion. Despite being fund­ed with pub­lic dol­lars, they're often less trans­par­ent about how they spend mon­ey than tra­di­tion­al, neigh­bor­hood schools. They also often rent build­ings that weren't designed as schools and they pay teach­ers, who are less like­ly to be union­ized, much less.
Most sig­nif­i­cant­ly, they're man­aged by pri­vate boards of unelect­ed mem­bers who get to decide how to spend pub­lic mon­ey with lit­tle to no account­abil­i­ty to par­ents, teach­ers and vot­ers. Char­ter schools are, in a word, undemocratic.
Debates about pri­va­ti­za­tion often shy away from ques­tions of democ­ra­cy and focus on costs — will out­sourc­ing a pub­lic good, say, bussing, save the gov­ern­ment mon­ey? Or on effi­cien­cy — if a char­ter school pro­duces high test scores, who cares how it does so?
Evi­dence that pri­va­ti­za­tion saves mon­ey is mixed at best, and char­ter schools gen­er­al­ly per­form about the same as neigh­bor­hood schools on stan­dard­ized test­ing, but that's beside the point. The more impor­tant ques­tion is: Will out­sourc­ing take deci­sion mak­ing pow­er away from the public?
Char­ter schools cer­tain­ly do. For exam­ple, Cesar Chavez Pub­lic Char­ter Schools for Pub­lic Pol­i­cy, a promi­nent Wash­ing­ton, D.C., char­ter school chain, recent­ly announced that it was clos­ing one of its cam­pus­es with no warn­ing. Teach­ers found out in the mid­dle of the school day when a jour­nal­ist reached out for com­ment. Some par­ents learned from see­ing the clo­sure report­ed on the news.
Because Chavez's board meet­ings are closed to the pub­lic, and even to employ­ees, no one knew the chain had been in finan­cial trou­ble. No one could weigh in on the deci­sion out­side of the board, which includes a pri­vate equi­ty investor and a retired Exxon­Mo­bil exec­u­tive, among oth­er cor­po­rate lead­ers. The board even­tu­al­ly explained that they decid­ed to close the school to lease out its build­ing, or, as they put it, ​"mon­e­tize the asset."
There are cer­tain­ly great char­ter schools, just like there are great neigh­bor­hood schools. And it's under­stand­able that some par­ents want to send their kid to a dif­fer­ent school, par­tic­u­lar­ly in poor and work­ing-class com­mu­ni­ties where neigh­bor­hood schools are fre­quent­ly starved of funding.
But when char­ter schools are allowed to replace neigh­bor­hood schools, they threat­en the democ­ra­cy that makes pub­lic edu­ca­tion tru­ly pub­lic.
In that way, char­ter schools are one tac­tic in a decades-long push by cor­po­rate-backed politi­cians, wealthy fun­ders and con­ser­v­a­tive think tanks to pri­va­tize pub­lic goods and ser­vices. They fit right in with oth­er forms of pri­va­ti­za­tion, like pri­vate pris­ons, which turn our already out-of-con­trol and inhu­mane crim­i­nal jus­tice sys­tem into a gold rush for a hand­ful of cor­po­rate exec­u­tives and Wall Street banks, and ​"pub­lic-pri­vate part­ner­ships," which shield deci­sions about infra­struc­ture spend­ing from pub­lic view in com­pli­cat­ed pri­vate financ­ing contracts.
The through line is an attack on democ­ra­cy. Yes, pri­va­ti­za­tion is a cor­po­rate cash grab as well as a con­ve­nient way for politi­cians to dodge account­abil­i­ty and dis­tract us from demand­ing high­er tax­es on cor­po­ra­tions and the wealthy. But most of all, it takes deci­sion-mak­ing pow­er from the pub­lic and puts it into the hands of corporations.
It's time to see pri­va­ti­za­tion for what it is: An all-out attack on demo­c­ra­t­ic deci­sion mak­ing. Thank­ful­ly, by with­hold­ing their labor, teach­ers across the coun­try are show­ing us the most effec­tive way to fight back.
Jere­my Mohler
is a Wash­ing­ton D.C.-based polit­i­cal writer with In the Pub­lic Inter­est and a med­i­ta­tion teacher.