House Passes Bill to Dramatically Strengthen the Power of Unions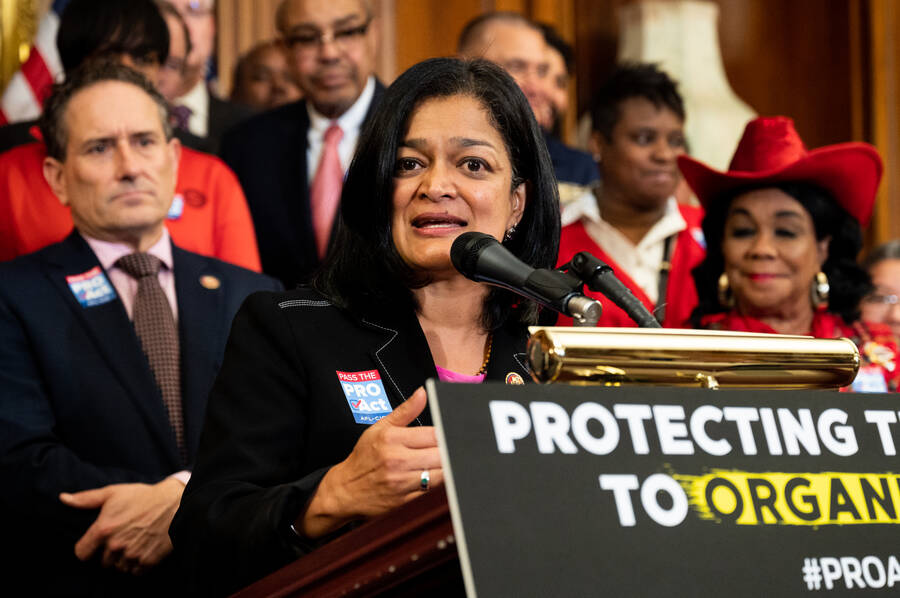 House Democ­rats just passed an impor­tant blue­print for strength­en­ing unions and build­ing work­er pow­er. If signed into law, the labor law reforms with­in the Pro­tect­ing the Right to Orga­nize (PRO) Act would amount to the biggest change to the rules gov­ern­ing employ­ers and work­ers in gen­er­a­tions. Among oth­er major fea­tures, it would bol­ster work­ers' abil­i­ty to union­ize, expand orga­niz­ing rights to more work­ers and strength­en the right to strike.
Although flawed­, the leg­is­la­tion would go a long way toward revers­ing decades of GOP-backed efforts to grind unions into dust.
"This is about stem­ming the assault that the Repub­li­cans are mak­ing on the rights of work­ing men and women in our coun­try," House Speak­er Nan­cy Pelosi (D‑Calif.) said dur­ing a press con­fer­ence on Wednesday.
Bob­by Scott (D‑Va.), who spon­sored the PRO Act along with 218 oth­er House mem­bers, includ­ing three Repub­li­cans, called the leg­is­la­tion the ​"most sig­nif­i­cant update in U.S. labor laws in 80 years" and ​"a major step towards cre­at­ing an econ­o­my where every­one can succeed."
But the PRO Act, which the House approved Thurs­day evening with a 224 – 194 vote (most­ly along par­ty lines), has essen­tial­ly no chance of becom­ing law any­time soon. Although 40 Demo­c­ra­t­ic sen­a­tors do sup­port the Sen­ate ver­sion of the bill, it is unlike­ly to be passed by the Repub­li­can-con­trolled Sen­ate and will not be tak­en up for con­sid­er­a­tion dur­ing the cur­rent leg­isla­tive ses­sion by the Com­mit­tee on Health, Edu­ca­tion, Labor and Pen­sions, The Wash­ing­ton Post report­ed Thursday.
So why did Speak­er Pelosi both­er bring­ing the bill to a floor vote this week? It's an elec­tion year. The PRO Act strength­ens Democ­rats' claim to be the only par­ty real­ly fight­ing for the mid­dle and work­ing class­es. And it hands orga­nized labor a vic­to­ry to point to, giv­ing unions a ral­ly­ing cry that could serve to solid­i­fy their mem­bers' active sup­port for whomev­er becomes the Demo­c­ra­t­ic nom­i­nee lat­er this year.
"Stand with us today and we'll stand with you tomor­row," AFL-CIO Pres­i­dent Richard Trum­ka said at the press con­fer­ence along­side Democrats.
None of this is to argue the PRO Act's pas­sage is sole­ly a ploy by Democ­rats to shore up labor's sup­port as the cam­paign sea­son lifts off. It sig­nals the Demo­c­ra­t­ic Party's left­ward move­ment since the 2016 elec­tion cycle. We've seen a wave of labor actions among teach­ers, jour­nal­ists and non­prof­its; it is no coin­ci­dence that the par­ty has embraced an ambi­tious labor law reform bill amid this new orga­niz­ing momen­tum. Democ­rats are shift­ing left along with the party's base.
While it's true that vot­ing for a bill you know will not become law any­time soon isn't exact­ly an act of polit­i­cal courage, mem­bers of Con­gress deserve applause for pass­ing a mea­sure that would clear­ly add mus­cle to a flail­ing union movement.
What the PRO Act would change
For about the last 40 years, employ­ers have whit­tled away at labor pow­er and unions through a host of union­bust­ing tac­tics. Mean­while, GOP-con­trolled state leg­is­la­tures have passed so-called ​"right to work" laws that have kneecapped unions by allow­ing employ­ees to opt out of pay­ing dues even though unions that still must rep­re­sent them.
To counter all of this, the PRO Act, would among oth­er things:
Penal­ize employ­ers who fire or retal­i­ate against work­ers try­ing to form a union.
Stream­line the union cer­ti­fi­ca­tion process.
Pro­hib­it employ­ers from forc­ing employ­ees to attend anti-union meet­ings, often deployed dur­ing orga­niz­ing drives.
Elim­i­nate right-to-work laws, which exist in

27

states.
Ban the per­ma­nent replace­ment of strik­ing workers
Legal­ize sec­ondary boy­cotts and picketing.
Make it hard­er to clas­si­fy work­ers as inde­pen­dent con­trac­tors (sim­i­lar to California's AB

5

bill, which Uber and Lyft are fighting).
It all adds up to a poten­tial pow­er rebal­ance that could help to counter ram­pant inequal­i­ty and gen­er­al­ly stag­nant wages across vast swaths of the U.S. econ­o­my. Var­i­ous groups aligned with busi­ness — from The Nation­al Retail Fed­er­a­tion to the U.S. Cham­ber of Com­merce—are, of course, apoplec­tic over the pro­posed legislation.
Major omis­sion
The PRO Act does indeed include a ​"grab bag" of mea­sures for which unions have long been pushed. But there's one big thing miss­ing in the bill when it's placed in the con­text of the last few decades of labor law reform cam­paigns: a pro­vi­sion allow­ing any group of employ­ees to orga­nize through a major­i­ty sign-up process ("card check"), rather than through a vot­ing process mon­i­tored by the Nation­al Labor Rela­tions Board.
Remem­ber the Employ­ee Free Choice Act (EFCA), the reform law pushed by the labor move­ment dur­ing the 2008 elec­tion cycle that died in the U.S. Sen­ate after pass­ing through the House? Its cen­ter­piece was card check, with­out con­di­tions, mak­ing orga­niz­ing much eas­i­er by cir­cum­vent­ing the com­mon­ly drawn-out elec­tion process. The PRO Act only requires card check if an employ­er is found to have vio­lat­ed labor law dur­ing a failed union election.
It mat­ters because card check alone could be as pow­er­ful as all of the PRO Act's pro­vi­sions for boost­ing union den­si­ty and labor pow­er. Strange­ly, the PRO Act, the biggest piece of labor law reform leg­is­la­tion in years, con­tains a watered-down ver­sion of EFCA's cen­ter­piece. Whether or not this sig­ni­fies a strate­gic retreat on the part of Demo­c­ra­t­ic lead­ers, who sure­ly remem­ber the bat­tle over EFCA, is unclear. But it is puz­zling, giv­en that the PRO Act is — at least until the White House and the Sen­ate flip to Democ­rats — main­ly an aspi­ra­tional state­ment of val­ues and sol­i­dar­i­ty. Why not include card check as well, so there's no day­light between the par­ty and unions as the elec­tion approaches?
Card check is still an avowed goal of some leg­is­la­tors, name­ly, Sens. Bernie Sanders (I‑Vt.) and Eliz­a­beth War­ren (D‑Mass.), who both laid out their plans for empow­er­ing work­ers and labor unions last year. (Pete Buttigieg, Joe Biden and Andrew Yang also sup­port card check.) The Sanders and War­ren plans make the PRO Act seem rel­a­tive­ly small bore, more tac­ti­cal than struc­tur­al in its approach to rewrit­ing the rules work­ers must live by.
That does not mean the PRO Act is just win­dow dress­ing; it would mark sig­nif­i­cant change if enact­ed. The House vote is notable, albeit essen­tial­ly sym­bol­ic. A real vic­to­ry must wait until Democ­rats win a Sen­ate major­i­ty and the White House — and still pri­or­i­tize rebuild­ing the labor move­ment as much as they did yesterday.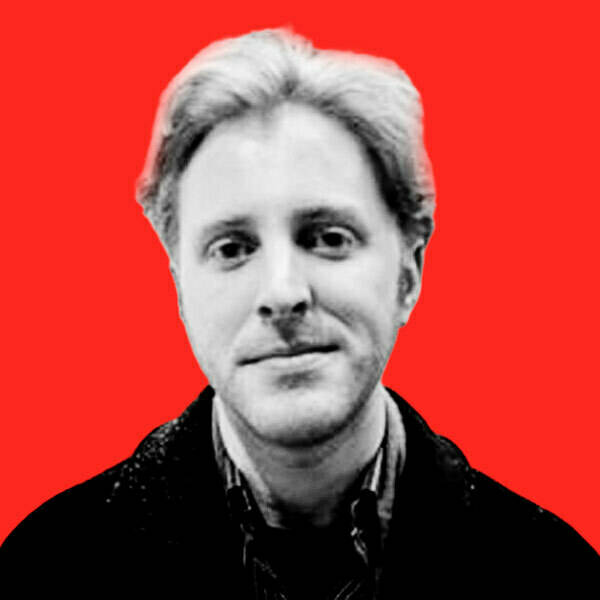 Jere­my Gantz is a con­tribut­ing edi­tor at the mag­a­zine. He is the edi­tor of The Age of Inequal­i­ty: Cor­po­rate America's War on Work­ing Peo­ple (2017, Ver­so), and was the Web/​Associate Edi­tor of In These Times from 2008 to 2012.