From Academic to Assembly Line Worker: My Life of Precarity in Middle America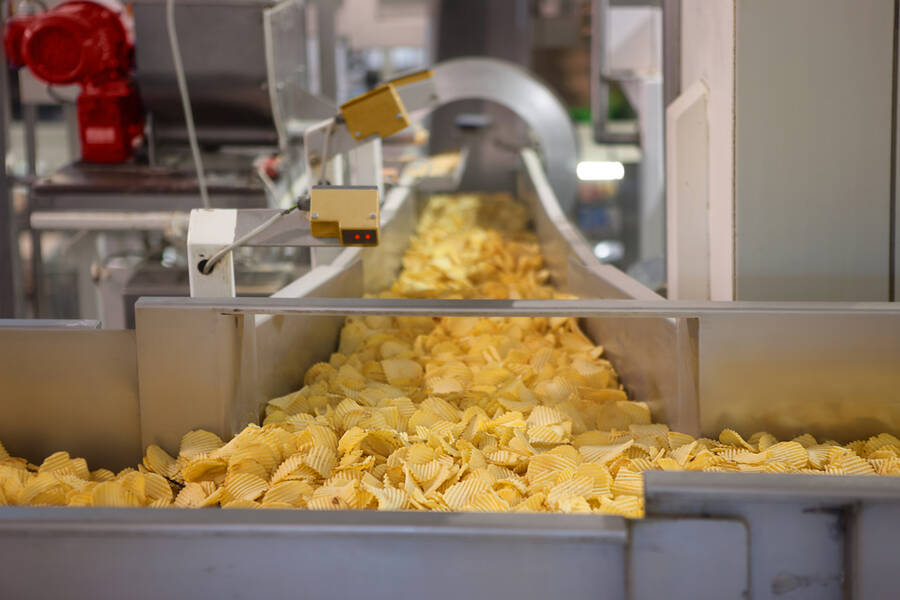 What does fail­ure smell like? To me, it reeks of rot­ten potatoes.
After 20 years of try­ing, unsuc­cess­ful­ly, to piece togeth­er a liv­ing from adjunct teach­ing and free­lance writ­ing, last sum­mer I took a job at Sarato­ga Pota­to Chips LLC, box­ing chips at their Indi­ana factory.
My first morn­ing on the job, I knocked over an entire pal­let of box­es stacked nine feet high. Lat­er, on the mul­ti­pack assem­bly line, I scram­bled to keep up like a pan­icky Lucy Ricar­do at the can­dy factory.
Final­ly, I was sen­tenced to chip inspec­tion. I was led to the line with no instruc­tion, so I made up my own rules. I decid­ed that if I wouldn't want to eat the chip myself, it would go into the trash.
The chip inspec­tion room, with its three fry­ers, was prob­a­bly close to 100 degrees. But even in the heat, we were not allowed water at our sta­tions. Occa­sion­al­ly there would be a five-gal­lon Igloo cool­er with bless­ed­ly cold water. But the cool­er was rarely refilled. As I gazed at it long­ing­ly, it seemed to mock me with false promises.
Locat­ed in the Rust Belt city of Fort Wayne, the fac­to­ry seemed like anoth­er coun­try. Man­agers and fel­low employ­ees assumed that Span­ish was my first lan­guage because of my skin and hair. The Puer­to Rican half of me was show­ing, giv­ing me a chance to prac­tice my lim­it­ed Spanish.
Fly­ers near the time clocks announced, ​"Tomar fichas sin autor­ización es robar. robar fichas lle­vará al arresto." ("Tak­ing chips with­out autho­riza­tion is steal­ing. Steal­ing chips will lead to arrest.")
None of this was sup­posed to hap­pen. Grow­ing up in Indi­ana, I had always heard, ​"If you want a decent job, you'll have to go to college."
My moth­er, who had dropped out of school, had sug­gest­ed I become a teacher. But ter­ri­ble expe­ri­ences in mid­dle school and high school made me nev­er want to go back, not even as an author­i­ty figure.
I had an alter­nate plan: I'd go to beau­ty school, grad­u­ate, do hair, save my mon­ey, go to col­lege, major in busi­ness and start my own salon. But in beau­ty school, I dis­cov­ered I was aller­gic to per­ma­nent wave solu­tion. The direc­tor of the school said that even the fumes might cause me to break out. So I quit. I think if I had to do it all over again, I'd just put some gloves on and stick it out.
I even­tu­al­ly did go to col­lege, major­ing in Eng­lish. When I grad­u­at­ed in 1992, I start­ed a career in jour­nal­ism, work­ing at a small-town news­pa­per in Hunt­ing­ton, Indi­ana. I wrote two fea­ture sto­ries a week, took pho­tographs and informed read­ers of births and wed­dings. After three years, I fig­ured I was ready for the big time and applied to one of the two papers in Fort Wayne. But I wasn't hired, and I didn't have the mon­ey to move away in search of oth­er work. My writ­ing career stag­nat­ed, con­sist­ing for years of free­lance writ­ing and part-time work for the local week­ly enter­tain­ment journal.
In 2006, I got part-time work at the local com­mu­ni­ty col­lege, first doing note-tak­ing, then teach­ing as an adjunct instruc­tor. I've taught there off and on ever since.
My col­umn at the Fort Wayne Read­er, ​"Buenos Diaz," has made me a Grade Z local celebri­ty. Peo­ple seem to enjoy read­ing it, so that's a kind of suc­cess. But it's look­ing right now like the Read­er might fold, which would mean the loss of anoth­er local paper and anoth­er source of income for me.
In 2014, I went back to grad­u­ate school for a master's degree in writ­ing stud­ies. But after grad­u­at­ing in May 2017, I was still unable to find a full-time teach­ing position.
After attempt­ing to scrape by on adjunct teach­ing and retail jobs, I final­ly returned to the world of temp agen­cies. Last June, I was in-between teach­ing gigs, and I need­ed to find more work fast.
This is a com­mon predica­ment. Reel­ing from state bud­get cuts and prop­ping up top-heavy admin­is­tra­tions, uni­ver­si­ties have turned increas­ing­ly to the cheap teach­ing labor pro­vid­ed by non-tenure track fac­ul­ty. More than half of col­lege fac­ul­ty today are adjuncts, but the jobs are noto­ri­ous­ly pre­car­i­ous and low-pay­ing — a 2014 sur­vey even­tu­al­ly found that the medi­an income is just $22,000 a year.
The trend towards low-wage, inse­cure jobs has been pro­ceed­ing in blue-col­lar and ser­vice indus­tries for decades. Many are sur­prised to see it now afflict­ing the bear­ers of advanced degrees; adjuncts have been called the ​"fast-food work­ers of the aca­d­e­m­ic world." But I'd point out that in order to make ends meet, some adjuncts may actu­al­ly find them­selves pulling shifts as actu­al fast-food work­ers — or fried-food inspec­tors, in my case.
Sort­ing through chips for $9 an hour, I made just a dol­lar more per hour than when I start­ed at my first news­pa­per job more than 20 years ago.
There was also con­sid­er­able lone­li­ness in my new world of pota­to chips. My sta­tion iso­lat­ed me from every­one else. If I was des­per­ate for water or to use the bath­room, I had to wait until the fry­er oper­a­tor was in sight and wave him down.
"Neces­si­to agua" or ​"Voy ir al baño, I would say with a smile.
For about three of the weeks I was work­ing in the fac­to­ry, my car was out of com­mis­sion. It need­ed $700 in repairs, mon­ey I had to save up while I worked. That meant I had to spend anoth­er $300 on Uber rides just to get to and from work. I felt too bad ask­ing my friends to shut­tle me there at 6 a.m. It just added to my feel­ings of failure.
Each day after work, I con­sid­ered drink­ing or doing drugs to escape it all, but I didn't. All I could think about was going home and tak­ing a show­er, grab­bing some choco­late and a glass of ice water, and lay­ing on my bed with a portable fan run­ning full blast at me while I watched YouTube.
In mid-July, I got a small reprieve. I had a suc­cess­ful inter­view at the Uni­ver­si­ty of Saint Fran­cis in Fort Wayne, my alma mater. As an adjunct pro­fes­sor, I make about $800 a month teach­ing at the uni­ver­si­ty and anoth­er $400 at the com­mu­ni­ty col­lege — hard­ly enough to get by, but more than I made inspect­ing snack food. I quit the fac­to­ry in August.
This wasn't the life I had envi­sioned for myself: part blue-col­lar work­er, part pro­fes­sion­al, unable to fit in ful­ly in either realm. I won­der if a piece­meal liv­ing of part-time work, no ben­e­fits and loom­ing stu­dent loans is as good as it will get. Some­times I feel fraud­u­lent. My master's degree sits on a book­shelf with clut­ter on top. I am proud and ashamed at the same time.
Now that I'm back in the class­room, I'm hon­est with my stu­dents — per­haps too hon­est. I tell stu­dents that I have to teach class­es at oth­er schools, I tell them about the fac­to­ry jobs I've had, how I dri­ve for Uber and Lyft, and how I often work sev­en days a week but still bare­ly scrape by.
I still believe in the val­ue of edu­ca­tion as its own end. I get great sat­is­fac­tion from help­ing stu­dents get through an assign­ment that they thought they couldn't tack­le. But any­one still sell­ing an advanced degree as the path to pros­per­i­ty should seri­ous­ly rethink this view — maybe while spend­ing the sum­mer inspect­ing pota­to chips.
(Editor's note: In response to queries from In These Times about work­ing con­di­tions described in this piece, Sarato­ga Chip Com­pa­ny CEO Peter Margie said that drink­ing water is not allowed near the chips ​"in accor­dance with good man­u­fac­tur­ing prac­tices and food safe­ty require­ments." He also said that the com­pa­ny ​"has had pre­vi­ous unscrupu­lous employ­ees that stole chips on a large scale" and that com­pa­ny pol­i­cy per­mits staff to take home two bags of chips per week.)
Glo­ria Diaz
has writ­ten pro­fes­sion­al­ly since the ear­ly
1990
s. Her work has appeared in Bust online. She has self-pub­lished three books of short fic­tion. Served Cold: Tales of Revenge and Redemp­tion is avail­able on Lulu​.com. Any­thing for George­town and Oth­er Sto­ries, and Tick­le Your Fan­cy are col­lec­tions of erot­ic fic­tion pub­lished under the pen name of Janell Eliz­a­beth Mey­er, and are also avail­able on Lulu​.com. Pre­vi­ous­ly, she free­lanced for WhatzUp and wrote a humor/​general inter­est col­umn, ​
"
Buenos Diaz", for the Fort Wayne Read­er. She is work­ing on her sec­ond nov­el, com­bin­ing humor with erot­ic fic­tion, which she describes as Brid­get Jones's Diary meets Fifty Shades of Grey. She is a native of Fort Wayne, Indi­ana, where she still lives.