A Progressive Platform To Take Back Chicago in 2019
With Chicago Mayor Rahm Emanuel out, progressive candidates should embrace a bold redistributive platform that meets the demands of the city's social movements.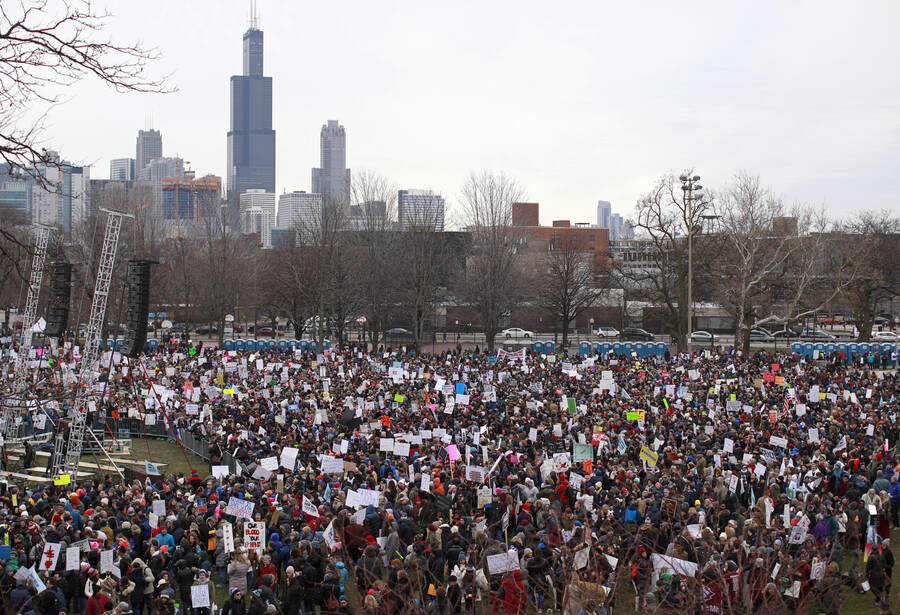 Chica­go May­or Rahm Emanuel's deci­sion to not seek a third term has sent the city's polit­i­cal and busi­ness com­mu­ni­ties into a spec­u­la­tive fren­zy. While Chicago's finan­cial elite is pre­oc­cu­pied with the poten­tial threat to busi­ness as usu­al, politi­cians and activists across the city are ask­ing who should run — and who can win.
Collectively we understand that to win the city and country we deserve we must take on both the right-wing Republicans and corporate Democratic establishment by uplifting demands rooted in social movements.
But for pro­gres­sives who want to see fun­da­men­tal change in Chica­go, Emanuel's exit must spark some­thing big­ger than the cam­paign of any indi­vid­ual may­oral can­di­date — it must inspire the peo­ple of Chica­go to trans­form our city from the bot­tom up.
When pre­vi­ous may­or Richard M. Daley announced his retire­ment in 2010, the air was filled with talk of a non-machine can­di­date shak­ing up the sta­tus quo. Yet miss­ing from the con­ver­sa­tion was a firm vision of the Chica­go pro­gres­sives want to see — one that could bring togeth­er the diverse voic­es we want rep­re­sent­ed in city government.
We have a chance to do things dif­fer­ent­ly this time around. Emanuel's deci­sion presents an oppor­tu­ni­ty for those of us who care deeply about Chica­go to imag­ine a city free of cor­po­rate Demo­c­ra­t­ic con­trol; a city that is imple­ment­ing bold poli­cies — demand­ed by social move­ments — that act as a coun­ter­weight to the right-wing agen­da com­ing out of Wash­ing­ton, DC.
While Chicagoans are eager to resist Pres­i­dent Trump, the city's cor­po­rate Demo­c­ra­t­ic estab­lish­ment con­tin­ues to push through many of the very poli­cies being pur­sued by the Trump administration.
Trump's agen­da to defund and pri­va­tize pub­lic edu­ca­tion — seen most clear­ly in the appoint­ment of Bet­sy DeVos, a Sec­re­tary of Edu­ca­tion who once called tra­di­tion­al pub­lic edu­ca­tion a ​"dead end" — is reflect­ed in Emanuel's pro­tract­ed assault on pub­lic ed and the Chica­go Teach­ers Union. Three years pri­or to Trump's elec­tion, Emanuel, with the sup­port of the rub­ber-stamp City Coun­cil, forced through the his­tor­i­cal­ly unprece­dent­ed clo­sure of 50 pub­lic schools.
The president's ​"law and order" plans to mil­i­ta­rize the police, along with his inhu­mane, heart-wrench­ing immi­gra­tion poli­cies are also reflect­ed in Chica­go. Pri­or to Trump, Emanuel faced per­haps the largest scan­dal of his may­oral career with the alleged cov­er-up of the mur­der of Laquan McDon­ald. Under his watch, the police depart­ment has been a hotbed of abuse and discrimination.
And though Emanuel and many of his loy­al City Coun­cil mem­bers pos­ture as pro-immi­grant, they have so far refused to remove the carve-outs from Chicago's sanc­tu­ary city ordi­nance — carve-outs that ensure the city's ongo­ing col­lab­o­ra­tion with Trump's depor­ta­tion régime.
More­over, Trump's egre­gious tax cuts for the rich are a mag­ni­fied ver­sion of City Hall's eco­nom­ic devel­op­ment agen­da, which doles out tax breaks for big cor­po­ra­tions and devel­op­ers — and aus­ter­i­ty for the rest of us. Com­pare the lav­ish deals read­ied for Ama­zon and Ster­ling Bay with the unmet needs in the class­rooms of Chicago's pub­lic schools.
For Chica­go pro­gres­sives eager to trans­form Chica­go and resist Trump, the 2019 elec­tion presents a crit­i­cal oppor­tu­ni­ty. We can win the city we deserve and fight back against Trump's agen­da by sup­port­ing and elect­ing can­di­dates com­mit­ted to poli­cies that serve as a bold, pro­gres­sive alter­na­tive to Trump­ism and the neolib­er­al sta­tus quo. Such bold poli­cies would pro­tect immi­grants, ful­ly fund our neigh­bor­hood pub­lic schools, end the crim­i­nal­iza­tion of Black and Brown com­mu­ni­ties, and ful­ly fund city ser­vices by tax­ing the rich and end­ing cor­po­rate welfare.
At the nation­al lev­el, pro­gres­sives have been suc­cess­ful in resist­ing Trump and win­ning elec­tions by mov­ing beyond blus­tery rhetoric against the pres­i­dent and sup­port­ing bold demands that are backed by mass social move­ments. Move­ments and can­di­dates call­ing for a $15 min­i­mum wage, the abo­li­tion of ICE, Medicare for All, free col­lege tuition, and crim­i­nal jus­tice reform are mov­ing beyond say­ing ​"no" to Trump. They're putting for­ward their own pro­gres­sive agen­da — one made up of poli­cies that are wild­ly pop­u­lar. A recent Reuters' poll found 60 per­cent of Amer­i­cans sup­port free col­lege tuition, and 70 per­cent sup­port Medicare for All. It's no sur­prise that cham­pi­ons of these issues are win­ning at the bal­lot box.
Chicago's pro­gres­sives should seek to repli­cate this nation­al mod­el of suc­cess by pre­sent­ing our own bold demands that present a clear alter­na­tive to both the cur­rent City Hall sta­tus quo and Trump's White House. We don't have to pay a con­sul­tant to con­struct our agen­da for 2019, we sim­ply need to lis­ten to the demands of work­ing-class Chicagoans of all back­grounds orga­niz­ing for change. Here are ten pro­pos­als pushed by grass­roots move­ments that should make up the foun­da­tion of a pro­gres­sive 2019 plat­form for Chicago:
Free the Funds and Tax the Rich. Fund our pub­lic schools, pen­sions, men­tal health clin­ics and city ser­vices by tax­ing the rich and end­ing hand­outs to cor­po­ra­tions. This means elim­i­nat­ing Tax Incre­ment Finance dis­tricts that ben­e­fit the wealthy while rein­stat­ing the cor­po­rate head tax and insti­tut­ing a down­town com­mer­cial rent tax. We also need to make our mon­ey work for us, not Wall Street bankers, by cre­at­ing a pub­licly-owned Bank of Chica­go with the $80 bil­lion in assets and pen­sion funds con­trolled by the city and sis­ter agencies.
No Cop Acad­e­my. Keep our com­mu­ni­ties safe and help end gun vio­lence, not by spend­ing $95 mil­lion on a new facil­i­ty for the police — as Emanuel has pro­posed — but by invest­ing in jobs, edu­ca­tion, after-school pro­grams and men­tal health services.
ERSB Now and No More Char­ters. Final­ly rein­sti­tute an elect­ed, rep­re­sen­ta­tive school board (ERSB) for Chica­go Pub­lic Schools, and put a mora­to­ri­um on the con­struc­tion of new char­ter schools.
CPAC Now. End racist polic­ing and insti­tute real police account­abil­i­ty through an all elect­ed Civil­ian Police Account­abil­i­ty Coun­cil (CPAC) empow­ered to hold offi­cers to account and demo­c­ra­t­i­cal­ly decide how our com­mu­ni­ties are policed.
Lift The Ban and Just Cause For Evic­tion. Lift the ban on rent con­trol in Chica­go to reign in sky­rock­et­ing rents and pass just cause for evic­tions to stop the dis­place­ment of Black, Brown and work­ing-class Chicagoans of all back­grounds from rapid­ly gen­tri­fy­ing neighborhoods.
Erase The Data­base and Abol­ish ICE. Elim­i­nate Chicago's uncon­sti­tu­tion­al ​"gang data­base" that is arbi­trary, over­ly inclu­sive, rid­dled with false infor­ma­tion and serves as a list of Black and Brown peo­ple who will be tar­get­ed for incar­cer­a­tion and depor­ta­tion. Remove the carve-outs from Chicago's Wel­com­ing City Ordi­nance that allow the city to work with ICE to deport undoc­u­ment­ed immigrants.
Homes For All. Pre­serve and expand afford­able hous­ing across all Chica­go neigh­bor­hoods by bring­ing over­sight and trans­paren­cy to the Chica­go Hous­ing Author­i­ty and require CHA to main­tain pub­lic hous­ing units on a one-for-one basis in future redevelopments.
Envi­ron­men­tal Jus­tice Reform. Reclas­si­fy zon­ing in Chicago's Black, Brown and work­ing-class neigh­bor­hoods that are dis­pro­por­tion­ate­ly sub­ject to envi­ron­men­tal haz­ards and pol­luters in order to pro­tect res­i­dents' health.
Water For All. Address lead con­t­a­m­i­na­tion in Chicago's water, pre­vent the pri­va­ti­za­tion of our water sys­tem, and make water tru­ly afford­able for all Chicagoans.
Fight For 15 and a Union. Imme­di­ate­ly imple­ment a $15 min­i­mum wage for Chica­go, pass the Fair Work­week Ordi­nance to pro­vide work­ers with sta­bil­i­ty in sched­ul­ing, and cre­ate a Chica­go Office of Labor Stan­dards to pro­tect work­ers' rights.
At the heart of this set of pro­pos­als is a prin­ci­ple that pro­gres­sives have long known to be true: trans­for­ma­tion­al change always comes from below.
This bring­ing togeth­er of move­ment demands is not a new idea. We can see it play­ing out in the efforts of pro­gres­sive groups like Unit­ed Work­ing Fam­i­lies, Grass­roots Col­lab­o­ra­tive, the Chica­go chap­ter of the Demo­c­ra­t­ic Social­ists of Amer­i­ca as well as ward-based inde­pen­dent polit­i­cal organizations.
Col­lec­tive­ly we under­stand that to win the city and coun­try we deserve we must take on both the right-wing Repub­li­cans and cor­po­rate Demo­c­ra­t­ic estab­lish­ment by uplift­ing demands root­ed in social movements.
Chicagoans deserve a city with liv­ing wage jobs, afford­able rent, acces­si­ble health­care, clean air and clean water. We deserve a city where our neigh­bor­hoods are safe, our schools are ful­ly fund­ed, our streets are re-paved, and new garbage carts are deliv­ered in a time­ly man­ner. We deserve a city with a future our chil­dren can believe in.
Deliv­er­ing that city and that future doesn't take 100 years. It takes, as Alexan­dria Oca­sio-Cortez says, polit­i­cal courage.
By unit­ing around a bold pro­gres­sive plat­form informed by our city's social move­ments, and by iden­ti­fy­ing the can­di­dates with the courage to cham­pi­on this plat­form — whether they're run­ning for City Coun­cil or may­or — we can use the 2019 munic­i­pal elec­tion to build a pow­er­ful and broad-based move­ment to trans­form Chica­go into a city for the many, not the few. We can win much more than an indi­vid­ual race, we can win the city we deserve.
Cor­rec­tion: An ear­li­er ver­sion of this arti­cle list­ed can­di­dates who had signed onto the plat­form, but that list had not been inde­pen­dent­ly confirmed.
Car­los Ramirez-Rosa is Alder­man of Chicago's
35
th
Ward, serv­ing since
2015
. Rossana Rodriguez is a can­di­date for Alder­man of Chicago's
33
rd
Ward. Both Rossana and Car­los are proud mem­bers of the Demo­c­ra­t­ic Social­ists of Amer­i­ca.
&
nbsp;