All photos by Allison Kilkenny unless otherwise indicated
Around 150 people turned out to several Midtown locations yesterday for Occupy Wall Street's January 3 (#J3) event. This time, protesters were hitting the streets in opposition to the National Defense Authorization Act, the military spending bill recently signed by President Obama.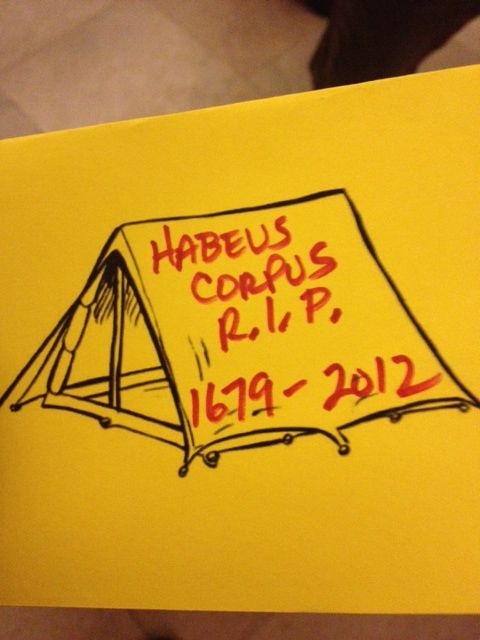 Specifically, OWS activists take issue with an amendment that allows any citizen to be indefinitely detained without trial and without due process. (Art by Jeff Smith @dontbeaputz)
J3 included several protests beginning at noon when activists gathered in front of the New York Public Library and then marched to the offices of Senators Charles E. Schumer and Kristen E. Gillibrand. This was followed by a demonstration at Rockefeller Center, and the day culminated with protesters attempting to perform a mic check at Grand Central Station during rush hour.
About a 100 protesters gathered in the main concourse and handed out scripts that listed monologues for five different speakers. For example, Speaker One was supposed to say, ​"Mic Check!" and then use the People's Mic to relay the following message: What's your New Year's resolution? / Shortly before midnight/​ on December 31st 2011, /​everything changed. / The ball dropped. / The balloons were released / And Obama signed / the National Defense Authorization Act.
In theory, this is what a protester was supposed to say. In practice, the police usually broke up the People's Mic before it got off the ground. However, there were a couple protesters who successfully completed the script. Posted below is some video showing one of the mic checks (advanced apologies for the weird formatting).
Those in attendance included Sergeant Shamar Thomas, who has become something of a YouTube celebrity since he shouted at NYPD following a violent police crackdown at Times Square that there is ​"no honor" in treating protesters in such a manner. (Photo of Thomas holding his protest signage).
As I waited for the action to kick off, I overheard a commuter ask a teller why there were so many police in the concourse. He replied, ​"All I'd have to tell them is you're with Occupy Wall Street and they'd haul you away."
Police were definitely prepared for the Grand Central event, and several officers sported rings of handcuffs on their belts before a single mic check was even attempted.
Ten minutes before the action was scheduled to kick off, the arrests began. Below is one of the preemptive arrests.
Police later said the three individuals arrested were charged with disorderly conduct and resisting arrest, but from what I witnessed the ​"disorderly conduct" included things like attempting to start a mic check, and far from ​"resisting arrest," the protesters' strategy – at least in the video I posted – appeared to be to go limp and passively resist. Here's some mildly chaotic video showing a woman being arrested after she tried to start a mic check and Sgt. Thomas endeavoring to negotiate her release.
Contrary to NYPD's claims, MTA spokeswoman Marjorie Anders remarked the J3 action was a ​"peaceful demonstration." She added: ​"It was loud, but it was peaceful."
NY Daily News has posted some more video of the arrests. In all the videos, witnesses can be heard asking repeatedly, ​"What's the charge?" only to be completely stonewalled by the arresting officers.
Since the genesis of the Occupy movement, protesters, and some journalists, are frequently arrested on trumped up charges that are later lessened or in some cases dropped entirely.
The NYPD's tactic appears to be to squash the protests as quickly as possible, sometimes making up reasons for doing so on the fly, and then to quietly drop a majority of the charges later on.
According to the NYPD, ​"disorderly conduct" now includes citizens attempting to speak publicly. Protesters made their feelings known when they chanted ​"Bloomberg's Army!" at officers. In November, Mayor Bloomberg gave a speech at MIT in which he remarked, ​"I have my own army in the NYPD, which is the seventh biggest army in the world."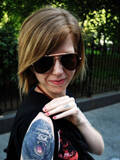 Allison Kilkenny
is an
In These Times
Staff Writer and the co-host of the critically acclaimed radio show
Citizen Radio
. Her blog for
In These Times
,
Uprising
, focuses on efforts around the world to address the global economic crisis.