The Protests in Puerto Rico Against Gov. Rosselló Are About Life and Death
The ongoing protests in Puerto Rico are not just about profane chat messages—they are a response to a broader crisis of violence, degradation and exploitation.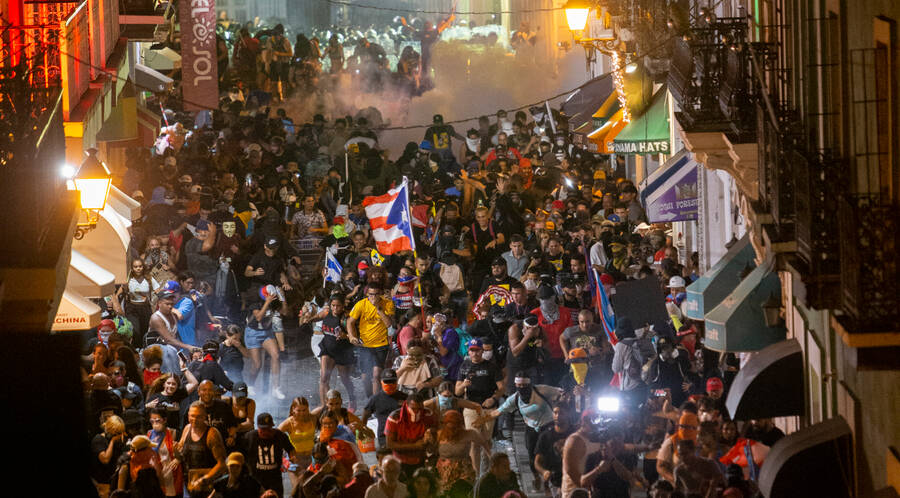 Police don­ning anti-riot gear — many with their names and badge num­bers cov­ered — used tear­gas, pep­per spray, rub­ber bul­lets, and batons to dis­lodge pro­test­ers from the streets sur­round­ing the Puer­to Rican governor's man­sion in Old San Juan on Wednes­day evening. Ear­li­er that day, tens of thou­sands assem­bled at the Capi­tol build­ing before march­ing to the governor's man­sion to demand the res­ig­na­tion of Gov­er­nor Ricar­do Rossel­ló. This marked the fifth day of protests and a sig­nif­i­cant esca­la­tion in police vio­lence against civil­ians. A series of leaked chat con­ver­sa­tions involv­ing the gov­er­nor and oth­er mem­bers of his inner-cir­cle pro­vid­ed an unlike­ly spark that ignit­ed mount­ing frus­tra­tions with the abus­es of local elites and the colo­nial government.
The combined catastrophes of the island's debt crisis and Hurricane María have forced Puerto Ricans to endure an onslaught of both symbolic and material violence that must be negotiated on a near daily basis.
Last Tues­day, a small trove of mes­sages from a pri­vate chat between Rossel­ló and a num­ber of high-rank­ing offi­cials sent on the encrypt­ed mes­sen­ger ser­vice Telegram were leaked to the press. The mes­sages showed Rossel­ló and mem­bers of his admin­is­tra­tion using deroga­to­ry lan­guage to mock polit­i­cal rivals. Although the 11 pages of the chat ini­tial­ly released were damn­ing on their own, Puer­to Ricans were shocked by what they read when the Cen­ter for Inves­tiga­tive Jour­nal­ism released a total of 889 pages to the pub­lic on Saturday.
The full leaked chat — although there are rumors that more leaked chats involv­ing addi­tion­al mem­bers of the Rossel­ló team could be on the way — demon­strat­ed the utter con­tempt and dis­re­gard that the polit­i­cal rul­ing class has for the peo­ple of Puer­to Rico. The chat paints Rossel­ló and his inner cir­cle as lit­tle more than a pack of over­grown frat boys. The men in the chat engage in all man­ner of homo­pho­bic, trans­pho­bic, and misog­y­nist ​"lock­er room talk," call­ing polit­i­cal oppo­nents putas (whores) and mam­abi­chos (cock­suck­ers), com­ment­ing on women's bod­ies, and insult­ing fem­i­nists and mem­bers of the LGBTQ+ com­mu­ni­ty. While this alone is cer­tain­ly wor­thy of con­dem­na­tion, pro­test­ers are not tak­ing to the streets because of the pro­fan­i­ty in the chats. Rather, pro­test­ers are sit­u­at­ing the chats with­in a broad­er con­text of struc­tur­al vio­lence, degra­da­tion, and exploita­tion that mark con­tem­po­rary Puer­to Rican society.
The com­bined cat­a­stro­phes of the island's debt cri­sis and Hur­ri­cane María have forced Puer­to Ricans to endure an onslaught of both sym­bol­ic and mate­r­i­al vio­lence that must be nego­ti­at­ed on a near dai­ly basis. From a surge in police killings and repres­sion to ram­pant gov­ern­ment cor­rup­tion to the reg­u­lar insults ema­nat­ing from the colo­nial gov­ern­ment, Puer­to Ricans are con­front­ed with con­stant attacks on their com­mu­ni­ties, bod­ies, men­tal health, and very human­i­ty. The leaked chats painful­ly show how the cur­rent polit­i­cal for­ma­tion in Puer­to Rico, and the eco­nom­ic and polit­i­cal elites who sus­tain it, deval­ue life and facil­i­tate the pre­ma­ture deaths of Puer­to Ricans — par­tic­u­lar­ly those who occu­py the most vul­ner­a­ble posi­tions in soci­ety. The rhetoric and atti­tudes of the gov­er­nor and his clos­est allies cap­tured in the chat are ones that pro­mote harm and death in myr­i­ad ways, from the out­right incite­ment of vio­lence to the pro­mo­tion of a neolib­er­al pol­i­tics of dead­ly neglect. This is some­thing that pro­test­ers have been clear about since the begin­ning of the protests, although the main­stream media, and par­tic­u­lar­ly U.S. based out­lets, have nar­row­ly framed the sto­ry around the gov­er­nor and his asso­ciates' inap­pro­pri­ate lan­guage and con­duct. To sug­gest that thou­sands upon thou­sands from across the polit­i­cal spec­trum are pour­ing into the streets with an inten­si­ty that has not been seen in years over foul lan­guage min­i­mizes the ways that, for Puer­to Ricans, these protests are quite lit­er­al­ly about life and death.
It's not just that Rossel­ló and oth­ers in the chat referred to women as putas and gati­tas (kit­tens) — it's that they did so in a con­text where fem­i­nist orga­niz­ers have been call­ing on the gov­er­nor to declare a state of emer­gency to deal with high rates of gen­der-based vio­lence for over a year. The gov­er­nor, when asked about the misog­y­nis­tic, homo­pho­bic, and trans­pho­bic lan­guage used through­out the chat, said that he was over­worked and blow­ing off steam. But as fem­i­nists in Puer­to Rico are quick to note, dozens of women have been killed at the hands of stressed out men who were just blow­ing off steam. The governor's words aren't just pro­fane— as he has repeat­ed­ly refused to address the high rates of vio­lence that women and queer peo­ple con­front in Puer­to Rico, they trans­late into lives lost. As Vanes­sa Con­tr­eras Capó, a spokesper­son for the Colec­ti­va Fem­i­nista en Con­struc­ción put it, ​"His attack was not that he called us ​'whores,' ​'kit­tens,' or any oth­er macho epi­thet; the governor's attack is that he still has not declared a state of emer­gency against gen­der violence."
In one of the most dis­gust­ing exchanges in the chat, the ​"broth­ers," as the par­tic­i­pants refer to them­selves, made light of the unprocessed bod­ies that accu­mu­lat­ed in the Office of the Med­ical Exam­in­er fol­low­ing Hur­ri­cane María. In response to com­ments made by Rosselló's chief of staff Ricar­do Lleran­di, Rossel­ló notes in the chat that they have to work to bury the sto­ry — ​"Hay que matar esa his­to­ria rápi­do" (We have to kill that sto­ry quick­ly). For­mer chief finan­cial offi­cer and the governor's rep­re­sen­ta­tive to the Finan­cial Over­sight Board, Chris­t­ian Sobri­no, then replies, ​"Now that we're on that sub­ject, do we not have a corpse to feed our crows? They clear­ly need attention."
As numer­ous stud­ies have shown, thou­sands lost their lives as a result of gov­ern­ment inep­ti­tude fol­low­ing Hur­ri­cane María. Yet the dead emerge in the chat as lit­tle more than a prob­lem of optics. The punch­line of this macabre joke dri­ves home what many Puer­to Ricans already knew — that their lives mat­tered lit­tle to the local gov­ern­ment or Wash­ing­ton, and that their deaths mat­tered only inso­far as they rep­re­sent a prob­lem to be man­aged. The past cou­ple of days have seen pro­test­ers out­side of the governor's man­sion hold­ing signs with the names of loved ones who died as a result of the cri­sis pro­voked by Hur­ri­cane María. These pro­tes­tors con­nect­ed the chat's dis­re­spect of the dead to the larg­er struc­tur­al vio­lence of the Rossel­ló administration's mis­han­dling of the recov­ery, as well as its efforts to cov­er up the true scale of the dis­as­ter. For Puer­to Ricans, this wasn't just a crude or dis­taste­ful joke — it was proof of the cal­lous­ness and dis­dain for the pub­lic with which elites govern.
For Puer­to Ricans, the leaked chat was only the lat­est reminder of the ways that their lives are deval­ued and their futures cir­cum­scribed by both colo­nial rule and the avarice of local elites. Pro­test­ers are speak­ing out against the con­tent of the chats, but they also are voic­ing a set of much broad­er demands to fun­da­men­tal­ly reshape Puer­to Rican soci­ety. Peo­ple are demand­ing a life-affirm­ing and more just soci­ety as they fill the streets of Old San Juan. They are demand­ing an end to the aus­ter­i­ty mea­sures that have already caused great suf­fer­ing and threat­en the abil­i­ty of future gen­er­a­tions to remain in Puer­to Rico and live a dig­ni­fied life. They're demand­ing an audit of the island's $124 bil­lion debt and the dis­so­lu­tion of the Finan­cial Over­sight Board, which crit­ics slam for deep­en­ing Puer­to Rico's colo­nial rela­tion­ship with the Unit­ed States. They're demand­ing that gov­ern­ment offi­cials be held respon­si­ble for acts of cor­rup­tion and prof­i­teer­ing that fur­ther deplete pub­lic funds and strip nur­tur­ing insti­tu­tions of nec­es­sary resources. They're demand­ing a future where lives are val­ued and deaths are mourned.
What the chat makes clear is that the cur­rent polit­i­cal arrange­ment can­not pro­vide that future for Puer­to Ricans. That's why peo­ple are tak­ing to the streets — not only to demand Rosselló's res­ig­na­tion, but also to clear­ly express that the cur­rent polit­i­cal sit­u­a­tion is unac­cept­able. Wednesday's protest was one of the largest in recent his­to­ry and some are even liken­ing the protests of the past few days to the mobi­liza­tions to eject the U.S. Navy from the island munic­i­pal­i­ty of Vieques. Indeed, the protests have brought togeth­er an impor­tant cross-sec­tion of Puer­to Rican soci­ety speak­ing to wide­spread dis­con­tent with the cur­rent polit­i­cal situation.
Telling­ly, one of the most gal­va­niz­ing fig­ures of the protests has been El Rey Char­lie, who mobi­lized motor­cy­cle and four track enthu­si­asts to join the protests and wage audio war­fare against the gov­er­nor by revving their engines out­side of the governor's man­sion at night. El Rey Char­lie has suc­cess­ful­ly brought work­ing class Puer­to Ricans who are often ignored by both polit­i­cal elites and activists into the heart of these protests. On Wednes­day night, El Rey Char­lie and his crew rode through work­ing class neigh­bor­hoods and pub­lic hous­ing com­mu­ni­ties encour­ag­ing peo­ple to join their car­a­van to the governor's man­sion. Just as a motor­ized cav­al­cade of an esti­mat­ed 3,000−4,000 peo­ple were about to ride into Old San Juan, the police declared the protest over, said the con­sti­tu­tion no longer applied, and start­ed to forcibly remove peo­ple from the area, near­ly caus­ing a stampede.
Pro­test­ers have com­mit­ted to remain in the streets until Rossel­ló resigns despite threats from police com­mis­sion­er Hen­ry Escalera to defend the ​"demo­c­ra­t­ic" gov­ern­ment of Puer­to Rico ​"to the last drop of blood." It's not clear what exact­ly will come next, as the gov­er­nor refus­es to step down in the face of mount­ing protests. Still, one thing is cer­tain: For peo­ple tak­ing to the streets, Rossel­ló and the elite boys' club that he rep­re­sents have no future in Puer­to Rico.
This sto­ry first appeared at NACLA.
Marisol LeBrón
is an Assis­tant Pro­fes­sor of Mex­i­can Amer­i­can and Latina/​o Stud­ies at the Uni­ver­si­ty of Texas at Austin. She is the author of Polic­ing Life and Death: Race, Vio­lence, and Resis­tance in Puer­to Rico and co-edi­tor of After­shocks of Dis­as­ter: Puer­to Rico Before and After the Storm. She is also one of the co-cre­ators of the Puer­to Rico Syl­labus, a dig­i­tal resource for under­stand­ing the Puer­to Rican debt cri­sis. You can fol­low her on twit­ter @marisollebron.