Cattle Rancher to Cliven Bundy: You Steal from All of Us and Shouldn't Be Welcomed in Montana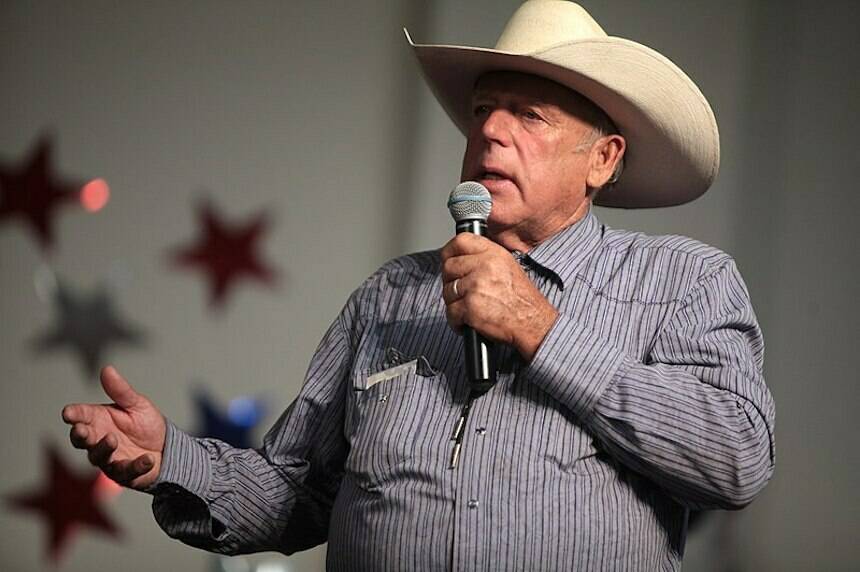 The fringe ele­ment that wants to steal our shared nation­al her­itage — the lands and waters and fish and wildlife owned by us, the Amer­i­can peo­ple — is com­ing to Montana.
On Sat­ur­day, Jan­u­ary 20, pub­lic lands abuser Cliv­en Bundy spoke at an anti-pub­lic lands gath­er­ing in Par­adise, Mont. A group with ties to the region, The Coali­tion of West­ern Prop­er­ty Own­ers, pro­mot­ed the event, which they called ​"Free­dom and Prop­er­ty." Nei­ther is applic­a­ble to Mr. Bundy: He wants to divest us of the free­dom rep­re­sent­ed by our pub­lic lands, and he's already been steal­ing our prop­er­ty by ille­gal­ly graz­ing his cattle.
Fol­low­ing the recent dis­missal of fed­er­al charges, due to a major bun­gle by the gov­ern­ment, Bundy and his fol­low­ers walked free. (Not to be con­fused with oth­er armed stand­offs spear­head­ed by the Bundy clan, this round of lit­i­ga­tion was in response to the 2014 con­fronta­tion on the Bundy's ranch in Bunkerville, Nev., in which the Bureau of Land Man­age­ment (BLM) seized some of Bundy's cat­tle fol­low­ing his years of refusal to pay fed­er­al graz­ing fees.) Bundy has made no secret of his plans to con­tin­ue under­min­ing our Amer­i­can sys­tem of pub­lic lands and ulti­mate­ly steal­ing them from you and me. His appear­ance in Sanders Coun­ty is an attempt to advance his agenda.
Bundy shared the billing with Mon­tana State Sen. Jen­nifer Field­er ®, who is also the CEO of a pro-pub­lic lands trans­fer orga­ni­za­tion called the Amer­i­can Lands Coun­cil. Field­er rep­re­sents Sanders Coun­ty, where Par­adise is locat­ed. That an elect­ed Mon­tana law­mak­er and head of a group that advo­cates for the ​"order­ly" trans­fer of pub­lic lands is will­ing to align her­self with a well-known scofflaw like Bundy should con­cern all of us who care about our pub­lic lands — not to men­tion the numer­ous ben­e­fits, includ­ing hunt­ing, fish­ing and hik­ing, plus min­ing, log­ging and graz­ing, that these lands provide.
I speak from expe­ri­ence. I'm a pub­lic lands hunter and angler who likes noth­ing bet­ter than chas­ing prong­horn or turkeys or cast­ing a line for trout on our lands and waters. I also have relied on these places for my livelihood.
I've been involved in agri­cul­ture and ranch­ing my whole life. My fam­i­ly and neigh­bors have grazed and/​or cur­rent­ly graze cat­tle on pub­lic lands — and pay graz­ing leas­es at the bar­gain of $1.83 AUM (ani­mal unit month) on fed­er­al­ly man­aged lands (com­pared to $10 – 12 on state lands and north of $20 on pri­vate lands). For­go­ing these fees — effec­tive­ly steal­ing from tax­pay­ing cit­i­zens, as Mr. Bundy has done for years — would nev­er cross our minds. Folks like Cliv­en Bundy give a bad name not just to law-abid­ing ranch­ers but also to eth­i­cal pub­lic lands users everywhere.
Respon­si­ble pub­lic land own­ers obey game laws and adhere to hunt­ing and fish­ing sea­sons. We also pay our way for the priv­i­lege of activ­i­ties such as graz­ing our cows on range lands owned by the gen­er­al cit­i­zen­ry. For pub­lic lands man­age­ment to suc­ceed, it's crit­i­cal that all of us demon­strate the same adher­ence to the laws — and be held account­able if we break those laws.
I was raised a proud Amer­i­can cit­i­zen. I am espe­cial­ly proud of our unique pub­lic lands lega­cy, a shared inher­i­tance that is the envy of the world. Those who would divest and take this her­itage from us — the Cliv­en Bundys and Jen­nifer Field­ers and their ilk — deserve our scorn and mis­trust. These mis­guid­ed folks dis­re­spect our gov­ern­ment, our pub­lic lands and waters, and the cit­i­zens who own them. And we the Amer­i­can peo­ple must not tol­er­ate the will­ing­ness by Mr. Bundy and his com­rades to flout the rule of the law and abuse our pub­licly owned lands.
(​"Mon­tana ranch­er stands up for pub­lic lands" was first pub­lished in the Raval­li Repub­lic and is repost­ed on Rur­al Amer­i­ca In These Times with per­mis­sion from the author.)
Nick Siebrasse
lives in Havre, Mont. His fam­i­ly has been in Mon­tana for more than
100
years work­ing in agri­cul­ture and ranch­ing. He is also the Region
6
Board Mem­ber of the Mon­tana chap­ter of Back­coun­try Hunters
&
Anglers.