Public-Private Partnerships Will Never Solve America's Infrastructure Crisis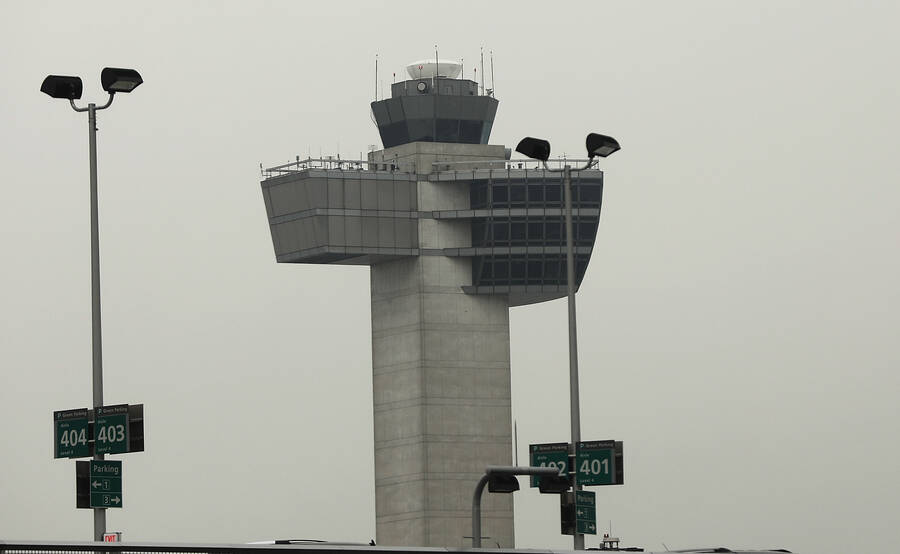 Anoth­er ​"Infra­struc­ture Week" has come and gone with­out fed­er­al action on the nation's aging roads, water sys­tems, air­ports and oth­er pub­lic works. Some of us will right­ly rage about the fed­er­al government's pen­ny-pinch­ing while Flint, Michi­gan, has yet to replace thou­sands of lead pipes. But there's an under­re­port­ed dimen­sion to America's infra­struc­ture cri­sis that adds yet anoth­er rea­son why con­gres­sion­al Democ­rats must fight tooth and nail for mas­sive direct pub­lic investment.
More than half of U.S. pub­lic school build­ings need fund­ing to be brought up to good con­di­tion. Amer­i­cans pay vast­ly more for broad­band inter­net than any­one else in the world, while some 19 mil­lion peo­ple — includ­ing my par­ents, a mere hour's dri­ve out­side of Wash­ing­ton, D.C. — still lack access. Major Amer­i­can rapid tran­sit sys­tems are suf­fer­ing from a spate of ser­vice melt­downs due to chron­ic deferred maintenance.
But these stark real­i­ties are direct­ly relat­ed to anoth­er core issue — decreased fed­er­al invest­ment is result­ing in de fac­to pri­va­ti­za­tion. The more Wash­ing­ton dithers, the more state and local gov­ern­ments become des­per­ate for cash, and the more recep­tive gov­er­nors, may­ors and oth­er offi­cials become to lob­by­ing about ​"inno­v­a­tive" alter­na­tives. Almost all pub­lic infra­struc­ture is built and main­tained by state and local gov­ern­ments using tax rev­enue or user fees, like tolls, or a com­bi­na­tion of both. The fed­er­al government's role is to act as a bank, sub­si­diz­ing state and local projects to bol­ster a strong nation­al econ­o­my. But fed­er­al invest­ment has been cut in half over the last 35 years, while state and local spend­ing has trend­ed down­wards since the late 1960s.
This chron­ic under­in­vest­ment has opened the door for a grow­ing indus­try of glob­al investors, con­struc­tion giants and water cor­po­ra­tions look­ing to cash in on the cri­sis. Their tool of choice is the so-called ​"pub­lic-pri­vate part­ner­ship," essen­tial­ly an expen­sive loan that often comes with strings attached. They front the mon­ey to build new infra­struc­ture or man­age an exist­ing asset in exchange for lease pay­ments or the right to col­lect revenue.
You may have heard of Chicago's absurd give­away of its park­ing meters in 2008 to investors from as far away as Abu Dhabi. That's a type of pub­lic-pri­vate part­ner­ship in which a gov­ern­ment leas­es out infra­struc­ture for a quick infu­sion of mon­ey — and it's illus­tra­tive of many of these deals. If you don't know the details, you might want to cov­er your eyes. Park­ing rates quadru­pled with­in the first year of the con­tract, which lasts for 75 years. Chicago's inspec­tor gen­er­al even­tu­al­ly found that the city lost at least $1 bil­lion on the deal. If that wasn't enough, claus­es in the con­tract give away the city's rights to man­age traf­fic and land use near the meters until 2083.
Even after a string of high-pro­file dis­as­ters, includ­ing the 2017 bank­rupt­cy of an unfin­ished Indi­ana toll road deal inked by Mike Pence when he was gov­er­nor, state and local gov­ern­ments con­tin­ue to exper­i­ment with pub­lic-pri­vate part­ner­ships. Maryland's gov­er­nor, Lar­ry Hogan, is push­ing to add toll lanes to mul­ti­ple high­ways in the con­gest­ed Wash­ing­ton region in what would be the country's largest pub­lic-pri­vate partnership.
The plan has already run into con­tro­ver­sy, as two out of the three pri­ma­ry con­trac­tors hired to help man­age the poten­tial deal were found to have ties to the state's Trans­porta­tion Sec­re­tary. In St. Louis, Mis­souri, a local bil­lion­aire, Rex Sin­que­field, is bankrolling a city gov­ern­ment-spon­sored process to study the pri­va­ti­za­tion of St. Louis Lam­bert Inter­na­tion­al Air­port. This, despite the air­port expe­ri­enc­ing yet anoth­er year of pas­sen­ger growth in 2018 and bring­ing in mil­lions of dol­lars in annu­al rev­enue. It turns out Sin­que­field, a pri­vate equi­ty investor, has sub­stan­tial invest­ments in one of the three firms expect­ed to bid on the pub­lic-pri­vate part­ner­ship if the city decides to move forward.
Yet, out­side of the Unit­ed States, the deals are start­ing to lose their lus­ter. Con­ser­v­a­tives in Britain recent­ly aban­doned sign­ing new pub­lic-pri­vate part­ner­ships alto­geth­er. They could no longer boast about ​"inno­va­tion," ​"effi­cien­cy" and ​"improved ser­vice." The facts were too pow­er­ful to cov­er up. Since 1992, pub­lic-pri­vate part­ner­ships signed by the Unit­ed King­dom have yield­ed infra­struc­ture val­ued at more than $71 bil­lion. Yet, tax­pay­ers will pay more than five times that amount under the terms of the con­tracts used to build this infrastructure.
The evi­dence is in. Pub­lic-pri­vate part­ner­ships are more expen­sive than tra­di­tion­al pub­lic invest­ment, tend towards being secre­tive and unde­mo­c­ra­t­ic, often lim­it pub­lic deci­sion-mak­ing and — like all pri­va­ti­za­tion schemes — out­source good, sta­ble pub­lic jobs.
Con­gres­sion­al Democ­rats must con­tin­ue to hold the line if the Trump admin­is­tra­tion resumes its push for a com­bi­na­tion of infra­struc­ture spend­ing cuts and fed­er­al sub­si­dies for pri­vate invest­ment. In no way should they enter­tain Repub­li­can ideas like asset recy­cling, in which Wash­ing­ton incen­tivizes state and local gov­ern­ments that sell off infra­struc­ture. At the same time, they must demand direct pub­lic invest­ment paid for with high­er tax­es on cor­po­ra­tions and the wealthy.
It's a tough spot — but hold­ing out will prove worth it in the long run. Not only does much of the pub­lic sup­port more fed­er­al spend­ing on infra­struc­ture and less pri­va­ti­za­tion, but pop­u­lar opin­ion is start­ing to shift in sup­port of high­er tax­es on cor­po­ra­tions and the wealthy. Hold­ing Repub­li­cans account­able for starv­ing America's infra­struc­ture while build­ing the case for more fed­er­al spend­ing will help build momen­tum for when Democ­rats regain the reins of power.
Jere­my Mohler
is a Wash­ing­ton D.C.-based polit­i­cal writer with In the Pub­lic Inter­est and a med­i­ta­tion teacher.