Displaced After Hurricane Maria, Puerto Ricans Face Awful Conditions in NYC Shelters
People who left Puerto Rico for New York didn't know about FEMA's Transitional Sheltering Assistance Program, which offers temporary hotel rooms. Instead, they wound up in homeless shelters.
This arti­cle orig­i­nal­ly appeared at Cen­ter for Inves­tiga­tive Jour­nal­ism (CPI).
"We started getting sick. The meals are horrible, all microwave. You felt like you were in confinement because you have to arrive before nine o'clock at night. If you don't, you stay outside. For every movement you make, you have to sign in and out."
On the morn­ing of Decem­ber 8, Nellyan Velázquez and her three-year-old daugh­ter left Puer­to Rico for New York, unaware of what their fate would be. After a long wait at the Pre­ven­tion Assis­tance and Tem­po­rary Hous­ing (PATH) build­ing in the Bronx that last­ed past mid­night, a school bus arrived and took them to Brooklyn.
Once in Brook­lyn, they spent the night in a build­ing with­out an ele­va­tor. Their room was ​"super dis­gust­ing." The mat­tress­es had no sheets. Nellyan did not even remem­ber the address. They arrived at 2 a.m., asleep. By 6 a.m., with the tem­per­a­ture at 40 degrees, they were out­side of the build­ing again with their suit­cas­es — wait­ing for the bus to return to the Bronx office to see if they would get a tem­po­rary shelter.
That day, PATH, a pro­gram of New York City's Depart­ment of Home­less Ser­vices, put them in a Coney Island apart­ment where they spent the sec­ond night in anoth­er room that Nellyan described as ​"hor­ri­ble."
"I'll tell you this: cock­roach­es would crawl into the drain, through the pipes of the sink, in the kitchen, behind the refrig­er­a­tor. Cock­roach­es were every­where. One night, I'm turn­ing over in my bed to see my daugh­ter sleep­ing in the shel­ter and right then a cock­roach crawls across her pil­low…. You have to be in the shel­ters by nine. You have to sign in to enter and exit. They real­ly aren't places you can live in… The oth­er day when I spent my overnight, I saw three Puer­to Rican fam­i­lies arriv­ing," Nellyan said.
Fam­i­lies from Puer­to Rico who lost their homes to Hur­ri­cane María are show­ing up at home­less pro­grams in New York main­ly through third-par­ty refer­rals, but with­out infor­ma­tion about the Fed­er­al Agency for Emer­gency Man­age­ment (FEMA) Tran­si­tion­al Shel­ter­ing Assis­tance Pro­gram, which offers tem­po­rary stays in hotel rooms.
"[PATH] is putting them in clus­ter build­ings. They're putting them in shel­ters, which you know, I appre­ci­ate that they are offer­ing them, but … I was the one who took her out of that shel­ter," said Sonia Velázquez, a Puer­to Rican com­mu­ni­ty leader from New York who famil­iar­ized Nellyan with the FEMA pro­gram and then took her to a Brook­lyn hotel that was work­ing with the fed­er­al agency.
That hotel was pro­vid­ing rooms for sev­er­al Puer­to Rican fam­i­lies dis­placed by the hur­ri­cane: a man liv­ing alone; a 50-year-old woman and her sick moth­er; a woman liv­ing alone; a 43-year-old woman with her hus­band and three daugh­ters. All their homes in Puer­to Rico remain unliv­able with no pow­er. The chil­dren have missed school. The adults have lost their jobs. The sick lack med­ical services.
Mean­while, both the Puer­to Rican and fed­er­al gov­ern­ments con­tin­ue to strug­gle in the recu­per­a­tion process. Three months after the hur­ri­cane, almost half of the island's pop­u­la­tion still does not have pow­er. FEMA has not dis­trib­uted emer­gency funds, while Puer­to Rico's unem­ploy­ment rate is around 10.8 per­cent and peo­ple leav­ing the island could fluc­tu­ate between 100,000 to 200,000 peo­ple per year.
Accord­ing to Nellyan, who has been in the Brook­lyn hotel since Decem­ber 12, there are between 28 and 30 fam­i­lies liv­ing there. Velázquez would not give an exact num­ber of peo­ple who live there or are arriv­ing dai­ly at the hotel, cit­ing ​"secu­ri­ty reasons."
The num­ber of peo­ple liv­ing in Puer­to Rico's gov­ern­ment shel­ters reached a peak of 15,000 right after the hur­ri­cane, but that num­ber has been decreas­ing since Octo­ber. Mean­while, start­ing on Octo­ber 30, the num­ber of peo­ple seek­ing help through FEMA's Tran­si­tion­al Shel­ter­ing Assis­tance pro­gram in U.S. hotels has increased.
As of Jan­u­ary 9, there are 11,533 peo­ple from Puer­to Rico in the FEMA pro­gram, accord­ing to data pro­vid­ed by the agency. The vast major­i­ty of these peo­ple are liv­ing on the East Coast.
The Cen­ter for Inves­tiga­tive Jour­nal­ism (CPI) iden­ti­fied a sig­nif­i­cant increase of 3,180 peo­ple in the FEMA pro­gram between Decem­ber 14 and Jan­u­ary 9. In addi­tion, the cur­rent num­ber of peo­ple in this pro­gram is greater than the num­ber of peo­ple who received shel­ter from the Puer­to Rican gov­ern­ment two days before the hur­ri­cane. That num­ber was 11,105, accord­ing to the island's Depart­ment of Housing.
Flori­da is the state with the largest num­ber of fam­i­lies in FEMA's Tran­si­tion­al Shel­ter­ing Assis­tance pro­gram at 1,755. Mass­a­chu­setts is next with 578. In New York, there are 208 fam­i­lies, and Penn­syl­va­nia has 176 fam­i­lies. As of Jan­u­ary, there are 922 fam­i­lies in hotels on the island. The pro­gram allows peo­ple to stay for five to 14 days. After that, par­tic­i­pants must request an exten­sion. Accord­ing to FEMA, 1,192 fam­i­lies have already com­plet­ed the pro­gram. In addi­tion, there are 19 fam­i­lies whose relo­ca­tion sta­tus is unknown. FEMA con­trac­tor Cor­po­rate Lodg­ing Con­sul­tants, a provider of hotel ser­vice in the Unit­ed States, tracks the sta­tus of the program.
As of this pub­li­ca­tion of this sto­ry, 78 per­cent of the fam­i­lies in the FEMA pro­gram have yet to resolve their per­ma­nent hous­ing needs. In addi­tion, 280 peo­ple are still in Puer­to Rico's gov­ern­ment shelters.
Out­side of the num­bers, FEMA chose not to give pro­file infor­ma­tion about the peo­ple in the pro­gram. The CPI asked the agency for data about age, gen­der and fam­i­ly unit cat­e­gories. FEMA press offi­cer Joann Díaz said that this infor­ma­tion is con­fi­den­tial, not­ing that a ​"report must be cre­at­ed." Díaz also indi­cat­ed that she does not know when the agency could pro­vide the data request­ed by the CPI.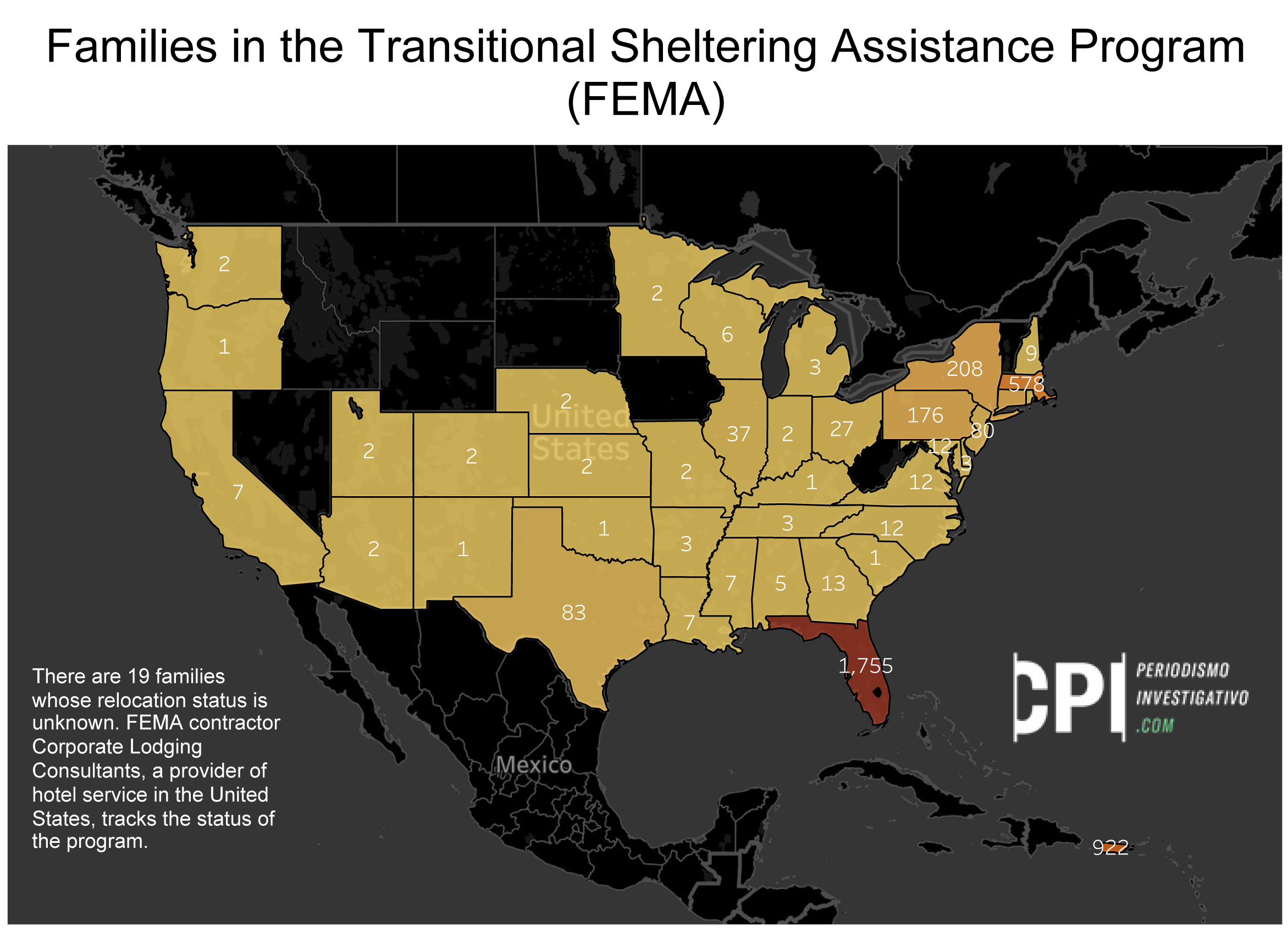 A Jour­ney With No Return
Nellyan lived in the town of Aguas Bue­nas, Puer­to Rico. She sought shel­ter from Hur­ri­cane Maria at the home of her mater­nal grand­moth­er, and had to wait until some streets were pass­able to head back to her house. When Nellyan went back home, ​"it was hor­ri­ble," she said. Mud, leaves and water were every­where. She had to toss out every­thing that got wet.
She is 25 years old, with a bachelor's degree in crim­i­nol­o­gy and a spe­cial con­cen­tra­tion in adver­tis­ing and mar­ket­ing. Before the hur­ri­cane, Nellyan worked in two stores at the Las Catali­nas Mall in Caguas — one that sold shoes and anoth­er that sold eyeglasses.
"The mall is already open, but for me it's not fea­si­ble to work three or four hours to main­tain a gen­er­a­tor and buy food, which gets dam­aged every day. And my daugh­ter is aller­gic to many things too, and the med­ica­tions for that. For me, it is not fea­si­ble to stay in a coun­try that's real­ly going back­wards instead of mov­ing for­ward," said Nellyan, who wore a padded, thick jack­et to pro­tect her­self from the cold.
In Puer­to Rico, some friends told her about Pre­ven­tion Assis­tance and Tem­po­rary Hous­ing (PATH) in New York. She searched the inter­net for infor­ma­tion, found an address and saw a pho­to of the build­ing. Nellyan called, but no answered. With­out any fur­ther infor­ma­tion and with air­fare her moth­er bought, Nellyan and her daugh­ter took their trip in ear­ly December.
Like many oth­ers on the island, which had been fac­ing a decade-long fis­cal cri­sis, Nellyan had already thought about mov­ing to the Unit­ed States before the hur­ri­cane. But she always resisted.
"Because I had my work and although it wasn't a big salary, I was a team leader in one job and a reg­u­lar employ­ee at the oth­er one. It wasn't much, but I could, for exam­ple, pay my rent, my bus and man­age with my daugh­ter. Yes, I could do it. But when the hur­ri­cane passed, obvi­ous­ly every­thing went back­wards. So I thought about it and since I've always want­ed to go to the Unit­ed States, this would be a great oppor­tu­ni­ty to start from scratch. And although life is more expen­sive here, there are more job oppor­tu­ni­ties. I want to estab­lish myself. I don't want to return to Puer­to Rico," Nellyan said as her daugh­ter walked around her.
Nellyan was sit­ting in a large room on the first floor of the hotel that for the time being has become her home. Unlike the PATH shel­ters, she said, there are no strict rules here.
"In my case, since I have a baby, I have two beds, a bath­room, a kitchen. I have a table. I have a tele­vi­sion. In the shel­ters, there are no tele­vi­sions. I have a pil­low, blan­ket… You can go in and out when­ev­er you want. We go to oth­er rooms of peo­ple we made friends with. We cook and have a good time. The peo­ple that have food stamps, since there's a kitchen here, they pro­vide us with pots and uten­sils and plates, and we can cook here, and we eat here. I had [food stamps] in Puer­to Rico. I closed that case so I could open it here when I arrived. The process was super fast," Nellyan said.
For now, life in New York out­side of the hotel is filled with paper­work. Nellyan's daugh­ter is in state care. And Nellyan attends Nutri­tion­al Assis­tance Pro­gram appoint­ments and med­ical appoint­ments. She plans to take cours­es to per­fect her Eng­lish. Nellyan still does not know how long she can stay at the hotel, but she is already apply­ing to FEMA's tem­po­rary hous­ing program.
The Moyet Family
Fer­nan­do Moyet, a res­i­dent of Bayamón, Puer­to Rico, decid­ed to leave for the Unit­ed States after his wife had two oper­a­tions can­celed due to Hur­ri­cane María. They spent almost a month in a hotel assigned to them by PATH in Brook­lyn, until Sonia Velázquez informed them about the FEMA pro­gram, and they moved to the hotel where oth­er peo­ple from Puer­to Rico live.
"First, I found out that to go to a shel­ter, we had to go to an office called PATH. You get there with your fam­i­ly. First, we were alone because the girls were in school, and all the fam­i­ly mem­bers have to be there. We went the next day. We arrived at nine in the morn­ing. Do you know what time they took us from that site? At eleven o'clock at night, to do an overnight as they call it — one night in which they get us the hotel for us or in the shel­ter for us, because they are lit­tle hotels that they have turned into shel­ters," Moyet said.
"They took us [from the PATH office] on a school bus filled with peo­ple. There were Puer­to Ricans but also from here, African-Amer­i­cans and Mex­i­cans. And they told us that then they would put us in a bet­ter place. That overnight I remem­ber was the most hor­ri­ble thing in the world. My wife has mobil­i­ty issues. To climb five floors? She can't do it. How did they not give her a first floor? That was a rat cage full of cock­roach­es, full of cement. I had no bed­sheets," Moyet added.
"We start­ed get­ting sick. The meals are hor­ri­ble, all microwave. You felt like you were in con­fine­ment because you have to arrive before nine o'clock at night. If you don't, you stay out­side. For every move­ment you make, you have to sign in and out. And I said ​'come on, I'm not on pro­ba­tion.' That's what it looked like. But that's their sys­tem. With three girls and me and my wife, the five of us got sick, and I said ​'no, I have to do some­thing.' I kept look­ing for infor­ma­tion," said Moyet, who has already found work as a chef in Man­hat­tan. In Puer­to Rico, he worked as a civ­il employ­ee at the U.S. Army Buchanan base in Guaynabo.
"

We Lost Belief in the Government"

"We didn't sim­ply lose the facil­i­ties and good things in life, because peo­ple see that Puer­to Ricans always live with good things. We didn't lose that. We lost the fam­i­ly. We lost our dream. We lost the future of our chil­dren. We lost belief in the gov­ern­ment, trust in every­thing," said a 43-year-old Puer­to Rican woman at the hotel, who chose to pro­tect her identity.

She was sit­ting at a table in the hotel lob­by, wait­ing for more Puer­to Ricans to arrive so she could help them. Next to her were two oth­er women who were also in the FEMA pro­gram and assist­ing newcomers.

"You arrive with­out any direc­tion, with no one to guide you… I don't know any Eng­lish but noth­ing has held me back. I have fol­lowed all the ways and means to have peo­ple under­stand me, and if not, I don't move. I need some­one in Span­ish and if they do not look for that, I'll find it some­where else. And then leave my fam­i­ly, my mom who I have in a home in Bayamón, but I have to set­tle myself so I can bring her here. And I even had to leave my dogs, three pup­pies who are my life," the 43-year-old woman said, hold­ing back tears.

"My house was filled with sewage. I slept in a garage. How do I explain that to my daugh­ters? We have to sleep with the sounds of gun­fire from nine o'clock at night on. My daugh­ters slept with my hands hold­ing their hands, because at nine o'clock at night that place [Puer­to Rico] was a no man's land… I nev­er thought to leave at all, because that is my island," she recalled.

Anoth­er woman who was at the Brook­lyn hotel for a month-and-a-half did not go through the PATH shel­ters, but first stayed at a relative's house, which had also become like its own shelter.

"I came to a rel­a­tive and stayed there for a few days, and obvi­ous­ly oth­er peo­ple who were there had also come. We had almost twelve peo­ple in a very small place, in a very small space, and from there we decid­ed to find anoth­er place. Right now there is some­one here with two kids who doesn't know where to live or where to stay, and all she does is walk around here. I hope that the lit­tle infor­ma­tion we have got­ten her can help her a bit," said a 50-year-old San­turce woman, who pre­ferred to not reveal her identity.

"I total­ly ignored all this. I didn't know there was help. I didn't know we could be stay­ing in one place. I didn't plan to leave Puer­to Rico, but then my mother's con­di­tion, so I come here, and that's why I decid­ed to stay, because in the house where I lived there, every­thing was dam­aged, flood­ed, and we were with­out pow­er, sleep­ing on the floor, sleep­ing prac­ti­cal­ly with every­thing open. I saw that there were bet­ter con­di­tions here, and that's why I decid­ed to stay," she said.
Oth­er Places in the FEMA Program
The CPI vis­it­ed two oth­er New York hotels list­ed in the FEMA pro­gram. One was a two-sto­ry cement and wood­en struc­ture on Glen­wood Road in Brook­lyn. The FEMA list iden­ti­fied the place as a bed and break­fast, but upon arrival, a sign said it was a day-care cen­ter called Del's.
It was 1 p.m. There were bare­ly any cars mov­ing on the street, and one or two peo­ple were occa­sion­al­ly walk­ing down the side­walk. The small building's gate was open, but no one answered the door­bell. When the CPI called and asked if they accept­ed peo­ple from the FEMA pro­gram, one employ­ee said yes, but did not know if peo­ple from Puer­to Rico were stay­ing there.
Anoth­er place in Brook­lyn was called the Park House Hotel, locat­ed in Bor­ough Park. The hotel con­firmed that there was a Puer­to Rican woman in the FEMA pro­gram, but the CPI did not have access to speak with her.
FEMA eval­u­ates each fam­i­ly that par­tic­i­pates in the Tran­si­tion­al Shel­ter­ing Assis­tance Pro­gram every 30 days, since they must demon­strate that repairs are being made to their home, said Delyris Aquino, a FEMA press offi­cer in Puer­to Rico. In the case of non-own­ers, they must sub­mit infor­ma­tion from a land­lord and demon­strate progress in get­ting a secure home with the finan­cial or direct assis­tance grant­ed by FEMA.
The Tran­si­tion­al Shel­ter­ing Assis­tance Pro­gram must last three months from the moment it was acti­vat­ed, which in the case of Hur­ri­cane María was Octo­ber 31, 2017. But the Puer­to Rican request­ed an exten­sion that was approved, so the pro­gram will be active until March 20.
"This date will be re-eval­u­at­ed in 31 days to ver­i­fy if it is eli­gi­ble for an exten­sion," said Díaz, the FEMA press offi­cer. The CPI asked if there was a guide or doc­u­ment with all the require­ments for this pro­gram, but Díaz said that the Tran­si­tion­al Shel­ter­ing Assis­tance Pro­gram does not have it.
"The sys­tem does it and it is inter­nal," she added.
The CPI asked New York City's Depart­ment of Home­less Ser­vices for infor­ma­tion about how many fam­i­lies from Puer­to Rico it has served since Sep­tem­ber 20. The CPI also told the depart­ment about the com­plaints about the shel­ters' con­di­tions and was asked why peo­ple who arrive at the PATH office due to the hur­ri­cane do not receive infor­ma­tion about FEMA services.
Isaac McGinn, the department's press sec­re­tary, replied with the fol­low­ing e‑mail message:
"Our goal is to help evac­uees sign up and receive FEMA ser­vices imme­di­ate­ly after seek­ing help, and con­nect with friends and fam­i­ly to get a place to stay."
Eng­lish Ver­sion by Julio Ricar­do Varela | Lati­no USA
This sto­ry was made pos­si­ble by the Futuro Media Group as part of a col­lab­o­ra­tion sup­port­ed by the Ford Foundation.