Puerto Rico's Major Newspapers Laid Off Reporters Just When the Island Needed Them the Most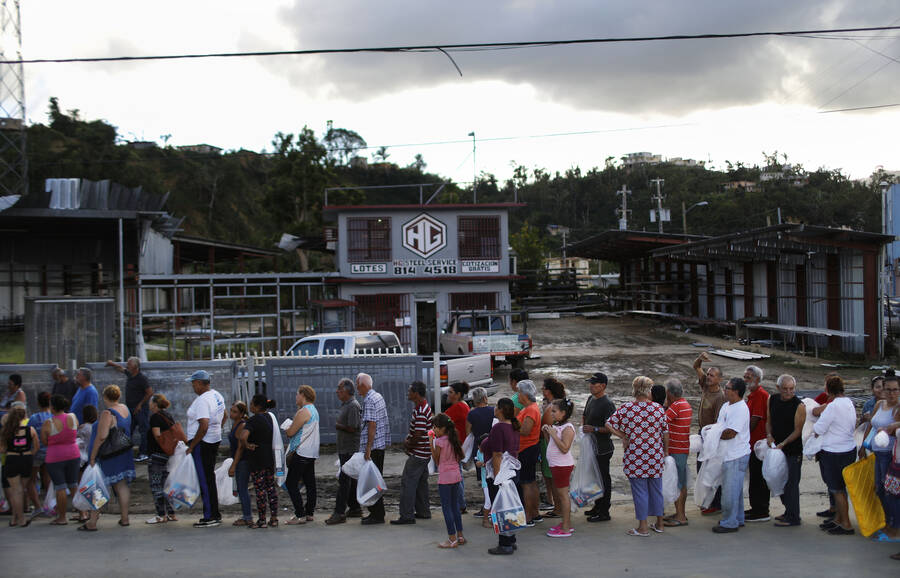 On the morn­ing of Sept. 19, 2017, hours before Hur­ri­cane Maria struck Puer­to Rico, edi­tors at the news­pa­per Primera Hora sent Sara (not her real name), one of their reporters, to the small island Cule­bra, miles off Puer­to Rico's coast.
Hur­ri­cane Irma, which had hit the north­east­ern Caribbean a month before, had caused mas­sive destruc­tion. ​"They want­ed to have some­one [on Cule­bra] in case the prob­lems were big­ger with Maria," Sara tells me. ​"I left my fam­i­ly just to be a good employ­ee and a good jour­nal­ist and be there in order to report the damages."
After Maria passed, Sara was with­out wifi or cel­lu­lar ser­vice, unable to reach her edi­tors. On Fri­day, the com­pa­ny GFR Media, which owns Primera Hora, sent a heli­copter to pick her up and bring her back to San Juan, Puer­to Rico.
Primera Hora then sent sev­er­al reporters, includ­ing Sara, back to their home­towns to report on the after­math of the storm. Sara had no way of com­mu­ni­cat­ing with her par­ents that she'd be stay­ing with them until she showed up at their doorstep.
Using satel­lite phones, reporters called in their stories.
"[Primera Hora] said, ​'No mat­ter what, you write,'" Sara says. The out­let kept their web­site updat­ed con­sis­tent­ly with cov­er­age of the storm.
On Sept. 23, 2017, three days after Maria hit Puer­to Rico, Primera Hora and El Nue­vo Dia, the island's two major papers, both owned by GFR Media, began print­ing again on a small scale using gen­er­a­tors for pow­er. Dis­tri­b­u­tion, how­ev­er, was more dif­fi­cult. Lines for gas could have wait times of up to 20 hours and many roads were destroyed and flooded.
A GFR Face­book post dat­ed Sept. 30, 2017, not­ed that El Nue­vo Dia was dis­trib­ut­ing 120,000 copies dai­ly and Primera Hora was dis­trib­ut­ing 50,000. ​"Our mis­sion is to reach every cor­ner and togeth­er we can rebuild our island and mark a new begin­ning," the post read.
But then, with no warn­ing, on Oct. 26, 2017, GFR Media laid off 59 of their 250-mem­ber staff. Of these lay­offs, 19 were reporters, includ­ing Sara. The com­pa­ny also cut ties with 15 con­tract work­ers. Claim­ing the lay­offs were tem­po­rary, GFR denied the staff sev­er­ance, ben­e­fits and insurance.
The day she was laid off, Sara remem­bers see­ing bun­dles of Primera Hora news­pa­pers near a waste can at a gas sta­tion, still tied up, undistributed.
"That was a sad day," said Sara, who did not want her real name used because she still hopes to resume work­ing for GFR.
Behind the cuts
GFR Media was found­ed and is owned by the Fer­ré Rangel fam­i­ly. The founder and first edi­tor of El Nue­vo Dia and Primera Hora, Anto­nio Luis Fer­ré, was the son of for­mer Puer­to Rican gov­er­nor Luis A. Fer­ré. Since their incep­tion in 1970, the two papers have been the island's major news outlets.
"GFR is owned by one of the most pow­er­ful fam­i­lies in Puer­to Rico," says Yaphett Tor­res, a rep­re­sen­ta­tive of the Unit­ed Steel­work­ers, which rep­re­sents employ­ees of both news­pa­pers. ​"They have influ­ence in pol­i­tics and every­where in Puer­to Rico."
Like major media com­pa­nies across the Unit­ed States, GFR has made sig­nif­i­cant staff cuts in the past decade. There was a major lay­off in 2008, accord­ing to staff. In April of 2017, eight account ana­lysts were let go. In July, 2017, 11 more employ­ees were laid off, includ­ing reporters and photo-journalists.
"We expect­ed lay­offs at any time," said Ana (also not her real name), a jour­nal­ist for El Nue­vo Dia. ​"I nev­er felt secure in my job."
"After the sum­mer lay­offs, they told us they were caught up in expens­es but doing their best," says Ana. ​"But as soon as Maria passed, we knew things were going to change. We said, ​'This is the excuse they've been wait­ing for.'"
The union was told about the impend­ing lay­offs two hours before they occurred, but they were not giv­en names, Tor­res says. Eight staff who had worked under GFR for over 20 years were cut. The union has filed three griev­ances, includ­ing alle­ga­tions that the lay­offs vio­lat­ed senior­i­ty protections.
"We expect­ed it was going to hap­pen, but not that fast and not in that amount," says Ana.
Ana says that the expla­na­tion for the lay­offs she was giv­en by Gra­ciela Ele­ta, then-CEO of GFR media, was that ad rev­enue had seen a steep decline since 2016.
"But 2016 is an elec­tion year — you can't com­pare," says Ana. ​"It was an excuse and we all knew that. There was so much work to be done because of Maria but they didn't care."
Ana says GFR media for­bid the employ­ees who were tem­porar­i­ly laid off from work­ing with a com­peti­tor if they hope to one day be rehired by GFR. ​"We have to stay in reserve for a year," she says, adding there is no cer­tain­ty they will be rehired.
Sara says GFR media did not tell them this direct­ly, but pub­lished a pub­lic state­ment on the GFR Media Twit­ter account. ​"I don't have a let­ter," she says. ​"Just a pub­lic expla­na­tion say­ing that [GFR media jour­nal­ists] are on hold and can't work for competitors."
"The peo­ple still work­ing [at GFR] are very afraid of what will hap­pen," Ana says, adding that the gen­er­al opin­ion among employ­ees is that GFR will even­tu­al­ly ter­mi­nate all union work­ers and hire by contract.
GFR offi­cials declined to answer ques­tions for this sto­ry. María Euge­nia Fer­ré Rangel, the cur­rent CEO of GFR Media, pro­vid­ed a state­ment say­ing in part:
"An unwa­ver­ing com­mit­ment to eth­i­cal, inde­pen­dent, rel­e­vant, life-chang­ing jour­nal­ism has been our rea­son for being and our long-term strat­e­gy. It has served us and the coun­try well dur­ing times of social and eco­nom­ic progress, as well as, dur­ing chal­leng­ing times, such as eco­nom­ic reces­sion Puer­to Rico has faced dur­ing the past decade — a sit­u­a­tion that was aggra­vat­ed and deep­ened by the social, eco­nom­ic and nat­ur­al dev­as­ta­tion caused by Hur­ri­cane Maria."
Cov­er­age questioned
Mean­while, in the after­math of Hur­ri­cane Maria and the government's botched response, many Puer­to Rican res­i­dents, includ­ing for­mer GFR staff, are becom­ing increas­ing­ly skep­ti­cal of GFR's cov­er­age and what some see as the company's close ties with the Puer­to Rican and fed­er­al governments.
Ana says her fam­i­ly will read El Nue­vo Dia to be informed but they don't think they're get­ting the whole picture.
"Peo­ple see the media as more impor­tant than ever now," she says. ​"But they're ask­ing, ​'How hon­est is [GFR], talk­ing about unit­ing Puer­to Rico after fir­ing their reporters and [leav­ing] staff who worked for them for 25 years with­out severance?'"
As of late Feb­ru­ary, El Nue­vo Dia was rent­ing part of its head­quar­ters to FEMA, an arrange­ment that some see as eth­i­cal­ly questionable.
Pro­fes­sor and San Juan cit­i­zen Mar­itza Stanchich receives basic infor­ma­tion from El Nue­vo Dia but, she says, ​"It's hard to think it's not in their own inter­est" to bol­ster the government's image, or ​"that they're man­u­fac­tur­ing con­sent" from the pub­lic for the government's poli­cies. She cites edi­to­ri­als prais­ing the fis­cal con­trol board over­see­ing the island's debt restruc­tur­ing and eco­nom­ic decisions.
Ana says that the ques­tion of GFR's bias towards the gov­ern­ment has been a prob­lem long before Maria. Accord­ing to Ana, she and her col­leagues were reg­u­lar­ly direct­ed on how to frame a story.
"We real­ized we had to cen­sor our­selves," Ana says. She recalled an arti­cle about gov­ern­ment cor­rup­tion she wrote that was sched­uled for pub­li­ca­tion, but then, she says, the edi­tor pulled it after a sur­prise meet­ing with a gov­ern­ment offi­cial. El Nue­vo Dia man­age­ment promised her it would be pub­lished lat­er. It nev­er was, she claims.
El Nue­vo Dia reporter Felix Jiménez, who has writ­ten a col­umn for the paper for eight years, dis­agrees. ​"I have the pow­er to cut what­ev­er I want­ed," said Jiménez, empha­siz­ing that in his view the paper is not micromanaged.
Inde­pen­dent media boon
As GFR is deal­ing with staff cuts and read­er dis­con­tent, oth­er small­er and more inde­pen­dent out­lets appear to be thriv­ing in the hurricane's after­math, per­haps in part because of the public's increased appetite for scruti­ny of the government.
In 2013, El Vocero, a free week­ly news­pa­per that is GFR Media's clos­est com­peti­tor, was close to fil­ing for bank­rupt­cy. Now they've sur­passed El Nue­vo Dia in dai­ly read­er­ship, accord­ing to Gaither International's Jan­u­ary 2018 Media Brand Pro­files report.
The non-prof­it Cen­tro de Peri­odis­mo Inves­tiga­ti­vo has received inter­na­tion­al atten­tion for its work post-Maria. With just nine staff mem­bers, three of them part time, the cen­ter delves deep into inves­tiga­tive issues, expos­ing every­thing from ques­tion­able cor­po­rate tax breaks to ille­gal gov­ern­ment deal­ings and envi­ron­men­tal injustices.
After the hur­ri­cane, reporters at the pro-inde­pen­dence news­pa­per Clar­i­dad also con­tin­ued report­ing around the clock, despite the fact the small orga­ni­za­tion was not able to pay staff for six weeks.
"Peo­ple trust us," says Clar­i­dad reporter Cán­di­da Cot­to. ​"I work here because it's not a place I'll be censored."
Clar­i­dad reporters and staff indi­cat­ed that while work­ing with­out pay was an extreme hard­ship, they were will­ing to do so because they see Claridad's mis­sion as push­ing for a new real­i­ty for Puer­to Rican cit­i­zens where they can con­trol their own polit­i­cal and eco­nom­ic destiny.
At a time when Puer­to Rican res­i­dents are des­per­ate­ly seek­ing crit­i­cal news about both the island and local gov­ern­ment, the cuts to staff at major news­pa­pers is seen by many as a trou­bling devel­op­ment. And the growth of read­er­ship in inde­pen­dent out­lets shows that, as the island recov­ers from Hur­ri­cane Maria, the need has nev­er been greater for accu­rate and robust reporting.
Kather­ine Braden
is cur­rent­ly pur­su­ing a Master's of Sci­ence in Jour­nal­ism from Medill School of Jour­nal­ism at North­west­ern Uni­ver­si­ty. Pre­vi­ous­ly she received her B.A. in Eng­lish writ­ing from Wheaton Col­lege. She lives in Chica­go, IL.