Racist Blowback Against Colin Kaepernick Isn't Just About Him: It's Aimed at Black Resistance Itself
We refuse to apologize for fighting for our freedom.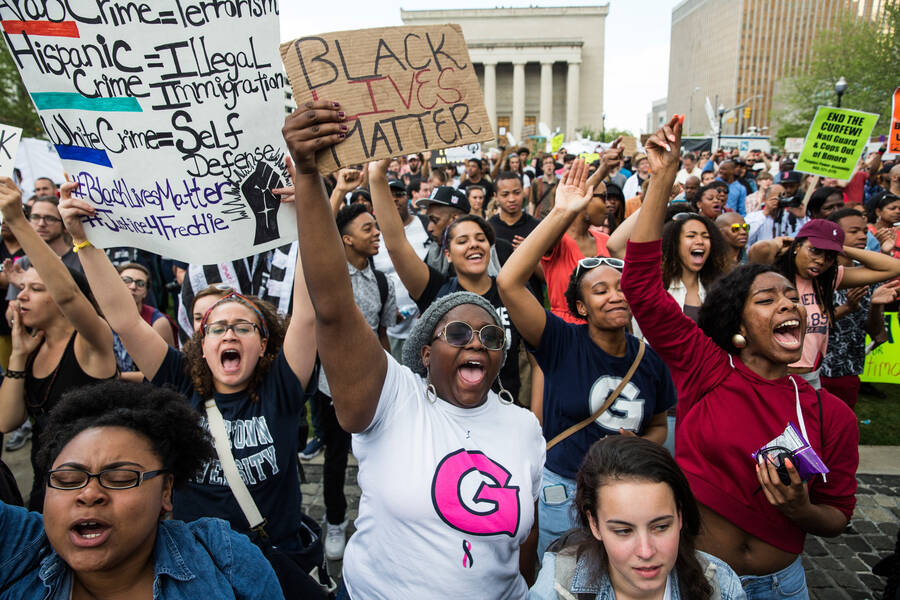 Right-wing media out­lets are attack­ing Col­in Kaeper­nick for donat­ing to an orga­ni­za­tion I vol­un­teer with, Assata's Daugh­ters, which is ded­i­cat­ed to rais­ing youth to love and sup­port Black peo­ple. This press onslaught, inflamed by Bre­it­bart, stems from the age-old attack on every­thing Black. That attack is now esca­lat­ing, because we are deter­mined to fight for our free­dom. The fact that these so-called ​"alt-right" groups are threat­ened by the strug­gle for Black self-deter­mi­na­tion shows the real pow­er we have and our audac­i­ty in exer­cis­ing it.
Why should a Black person be expected to side with a U.S. government that legally rendered their ancestors property and celebrated their deaths as they struggled to free themselves?
As Jami­lah King wrote in Moth­er Jones, ​"Kaeper­nick donat­ed $25,000 to Black women, and con­ser­v­a­tives have lost their minds."
Assata's Daugh­ters is com­mit­ted to sus­tain­ing and deep­en­ing the move­ment for Black Lives. We chant the words of Assa­ta Shakur — a free­dom fight­er, poet, moth­er and Black rev­o­lu­tion­ary — every Wednes­day after school with beau­ti­ful Black girls as young as six on Chicago's South Side:
It is our duty to fight for our freedom.

It is our duty to win.

We must love each oth­er and sup­port each other.

We have noth­ing to lose but our chains.
This lat­est attack is not just about the cur­rent back­lash expe­ri­enced by Col­in Kaeper­nick, Assa­ta Shakur or Assata's Daugh­ters: It is about all of us. This coun­try is found­ed on and has prof­it­ed from Black­ness being owned and con­trolled. Our bod­ies have toiled in fields and fac­to­ries and filled pris­ons with cheap or free labor to cre­ate prod­ucts for Victoria's Secret, McDonald's, Whole Foods and oth­ers. Crim­i­nal­iz­ing Black peo­ple has been — and con­tin­ues to be — a key func­tion of the U.S. police force and legal sys­tem. Assa­ta Shakur has been crim­i­nal­ized by the same fed­er­al gov­ern­ment that pro­vid­ed free prison labor to BP to clean up the 4.2 mil­lion bar­rels of oil spilled in the Gulf.
The ques­tion of whether to trust such a sys­tem is life or death for us, espe­cial­ly as our peo­ple are mis­la­beled as ​"cop killers" and dragged in the press.
The back­lash and war on Black peo­ple we are see­ing today has come in sev­er­al forms through­out time. We are out­cast, fired, smeared, arrest­ed, impris­oned, bru­tal­ized and killed for sim­ply walk­ing down the street in our neighborhoods.
We remem­ber Rekia Boyd, a Black woman shot in the back of the head in Chica­go by an off-duty police offi­cer while she was walk­ing with a com­pan­ion and hold­ing a cell phone. Since the cop who mur­dered her assumed that Black peo­ple are crim­i­nals, it did not occur to him that the vic­tim he pic­tured point­ing a gun at him could have instead been mak­ing a phone call. And again, we wit­nessed the jus­ti­fi­ca­tion of Black death and state mur­der, when the police offi­cer got away with it.
We remem­ber the case of anoth­er Chicagoan, Laquan McDon­ald, who was shot 16 times by a Chica­go cop. Police were charged with numer­ous counts of con­spir­a­cy for tam­per­ing with the evi­dence, writ­ing false reports and lying to cov­er up the mur­der. This so-called ​"code of silence" has been chal­lenged for years by Black peo­ple who didn't need web­cams and a near­ly-two-year inves­ti­ga­tion to con­firm what end­ed up being true again: The offi­cer cre­at­ed a false nar­ra­tive of a vio­lent, knife-wield­ing, Black, dan­ger­ous, teenaged McDonald.
Assata's Daugh­ters was part of the strug­gle to win jus­tice for Laquan McDon­ald while suc­cess­ful­ly push­ing for the oust­ing of for­mer Cook Coun­ty State's Attor­ney Ani­ta Alvarez, who was instru­men­tal to the cover-up.
Our present-day abo­li­tion­ist strug­gle con­tin­ues to oppose the police and a wide­spread form of cap­tiv­i­ty — incar­cer­a­tion. After all, if we stud­ied the his­to­ry of polic­ing as well in the Unit­ed States, we would even­tu­al­ly learn that the police were orig­i­nal­ly white vig­i­lante groups that evolved into ​"Indi­an Patrols" and fugi­tive slave catch­ers — all nec­es­sary to con­trol and prof­it off of the crim­i­nal­iza­tion of Black and Brown cap­tives of the past, as well as the present.
While Black peo­ple com­prise just 13 per­cent of the U.S. pop­u­la­tion, we com­prise 40 per­cent of the incar­cer­at­ed pop­u­la­tion. We are entan­gled and bru­tal­ized in a legal sys­tem more like­ly to wrong­ful­ly con­vict and imprison us than any oth­er group. This is the same sys­tem that crim­i­nal­ized Assa­ta Shakur, Har­ri­et Tub­man and Rosa Parks.
My 11-year-old niece does not learn in her class­room the lessons she learns in the after-school pro­gram pro­vid­ed by Assata's Daugh­ters. This orga­ni­za­tion shows her what it feels like when a com­mu­ni­ty of Black peo­ple vows to fight for free­dom in the tra­di­tion of Assa­ta Shakur, Har­ri­et Tub­man, Har­ri­et Jacobs, Queen Nan­ny, Nana Yaa Asan­te­waa and many oth­ers who have taught us how to win.
It is no sur­prise that Black resis­tance to white suprema­cy will be, and always has been, con­sid­ered ​"inap­pro­pri­ate" in this coun­try. This is just one of many attacks Kaeper­nick has endured, includ­ing the blow­back to his deci­sion to reject anti-Black­ness by sym­bol­i­cal­ly tak­ing a knee dur­ing the Unit­ed States Nation­al Anthem. The ​"alt-right" does not think it is his right, or the right of any Black per­son, to be ​"ungrate­ful" to a coun­try that has made great strides. But they fail to real­ize it was our Black free­dom fight­ers, in sol­i­dar­i­ty with oth­ers, who fought for and won such strides.
The sto­ry of Black resis­tance is tucked away, like the hard­ly-ever-sung, racist third verse of the Nation­al Anthem, which cel­e­brates the deaths of Black peo­ple, the Colo­nial Marines, who were auda­cious enough to fight against their own enslave­ment on the side of the British in an 1814 attack on the White House. (To be clear, the British also engaged in slav­ery at this time.)
Why should a Black per­son be expect­ed to side with a U.S. gov­ern­ment that legal­ly ren­dered their ances­tors prop­er­ty and cel­e­brat­ed their deaths as they strug­gled to free themselves?
As this lat­est racist onslaught against us shows, Black peo­ple do not have the right to lib­er­ty and resis­tance in 2017 either. Ath­letes like Kaeper­nick are expect­ed to sus­pend their First Amend­ment rights, be grate­ful and pre­tend that verse doesn't explic­it­ly shame his ances­tors for resist­ing their own enslave­ment. We all are expect­ed to stand and sing the Anthem with pride as if our babies don't know that third verse.
And this is exact­ly why we have the audac­i­ty to resist and the audac­i­ty to name our own heroes.
Kee­dra Gib­ba
is a queer Black edu­ca­tor and orga­niz­er liv­ing in Chicago.