Rage Within the Machine
Rapper Killer Mike takes on neoliberalism.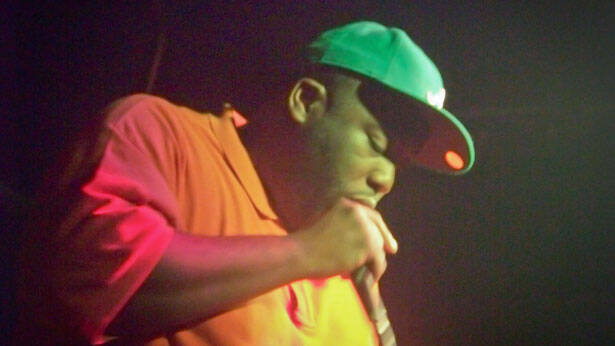 Chuck D of the rap group Public Enemy famously remarked that hip hop is ​"the black CNN." While that wouldn't come across as a compliment these days, it didn't do justice to Public Enemy, whose scathing broadsides were closer to a Malcolm X speech than a sleepy Wolf Blitzer interview. It's little wonder that older hip hop fans attracted to the genre's intricate sample collages and inventively political lyrics frequently look back wistfully to Public Enemy, bemoaning the apolitical direction of urban radio's paeans to partying and luxury brands.
But the dichotomy between the golden age of politically engaged hip hop and contemporary corporate pablum is often overstated: Hip hop has always been commercially minded, and its politics have taken subtler forms than Chuck D's broadsides. The obsession with dealing cocaine in today's ​"trap" variety of Southern hip hop — the drug dealing tales of Young Jeezy and Rick Ross proliferate across urban radio — is a fantasy borne out of the dire circumstances of mass incarceration and the War on Drugs: There's a clear note of ambivalence in describing the site of one's drug dealing as ​"trap."
Atlanta's Killer Mike has labored for almost a decade to deconstruct the divide between street concerns and political aims. His ​"I Pledge Allegiance to the Grind" series of mixtapes (2006−2011) saw him slamming everyone from Jay-Z to Warren Buffett, Oprah to George W. Bush, recasting dope boys as political militants over the Dirty South's signature bombastic soul. In contrast to the stereotype of Southern rap as laconic in style and hedonistic in subject matter, Mike's lyrics are tightly conceptualized and delivered with an enunciated verbosity that lets every word ring clear. He wants the listener to understand what he's saying — sitting back to enjoy the ride is not the goal. The stakes of living under neoliberalism are simply too high.
Producer El-P, Mike's collaborator on his latest album, R.A.P. Music (short for Rebellious African People), hails from the dark and eccentric world of underground Brooklyn hip hop. His tracks are layered with the buzzes and clanks of a decaying factory, with dashes of the bleary synthesizers of Vangelis. At their best, El-P's songs evoke the psychedelic, claustrophobic fiction of Philip K. Dick — a dystopic retro-futurism appropriate for a postindustrial police state. While the pairing initially threw me for a loop, Killer Mike and El-P have a shared perspective: a righteous rage at an oppressive government, a distaste for much of mainstream popular culture, and a deep knowledge of classic hip hop that surfaces in their lyrical and musical references.
R.A.P. Music​'s success comes from the convergence between Mike and El-P's respective aesthetics, which elevates the collaboration above the equivalent of a rap nerd's fantasy baseball team. For this meeting, El-P has had further to travel. Killer Mike has long mastered the militant street-sermon style of New York's KRS-One and Los Angeles' Ice Cube. El-P has been forced to relax his lockstep drums, to leave some sirens and laser noises to the side and welcome in musicality. ​"Southern Fried" brings bluesy guitar riffing and Hammond organ onto El-P's factory floor, one of the album's moments of levity as Mike celebrates Atlanta's leisure culture of cars, marijuana and girls. ​"Ghetto Gospel" and ​"Willie Burke Sherwood" show El-P can set aside the industrial burble for melodicism when pushed by Killer Mike's more contemplative moods.
But the album's centerpiece, and the track you'll forward to your friends, is ​"Reagan," a four-minute rundown of the neoliberal turning point in American society. Mike ruefully intones that as a boy in the 1980s he was ​"old enough to know that shit had changed forever." Connecting the machinations of Iran-Contra to the street-level police brutality of the drug war, Mike makes this not a history lesson, but a systemic critique of American society: ​"Ronald Reagan was an actor, not at all a factor / Just an employee of the country's real masters"— oil companies and the military industrial complex. As the song buzzes and builds, with Mike leading you through his logic, he concludes with one of hip hop's most scathing moments of the year: ​"I'll leave you with four words: I'm glad Reagan dead."
Killer Mike's polemics link everyday experience to larger structural forces, where politicians — including Obama — are merely puppets of powerful institutions (and refreshingly for the hip hop community, he doesn't mean the Illuminati). In this, he has a common cause with the Occupy movement.
But don't credit Occupy with Mike's political turn. It happened after Hurricane Katrina exposed the nation to the full brunt of neoliberalism. Poverty amongst wealth, desperation borne of the erosion of social services and lack of legal employment, and police brutality and racism have been the backdrop of hip hop — and some of the chief concerns of African-American activism — for decades. Occupy's renewal of Left political consciousness has rearticulated what is common knowledge in the black community, and any radical challenge to the status quo must listen intently to those who have been at the forefront of struggle for generations.
The Occupiers camping out in parks were catching up to an artist who has been working for years on bringing pointed political critique into pop culture. I hope Killer Mike keeps leading the way — and that we keep listening.