Rage Within the Machine
Rapper Killer Mike takes on neoliberalism.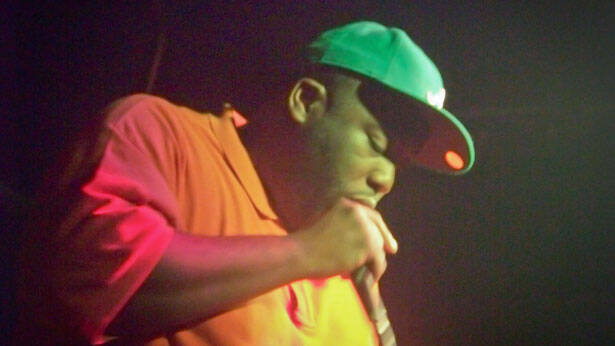 Chuck D of the rap group Pub­lic Ene­my famous­ly remarked that hip hop is ​"the black CNN." While that wouldn't come across as a com­pli­ment these days, it didn't do jus­tice to Pub­lic Ene­my, whose scathing broad­sides were clos­er to a Mal­colm X speech than a sleepy Wolf Blitzer inter­view. It's lit­tle won­der that old­er hip hop fans attract­ed to the genre's intri­cate sam­ple col­lages and inven­tive­ly polit­i­cal lyrics fre­quent­ly look back wist­ful­ly to Pub­lic Ene­my, bemoan­ing the apo­lit­i­cal direc­tion of urban radio's paeans to par­ty­ing and lux­u­ry brands.
But the dichoto­my between the gold­en age of polit­i­cal­ly engaged hip hop and con­tem­po­rary cor­po­rate pablum is often over­stat­ed: Hip hop has always been com­mer­cial­ly mind­ed, and its pol­i­tics have tak­en sub­tler forms than Chuck D's broad­sides. The obses­sion with deal­ing cocaine in today's ​"trap" vari­ety of South­ern hip hop — the drug deal­ing tales of Young Jeezy and Rick Ross pro­lif­er­ate across urban radio — is a fan­ta­sy borne out of the dire cir­cum­stances of mass incar­cer­a­tion and the War on Drugs: There's a clear note of ambiva­lence in describ­ing the site of one's drug deal­ing as ​"trap."
Atlanta's Killer Mike has labored for almost a decade to decon­struct the divide between street con­cerns and polit­i­cal aims. His ​"I Pledge Alle­giance to the Grind" series of mix­tapes (2006−2011) saw him slam­ming every­one from Jay‑Z to War­ren Buf­fett, Oprah to George W. Bush, recast­ing dope boys as polit­i­cal mil­i­tants over the Dirty South's sig­na­ture bom­bas­tic soul. In con­trast to the stereo­type of South­ern rap as lacon­ic in style and hedo­nis­tic in sub­ject mat­ter, Mike's lyrics are tight­ly con­cep­tu­al­ized and deliv­ered with an enun­ci­at­ed ver­bosi­ty that lets every word ring clear. He wants the lis­ten­er to under­stand what he's say­ing — sit­ting back to enjoy the ride is not the goal. The stakes of liv­ing under neolib­er­al­ism are sim­ply too high.
Pro­duc­er El‑P, Mike's col­lab­o­ra­tor on his lat­est album, R.A.P. Music (short for Rebel­lious African Peo­ple), hails from the dark and eccen­tric world of under­ground Brook­lyn hip hop. His tracks are lay­ered with the buzzes and clanks of a decay­ing fac­to­ry, with dash­es of the bleary syn­the­siz­ers of Van­ge­lis. At their best, El‑P's songs evoke the psy­che­del­ic, claus­tro­pho­bic fic­tion of Philip K. Dick — a dystopic retro-futur­ism appro­pri­ate for a postin­dus­tri­al police state. While the pair­ing ini­tial­ly threw me for a loop, Killer Mike and El‑P have a shared per­spec­tive: a right­eous rage at an oppres­sive gov­ern­ment, a dis­taste for much of main­stream pop­u­lar cul­ture, and a deep knowl­edge of clas­sic hip hop that sur­faces in their lyri­cal and musi­cal references.
R.A.P. Music​'s suc­cess comes from the con­ver­gence between Mike and El‑P's respec­tive aes­thet­ics, which ele­vates the col­lab­o­ra­tion above the equiv­a­lent of a rap nerd's fan­ta­sy base­ball team. For this meet­ing, El‑P has had fur­ther to trav­el. Killer Mike has long mas­tered the mil­i­tant street-ser­mon style of New York's KRS-One and Los Ange­les' Ice Cube. El‑P has been forced to relax his lock­step drums, to leave some sirens and laser nois­es to the side and wel­come in musi­cal­i­ty. ​"South­ern Fried" brings bluesy gui­tar riff­ing and Ham­mond organ onto El‑P's fac­to­ry floor, one of the album's moments of lev­i­ty as Mike cel­e­brates Atlanta's leisure cul­ture of cars, mar­i­jua­na and girls. ​"Ghet­to Gospel" and ​"Willie Burke Sher­wood" show El‑P can set aside the indus­tri­al bur­ble for melod­i­cism when pushed by Killer Mike's more con­tem­pla­tive moods.
But the album's cen­ter­piece, and the track you'll for­ward to your friends, is ​"Rea­gan," a four-minute run­down of the neolib­er­al turn­ing point in Amer­i­can soci­ety. Mike rue­ful­ly intones that as a boy in the 1980s he was ​"old enough to know that shit had changed for­ev­er." Con­nect­ing the machi­na­tions of Iran-Con­tra to the street-lev­el police bru­tal­i­ty of the drug war, Mike makes this not a his­to­ry les­son, but a sys­temic cri­tique of Amer­i­can soci­ety: ​"Ronald Rea­gan was an actor, not at all a fac­tor / Just an employ­ee of the country's real mas­ters"— oil com­pa­nies and the mil­i­tary indus­tri­al com­plex. As the song buzzes and builds, with Mike lead­ing you through his log­ic, he con­cludes with one of hip hop's most scathing moments of the year: ​"I'll leave you with four words: I'm glad Rea­gan dead."
Killer Mike's polemics link every­day expe­ri­ence to larg­er struc­tur­al forces, where politi­cians — includ­ing Oba­ma — are mere­ly pup­pets of pow­er­ful insti­tu­tions (and refresh­ing­ly for the hip hop com­mu­ni­ty, he doesn't mean the Illu­mi­nati). In this, he has a com­mon cause with the Occu­py movement.
But don't cred­it Occu­py with Mike's polit­i­cal turn. It hap­pened after Hur­ri­cane Kat­ri­na exposed the nation to the full brunt of neolib­er­al­ism. Pover­ty amongst wealth, des­per­a­tion borne of the ero­sion of social ser­vices and lack of legal employ­ment, and police bru­tal­i­ty and racism have been the back­drop of hip hop — and some of the chief con­cerns of African-Amer­i­can activism — for decades. Occupy's renew­al of Left polit­i­cal con­scious­ness has reartic­u­lat­ed what is com­mon knowl­edge in the black com­mu­ni­ty, and any rad­i­cal chal­lenge to the sta­tus quo must lis­ten intent­ly to those who have been at the fore­front of strug­gle for generations.
The Occu­piers camp­ing out in parks were catch­ing up to an artist who has been work­ing for years on bring­ing point­ed polit­i­cal cri­tique into pop cul­ture. I hope Killer Mike keeps lead­ing the way — and that we keep listening.