Rahm Emanuel Wants $95 Million for a New Police Facility. Chicago Activists Have Other Ideas.
Organizers with the #NoCopAcademy campaign are taking to the phones, streets and trains to get out their message that Chicago communities need more resources, not more cops.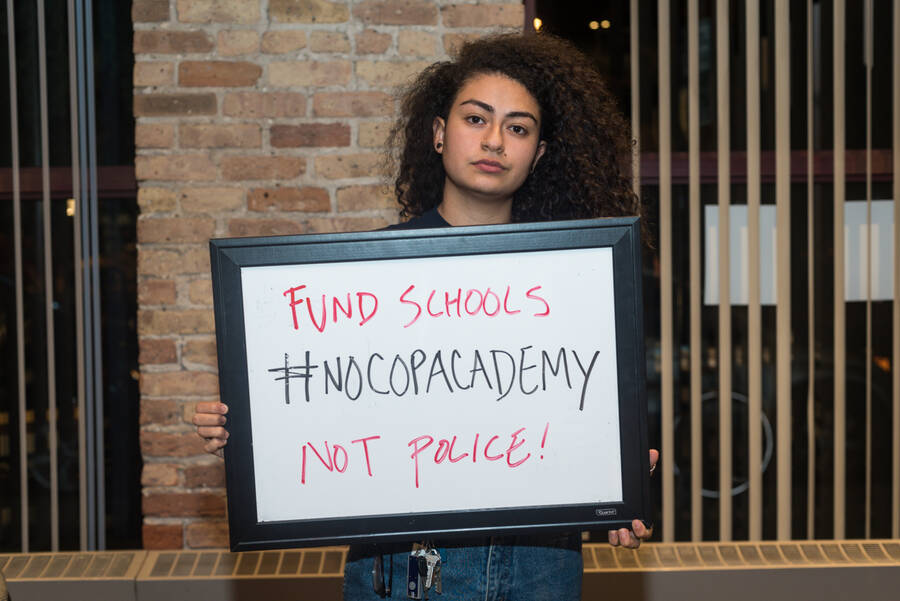 This July, Chica­go May­or Rahm Emanuel announced plans to build a new $95 mil­lion train­ing acad­e­my for police and fire recruits in the city's West Garfield Park neigh­bor­hood. After being endorsed by the Chica­go Plan Com­mis­sion in Sep­tem­ber, the sale of city land for the facil­i­ty is on the verge of approval from the City Council.
"This is just the latest version of ongoing divestment from communities of color alongside massive resourcing of policing,"
While Emanuel has hailed the project as a ​"much-need­ed over­haul" for police train­ing, the effort is being met with resis­tance from a coali­tion of com­mu­ni­ty activists and orga­ni­za­tions who envi­sion alter­na­tive uses for the $95 million.
This coali­tion has launched a cam­paign called #NoCo­pAcad­e­my, seek­ing to redi­rect the funds to pro­grams aimed at address­ing pover­ty and offer­ing resources such as jobs and edu­ca­tion to com­mu­ni­ty residents.
"This is just the lat­est ver­sion of ongo­ing divest­ment from com­mu­ni­ties of col­or along­side mas­sive resourc­ing of polic­ing," reads a pub­lic state­ment on the campaign's web­site. ​"This plan is being praised as a devel­op­ment oppor­tu­ni­ty to help local res­i­dents around the pro­posed site, but when Rahm closed 50 schools in 2013, six were in this neigh­bor­hood. The mes­sage is clear: Rahm sup­ports schools and resources for cops, not for Black and Brown kids."
Assata's Daugh­ters, a grass­roots orga­ni­za­tion of Black women and girls work­ing to stop police vio­lence, has helped spear­head the cam­paign, work­ing along­side oth­er com­mu­ni­ty groups such as the People's Response Team, For The Peo­ple Arts Col­lec­tive, Black Youth Project 100, Grass­roots Col­lab­o­ra­tive, Chica­go Tor­ture Jus­tice Memo­ri­als and the Amer­i­can Friends Ser­vice Committee.
Many of these orga­ni­za­tions have worked togeth­er in the past on suc­cess­ful efforts to oppose police bru­tal­i­ty, includ­ing the #ByeAni­ta cam­paign that helped unseat Cook Coun­ty States Attor­ney Ani­ta Alvarez; the #Say­H­er­Name cam­paign which helped lead to the res­ig­na­tion of Chica­go Police Detec­tive Dante Servin who had been accused of mur­der­ing Rekia Boyd; and the fight to win repa­ra­tions for Jon Burge-era tor­ture survivors.
The coali­tion plans a broad array of tac­tics to advance their cam­paign, includ­ing can­vass­ing, polit­i­cal edu­ca­tion teach-ins, ​"takeovers" of pub­lic trains, lob­by­ing of alder­man and, poten­tial­ly, civ­il disobedience.
A may­or under fire
Since his re-elec­tion in 2015, Emanuel has been under pub­lic fire for his record on polic­ing. The con­tro­ver­sy over his alleged cov­er-up of a video show­ing Chica­go police offi­cer Jason Van Dyke shoot­ing Laquan McDon­ald 16 times led to a string of protests and calls for the mayor's res­ig­na­tion. The record-break­ing vio­lence in the city has dri­ven affect­ed com­mu­ni­ties to demand both bet­ter pub­lic safe­ty and more police account­abil­i­ty. And the Depart­ment of Justice's scathing report on the Chica­go Police Depart­ment — an agency over­seen by the may­or — described a pat­tern of ​"racial­ly dis­crim­i­na­to­ry" conduct.
Emanuel's response to this uproar appears to be invest­ing even more pub­lic mon­ey into the CPD through this new facil­i­ty, at a time police already receive over 38 per­cent of the city's oper­at­ing bud­get. DNAin­fo Chica­go reports that the train­ing cen­ter is specif­i­cal­ly designed to address the issues laid out in the DOJ's report. And for the loca­tion, the may­or has cho­sen a racial­ly seg­re­gat­ed neigh­bor­hood in eco­nom­ic crisis.
Accord­ing to the City of Chicago's Data Por­tal and 2010 cen­sus data, West Garfield Park is 97 per­cent Black. Over forty per­cent of the house­holds in the neigh­bor­hood are liv­ing below the pover­ty line and a quar­ter of res­i­dents 25 and old­er do not have a high school diploma.
The neigh­bor­hood also has seen its share of police vio­lence. In Decem­ber 2015, CPD offi­cer Robert Rial­mo killed res­i­dents Bet­tie Jones and Quin­to­nio LeGri­er in West Garfield Park while Le Gri­er was under­go­ing a men­tal health episode. The State's Attor­ney did not charge Rial­mo with any crime, and he remains a full-time offi­cer of the CPD mak­ing over $84,000 a year.
Rial­mo lat­er sued LeGrier's estate, alleg­ing he suf­fered trau­ma after LeGri­er missed him with two swings of a base­ball bat dur­ing the episode. That case is cur­rent­ly pend­ing in Cook Coun­ty Cir­cuit Court.
Nita, a 19-year old mem­ber of Assata's Daugh­ters, was friends with LeGri­er and says his killing shows why the #NoCo­pAcad­e­my cam­paign is so important.
"I've got involved because I have mul­ti­ple friends that were killed by police," says Nita. ​"When they killed my friend Quin­to­nio, the cop sued Quintonio's fam­i­ly. I feel like $95 mil­lion can go into some­thing way dif­fer­ent than police."
All eyes on city council
If the acad­e­my is Emanuel's attempt to mend his rep­u­ta­tion on polic­ing, orga­niz­ers with #NoCo­pAcad­e­my plan to con­tin­ue their protests and put the issue in the pub­lic eye.
Since the project still requires approval by the full city coun­cil, orga­niz­ers are tar­get­ing alder­man through phone calls and com­mu­ni­ty engage­ment while rais­ing the pro­file of the cam­paign on social media. And they received one major boost in late Sep­tem­ber when Chance the Rap­per tweet­ed about #NoCo­pAcad­e­my to his near­ly 6 mil­lion followers.
Accord­ing to the cam­paign web­site, the coali­tion has much more planned for the com­ing weeks:
"We plan to fight back togeth­er — through the media, train takeovers, can­vass­ing, civ­il dis­obe­di­ence, and by build­ing a front of pop­u­lar oppo­si­tion — to stop this compound."