Railroad Work Is Getting More and More Dangerous. These Workers Want To Change That.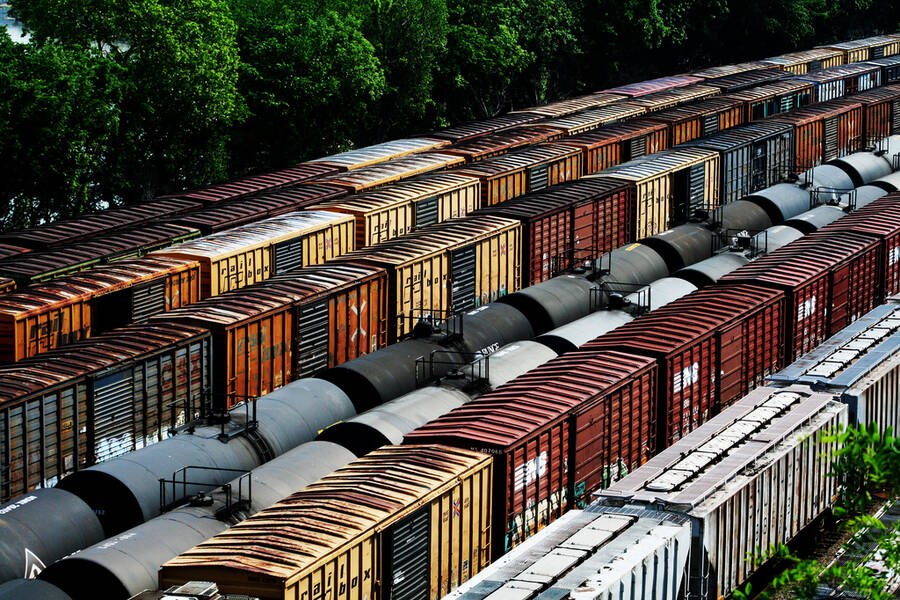 CHICA­GO — Rail­road work­ers from around the coun­try and Chica­go res­i­dents stood on an over­pass on a recent bright Sep­tem­ber Sun­day, watch­ing a seem­ing­ly end­less line of black tanker cars pass on the rail­road tracks below. The train was like­ly car­ry­ing crude oil from the Bakken shale in North Dako­ta, judg­ing by the red haz­ard plac­ards on the cars and wide­ly doc­u­ment­ed trends in crude oil shipment.
Chicagoans have become increas­ing­ly wor­ried about oil trains car­ry­ing the high­ly explo­sive Bakken crude through the city, a major trans­port hub on the way to East Coast refiner­ies. A con­fer­ence host­ed by the pro­gres­sive labor group Rail­road Work­ers Unit­ed in Chica­go Sept. 19 brought togeth­er rail­road work­ers and local res­i­dents and train buffs to dis­cuss how rail­road work­ers' safe­ty and labor rights issues dove­tail with safe­ty and envi­ron­men­tal con­cerns for the larg­er public.
Oil trains are a per­fect exam­ple, speak­ers and par­tic­i­pants at the con­fer­ence not­ed. Just look at the July 6, 2013 dis­as­ter in Lac-Mégan­tic, Que­bec, when a parked oil train dis­lodged and plowed into the town, killing 47 and caus­ing mas­sive destruc­tion and eco­log­i­cal devastation.
The train was oper­at­ed by a sin­gle crew mem­ber, engi­neer Thomas Hard­ing, who now faces the pos­si­bil­i­ty of life in prison, with tri­al start­ing in November.
While pros­e­cu­tors and the now-defunct Mon­tréal Maine & Atlantic Rail­way have blamed Hard­ing and sev­er­al oth­er rail­road employ­ees for the dis­as­ter, labor unions and oth­er advo­cates say such tragedies are bound to hap­pen more often if rail­roads are allowed to oper­ate trains with sin­gle-man-crews and oth­er­wise make staffing and man­age­ment deci­sions dri­ven by the bot­tom line rather than the needs and rights of rail­road employ­ees plus pub­lic safety.
This week­end, Octo­ber 11 – 12, there will be ral­lies in Lac-Mégan­tic and Chica­go, demand­ing free­dom for Hard­ing and rail­road traf­fic con­duc­tor Richard Labrie, account­abil­i­ty from rail­roads and gov­ern­ment reg­u­la­tors includ­ing bans on one-man-crews and a con­tin­ued ban on ship­ping crude oil through Lac-Mégan­tic. A fli­er for the Chica­go ral­ly, held at noon on Octo­ber 12 out­side the Cana­di­an con­sulate at 180 N. Stet­son Dri­ve, calls on ​"envi­ron­men­tal­ists, neigh­bor­hood orga­ni­za­tions, rail­road work­ers, steel work­ers, fire­men, all unions and all jus­tice-lov­ing peo­ple" to sup­port Hard­ing and Labrie and demand strict safe­ty reg­u­la­tions from the fed­er­al government.
Fear and anger in Lac-Mégantic
Union mem­bers Hard­ing and Labrie along with man­ag­er of train oper­a­tions Jean Demaitre are each fac­ing pos­si­ble life in prison on 47 charges of crim­i­nal neg­li­gence and caus­ing death. They also face fed­er­al charges under the Fish­eries Act for the envi­ron­men­tal effects of the crude oil that flowed into the Lac-Mégan­tic and Chaudière rivers. Those charges could result in $1 mil­lion in fines for each.
​"It's a clas­sic exam­ple of pil­ing on" and blam­ing work­ers instead of the larg­er sys­tem, said Harding's lawyer Thomas Walsh at the Rail­road Work­ers Unit­ed con­fer­ence in Chica­go. ​"Lac-Mégan­tic didn't invent these prob­lems — it's just the worst exam­ple of when the bot­tom line is about prof­it, not safe­ty. These prob­lems exist­ed before and they exist since. The unprin­ci­pled cost-cut­ting, chron­ic fatigue, sham enforce­ment [of safe­ty laws]. Once you get the laws, who is going to enforce them? The laws have been there but haven't been enforced prop­er­ly. The leg­is­la­tor can always say we've got the law on the book, the next ques­tion is who broke the rule?"
Vic­tims filed a class action law­suit against Hard­ing, but there has also been much local sym­pa­thy for him, with many Cana­di­ans blam­ing the com­pa­ny and gov­ern­ment reg­u­la­tors and specif­i­cal­ly the one-man-crew pol­i­cy for the disaster.
Hard­ing was report­ed­ly ques­tioned by police for 10 hours after the dis­as­ter with­out a lawyer present, since he was offi­cial­ly being con­sid­ered a wit­ness at the time.
Crude oil has not been shipped through Lac-Mégan­tic since the dis­as­ter, but a gov­ern­ment ban on such ship­ments expires in Jan­u­ary 2016. While the Mon­tréal Maine & Atlantic Rail­way went bank­rupt in the wake of the dis­as­ter, the U.S. invest­ment firm Fortress Invest­ment Group bought the company's rail infra­struc­ture and launched a new com­pa­ny, the Cen­tral Maine and Que­bec Rail­way. Res­i­dents and indus­try watch­dogs fear that the com­pa­ny plans to resume lucra­tive crude oil ship­ments, though com­pa­ny offi­cials have been quot­ed say­ing there are no plans.
Oppo­nents are cir­cu­lat­ing a peti­tion demand­ing that no dan­ger­ous goods includ­ing oil be shipped through the town, and that the tracks be bet­ter repaired.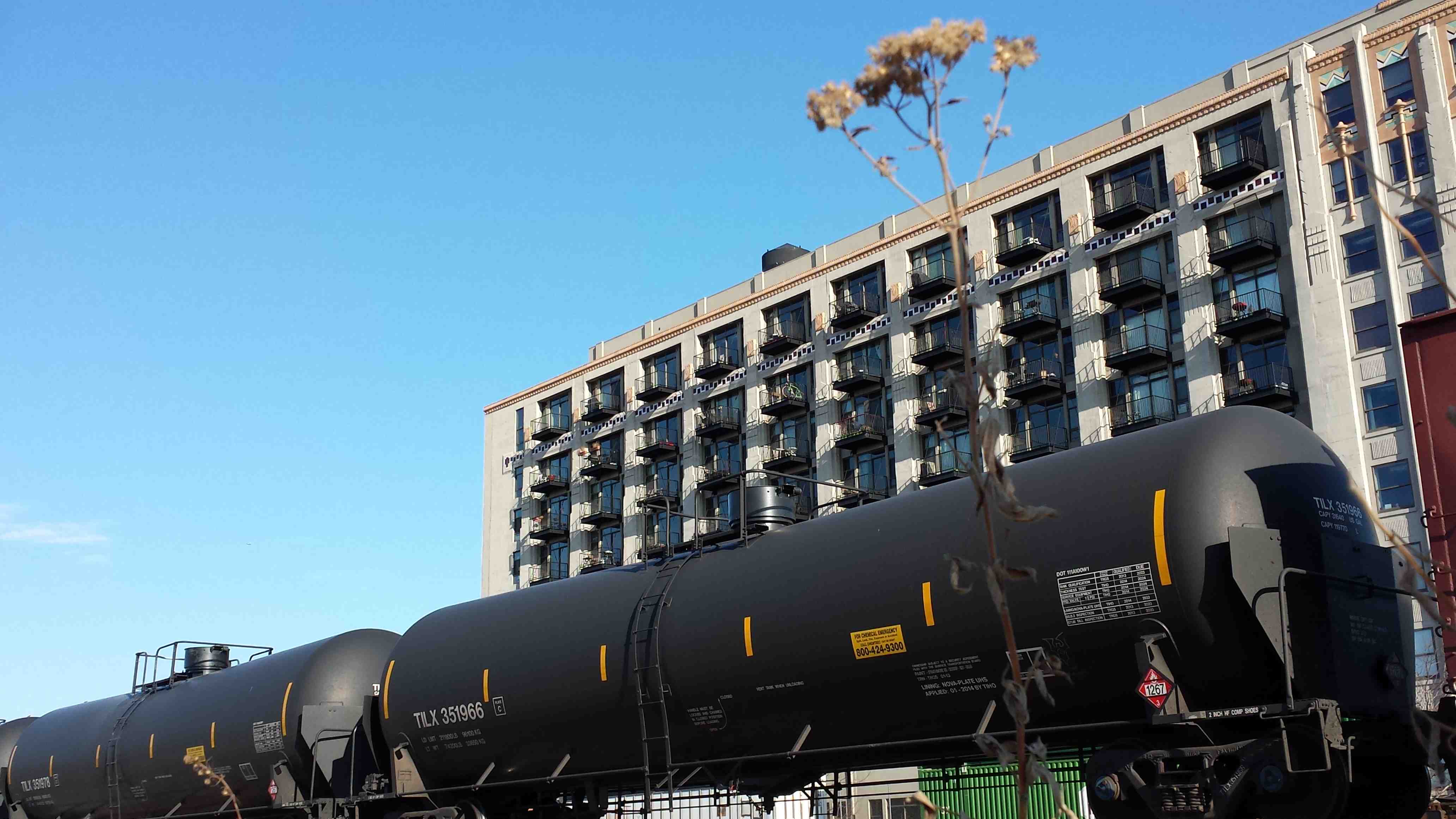 An oil tanker sits in a train yard near Chicago's Pilsen neigh­bor­hood. (Kari Lydersen)
Fight against one-man crews continues
In the U.S., rail­road work­ers scored a major vic­to­ry against one-man-crews last Sep­tem­ber, when a unit of the Inter­na­tion­al Asso­ci­a­tion of Sheet Met­al, Air and Rail Trans­porta­tion Work­ers (SMART) union announced that mem­bers had vot­ed down a pro­posed con­tract which would have allowed the rail­road com­pa­ny BNSF to run more than half its trains with just one work­er on board, as In These Times reported.
At the recent Rail­road Work­ers Unit­ed con­fer­ence, Ron Kaminkow and oth­er speak­ers said they think that devel­op­ment – which appeared to take the union lead­er­ship and the com­pa­ny by sur­prise — will mean that major rail­road com­pa­nies do not try to push for one-man crews in the near future. But before long they are sure the issue will be back, espe­cial­ly if the amount of crude oil shipped by train con­tin­ues to grow.
​"A gen­er­a­tion ago trains had five to six crew mem­bers, the caboose and head each had two to three," said Kaminkow, who has worked for dif­fer­ent rail­roads in the Mid­west and West­ern U.S. ​"We've pared it down from six to five to four to three to two.
"There's a gen­er­al­ized feel­ing among train­men and engi­neers that [one-man crews] will have a dev­as­tat­ing effect on our safe­ty, and as a result, it will have a dev­as­tat­ing effect on the pub­lic and the envi­ron­ment," Kaminkow con­tin­ued. ​"If you have a head-on col­li­sion, if an engi­neer falls asleep and goes around a curve and derails, it's not hard to under­stand the effect. On a rou­tine run on a sum­mer day, you might be able to run a train across a sub­di­vi­sion with [a one-man crew] with no prob­lem. Throw in sub­ze­ro weath­er, extreme heat, a bro­ken knuck­le or air hose. There's no end of sce­nar­ios where all of a sud­den things start to unrav­el very quickly."
Rail­road Work­ers Unit­ed was formed in 2007 to bring work­ers from dif­fer­ent rail unions togeth­er on safe­ty and labor rights issues includ­ing one-man crews. The group formed in part because of ten­sion between the major rail unions, the Broth­er­hood of Loco­mo­tive Engi­neers and Train­men (BLET) and Unit­ed Trans­porta­tion Union (UTU). UTU is affil­i­at­ed with SMART, the union whose lead­er­ship had agreed to allow one-man crews on some BNSF lines until their rank-and-file mem­ber­ship shot the idea down.
"For years the rail­roads have divid­ed train crews by pit­ting the lead­ers of these two unions against each oth­er," wrote RWU mem­bers J.P. Wright and Ed Michaels in Labor Notes in 2012.
Both the BLET and UTU have signed on to the pro­posed Safe Freight Act, intro­duced in 2013, which demands a cer­ti­fied con­duc­tor and engi­neer on every train. They are also push­ing for state laws demand­ing two-per­son crews.
Oth­er safe­ty hazards
One-man crews would exac­er­bate long-stand­ing safe­ty issues that pose a seri­ous risk even with two-man crews, rail­road work­ers maintain.
Jeff Kurtz, a BLET mem­ber and loco­mo­tive engi­neer for almost 40 years, at the RWU con­fer­ence dis­cussed how chron­ic fatigue is a long-stand­ing safe­ty and work­ers' rights issue for rail­road work­ers, and one that becomes par­tic­u­lar­ly dan­ger­ous if an engi­neer is oper­at­ing a train alone.
"The sched­ules we keep destroy our cir­ca­di­an rhythm — for 40 years. I've lit­er­al­ly gone to work on an hour and a half or two hours' notice," Kurtz said. ​"You stay up until mid­night, and the next thing you know your phone is ring­ing and you're going to work for 12 or 14 hours."
He and oth­er speak­ers not­ed that rail­road work­ers suf­fer from both acute and chron­ic fatigue that affects both their per­for­mance at work and their long-term health and qual­i­ty of life. Kurtz not­ed that the effects of chron­ic fatigue can nul­li­fy safe­ty mea­sures insti­tut­ed by the railroad.
For exam­ple engi­neers are often required to respond to cer­tain alerts to make sure they are awake and alert. But when ​"auto­mat­ic response behav­ior" kicks in for a fatigued indi­vid­ual, they may acknowl­edge the alert as they've become used to doing while they are actu­al­ly half-asleep.
Rail­road­ers sim­i­lar­ly expe­ri­ence ​"micro-sleep" where ​"you don't real­ize you've fall­en asleep, and the next thing you know you are a cou­ple miles down the road and you don't know how you got there," as Kurtz said.
On Sept. 22, BLET nation­al pres­i­dent Den­nis R. Pierce sent a let­ter to rail­road CEOs and fed­er­al offi­cials warn­ing that loco­mo­tive engi­neers ​"are being forced by threat of an atten­dance pol­i­cy vio­la­tion to work when fatigued, even though such safe­ty-crit­i­cal loco­mo­tive engi­neers hon­esty believe that work­ing in such cir­cum­stances would jeop­ar­dize safety."
He charged that rail­roads' vari­able work sched­ules and puni­tive atten­dance poli­cies com­bined con­sti­tute vio­la­tions of the Fed­er­al Rail Safe­ty Act by forc­ing employ­ees to work in unsafe conditions.
Rail­road work­ers and oth­er union sup­port­ers of Hard­ing and Labrie say the men are a chill­ing exam­ple of a sit­u­a­tion where inad­e­quate reg­u­la­tions and con­di­tions imposed by the indus­try put ded­i­cat­ed employ­ees in a posi­tion where they became respon­si­ble for a tragedy.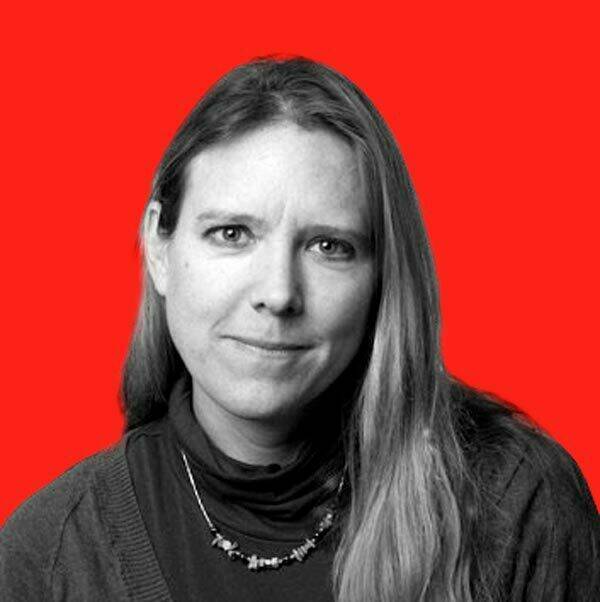 Kari Lyder­sen
is a Chica­go-based reporter, author and jour­nal­ism instruc­tor, lead­ing the Social Jus­tice
&
amp; Inves­tiga­tive spe­cial­iza­tion in the grad­u­ate pro­gram at North­west­ern Uni­ver­si­ty. She is the author of May­or
1
%: Rahm Emanuel and the Rise of Chicago's
99
%.