Railroad Workers Unite in Chicago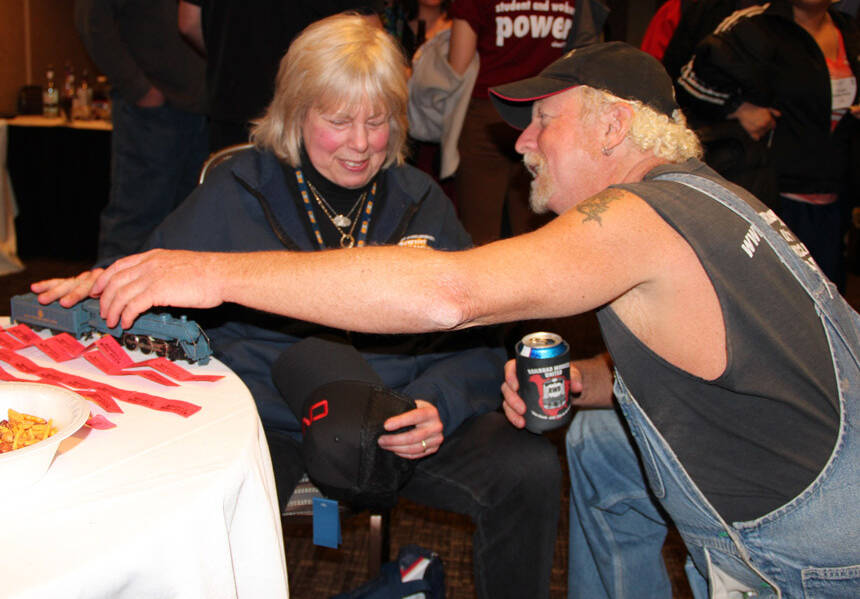 Chica­go is known as the place where the nation's rail­roads meet. And last week­end, the city also became the meet­ing spot for about 40 of the country's most pro­gres­sive and activism-dri­ven rail­road union work­ers when it host­ed the bien­ni­al con­fer­ence of Rail­road Work­ers Unit­ed (RWU), an inde­pen­dent labor orga­ni­za­tion found­ed in 2008 that includes mem­bers of the major rail unions, Indus­tri­al Work­ers of the World (IWW) and oth­er labor groups. Their gath­er­ing dove­tailed with the Labor Notes con­fer­ence, which brings togeth­er activist trade union­ists from around the world every two years.
Those con­verg­ing in Chica­go for the RWU con­fer­ence includ­ed loco­mo­tive engi­neers, rail yard work­ers, peo­ple who build trains and employ­ees of con­trac­tors that ser­vice loco­mo­tives. They rep­re­sent a small wedge of activism and sol­i­dar­i­ty-build­ing in an indus­try that, while cru­cial to the country's eco­nom­ic well-being and one of the clean­est freight trans­port options, is also noto­ri­ous for retal­i­a­tion against work­ers who agi­tate for bet­ter con­di­tions or speak out about injuries and safe­ty hazards.
Blame the worker
A major tar­get of the RWU con­fer­ence, and of rail­road work­ers' orga­niz­ing in gen­er­al, was the con­cept of ​"behav­ior-based safe­ty pro­grams," described by crit­ics as ​"blame the work­er" ini­tia­tives. Such pro­grams — which work­ers say most major rail com­pa­nies have insti­tut­ed — dis­cour­age work­ers from report­ing injuries or relat­ed safe­ty haz­ards. The pro­grams, also becom­ing preva­lent in oth­er indus­tries, are based on the idea that almost all injuries are avoid­able if work­ers fol­low prop­er pro­to­cols. The impli­ca­tion, crit­ics say, is that when work­ers are hurt, it's their fault.
​"For exam­ple, the biggest cause of injuries is slips, trips and falls," RWU leader Ron Kaminkow, a long-time rail­road work­er in Chica­go and else­where, tells In These Times. ​"A ratio­nal per­son would say elim­i­nate the haz­ards for slips, trips and falls. The indus­try says ​'keep your eyes on the path, main­tain sit­u­a­tion­al aware­ness, wear the right footwear.' It could be a mine­field, but if you're fol­low­ing the rules you'll nev­er slip, trip or fall."
The pro­grams also typ­i­cal­ly involve a ​"team" aspect, in which work­ers are offered rewards when the whole work­place avoids reportable injuries. That cre­ates peer pres­sure to dis­suade injured work­ers from com­ing forward.
​"It pits work­er against work­er, and can have a dev­as­tat­ing effect on work­er sol­i­dar­i­ty," says Nan­cy Lessin, a labor edu­ca­tor and strate­gist with the Unit­ed Steel­work­ers and an expert in behav­ior-based safe­ty pro­grams, at the RWU conference.
Rail­road work­ers at Lessin's talk describe the often insult­ing and ridicu­lous incen­tives they have been promised for avoid­ing injuries. ​"I got a funky junky clock [in return for a good safe­ty record] that arrived bro­ken and I slashed my hand tak­ing it out of the box," recalls one RWU member.
Jen Wal­lis is a BNSF rail­way employ­ee in Seat­tle who has been in a years-long court bat­tle over an injury she incurred in 2008 fol­lowed by a long-term sus­pen­sion with­out pay. She says work­ers at her rail yard are giv­en dec­o­ra­tive ​"safe­ty plates" each year for going injury-free. She con­tin­ues, ​"Or you could bank your plates for a weird prize from these cat­a­logues they give you, like a wet-dry bag." (In These Times will explore Wallis's case fur­ther in a com­ing story.)
J.P. Wright, a CSX loco­mo­tive engi­neer and ​"labor trou­ba­dour" out of Louisville, Ky., calls the incen­tives demean­ing and unnec­es­sary. ​"Of course I want to come home safe­ly, you don't need to write that on a mir­ror or a knife," he says. ​"I have a wife and kid I want to go home to; [the safe­ty mes­sage] is writ­ten all over them."
​"But these trin­kets do make a dif­fer­ence," Lessin tells the group. ​"Giv­ing peo­ple donuts gets them to not report injuries."
One-man crews and oil trains: a dan­ger­ous combination
Rail­road work­ers have long been argu­ing against the indus­try push to run freight trains with a sin­gle oper­a­tor, anoth­er focus of the RWU con­fer­ence. Work­ers note that while trains used to have crews of four to six peo­ple, two is now a typ­i­cal size—and many big train com­pa­nies are try­ing to cut that num­ber fur­ther.
Union lead­ers and rail employ­ees say these ​"one-man trains" are unsafe and put an unfair strain on oper­a­tors. The increas­ing use of rail to haul crude oil from the Bakken shale in North Dako­ta and from the tar sands in Cana­da has meant increas­ing scruti­ny on rail safe­ty, as the poten­tial for dis­as­ter is ampli­fied expo­nen­tial­ly when trains car­ry such flam­ma­ble cargo.
Rail­road work­ers, con­sumer safe­ty advo­cates and mem­bers of Con­gress have all point­ed to the Lac-Mégan­tic dis­as­ter in Que­bec in July as an exam­ple of how a one-man train and an oil car­go can be a dead­ly com­bi­na­tion.
Kaminkow, who spent years work­ing in dif­fer­ent Chica­go rail yards before mov­ing to Neva­da, notes that address­ing the oil train issue can be a del­i­cate bal­ance for rail­road work­ers. Car­ry­ing oil or oth­er haz­ardous prod­ucts can be dis­as­trous when trains are under­staffed or poor­ly main­tained, he says. But rail­road advo­cates, like many envi­ron­men­tal and trans­porta­tion lead­ers, agree that rail is the country's most eco­log­i­cal mode of trans­porta­tion with respect to emis­sions and envi­ron­men­tal impact. And when oper­at­ed safe­ly, trains don't leak or spill like pipelines.
RWU mem­bers and rail­road unions have long been call­ing for all trains to be out­fit­ted with some­thing called ​"pos­i­tive train con­trol," which auto­mat­i­cal­ly stops a loco­mo­tive in cer­tain cir­cum­stances. Mean­while, they argue against an indus­try and gov­ern­ment push to put cam­eras in all loco­mo­tives, pre­sum­ably to catch engi­neers doz­ing or not pay­ing atten­tion. This issue has also got­ten recent atten­tion after an acci­dent at O'Hare Inter­na­tion­al Air­port, where a Chica­go Tran­sit Author­i­ty oper­a­tor fell asleep and the train plowed into an escalator.
​"That's assum­ing we're lazy and irre­spon­si­ble; [that] if there's no cam­era we'll get a nap in," says Kaminkow. ​"But it's like dri­ving on the high­way — no one wants to fall asleep. A cam­era in a loco­mo­tive does not stop some­one from nod­ding off." That's why com­pa­nies need to install safe­ty con­trols on trains instead of blam­ing work­ers, Kaminkow says.
Sol­i­dar­i­ty across borders
RWU is also striv­ing to devel­op ties with rail­road work­ers in oth­er coun­tries, and to see how their cam­paigns and inter­ests can inter­sect. The RWU con­fer­ence fea­tured a French machin­ist mem­ber of the left-wing SUD-Rail union and rail union lead­ers from South Korea who held a major strike in Decem­ber. Though the gov­ern­ment owns and oper­ates rail­roads in both coun­tries, a wave of pri­va­ti­za­tion is break­ing up the rail­roads as they are sold off to com­pa­nies. That guts the unions' pow­er; it could also mean less­er wages, ben­e­fits and pro­tec­tions for work­ers. RWU mem­bers also con­nect­ed with the train work­ers from Brazil in town for Labor Notes, who are involved with the pop­u­lar orga­niz­ing efforts oppos­ing Brazil's plans to host the World Cup.
RWU mem­bers at the con­fer­ence adopt­ed res­o­lu­tions promis­ing to increase their ties with Mex­i­can and Cana­di­an work­ers, includ­ing by trans­lat­ing their web­site and mate­ri­als into Span­ish and French.
They also dis­cussed a prob­lem famil­iar to work­ers across many indus­tries: the grow­ing use of sub­con­tract­ed, nonunion­ized work­ers. In Chica­go, that includes the employ­ees of Mobile Rail Solu­tions: con­tract work­ers who orga­nized with the Indus­tri­al Work­ers of the World last year after a hard-fought cam­paign. In August 2013, Mobile Rail work­ers went on strike over what they described as unsafe, unsan­i­tary con­di­tions; they also accused the com­pa­ny of fir­ing of work­ers involved in the union­iza­tion dri­ve. The work­ers filed charges of Unfair Labor Prac­tices against the com­pa­ny; accord­ing to the local's Face­book page, Mobile Rail agreed in Feb­ru­ary to a $159,000 set­tle­ment nego­ti­at­ed through the Nation­al Labor Rela­tions Board.
Mobile Rail work­er and IWW activist Ahern Owen says that since the strike, the com­pa­ny has reme­died unsafe con­di­tions such as those on the 10-foot tow­ers that work­ers climb in order to pour sand used for track fric­tion into trucks.
But the union still remains in con­tentious con­tract nego­ti­a­tions with the com­pa­ny. Owen says Mobile Rail has refused to agree to impor­tant union demands on issues, includ­ing the use of sub­con­trac­tors and the sta­tus of the union if the com­pa­ny is sold.
In the past, only peo­ple direct­ly employed by rail­roads have been mem­bers of RWU; at the con­fer­ence, RWU agreed to also extend offi­cial mem­ber­ship to employ­ees of third-par­ty com­pa­nies con­tract­ed by rail cor­po­ra­tions — includ­ing the work­ers at Mobile Rail.
The big­ger picture
Pack­ing up RWU ball caps, T‑shirts and oth­er fundrais­ing mer­chan­dise at the end of Labor Notes, Kaminkow reflects on the long odds fac­ing RWU, espe­cial­ly giv­en that they are usu­al­ly work­ing with­out the offi­cial sup­port or involve­ment of the major rail unions. (While many RWU mem­bers are from major unions, union lead­er­ship typ­i­cal­ly does not endorse RWU activ­i­ties.) Kaminkow feels they've made slow yet mean­ing­ful progress in edu­cat­ing rail­road work­ers and the gen­er­al pub­lic about issues like behav­ior-based safe­ty and the risks of one-man trains.
At RWU's par­ty dur­ing Labor Notes, in a con­fer­ence room adorned with rail­road mem­o­ra­bil­ia, work­ers share sto­ries and details of dif­fer­ent rail yards around the coun­try. They talk about the oth­er­world­ly sound of hun­dreds of rail cars mount­ing the ​"hump" of a rail yard and then slid­ing down dif­fer­ent tracks; the var­i­ous lantern sig­nals that tell engi­neers to move or stop a train; and about wait­ing in motels for the call to get back on the tracks for anoth­er long haul.
​"It's a tough lifestyle, but for guys like me, with a high school degree, it's a good liv­ing," says Ed Michael, who worked for decades for rail­roads out of south­ern Illi­nois. Mean­while, Wright strolls through the crowd with his gui­tar strum­ming rail­road and labor songs, often adding his own lyrics to ref­er­ence con­tem­po­rary struggles.
​"Hate the boss­es," says Kaminkow to sum up a typ­i­cal rail­road worker's atti­tude. ​"Love the job."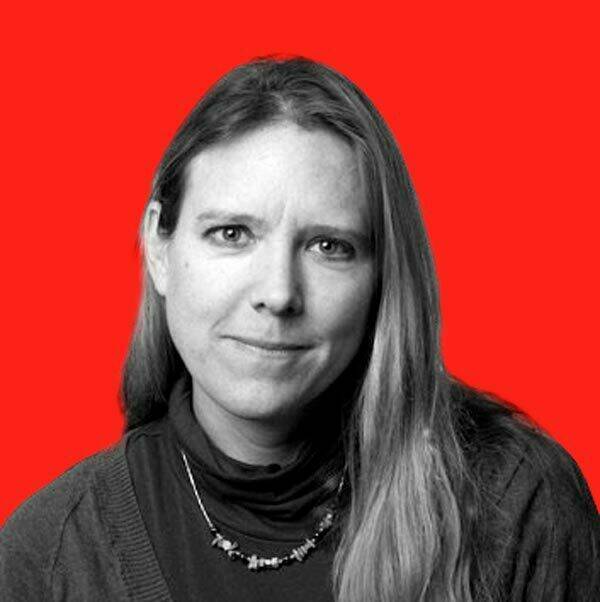 Kari Lyder­sen
is a Chica­go-based reporter, author and jour­nal­ism instruc­tor, lead­ing the Social Jus­tice
&
amp; Inves­tiga­tive spe­cial­iza­tion in the grad­u­ate pro­gram at North­west­ern Uni­ver­si­ty. She is the author of May­or
1
%: Rahm Emanuel and the Rise of Chicago's
99
%.