Ralph Nader: The Incredible Vacuousness of the Race for the Republican Presidential Nomination
The mainstream media is complicit in the circusization of the Republican debates.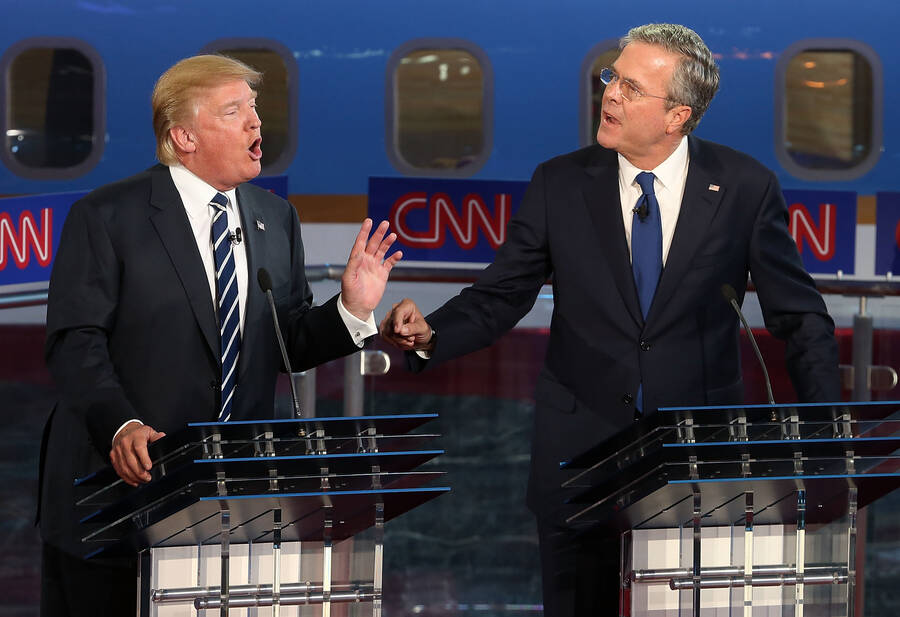 The mass media, with usu­al excep­tions, have allowed them­selves to be pulled down to the lev­el of the polit­i­cal cir­cus. If the Repub­li­can Party's ear­ly pri­ma­ry cam­paigns for the pres­i­den­tial nom­i­na­tion had an ele­phant and a clown car, Rin­gling Broth­ers would be in trou­ble. It is hard for the Repub­li­can pres­i­den­tial can­di­dates to resist temp­ta­tion, defined by hyp­ing an enter­tain­ment cir­cus led by the chief cir­cus bark­er — Don­ald Trump of gam­bling casi­no fame.
When voters decide they will no longer be mistreated and summon candidates to their own citizen-powered debates, the dynamics behind the campaigns will shift toward the citizenry.
Six­teen can­di­dates, after inex­plic­a­bly exclud­ing Mark Ever­son, the for­mer IRS com­mis­sion­er under George W. Bush and the first to announce, are hurl­ing epi­thets, war-mon­ger­ing brava­dos, and assort­ed boasts against one anoth­er. After their so-called debates, the media empha­size the insults of Trump and oth­ers against one-anoth­er. Read­ing the cov­er­age and watch­ing the TV clips, once comes away with the impres­sion that snarls, quips, ripostes, and gaffes, now pass for news.
How ran­cid! How demean­ing to our coun­try and its peo­ple! It is bad enough that vot­ers have been reduced to spec­ta­tors watch­ing a real­i­ty show with the can­di­dates, bid­ding to become the most pow­er­ful per­son on Earth, with a fin­ger on the but­ton. It is bad enough that the ever-hov­er­ing Super PACs and their inden­tured can­di­dates, save occa­sion­al­ly Rand Paul and John Kasich, don't seem to want to be seri­ous, knowl­edge­able, or at all com­pas­sion­ate toward the pow­er­less and deprived.
This pot­pour­ri of poseurs made it pos­si­ble for Car­ly Fio­r­i­na to rise to the ​"top tier" on the basis of a few state­ments that exude the feigned con­fi­dence of the failed cor­po­rate CEO she once was. The ​"roman can­dle" moment that had the polit­i­cal pun­dits call her the debate win­ner last week was her response to Don­ald Trump ques­tion­ing ​"that face" becom­ing pres­i­dent. She calm­ly respond­ed: ​"Women all over this coun­try heard very clear­ly what Mr. Trump said," just before he exer­cised his usu­al recov­ery ploy and exclaimed ​"she's got a beau­ti­ful face and she's a beau­ti­ful woman." Will Rogers or Jon Stew­art would have had a field day with that exchange.
Cul­pa­ble as these can­di­dates are, with vary­ing degrees, in debas­ing the most fun­da­men­tal elec­toral expres­sions of the peo­ple – the del­e­ga­tion of their sov­er­eign­ty and pow­er to elect­ed rep­re­sen­ta­tives – the media accen­tu­at­ed the dis­mal triv­ia with ques­tions that matched the vac­u­ous­ness of the format.
The only busi­ness pro­tect­ed from gov­ern­ment by our Con­sti­tu­tion is the media — their right of free speech based in the First Amend­ment. Just look how the media are han­dling this pub­lic trust! As Jamie Lar­son, a reporter for the web­site Rur­al Intel­li­gence, said: ​"The media ask ques­tions about what can­di­dates are say­ing but are not ask­ing the ques­tions they inde­pen­dent­ly should be asking."
Such as, I would sug­gest: ​"What is your record and posi­tion on cor­po­rate crime enforce­ment and what would you change so as to pun­ish and pre­vent cor­po­rate crim­i­nal­i­ty?" Or ​"Peo­ple every­where feel pow­er­less toward gov­ern­ment and busi­ness; half do not even vote. How would you specif­i­cal­ly shift pow­er from the few to the many so that the cit­i­zens can have more real choic­es of can­di­dates and bet­ter con­trol the abus­es of elec­toral pol­i­tics, gov­ern­ment, and big busi­ness?" And ​"Have you ever sup­port­ed spe­cif­ic empow­er­ment strate­gies for the peo­ple?" Or ​"How would you increase vot­er turnout – say by hav­ing a vot­ing hol­i­day, more days for absen­tee vot­ing, enact­ing a none-of-the-above option for vot­ers, reduc­ing or elim­i­nat­ing bur­den­some and mean­ing­less vot­er reg­is­tra­tion rules?"
When vot­ers decide they will no longer be mis­treat­ed and sum­mon can­di­dates to their own cit­i­zen-pow­ered debates, the dynam­ics behind the cam­paigns will shift toward the citizenry.
It would not take more than 500,000 peo­ple con­nect­ing with each oth­er to make all this hap­pen. There are about 150 mil­lion reg­is­teredvot­ers The media can indi­rect­ly cre­ate the cli­mate for this civic engage­ment and shape of the pres­i­den­tial cam­paign as befits a delib­er­a­tive, demo­c­ra­t­ic soci­ety that is seri­ous about its future and its children.
First, how­ev­er, the press, TV, and radio have to reduce their end­less appetite for focus­ing on polit­i­cal gos­sip, tac­tics, and who has raised more money.
And, the media have to have a high­er esti­mate of their own sig­nif­i­cance. What say you, pub­lish­ers, edi­tors and reporters? It's your coun­try too!
Ralph Nad­er
is an attor­ney, author and con­sumer advo­cate. His most recent book — and first nov­el — is
iOn­ly The Super-Rich Can Save Us
. His most recent work of non­fic­tion is
The Sev­en­teen Tra­di­tions
. He has been a U.S. pres­i­den­tial can­di­date four times, most recent­ly as an inde­pen­dent can­di­date in
2008
.