Rand Paul Risks Telling the Truth About Ronald Reagan
The effectiveness of Reagan's presidency is no more than a right-wing myth.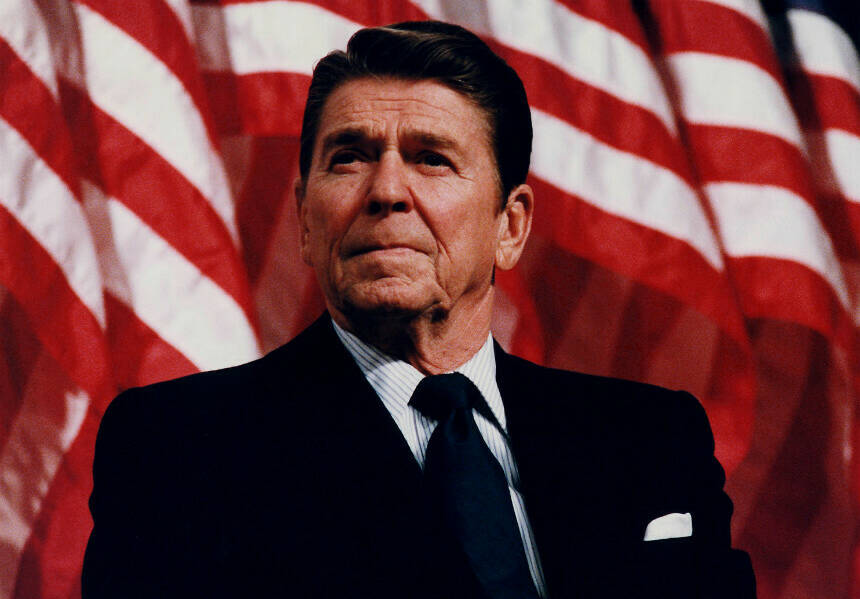 Reprint­ed with per­mis­sion from Alter­Net.
Reagan, alongside Bush the younger, was arguably the most destructive of all U.S. presidents, for he bankrupted America both financially and morally.
The path to the Repub­li­can Par­ty pres­i­den­tial nom­i­na­tion trav­els through Ronald Reagan's ghost. From Iowa to South Car­oli­na, GOP pri­maries are often reduced to a com­pe­ti­tion for the num­ber of times a can­di­date can invoke his name. If Jesus hadn't died at such a youth­ful age, Reagan's image would have been what right-wing Amer­i­cans imag­ined when they thought of an elder­ly Mes­si­ah. For a con­ser­v­a­tive to offer any­thing less than pious servi­tude to his mem­o­ry is to vio­late the fourth of the Ten Com­mand­ments: Thou shall not take the name of the Lord in vain, which is exact­ly the sin com­mit­ted by one of the 2016 GOP pack­lead­ers, Sen. Rand Paul.
The mag­a­zine Moth­er Jones com­piled an array of video clips show­ing the Ken­tucky sen­a­tor cast­ing the spir­i­tu­al leader of today's con­ser­v­a­tive move­ment as any­thing but the fis­cal dis­ci­pli­nar­i­an right-wing revi­sion­ists like to remem­ber him for. In a vari­ety of speech­es giv­en between 2008 and 2010, Paul repeat­ed­ly stat­ed that Demo­c­ra­t­ic Pres­i­dent Jim­my Carter had a bet­ter record on fis­cal dis­ci­pline than Rea­gan. Heresy!
In a speech giv­en to stu­dent Repub­li­cans at West­ern Ken­tucky Uni­ver­si­ty, Paul said you can trace the Repub­li­can Party's hypocrisy on spend­ing and deficits back to Reagan:
Some say, well that's fine, but there were good old days. We did at one time … When we had Rea­gan, we were fis­cal con­ser­v­a­tives. Well, unfor­tu­nate­ly, even that was­n't true. When Rea­gan was elect­ed in 1980, the first bill they passed was called the Gramm-Lat­ta bill of 1981, and Repub­li­cans pegged it as this great step for­ward. Well, Jim­my Carter's last bud­get was about $34 or $36 bil­lion in debt. Well, it turns out, Rea­gan's first bud­get turned out to be $110 bil­lion dol­lars in debt. And each suc­ces­sive year, the deficit rose through­out Rea­gan's two terms.
In anoth­er speech, Paul observes that ​"the deficit explod­ed because domes­tic spend­ing rose faster under Rea­gan, so did mil­i­tary, but domes­tic spend­ing rose faster under Rea­gan than under Jim­my Carter." He goes on to warn Repub­li­cans that ​"we have to admit our fail­ings because we're not going to get new peo­ple unless we become believ­able as a par­ty again."
This, among oth­er remarks, is a breath­tak­ing pro­nounce­ment from the pre­sumed leader of today's con­ser­v­a­tive move­ment. It's hard to over­state how severe this self-inflict­ing blow is to both his polit­i­cal ambi­tions and the legit­i­ma­cy of move­ment conservative's ide­ol­o­gy. It's a blow because Paul's rec­ol­lec­tion of the Rea­gan pres­i­den­cy is con­sis­tent with reality.
Repub­li­cans are fond of label­ing Carter the worst pres­i­dent of the 20th cen­tu­ry, but that does not square with facts. Reagan's approval rate was only 43 per­cent six months after leav­ing office. Carter's approval was above 60 per­cent. Polls don't mean every­thing but they do take a snap­shot of a moment in time, and his­to­ry has a way of remem­ber­ing pres­i­dents fond­ly long after they've left office. In oth­er words, we for­get how bad the bad pres­i­dents tru­ly were. Rea­gan, along­side Bush the younger, was arguably the most destruc­tive of all U.S. pres­i­dents, for he bank­rupt­ed Amer­i­ca both finan­cial­ly and morally.
Repub­li­cans revere the mem­o­ry of Rea­gan. For the Right, he is their Kennedy. In any poll tak­en of Repub­li­can vot­ers, he's pop­u­lar­ly regard­ed as the great­est U.S. pres­i­dent along­side Lin­coln. But the effec­tive­ness of his pres­i­den­cy is a right-wing media-gen­er­at­ed myth that remem­bers his poet­ry rather than his prose. We remem­ber, ​"Mr. Gor­bachev, tear down this wall," ​"The shin­ing city on the hill," and ​"Free­dom is nev­er more than one gen­er­a­tion from extinc­tion." We for­get the eco­nom­ic destruc­tion his poli­cies inflict­ed on the mid­dle class and the nation's poor.
Pablo May­hew, a colum­nist for Raw Sto­ry, wrote, ​"The Repub­li­cans are ter­ri­bly fond of revi­sion­ism, which per­mits them to com­mit heinous atroc­i­ties while they are in office on the hunch that no one in Amer­i­ca will remem­ber what they did a decade lat­er … and still few­er will even care. Tricky Dick ben­e­fit­ed from this — and so did Ronald Reagan."
In 1981, Rea­gan passed his first bud­get — a bud­get that includ­ed a $38 bil­lion ($90 bil­lion in today's dol­lars) tax cut to the wealth­i­est Amer­i­cans. Rea­gan ini­tial­ly slashed the top income-tax rate from 70 per­cent to 50 per­cent. To make way for this mas­sive tax break for the wealth­i­est few, his bud­get includ­ed spend­ing cuts to pro­grams that ben­e­fit the low­er-mid­dle-class: Social Secu­ri­ty, Medicare, unem­ploy­ment ben­e­fits and infra­struc­ture spending.
But guess what? In 1982, the econ­o­my did the exact oppo­site of what ​"voodoo eco­nom­ics" had promised to do. The econ­o­my slipped into a slight reces­sion, and Rea­gan was forced to admit that the bal­anced bud­get he promised would not hap­pen. Duh!
By the fol­low­ing year, Rea­gan raised tax­es dra­mat­i­cal­ly and oth­er increas­es fol­lowed. In fact, the 1982 tax hike was the largest peace­time tax increase on the mid­dle class in Amer­i­can his­to­ry. That same year he also raised the gaso­line tax. In 1983, Rea­gan hiked tax­es again. Despite his rep­u­ta­tion as a tax cut­ter, Rea­gan raised tax­es three times, and tripled the deficit dur­ing his eight years in office. If Rea­gan were trans­port­ed to 2016, he'd nev­er sur­vive a Repub­li­can pri­ma­ry chal­lenge against Rand Paul, Ted Cruz, or Sarah Palin.
Dur­ing the Rea­gan years, the debt bal­looned to near­ly $3 tril­lion, rough­ly three times as much as the first 80 years of the 20th cen­tu­ry had done alto­geth­er. Unem­ploy­ment soared after Reagan's 1981 tax cuts, while income inequal­i­ty explod­ed. More sig­nif­i­cant­ly, Reagan's tax increas­es pri­mar­i­ly hit the mid­dle class, while he shield­ed the wealthy. The main rea­son he's remem­bered as a tax-cut­ter is because of what he did to tax rates for the super-rich: He slashed the top rate from 70 per­cent to 28 per­cent, and income inequal­i­ty has soared ever since, so that today, the top 1 per­cent of Amer­i­cans con­trols a quar­ter of the nation's wealth, as opposed to 8 per­cent in the year Rea­gan was inau­gu­rat­ed president.
Haney López, the author of Dog Whis­tle Pol­i­tics, said in an inter­view with Bill Moy­ers, ​"Over the 1980s, the Rea­gan tax cuts trans­ferred a tril­lion dol­lars to America's top one per­cent. Yes, vot­ers got the tax cuts they thought were aimed at cut­ting off unde­serv­ing minori­ties, but, in fact, it was a pol­i­tics that was show­er­ing mon­ey on the very rich­est Americans."
Trash­ing the War on Pover­ty, Pres­i­dent Rea­gan set about destroy­ing the social com­pact that build the post­war Amer­i­can dream. Salon edi­tor-in-chief Joan Walsh writes, ​"It's dif­fi­cult to over­state how much Rea­gan-era pro­pa­gan­da hurt the coun­try. It dis­tort­ed our under­stand­ing of how to help low-income peo­ple, as well as our opti­mism they could be helped, and it cor­rod­ed the social con­tract that had pre­vailed since the New Deal."
We now have a pos­si­ble 2016 Repub­li­can nom­i­nee to thank for remind­ing Amer­i­ca of the destruc­tive mythol­o­gy that forms the base of the Repub­li­can Party's eco­nom­ic phi­los­o­phy, and a reminder that Pres­i­dent Carter wasn't all that bad. Cer­tain­ly not when com­pared against Repub­li­can pres­i­dents of the mod­ern era.
CJ Wer­le­man is the author of ​
"
Cru­ci­fy­ing Amer­i­ca," and ​
"
God Hates You. Hate Him Back." Fol­low him on Twit­ter: @cjwerleman