90% of Workers Aren't in a Union. Labor's Future Depends on Them.
The labor movement needs more organic leaders, not a militant minority.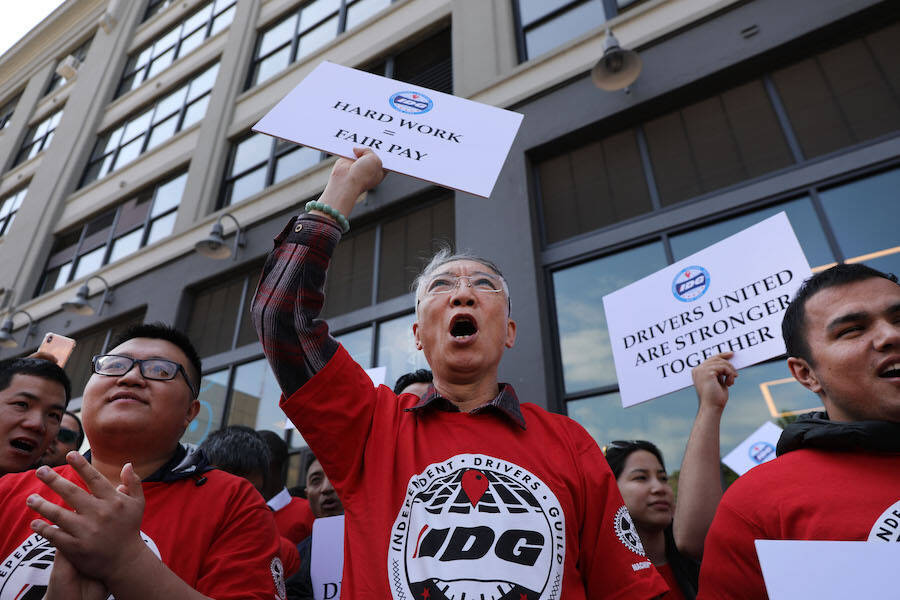 My com­rade Lau­ra Gab­by says that ​"super­ma­jori­ties are nec­es­sary to raise class con­scious­ness, fight cap­i­tal, strike and win," and I agree. But we diverge on how to get there.
If socialists want to lead, they must become organic leaders, not tack themselves on like some gaudy ideological accessory.
She and oth­er rank-and-file strat­e­gy (RFS) sup­port­ers sug­gest realign­ing inter­nal union pol­i­tics from the inside out through a ​"mil­i­tant minor­i­ty." As Kim Moody argues in his sem­i­nal pam­phlet about RFS, unions have to ​"take a cen­tral role … by virtue of their size and their place at the heart of cap­i­tal­ist accumulation."But, in prac­tice, attempts at union realign­ment through RFS have mixed results, while most work­ers remain with­out a union. What's need­ed, instead, is a broad ​"yes, and" approach with an empha­sis on new organizing.
Many union­ists were first exposed to RFS in August through a series of unfor­tu­nate arti­cles in Politi­co and the New York Times, detail­ing activ­i­ties from the Labor Branch of New York City's chap­ter of the Demo­c­ra­t­ic Social­ists of Amer­i­ca. (Lau­ra is a mem­ber.) These DSAers called for social­ists to get union jobs in spe­cif­ic ​"strate­gic indus­tries" to form a ​"mil­i­tant minor­i­ty" and change unions inter­nal­ly. This strat­e­gy was reit­er­at­ed in the nation­al RFS DSA res­o­lu­tion and in a pam­phlet, put out by Young Demo­c­ra­t­ic Social­ists of Amer­i­ca and Demo­c­ra­t­ic Social­ist Labor Com­mis­sion, titled, ​"Why Social­ists Should Become Teachers."
While the news arti­cles unfair­ly por­tray RFS as a devi­ous plot, they high­light real fail­ures in polit­i­cal strat­e­gy. NYC-DSA is, anec­do­tal­ly, dis­pro­por­tion­ate­ly white; the optics aren't good for them to take over unions with mem­ber­ship that is most­ly peo­ple of color.
Organ­ic work­er-lead­ers built our move­ment; if social­ists want to lead, they must become organ­ic lead­ers, not tack them­selves on like some gaudy ide­o­log­i­cal acces­so­ry. Lau­ra says organ­ic lead­ers and social­ists must work togeth­er, but the prob­lem remains: The union realign­ment strat­e­gy treats union mem­bers as con­stituen­cies to be man­aged, rather than organ­ic partners.
The strat­e­gy also leads to a mil­i­tant minor­i­ty divorced from the larg­er union, leav­ing the efforts of RFS reform cau­cus­es decid­ed­ly mixed. While the rank-and-file cau­cus in the Chica­go Teach­ers Union has seen suc­cess, New York's Move­ment of Rank and File Edu­ca­tors (MORE) has seen less. MORE is a favorite of NYC-DSA Labor Branch mem­bers, yet its vote share in the Unit­ed Fed­er­a­tion of Teach­ers (UFT) pres­i­den­tial elec­tion dropped from rough­ly 10,000 in 2016 to less than 2,500 in 2019, and the incum­bent UFT Uni­ty Cau­cus cap­tured all 102 seats on the exec­u­tive board.
If left­ists want to trans­form the labor move­ment, there's a much eas­i­er route: Union­ize the unor­ga­nized. Sur­veys show that at least 48% of work­ers would like a union, but 90% do not have one. Unions enjoy high lev­els of pub­lic sup­port, and mil­len­ni­als are join­ing in dis­pro­por­tion­ate­ly large num­bers.There is no bet­ter time for the Left to orga­nize new unions or add new bar­gain­ing units. Left­ists should focus on devel­op­ing orga­niz­ing com­mit­tees before a union steps in, ensur­ing unions will actu­al­ly com­mit resources to fin­ish the job and that the work­ers join­ing do so on their own terms.
A part­ner­ship between the pro­gres­sive Inter­na­tion­al Long­shore and Ware­house Work­ers (ILWU) and DSA San Fran­cis­co shows how this orga­niz­ing can be done. DSA mem­bers spent months with Anchor Brew­ing work­ers devel­op­ing the orga­niz­ing com­mit­tee, research­ing unions and writ­ing the cam­paign plan, and only then reached out to the ILWU, cho­sen because of its demo­c­ra­t­ic prac­tices and mil­i­tant pol­i­tics. Togeth­er, they won.
As Moody him­self admits, the con­ser­v­a­tive craft union­ism of the Team­sters, for exam­ple, only changed because left­ists orga­nized huge swathes of new work­ers. These left­ists weren't out­siders, but orga­nized their neigh­bors and cowork­ers. As the Anchor group put it, ​"We can't be out­siders help­ing the labor move­ment; we have to be organ­ic partners."
The nature of new orga­niz­ing reveals why this works: Because work­ers must take huge risks to form unions, new­ly orga­nized union­ists are like­ly to be active, polit­i­cal­ly astute and mil­i­tant. The bonds forged in this strug­gle, between left­ists and their cowork­ers, build the rela­tion­ships nec­es­sary to trans­form the labor movement.
If we want to change the labor move­ment, our goal shouldn't be inter­nal realign­ment, but new unions for the 90%.
For alter­nate per­spec­tives on the rank-and-file strat­e­gy, see ​"Want To Build the Labor Move­ment? Get a Job at a Union Work­place." and ​"Labor Needs To Embrace Social Jus­tice Unionism."
Andrew Dob­byn
is a rank-and-file elect­ed leader in CWA Local
1104
and for­mer co-chair of Suf­folk Coun­ty DSA.