Ranked Choice Voting Is On a Roll: 6 States Have Opted In for the 2020 Democratic Primary
We can get rid of the "spoiler" effect and make our elections more democratic. In fact, it's already happening in states across the country.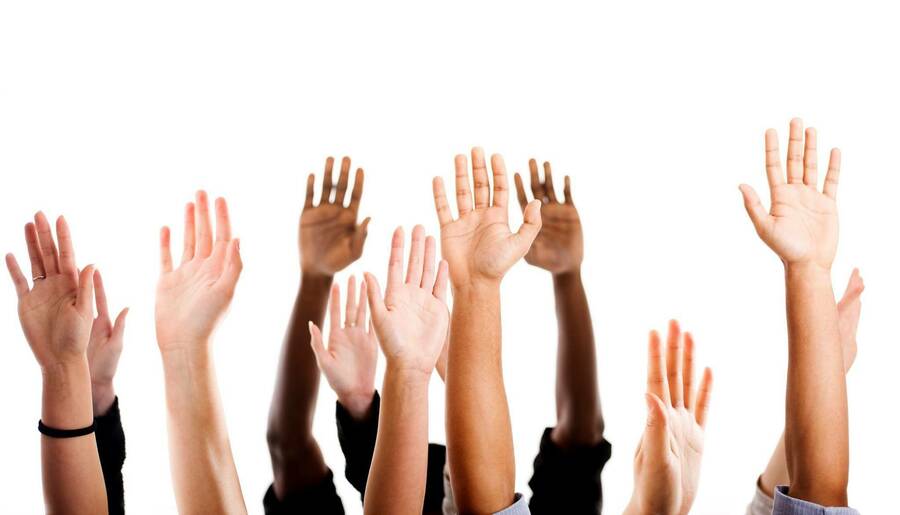 The 2020 Demo­c­ra­t­ic pres­i­den­tial pri­ma­ry is shap­ing up to be an all-out brawl for the nom­i­na­tion. With mul­ti­ple can­di­dates boast­ing impres­sive fundrais­ing hauls, and momen­tum seem­ing­ly shift­ing week to week, it's unclear if any Demo­c­rat will rise as the con­sen­sus nom­i­nee. And as a num­ber of cam­paigns are being fueled by small-donor con­tri­bu­tions, can­di­dates have lit­tle incen­tive to drop out of the race, no mat­ter their stand­ing in the polls.
Let's embrace choice, fairness and a truly representative democracy in which the majority really rules.
That's a recipe for tumult, divi­sion and a plu­ral­i­ty nom­i­nee, poten­tial­ly push­ing Democ­rats into the same posi­tion as Repub­li­cans in 2016 — led by a stan­dard-bear­er who couldn't com­mand major­i­ty sup­port in his own party.
Luck­i­ly, there's an easy way to solve this prob­lem, and a num­ber of states are already tak­ing dra­mat­ic action that could change the very nature of our elections.
Six states plan to use ranked choice vot­ing (RCV) for their 2020 Demo­c­ra­t­ic pri­maries or cau­cus­es, includ­ing for all ear­ly vot­ers in Iowa and Neva­da, and all vot­ers in Alas­ka, Hawaii, Kansas and Wyoming. These states will adapt RCV to Demo­c­ra­t­ic Par­ty rules — last-place can­di­dates will be elim­i­nat­ed and back­ers of those can­di­dates will have their vote count toward their next choice until all remain­ing can­di­dates are above the 15 per­cent vote thresh­old to win delegates.
State par­ties made this change because they real­ize allow­ing vot­ers to rank their choic­es — espe­cial­ly in a crowd­ed field that includes many expe­ri­enced and well-fund­ed can­di­dates — makes everyone's vote more pow­er­ful. RCV has the addi­tion­al advan­tage of putting an end to vote split­ting, the prob­lem of ​"spoil­ers" and even the pos­si­bil­i­ty of a nom­i­nee who lacks major­i­ty sup­port inside the party.
It's a bold move, and it comes at a time when many pres­i­den­tial can­di­dates includ­ing Bernie Sanders, Eliz­a­beth War­ren, Michael Ben­net, William Weld, Andrew Yang, Seth Moul­ton and Beto O'Rourke have indi­cat­ed they sup­port RCV.
In 2017 and 2018, Maine vot­ers passed and affirmed ranked choice vot­ing in trail­blaz­ing bal­lot mea­sures. RCV saw its first use in guber­na­to­r­i­al pri­maries last spring and in fall con­gres­sion­al races. It made an imme­di­ate impact.
In Maine's 2nd Dis­trict, incum­bent GOP Rep. Bruce Poliquin fin­ished the first round with a nar­row lead over Demo­c­ra­t­ic chal­lenger Jared Gold­en — but far short of the 50 per­cent nec­es­sary to win. Poliquin earned 46.4 per­cent, com­pared to 45.5 per­cent for Gold­en. Two inde­pen­dents split the remain­ing — and deci­sive — 8 per­cent. Sec­ond-place votes broke toward Gold­en and in the end, he defeat­ed Poliquin by less than 3,000 votes.
In June, after see­ing RCV in action, both cham­bers of the state leg­is­la­ture approved a reform that could begin a polit­i­cal trans­for­ma­tion. The state House and Sen­ate over­whelm­ing­ly adopt­ed ranked choice vot­ing for pres­i­den­tial gen­er­al elec­tions as well. A pro­ce­dur­al issue has so far kept the bill from reach­ing Gov. Janet Mills, but that still can hap­pen in the com­ing months.
What would RCV on the pres­i­den­tial lev­el mean in action? Amer­i­cans could have the pow­er to rank their can­di­date pref­er­ences in order, and no longer would vot­ers have to set­tle for the ​"less­er of two evils," or com­plain that a third-par­ty can­di­date was some kind of spoiler.
Far more Amer­i­cans cast votes for pres­i­dent in the Novem­ber gen­er­al elec­tion than in par­ty pri­maries. So why shouldn't gen­er­al elec­tions allow Amer­i­cans the broad­est pos­si­ble choice?
Maine is point­ing the way toward an entire­ly dif­fer­ent future. Dur­ing the con­tro­ver­sial 2000 and 2016 pres­i­den­tial elec­tions, third-par­ty can­di­dates have rep­re­sent­ed the Greens and Lib­er­tar­i­ans, and much of the con­ver­sa­tion has been angry and accusato­ry. Sup­port­ers of third-par­ty can­di­dates have been blamed for elect­ing the major par­ty can­di­date they liked least — i.e. George W. Bush and Don­ald Trump.
Add RCV to the equa­tion, how­ev­er, and it's an entire­ly dif­fer­ent con­ver­sa­tion. Vot­ers of these third par­ties would be wel­comed rather than alien­at­ed. RCV sim­u­lates an instant runoff if no can­di­date reach­es 50 per­cent of the vote, so if a third-par­ty can­di­date fin­ish­es out of the run­ning, those votes are real­lo­cat­ed to sec­ond choic­es, end­ing any spoil­er effect.
But more impor­tant­ly, it's easy to imag­ine how Amer­i­cans might get to choose from a rich boun­ty of per­spec­tives in a pres­i­den­tial elec­tion — and with RCV, vot­ers would be able to mag­ni­fy their vote and their voice at pre­cise­ly the moment when most Amer­i­cans go to the polls.
Two of our last five pres­i­dents have tak­en office with­out win­ning the pop­u­lar vote. Four of the last sev­en elect­ed pres­i­dents have failed to earn a plu­ral­i­ty. That's a key rea­son why our pol­i­tics remains so polar­ized and divi­sive even after an election.
Let's embrace choice, fair­ness and a tru­ly rep­re­sen­ta­tive democ­ra­cy in which the major­i­ty real­ly rules. Maine has led the way, and now we're see­ing a slew of states step­ping up in the 2020 pres­i­den­tial race. We shouldn't be stuck choos­ing the less­er of two evils. Our polit­i­cal debate shouldn't be stuck in the same frus­trat­ing par­ti­san quick­sand, or the same angry dis­missals of can­di­dates and vot­ers who dare stand out­side the con­ven­tion­al two-par­ty process.
Trust vot­ers. Trust democ­ra­cy. It shouldn't be that com­pli­cat­ed. And the grow­ing momen­tum behind RCV makes all of this a real possibility.
David Daley
is the author of the nation­al best­seller ​
"
Ratf**ked: Why Your Vote Doesn't Count" and a senior fel­low at FairVote.