How to Defend Workers Against Immigration Raids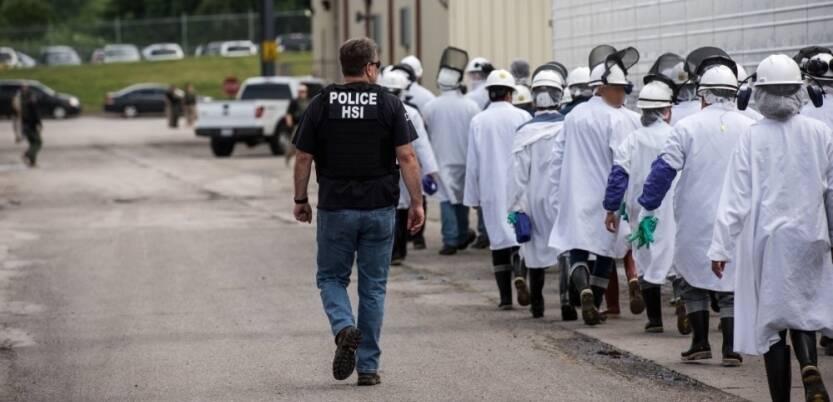 As the Trump admin­is­tra­tion cracks down on undoc­u­ment­ed immi­grants, it's urgent for work­er cen­ters and unions to orga­nize to defend immi­grant members.
In West­ern Mass­a­chu­setts, the Pio­neer Val­ley Work­ers Cen­ter has cre­at­ed a rapid-response net­work it calls ​"Sanc­tu­ary in the Streets" (SiS). The work­er cen­ter, found­ed in 2014, orga­nizes restau­rant work­ers and farm­work­ers in the area. Work­er com­mit­tees set the net­work's priorities.
The rapid-response net­work con­sists of a 24-hour emer­gency hot­line, 2,000 mem­bers, and 20 reli­gious con­gre­ga­tions. Forty bilin­gual respon­ders are trained to man­age the hot­line, where they instruct callers in their con­sti­tu­tion­al rights, con­nect them to ser­vices, and acti­vate the response team if necessary.
Since Novem­ber 2016, mem­bers of the net­work have sup­port­ed 35 fam­i­lies and indi­vid­u­als fac­ing depor­ta­tion and work­place abuse, includ­ing wage theft and sex­u­al harassment.
The net­work has trained 800 Rapid Respon­ders to doc­u­ment and peace­ful­ly denounce a depor­ta­tion or raid as it is tak­ing place, and is cur­rent­ly train­ing to accom­pa­ny immi­grants to court hear­ings. It's also defend­ing two immi­grants who have tak­en sanc­tu­ary in local church­es after fac­ing threats of deportation.
Here's some advice from Pio­neer Val­ley Work­ers Cen­ter orga­niz­ers on set­ting up a rapid-response network:
1. Make sure it's led by immi­grant workers.
The vol­un­teers in the net­work include many non-immi­grant sup­port­ers from all walks of life. But ​"what makes our mod­el strong is that we have an exist­ing work­er com­mit­tee, and the Sanc­tu­ary in the Streets net­work is account­able to the work­er com­mit­tee," says Diana Sier­ra, an orga­niz­er with the Center.
In a series of forums, mem­bers of the work­er cen­ter iden­ti­fied the most urgent issues affect­ing their com­mu­ni­ty: work­place abuse; deten­tions, raids, and depor­ta­tions; and hate crimes. These became the network's pri­or­i­ties to orga­nize against.
With­out a base among immi­grant work­ers, it can be hard to know the community's real needs. For exam­ple, some activists in West­ern Mass­a­chu­setts have called for shut­ting down the ICE deten­tion cen­ter in Green­field, which hous­es 100 immi­grants. But there's a debate with­in the work­er cen­ter and the immi­grant com­mu­ni­ty around this approach. ​"For immi­grants here that deten­tion cen­ter means that they're not shipped off far away with­out access to legal aid or their fam­i­lies being able to see them," says Rose Book­binder, anoth­er Cen­ter orga­niz­er. So the group is pro­ceed­ing cau­tious­ly around this issue, while focus­ing ener­gy on oth­ers that its immi­grant mem­bers have iden­ti­fied as top priorities.
2. Divide up into groups with defined assignments.
Sanc­tu­ary in the Streets has sev­en vol­un­teer-led sub­com­mit­tees: edu­ca­tion and research; media; fundrais­ing; sol­i­dar­i­ty, which includes rides and food; events; child­care; and hot­line and technology.
Each sub­com­mit­tee was cre­at­ed to answer a need. ​"When we start­ed Sanc­tu­ary in the Streets," says Book­binder, ​"we had direct asks from our immi­grant mem­bers: free legal sup­port; a 24-hour line to call in emer­gency sit­u­a­tions; child­care sup­port for orga­niz­ing or in case of depor­ta­tion; and ways to research all that." Oth­er sub­com­mit­tees were added over time.
3. Push spe­cif­ic demands with local politi­cians and businesses.
"Sanc­tu­ary in the Streets isn't just reac­tive," says Sier­ra. Instead, the net­work is fight­ing for con­crete reforms.
In antic­i­pa­tion of this year's May Day demon­stra­tion, the work­er com­mit­tee asked researchers on the edu­ca­tion sub­com­mit­tee to look for vic­to­ries that immi­grant rights groups had won in oth­er cities. They put the best ones for­ward as demands to elect­ed offi­cials in local municipalities.
As a result, in Northamp­ton, Sanc­tu­ary in the Streets has won a num­ber of com­mit­ments from the mayor's office: to warn the com­mu­ni­ty of poten­tial immi­grant raids; to sup­port sanc­tu­ary con­gre­ga­tions; to orga­nize train­ings where employ­ers and work­ers learn how to inter­act with immi­gra­tion offi­cials; and to allow non-cit­i­zens to vote in city elec­tions. The group is now work­ing to enforce these commitments.
4. Pounce on oppor­tu­ni­ties to recruit more volunteers.
In the imme­di­ate wake of Don­ald Trump's elec­tion in 2016, many peo­ple were search­ing for mean­ing­ful forms of activism and orga­niz­ing that extend­ed beyond elec­toral politics.
"Peo­ple were incred­i­bly moti­vat­ed to take action, and we took advan­tage of that whirl­wind moment," says Book­binder. Sanc­tu­ary in the Streets was launched in the weeks fol­low­ing the elec­tion. Eigh­teen hun­dred peo­ple signed up to par­tic­i­pate, and 100 packed the group's meetings.
The les­son? ​"Pre­pare all the infra­struc­ture you need," says Book­binder, ​"and the next time Trump or ICE screws up, launch it, and you can cap­ture these peo­ple into your organization."
5. Build for the long term by pri­or­i­tiz­ing organizing.
This work­er cen­ter pri­or­i­tizes pro­vid­ing aid to immi­grants who are involved in orga­niz­ing — mean­ing that they are par­tic­i­pat­ing in col­lec­tive action to improve their work­places or defend their com­mu­ni­ties, such as by com­ing to meet­ings or events or par­tic­i­pat­ing in campaigns.
The group has raised $10,000 for a sol­i­dar­i­ty fund specif­i­cal­ly to sup­port peo­ple who are orga­niz­ing, with needs rang­ing from bond mon­ey to rent. It has had to turn down requests from those who aren't, though it still helps con­nect them to free legal services.
"We've got­ten crit­i­cism from some peo­ple who think you should pro­vide ser­vices to every­one, but we have lim­it­ed time and resources," says Sier­ra. ​"It's a care­ful bal­ance — when someone's in cri­sis, and asks you to accom­pa­ny them to court, you don't say, ​'Can you come to a meeting?'
"But you might talk to them about how there are a num­ber of oth­er immi­grants going through the same thing." And that might help them start think­ing about organizing.
This arti­cle first appeared on Labor Notes. Parts of this arti­cle are tak­en from ​'Build­ing Work­ing Pow­er: The Orga­niz­ing Mod­el of the Pio­neer Val­ley Work­ers Cen­ter'; for a copy, vis­it the web­site: pvwork​er​scen​ter​.org