Palestine Activist's Confession Allegedly Obtained By Torture Leads to Immigration Conviction
Rasmea Odeh faces up to 10 years in a U.S. prison and deportation for failing to disclose a criminal history that was allegedly the result of physical and sexual torture.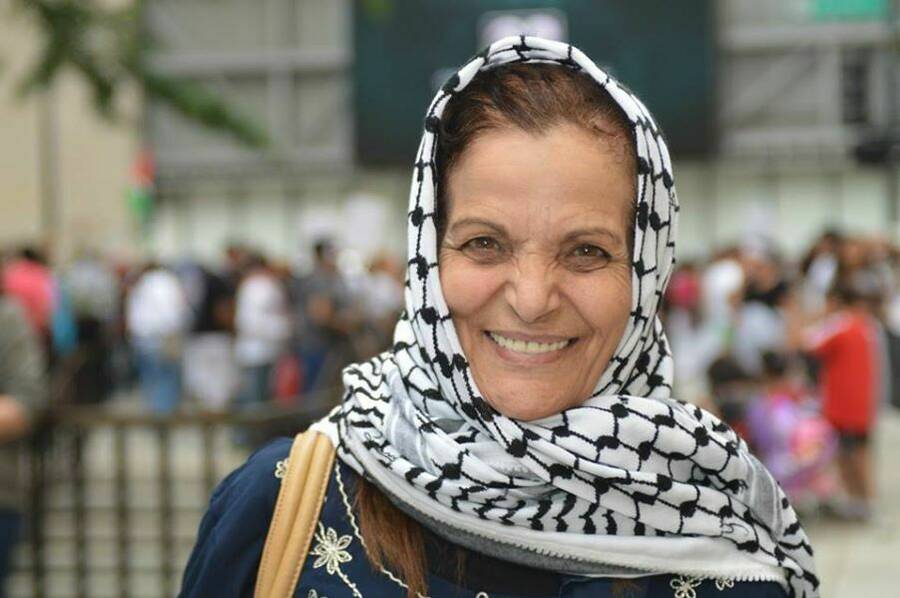 Palestinian-American activist Rasmea Odeh was convicted by a federal jury on Monday for ​"unlawful procurement of naturalization." Odeh, a longtime community organizer and founder of numerous women's, immigrant, and pro-Palestine organizations, was initially arrested and charged by the US Department of Homeland Security on October 22, 2013.
"Rasmea is just the latest in a long line of Palestinians in America criminalized by the U.S. government."
The pretext for this charge's filing was Odeh's failure to mention her Israeli imprisonment on her green card and naturalization applications. According to DHS, Odeh withheld this information intentionally in order to become a US citizen — a violation of immigration laws in America. Odeh supporters dispute that the withholding was intentional.
Over 40 years ago, Odeh and four other members of the Popular Front for the Liberation of Palestine (PFLP) were arrested in 1969 for their alleged participation in the planning and execution of two bombings in Israel. A Marxist-Leninist and Palestinian nationalist group founded in 1967, the PFLP placed two bombs in a crowded supermarket in Jerusalem, one of which killed two people and injured several others, and was one of the first groups to use airline hijackings to draw attention to their cause.
Odeh says that after being held in custody for 25 days and repeatedly tortured physically, emotionally, mentally and sexually, she signed a written confession admitting participation in the bombing and her membership in the PFLP in order to end her alleged torture — according to Odeh, being threatened with torture and a forcing of her father to rape her and sexual assault with a thin wooden stick.
Shortly after confessing, Odeh recanted. But on the basis of the confession, she was convicted in an Israeli military court on one count of membership in an illegal organization and three counts of placing bombs at the Jerusalem supermarket and the British Consulate.
Sentenced to 10 years of imprisonment in Israel for her membership in an illegal organization and life imprisonment on two of the three bombing charges, Odeh served 10 years of her sentence before her release to the PFLP during a prisoner exchange in 1979.
The maximum sentence Odeh faces with this conviction is 10 years in a U.S. prison, possible deportation and up to a $250,000 fine. If Odeh receives the maximum sentence, she will be 77 when she is released.
Many supporters believe this conviction stems from her influential role in the pro-Palestine movement in America.
The Arab American Action Network (AAAN) is one of several political and activist organizations that have actively supported Odeh, who was a former associate director of the organization. Hatem Abudayyeh, executive director of AAAN, says the nature of this trial is far larger than Odeh.
"It's an attack against Palestine," Abudayyeh says. ​"Rasmea is just the latest in a long line of Palestinians in America criminalized by the U.S. government."
Abudayyeh says that because of the impact organizations such as the AAAN have had in recent years the U.S. government is attempting to criminalize major community activists in the movement.
"The U.S. can't allow Israel to be weakened, so law enforcement, especially federal law enforcement, goes after our community, our community organizations and our community leaders like Rasmea," Abudayyeh says.
On September 24, 2010, the FBI raided seven homes and an anti-war office in Illinois, Minnesota and Michigan. ​"There was a request for documents and information about Rasmea, which means they came across her name in the course of investigating me," Abudayyeh said.
Along with these raids, the FBI subpoenaed 14 anti-war activists to testify before a federal grand jury. In response, activists created the Committee to Stop FBI Repression to protest the ​"United States government's attempt to silence and criminalize anti-war and international solidarity activists," according to a statement released by the committee.
Jess Sundin, a member of the committee, says, ​"The reason we were investigated at all was because we organized the largest anti-war demonstration in the country in 2008. … The government has used this tactic before in periods of repression to attack movements and community leaders with deep roots and long history."
Many activists believe there is a massive attack on the Palestinian liberation movement in America, with recent examples including the firing of Steven Salaita from the University of Illinois at Urbana-Champaign for his tweets about the Israeli bombing of Gaza that resulted in the deaths of 2,100—70 percent of which were civilians, according to the United Nations. Student groups at Loyola University Chicago and Northeastern University in Boston have also come under fire from their administration because of their organizing against the Israeli occupation.
Odeh's trial began on November 4 in Detroit and lasted only five days. U.S. District Judge Gershwin A. Drain found Odeh's story of torture compelling but ruled against allowing her defense to reference this alleged torture during the trial.
Drain denied several other key components in the defense's case as well, such as Odeh being the target of an illegal investigation by the FBI into the activities of AAAN. These rulings by the judge greatly broke down the defense's case. No date has been set for sentencing — nor any word on whether the defense plans to appeal this verdict.
Christa Smith
is a graduate student in journalism at Columbia College.