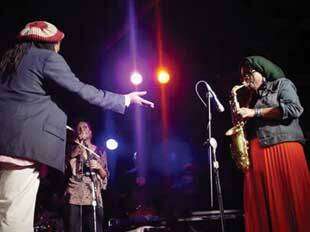 Many modern jazz musicians are staunch tradition-al-ists, more likely to parrot genteel sounds from the past than create new music imprinted with their own generational personality. That's not true of adventurous New York-based experimental jazz ensemble Burnt Sugar, one act firmly entrenched in the 21st Century.
The multicultural group, which fluctuates in size from 12 to 20 players, truly transcends musical and social boundaries. The players are male and female, black and white, Americans and natives of Asia, Europe and the Middle East. Many of the musicians come from a free jazz background, but there are also veterans of rock, classical, big band jazz, hip-hop, Celtic and funk, among other styles. All of these influences figure heavily into Burnt Sugar's genre-blending improvisational approach.
The group's instrumental make-up is equally eclectic, starting with a core of two drummers, several keyboards, and electric and acoustic bass. The rest of the instrumentation, however, varies from show to show, ranging from horns, strings and electric guitars to laptops, turntables and unconventional vocalists.
Burnt Sugar is the brainchild of guitarist, author and longtime Village Voice writer Greg Tate, who based the group's multiple instrument approach on Miles Davis' landmark fusion album Bitches Brew.
"Miles believed the only way you make anything interesting happen is to take the best musicians you can find and force them to play beyond what they know," Tate says. ​"They can't play by rote because you've created an environment where nothing conventional is really going to hold water. You can't think about if it's the right move; it's about being in the moment, which is what jazz is supposed to be about."
To prevent Burnt Sugar's music from devolving into self-indulgent jam band territory, early in the group's development Tate began using conduction, a system of baton gestures devised by Butch Morris. Conduction allows the band leader to manage the flow of the music, but more importantly control who is playing, what they are playing and when they are playing it.
"Conduction is a 21st Century extension of jazz because you can privilege the moment, the improvisation and spontaneity, the way jazz always has," Tate says. ​"But you can do things that are very similar to what people are doing with samplers, laptops, turntables and other methods. You can literally dissect and collage music in an insane way but you're doing things live with a band that people are doing sitting at an editing desk."
Using this method, Burnt Sugar has amassed an impressive catalog. The group has released six discs under their own Trugroid imprint since its debut studio album Blood on the Leaf: Opus No. 1, came out in 2000. The latest CD, Not April in Paris, was recorded in March during Burnt Sugar's brief European tour and released in September. Two other shows recorded during that tour are slated for future release.
"People talk about having stuff on the shelf," says Jared Michael Nickerson, the group's electric bass player and business manager. ​"We not only have the two live CDs ready to go but we have half of our next studio CD done. Material is not going to be a problem for this band."
"With this kind of group we almost had to make up for lost time," Tate says. ​"I think we had to legitimize this way of working for people and so I was very determined early on to show the range of things the band could do. I wanted to saturate the market as if we had been around a much longer period of time so by the time we really got our stuff together people would've absorbed all the studio stuff.
"It has worked out well," adds Tate, a graduate of Howard University and founding member of the Black Rock Coalition. ​"The group is kind of like a big musical multi-purpose room where the musicians can expand their voice and vernacular and I can get off some of my political agendas but not in an in-your-face way."
In their own way, the members of Burnt Sugar are musical revolutionaries intent on reviving jazz from its anemic state and injecting it with the depth, power and adventurousness of Miles Davis, Ornette Coleman and other kindred spirits. By doing so, Tate and company are creating music that is reflective of modern society and, more importantly, charting a path for the healthy future of jazz.
Be one of the first
Help kick off the new era of In These Times! Without a media that brings people together and creates a written record of the struggles of workers, their voices will be fragmented and forgotten.
The mission of In These Times is to be that written record, and to guide and grow those movements.
We have a lot of work ahead of us, and that work starts today. Early support is the most valuable support, and that's why we're asking you to pitch in now. If you are excited for this new era of In These Times, please make a donation today.
Don Thrasher
, a former member of Guided By Voices, is a writer and musician based in Dayton, Ohio.
More articles by Don Thrasher