Reclaiming "Send Her Back": A Call for Black Americans to Voyage to Africa
We need to embrace our legacy as the richest, most generative and creative beings on this earth.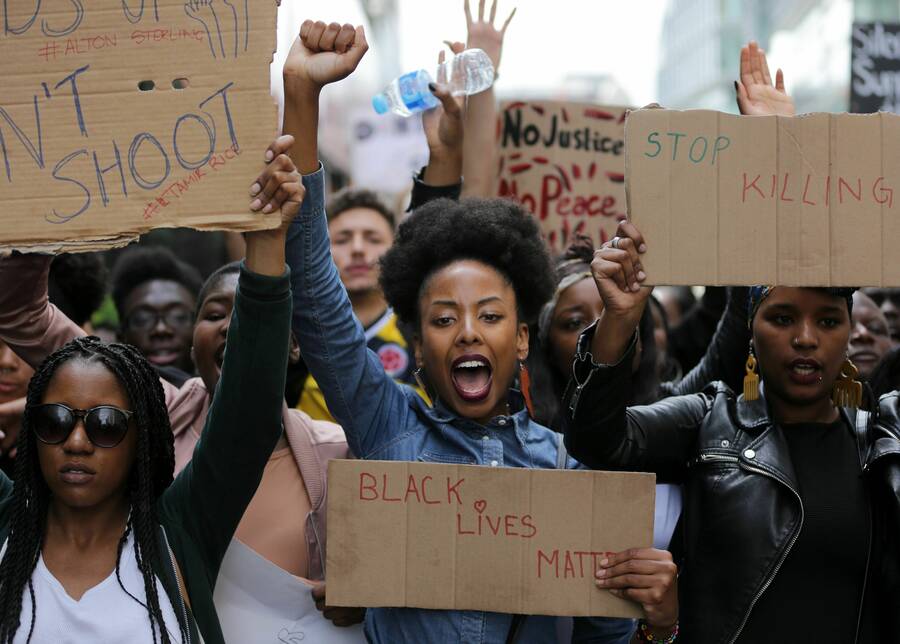 When it comes to being Black, queer and immi­grant in Amer­i­ca, there is no safe­ty. The count­less vio­lent attacks on peo­ple of col­or, the lack of action against guns after repeat­ed mass shoot­ings and the unre­lent­ing excus­es for assailants who are pre­dom­i­nant­ly white and male point to a sin­is­ter truth about Amer­i­ca: Vio­lence and mur­der found­ed this nation and remain deeply entrenched in the state ide­ol­o­gy. The pres­i­dent has rein­forced this ide­ol­o­gy by incit­ing anti-Black and anti-immi­grant sen­ti­ment through the call for ICE raids and a bor­der wall and shouts for Amer­i­can-born, non-white gov­ern­ment offi­cials to go back to their countries.
The concept of "Black love" or "Black hair" or Black anything holds no resonance with locals because it would be redundant. My Blackness was at ease on the continent.
While the president's com­ment was undoubt­ed­ly meant as an insult­ing era­sure of the foun­da­tion­al lega­cy and her­itage of Indige­nous, Black and Lat­inx peo­ple in Amer­i­ca, the recent mass shoot­ings have con­vinced me that some of us should return to our ori­gin coun­try — but not for the rea­son Trump sug­gests. As a Black Amer­i­can, I had no idea what trav­el­ing to the moth­er­land would mean for my life. Now that I've gone, it is my sin­cer­est belief that we as peo­ple of the dias­po­ra in Amer­i­ca owe it to our­selves to trav­el to Africa, to touch the land where our peo­ple were ripped from the shore, to expe­ri­ence what it's like to live in a place where Black­ness is cel­e­brat­ed, with­out fear and racism.
When I became a moth­er in Amer­i­ca, my sense of fear was height­ened because I was now liv­ing from the lens of a Black woman with a sen­si­tive and wild­ly curi­ous Black son. I remem­ber watch­ing the case of Trayvon Mar­tin close­ly; my son Akeim was only 10 months old the day George Zim­mer­man was acquit­ted for Trayvon's death, and it broke me down into a haze of heartache and rage. At the time, I was in the first months of build­ing BYP100, a polit­i­cal orga­ni­za­tion for young Black peo­ple ded­i­cat­ed to fight­ing for the lib­er­a­tion of all Black peo­ple, with sev­er­al of my com­rades includ­ing Char­lene Car­ruthers, Rose Afriyie, Mal­colm Lon­don and Jas­son Perez. Even while griev­ing, we knew that cen­ter­ing our­selves in joy was the med­i­cine for the evil that trailed us through­out our Amer­i­can expe­ri­ence. We decid­ed our first event would be a cel­e­bra­tion of life for Trayvon at our head­quar­ters on the south side of Chica­go. Such events were the balm for the moments of anguish brought on with each shoot­ing of an unarmed Black woman, child, trans per­son and man. We under­stood our joy was a major tool in resist­ing despair and con­tin­u­ing the fight to live freely.
Out of this under­stand­ing, BYP100 mem­ber Jonathan Lykes found­ed the Black Joy Expe­ri­ence Ensem­ble, a cul­tur­al pro­duc­tion and per­for­mance group uti­liz­ing old tools of move­ment, such as chants and songs, to politi­cize and hon­or our spir­it as resilient and cre­ative peo­ple of the sun. As mem­bers of the Ensem­ble, Jonathan and I were invit­ed to join an inter­na­tion­al del­e­ga­tion to Ghana where we would attend their annu­al Pan-African fes­ti­val PANAFEST dur­ing the his­toric Year of Return, a decree made by the Ghan­ian gov­ern­ment to com­mem­o­rate the 400 years since the first doc­u­ment­ed African was brought to Jamestown, Va. as a slave. I spent two weeks build­ing rela­tion­ships with youth, elders, gov­ern­ment offi­cials, activists and artists, shar­ing col­lec­tive sto­ries about our expe­ri­ence as Black peo­ple and what it means to have Black joy across the diaspora.
The wel­com­ing I felt in Ghana was like noth­ing I'd ever expe­ri­enced in my twen­ty-some­thing years as a Black Amer­i­can. For two nights I was host­ed in Lomé, Togo, by a dear friend Dossé-Via Tre­nou-Wells, founder of Mag­ic and Melanin, and one night we had an inter­gen­er­a­tional and mul­ti­lin­gual con­ver­sa­tion with Black peo­ple from Amer­i­ca, Togo, Ghana, Sene­gal, France and Lon­don, on how we expe­ri­ence joy to com­bat oppres­sion. We talked about the impor­tance of being in a warm cli­mate, the pres­ence of music in the streets, the plea­sure of a stranger smil­ing and say­ing hel­lo to you and the famil­iar ener­gy we imme­di­ate­ly felt upon meet­ing each oth­er. In think­ing about how to strength­en our bond as peo­ple of the dias­po­ra, there were some crit­i­cal real­iza­tions around our forced sep­a­ra­tion. I was amazed that many of my con­ti­nen­tal African kin were not made aware of the enslave­ment of African Amer­i­cans. And like­wise, I hold a sur­face-lev­el knowl­edge of the col­o­niza­tion of the dif­fer­ent African nations. As we talked and ate and trans­lat­ed across Ewe, French, Mina and Eng­lish, our bond as a group grew clos­er. One broth­er from Togo said it was his first time being a room where a group was talk­ing about Black­ness and it made him feel thirsty for more. I believe this kind of hap­pen­ing was able to take place because we had the lux­u­ry of being togeth­er unhin­dered by vio­lence and overt racism by white people.
Days before I returned home from Ghana, a sis­ter of mine back in Chica­go sent me a report of two moth­ers from the anti-vio­lence group MASK killed in a dri­ve-by shoot­ing while mon­i­tor­ing their com­mu­ni­ty. The news jolt­ed me out my serene time in Ghana and drew me back home to Chica­go and my con­cern for my son and daugh­ter. As I called my children's fathers, all I could think about was get­ting me and my babies some­where, any­where safe to live. On the last day of the trip, my fel­low com­rade announced to our group that there had been a mass shoot­ing in El Paso, Texas, with 22 peo­ple mur­dered and 26 oth­ers injured, some of whom wouldn't go to the hos­pi­tal out of fear because they are undoc­u­ment­ed. Before I could process El Paso, we got word of yet anoth­er mass shoot­ing with nine more mur­dered and 27 injured in Day­ton, Ohio, not far from my home­town of Cleve­land, where 12-year-old Tamir Rice was mur­dered in 2014.
The news of these recent shoot­ings pro­voked a deep anx­i­ety in me, main­ly because I was not sur­prised at all to hear it. I am still reel­ing from the deaths of the The Charleston 9 and those killed and harmed at Pulse night­club. But it's deeply unset­tling to real­ize that in the past 10 years I have grown wary but accus­tomed to the tar­get­ed mur­der of peo­ple of col­or and Black peo­ple by police and vig­i­lantes with white suprema­cist agendas.
I was not eager to return to Amer­i­ca. In Ghana, I noticed a strik­ing dif­fer­ence as I was walk­ing around Osu or Cape Coast: Every­where I went, I had no fear of being harassed or suf­fer­ing from the demor­al­iz­ing effects of con­stant microag­gres­sions, because I was a part of the major­i­ty. The con­cept of ​"Black love" or ​"Black hair" or Black any­thing holds no res­o­nance with locals because it would be redun­dant. My Black­ness was at ease on the con­ti­nent. I felt safe in a way I didn't know exist­ed, and now I know this is how I am sup­posed to feel all the time.
After hear­ing about the shoot­ings, I went to social media to see the same dis­course I knew too well: We should send thoughts and prayers, the shoot­ers are men­tal­ly unsta­ble and were appre­hend­ed with­out inci­dent. I saw anoth­er post about a Black man who was pis­tol whipped around the same time with­out any main­stream media atten­tion. When the singer Ari Lennox went live on Insta­gram to express her anx­i­ety around liv­ing in Amer­i­ca, the fear of being in a movie the­ater or tak­ing her nephew to day­care, it hit me again how blessed I'd been to shed this fear for my per­son­al safe­ty for a cou­ple of weeks. I was struck by how Ari Lennox or my friend Jonathan or myself are oth­er­wise full of joy and life but are con­stant­ly dis­rupt­ed by the hatred of white supremacy.
In return­ing to the moth­er­land I found so much oppor­tu­ni­ty to set­tle into a place of Black joy, and I'm encour­aged by how rapid­ly this joy has been spread­ing into Black Amer­i­ca as well. When Black Pan­ther came out I remem­ber all the viral videos of Black Amer­i­cans adorned in kente and dashikis danc­ing as they left the the­aters. I felt the same ener­gy with the release of the live-action The Lion King and Beyoncé's love let­ter to Africa with her pro­duc­tion of the movie's sound­track, The Gift. The cel­e­brat­ed per­for­mances of Bur­na Boy and Mr. Eazi at Coachel­la, Tobe Nwig­we, a first gen­er­a­tion Niger­ian-Amer­i­can rep­ping Hous­ton, are all exam­ples of a wide­ly increas­ing afro-fusion.
On both sides of the Atlantic, we are real­iz­ing we're more famil­iar than we may have thought. And this cross-cul­tur­al exchange is not only pos­si­ble but crit­i­cal to our con­tin­ued resis­tance to a glob­al attack on Blackness.
I am not roman­ti­ciz­ing a neat tran­si­tion into a Pan-African world; it is extreme­ly dif­fi­cult for our con­ti­nen­tal rel­a­tives to get to the states and the cost of trav­el even for Black Amer­i­cans with blue pass­port books can be pro­hib­i­tive. How­ev­er, with social media to con­nect us and a will to learn, we can begin to heal our dis­tance from our kin. And there are orga­ni­za­tions being cre­at­ed for the sole pur­pose of grant­i­ng schol­ar­ships for peo­ple of the dias­po­ra to return home. I invite all my Black peo­ple to learn about W.E.B. Du Bois' sojourn to Ghana and his rela­tion­ship to Ghana's first prime min­is­ter, the great Kwame Nkrumah, and how Du Bois' renounced his Amer­i­can cit­i­zen­ship to remain in Ghana. To take the time to learn some Twi and most impor­tant­ly get in right rela­tion­ship with the land we were stolen from and begin a process of heal­ing our lost kinship.
So yes, we should all go back. Not because white suprema­cists don't want us here but because of our own self-love and self-deter­mi­na­tion. We need to debunk the myth that our places of ori­gin are third-world shit­holes and reclaim our lega­cy as the rich­est, most gen­er­a­tive and cre­ative beings on this earth. We come from the bas­tion of the world's nat­ur­al resources and our col­lec­tive melanin is just the vibra­ni­um we need to heal our­selves and con­tin­ue the fight for Black peo­ple all over the world.
Johnaé Strong
is an edu­ca­tor, orga­niz­er and writer who has been work­ing at the inter­sec­tion of social move­ments, heal­ing and edu­ca­tion for over a decade. Johnaé is a found­ing mem­ber and leader of BYP
100
, a polit­i­cal orga­ni­za­tion for Black peo­ple
18
 – 
35
work­ing for lib­er­a­tion for all Black peo­ple. Her work has spanned across com­mu­ni­ty and labor with a focus on cam­paigns against state vio­lence and school pri­va­ti­za­tion and ampli­fy­ing com­mu­ni­ty-led strate­gies for cre­at­ing a more just and safe soci­ety. Johnaé holds a Bach­e­lor of Arts in Inter­na­tion­al Stud­ies and Master's of Arts in Edu­ca­tion from the Uni­ver­si­ty of Chica­go. When she isn't writ­ing, Johnaé can be found mak­ing music, los­ing dance bat­tles to her two chil­dren: Akeim and Jari, or in her home­town of Cleve­land, Ohio.