Red-Baiting Won't Stop Bernie Sanders. The Democratic Debate Shows Why.
Moderators and candidates tried to weaponize democratic socialism to attack the front-runner.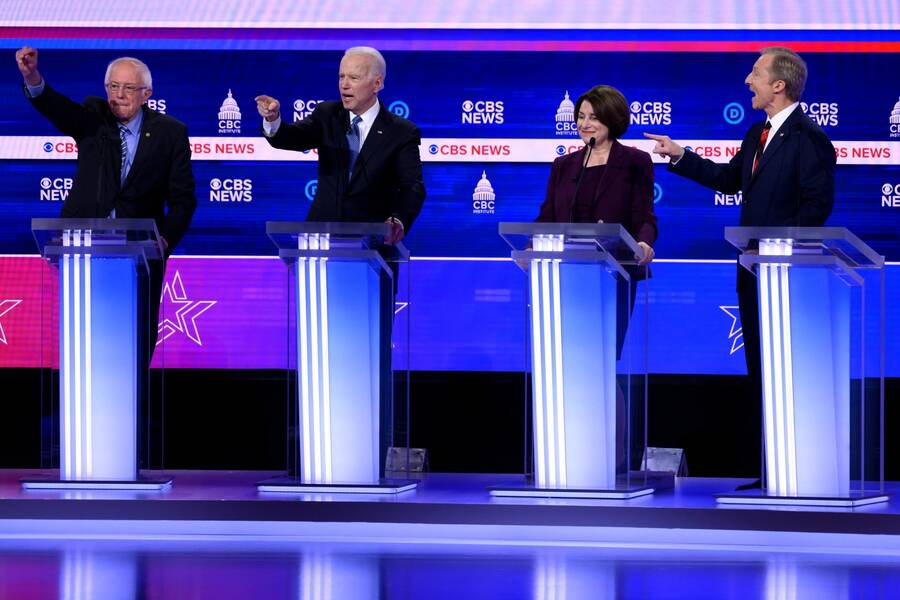 The con­flict between fron­trun­ner Sen. Bernie Sanders and the Demo­c­ra­t­ic Par­ty elite took cen­ter stage at the Feb­ru­ary 25 demo­c­ra­t­ic debate in South Car­oli­na, host­ed by CBS News and the Con­gres­sion­al Black Cau­cus Insti­tute. Every oth­er can­di­date on stage had a key goal: to prove that Bernie Sanders is too divi­sive, too left-wing, and not savvy enough to unite the coun­try against Don­ald Trump. They were abet­ted by mod­er­a­tors who came ready to fire one red-bait­ing ques­tion after the next.
And that's what the Democratic establishment seems to be hoping for: to resuscitate the boogeyman of communism and red-baiting, and to use that to take down Sanders.
The first debate ques­tion — ​"How will you con­vince vot­ers that a Demo­c­ra­t­ic social­ist can do bet­ter than Pres­i­dent Trump with the econ­o­my?" — shows just how out of touch the CBS mod­er­a­tors are with the aver­age work­er in this coun­try. The offi­cial unem­ploy­ment rate may be rel­a­tive­ly low, but wages for work­ers are near­ly stag­nant, more than half a mil­lion peo­ple are home­less, and mil­lions are unin­sured or under­in­sured. Mean­while, the for­tunes of the super-rich are grow­ing rapid­ly and dra­mat­i­cal­ly, and each day we hear about the new hun­dred-mil­lion-dol­lar home Jeff Bezos bought, or the elec­tric Porsche that Bill Gates is the new own­er of. Yet the impli­ca­tion of this debate ques­tion is that this sys­tem is work­ing, and that being a Demo­c­ra­t­ic Social­ist is a lia­bil­i­ty, some­thing CBS has no evi­dence of — and that Sanders firm­ly reject­ed. ​"We're going to cre­ate an econ­o­my for all," Sanders said in response, ​"not just wealthy cam­paign contributors."
Through­out the night, many can­di­dates tried as best they could to cart out and weaponize ​"demo­c­ra­t­ic social­ism" as an attack against the nation­al front-run­ner. Sen. Amy Klobuchar repeat­ed a posi­tion she's expressed before. ​"I am the only one in the New Hamp­shire debate, when asked, if we had a prob­lem with a social­ist lead­ing the tick­et, that raised my hand," she said. Tom Stey­er said, ​"We are look­ing at a par­ty that has decid­ed that we're either going to sup­port some­one who is a demo­c­ra­t­ic social­ist or some­body who has a long his­to­ry of being a Repub­li­can." Yet polling shows some of Sanders' pro­grams are over­whelm­ing­ly pop­u­lar: 70% of Amer­i­cans sup­port Medicare for All, accord­ing to an Amer­i­can Barom­e­ter sur­vey from 2018.
Some of the can­di­dates made remarks that were red-bait­ing by impli­ca­tion. May­or Pete Buttigieg said, ​"I am not look­ing for­ward to a sce­nario where it comes down to Don­ald Trump, with his nos­tal­gia for the social order of the 1950s, and Bernie Sanders with a nos­tal­gia for the rev­o­lu­tion­ary pol­i­tics of the 1960s." The ​"rev­o­lu­tion­ary pol­i­tics of the 1960s" that Buttigieg dis­missed are what brought us the Civ­il Rights move­ment, which Sanders was an active par­tic­i­pant in, hav­ing been arrest­ed in 1963 protest­ing racial seg­re­ga­tion in Chica­go schools.
Per­haps the most stun­ning moment of the evening came from Face the Nation​'s Mar­garet Bren­nan, who said, ​"You've praised the Chi­nese Com­mu­nist Par­ty for lift­ing more peo­ple out of extreme pover­ty than any oth­er coun­try. You also have a track record of express­ing sym­pa­thy for social­ist gov­ern­ments in Cuba and in Nicaragua. Can Amer­i­cans trust that a demo­c­ra­t­ic social­ist pres­i­dent will not give author­i­tar­i­ans a free pass?" There was, of course, no ques­tion of what would be done to change the track record of sor­did U.S. inter­ven­tions abroad, includ­ing in Nicaragua where the U.S. armed and fund­ed the Con­tras and their bru­tal cam­paign against the Sandinistas.
Bloomberg said, ​"Vladimir Putin thinks that Don­ald Trump should be pres­i­dent of the Unit­ed States. And that's why Rus­sia is help­ing you get elect­ed, so you will lose to him." Sanders was, once again, forced to explain his non-rela­tion­ship to Vladimir Putin. The irony of this ques­tion posed by Bloomberg isn't lost on work­ing peo­ple, who have been bom­bard­ed by his over­whelm­ing media pres­ence thanks to the unprece­dent­ed amount of his per­son­al for­tune he's spent buy­ing his way into the elec­tion process. Yet, instead of focus­ing on Bloomberg's unprece­dent­ed spend­ing, it almost felt like there was a revival of the Cold War on stage.
And that's what the Demo­c­ra­t­ic estab­lish­ment seems to be hop­ing for: to resus­ci­tate the boogey­man of com­mu­nism and red-bait­ing, and to use that to take down Sanders. But the truth is that Sanders' pro­gram is wild­ly pop­u­lar, and that Sanders has remained com­mit­ted to it, even through­out the attacks he weath­ered on both the debate stage and through­out his cam­paign. His mes­sag­ing has stayed con­sis­tent — he almost nev­er wavers from it, even when it sets him­self apart from the oth­er candidates.
This is most clear on ques­tions about for­eign pol­i­cy. From the debate stage, Sanders acknowl­edged the bru­tal his­to­ry of U.S. inter­ven­tions. ​"Excuse me," he said, ​"occa­sion­al­ly it might be a good idea to be hon­est about Amer­i­can for­eign pol­i­cy, and that includes the fact that Amer­i­ca has over­thrown gov­ern­ments all over the world in Chile, in Guatemala, in Iran." He also called Israeli Prime Min­is­ter Ben­jamin Netanyahu a ​"reac­tionary racist," while acknowl­edg­ing ​"you can­not ignore the suf­fer­ing of the Pales­tin­ian peo­ple." These are rel­a­tive­ly remark­able admis­sions from any major par­ty pres­i­den­tial candidate.
The only depar­ture from the sus­tained attacks against Sanders through­out the night came from Eliz­a­beth War­ren, as she con­tin­ued to focus relent­less pres­sure on Michael Bloomberg — from his defense of the racist prac­tice of redlin­ing, to his use and refusal to blan­ket­ly release for­mer women employ­ees' from non-dis­clo­sure agree­ments he had forced them to sign. The atten­tion on Bloomberg took the heat off Sanders a lit­tle, but not much: He was still the main punch­ing bag of the night.
Sen. Eliz­a­beth War­ren did, how­ev­er, join in some of the crit­i­cisms of Sanders, agree­ing that ​"pro­gres­sive ideas are pop­u­lar ideas," but that only she would be effec­tive at actu­al­ly get­ting it done.
You'd think that Sanders was unpop­u­lar based on the stu­dio audience's response to him, which includ­ed moments of silence in response to his most pop­u­lar cam­paign planks, and even occa­sion­al boo­ing. That's because tick­ets cost any­where from $1,750 to $3,200, accord­ing to reports. Any­one with that kind of cash to spare on the tele­vised train wreck we all watched is prob­a­bly not one of the 40% of Amer­i­cans with less than $400 in sav­ings. After all, every­thing has a class character.
But red-bait­ing and the rich won't stop Bernie. It should go with­out say­ing, and yet we have to keep repeat­ing it because it's con­sis­tent­ly ignored or down-played: Bernie Sanders is the nation­al front-run­ner in the Demo­c­ra­t­ic Pri­ma­ry, and has won the first three states — some­thing no oth­er can­di­date has ever done before. He is poised to either win or come in a very close sec­ond in South Car­oli­na, and is lead­ing the polls in Cal­i­for­nia and Texas. The can­di­dates and mod­er­a­tors are out of touch with the vast major­i­ty of vot­ers in this coun­try, who agree that Sanders' plat­form isn't rad­i­cal, but just and deserved. These vot­ers are not only plan­ning to vote for him in their pri­ma­ry elec­tions, but are also donat­ing, vol­un­teer­ing and orga­niz­ing for him in record num­bers. In spite of the attacks Sanders weath­ered on Tues­day night, there is no sign that the momen­tum and enthu­si­asm ener­giz­ing his cam­paign and the grass­roots move­ment around it is going any­where but up.
Views expressed are those of the writer. As a 501©3 non­prof­it, In These Times does not sup­port or oppose any can­di­date for pub­lic office.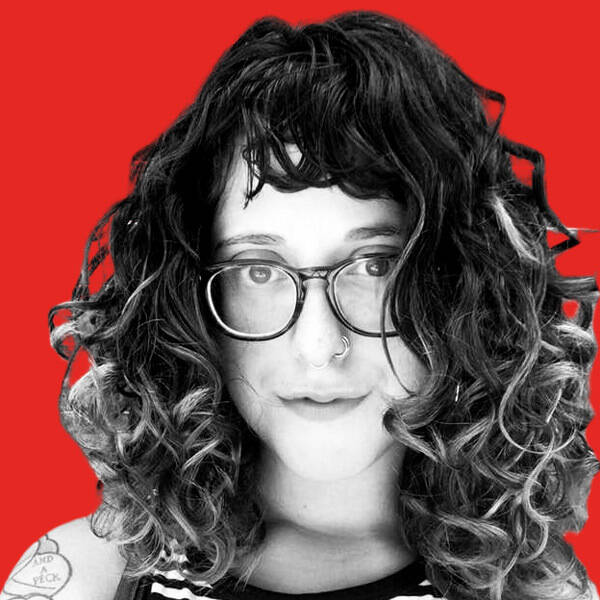 Mindy Iss­er
works in the labor move­ment and lives in Philadelphia.