Repealing SB 5: On the Verge of Victory in Ohio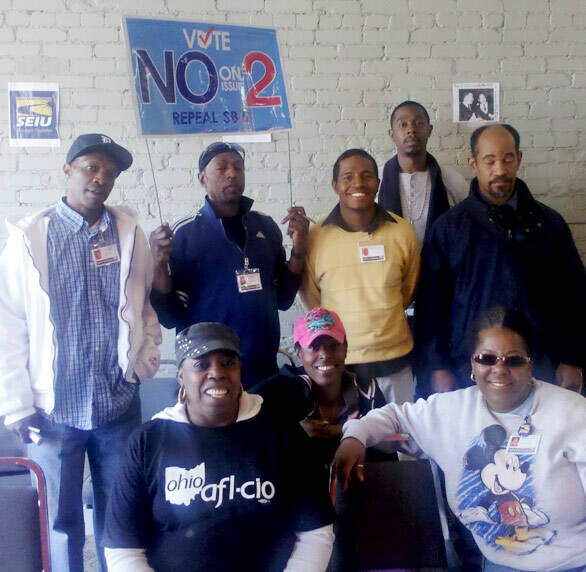 Two weeks before Election Day, a union canvasser says efforts to repeal the state's new anti-union law through the ballot are paying off
DAYTON, OHIO — I tried to stay dry in the thunderstorm. I would duck under porches, but quickly became drenched. My feet squished my wet socks as I tromped through muddy yards. My papers, a list of registered voters and fliers, became difficult to read as the ink smudged.

This was the second day in a row that it rained while we were outside knocking on doors and canvassing, trying to repeal Senate Bill 5, the anti-union law signed into law by Ohio Governor John Kasich that makes Scott Walker's ​"budget repair" bill in Wisconsin look tame in comparison.

There are similarities between the two pieces of legislation. Both were passed after Republicans seized control of governorships and state houses in the wake of the 2010 elections. Both bills attempt to limit public employees' collective bargaining rights. Both bills ban strikes by public employees like teachers and strip unions of the ability to collect automatic dues deductions from members. Both bills aim to make public employees pay more out of pocket for their pension and healthcare.
But there are big differences: In Wisconsin, the bill spared firefighters and police. Ohio's SB 5 would prevent firefighter and police unions, which are already prohibited from striking or joining broader labor federations, from negotiating over training, staffing levels and equipment. Perhaps most extreme, SB 5 would allow local governments to impose a ​"final offer" that public employee unions would not have legal recourse to appeal.
As soon as the SB 5 was proposed in Ohio, unions and supporters protested outside the statehouse in Columbus. But unlike in Wisconsin, there were no legislators who left the state. Even if all the Democrats left, the Republicans would have still had a quorum. There were no state house occupations, like in Madison.
And things have been different after the bills became law.
While organizers in Wisconsin attempted to turn the popular rage against Scott Walker into recall elections that would replace Republicans who voted for the bill with Democrats who would fight to repeal it, organizers in Ohio began to collect signatures in order to put Senate Bill 5 on the ballot for voters to repeal it themselves.

After collecting more than 1.3 million signatures, Senate Bill 5 was certified to appear on the November 2011 ballot as Issue 2, where voters will have to respond to the question, ​"Shall the Law be Approved?" A labor and community based coalition, We Are Ohio, began to recruit canvassers and phone bankers to encourage voters to ​"Vote No on Issue 2" in order to reject the law and repeal Senate Bill 5.

In Ohio, the polls initially showed a large number opposed to the senate bill. One poll showed 54 percent of voters supported repeal (a ​"no" vote), while only 31 percent planned to vote ​"yes" to enact the bill.

With no way to convince the majority of Ohioans to vote against teachers, firefighters and police officers, a pro-business group, Building a Better Ohio set out to confuse them.

Ads started airing saying that a ​"yes" vote would save firefighters jobs. And, disturbingly, Building a Better Ohio took video of a grandmother from a Vote No ad and cut it in a way to make it seem as though she was encouraging a Yes vote.
Voters I spoke with at their doors told me about their confusion. They would talk about ​"Issue 5," and I'd have to correct them by informing them that Senate Bill 5 is on the ballot as Issue 2. Many had signed the petition to repeal Senate Bill 5, but were uncertain whether to vote Yes or No on Issue 2.

A poll from few weeks ago showed the race tightening, with the number who wanted to reject the bill falling to 50 percent.

However a new poll shows that opponents of the new legislation now have a 25-point lead among voters: 57 percent support repeal, while 32 percent do not. Educating voters is paying off.
There has been a serious effort by my union, the Service Employees International Union, to get new voters registered and to get infrequent voters to the polls. I have helped 90-year-olds sign up to receive ballots in the mail and helped register students on their 18th birthday.

With less than two weeks until the election, the Vote No effort is pivoting toward the final GOTV (Get Out The Vote) effort: reminding people with absentee ballots to mail them in, asking voters to plan their election day schedule, and clearing up any last minute confusion. If we continue to educate Ohio residents and voters about Senate Bill 5 and remind them to Vote No on Issue 2, then Election Day — November 8, 2011 — could be the day anti-union legislators around the country realize that if you strip workers of collective bargaining rights, they will fight back.
Matt Muchowski works for Service Employees International Union
Matt Muchowski
works for Service Employees International Union and enjoys defeating anti-union legislation. He lives in Chicago and for a brief but memorable time was associate publisher of
In These Times
.