Republican Victory in Missouri Means "Right-to-Work" For Less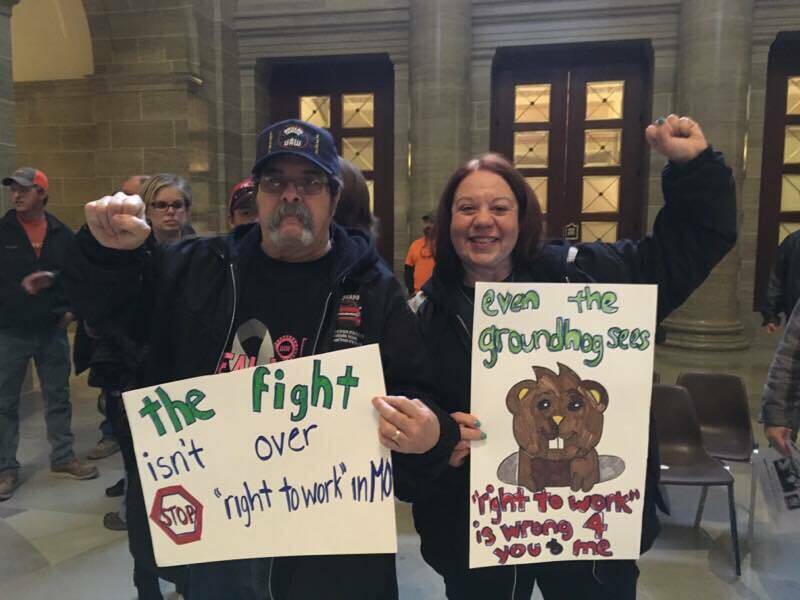 Missouri's House of Rep­re­sen­ta­tives passed a so-called ​"right-to-work" law this month, mark­ing the end of a decades-long cam­paign for the adop­tion of the anti-union leg­is­la­tion in the state.
The mea­sure had already been passed in Missouri's Sen­ate and new­ly-installed Gov. Eric Gre­it­ens has pledged to sign the law soon. Once he does, Mis­souri will become the 28th state to have such a law on the books.
The like­li­hood the law would be passed after years of lob­by­ing by the Mis­souri Cham­ber of Com­merce and Indus­try became clear on Elec­tion Day, when Gre­it­ens defeat­ed a union-friend­ly Demo­c­ra­t­ic Par­ty can­di­date for gov­er­nor. Gre­it­ens and his oppo­nent had been vying to replace retir­ing Gov. Jay Nixon, an eight-year incum­bent who had staunch­ly resist­ed the advance of right-to-work leg­is­la­tion dur­ing his two terms in the state capital.
The Kansas City Star report­ed a lop­sided House vote on Thurs­day of 100 – 59 in favor of the leg­is­la­tion. The Sen­ate had passed the same mea­sure 21 – 12.
The new law fol­lows the pat­tern of sim­i­lar leg­is­la­tion passed recent­ly in Ken­tucky and West Vir­ginia. (A nation­wide right-to-work law was also intro­duced in Con­gress last week.) It pro­hibits any require­ment that a work­er be a union mem­ber as a con­di­tion of employ­ment, and pre­vents unions from col­lect­ing mem­ber­ship dues from the work­ers it rep­re­sents unless the work­er specif­i­cal­ly autho­rizes the pay­ment. The effect is to impair the abil­i­ty of unions to main­tain effec­tive recruit­ing oper­a­tions and finan­cial man­age­ment, labor advo­cates say.
Efforts by the Mis­souri AFL-CIO to pre­vent pas­sage of the right-to-work law were a long shot ever since the results of 2016 elec­tion became known, says the labor federation's pres­i­dent, Mike Louis.
"This has been a long fight. We lost the Sen­ate in 2002 and then we lost the House in 2006. But Gov. Nixon always sup­port­ed us," he tells In These Times.
Louis adds that that the efforts of the Mis­souri Cham­ber of Com­merce were giv­en a major boost by wealthy Joplin, Mis­souri, busi­ness­man David Humphreys, who donat­ed gen­er­ous­ly to pro­mote right-to-work.
"These big cor­po­rate types like David Humphreys pay mil­lions to buy these seats," in the leg­is­la­ture, Louis says.
But Mis­souri unions are not accept­ing defeat, and have already devel­oped a counter-cam­paign to neu­tral­ize the law, Louis con­tin­ues. The AFL-CIO will lead an effort to col­lect enough sig­na­tures to place an ini­tia­tive on the 2018 state bal­lot to reverse the right-to-work law, he says.
"Mis­souri law says we need 250,000 sig­na­tures to get our ini­tia­tive on the bal­lot. We will absolute­ly be able to get this num­ber, and I'm con­vinced we can win an elec­tion when the peo­ple of Mis­souri are pre­sent­ed with a plain choice," Louis says.
In the mean­time, indi­vid­ual unions will strug­gle to con­vince union mem­bers to main­tain their mem­ber­ship. Philip Dine, a jour­nal­ist and author who spent more than two decades as a reporter for the St. Louis Post-Dis­patch, says the Unit­ed Food and Com­mer­cial Work­ers Union (UFCW) and the Inter­na­tion­al Broth­er­hood of Team­sters are the two unions that are like­ly to feel the most imme­di­ate impact of the new law.
"UFCW and Team­sters are pret­ty strong in the St. Louis area. But the gro­cery store work­ers in the UFCW are going to come under a lot of pres­sure. A lot of those jobs don't pay all that well to start with, so it's not going to be easy to con­vince work­ers that union dues are worth the mon­ey," says Dine, author of the wide­ly-acclaimed State of the Unions: How Labor Can Strength­en the Mid­dle Class, Improve our Econ­o­my, and Regain Polit­i­cal Influ­ence. Also com­ing under pres­sure to quit their unions will be air­craft pro­duc­tion work­ers rep­re­sent­ed by the Inter­na­tion­al Asso­ci­a­tion of Machin­ists and assem­bly line work­ers rep­re­sent­ed by the Unit­ed Auto Work­ers, Dine says.
"Sure, there will be a touch — absolute­ly. But I think it is going to be de min­imis," says David Cook, pres­i­dent of 10,000-member UFCW Local 655 in St. Louis. About 85 per­cent of the local mem­ber­ship is in the retail gro­cery sec­tor, he says, so ​"we are going to have to do a bet­ter job of com­mu­ni­cat­ing union val­ue to our mem­bers. This is some­thing we have been doing already, but we'll need to do more."
UFCW will throw its full weight behind the AFL-CIO effort to amend the state con­sti­tu­tion to pro­tect work­ers' union rights, Cook says.
"We've been fight­ing the right-to-work fight here [in Mis­souri] on an almost dai­ly basis for the last five years. We are already geared up and I think Mis­souri is ahead of a lot of oth­er states that have thought about an elec­toral ini­tia­tive over right-to-work," he says. ​"We've com­mu­ni­cat­ed with vot­ers. We have a head start."
"Mega-donors like David Humphries have fig­ured out how to buy politi­cians. But when the issue of bet­ter wages and bet­ter work­er safe­ty are put direct­ly to the vot­ers, we'll do well," Cook predicts.
Bruce Vail
is a Bal­ti­more-based free­lance writer with decades of expe­ri­ence cov­er­ing labor and busi­ness sto­ries for news­pa­pers, mag­a­zines and new media. He was a reporter for Bloomberg BNA's Dai­ly Labor Report, cov­er­ing col­lec­tive bar­gain­ing issues in a wide range of indus­tries, and a mar­itime indus­try reporter and edi­tor for the Jour­nal of Com­merce, serv­ing both in the newspaper's New York City head­quar­ters and in the Wash­ing­ton, D.C. bureau.