Republicans Are Taking Voter Suppression to the Workplace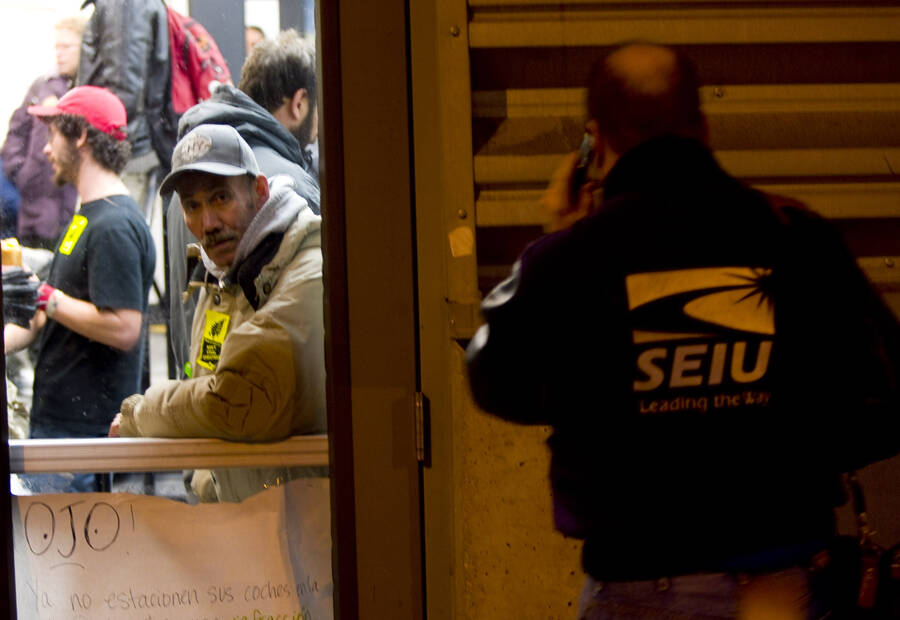 A Repub­li­can par­ty that sur­vives through vot­er sup­pres­sion may be repli­cat­ing its mod­el in the work­place. In Decem­ber, the Nation­al Labor Rela­tions Board (NLRB) invit­ed pub­lic com­men­tary on a pos­si­ble revo­ca­tion of a rule that makes employ­ers pro­vide union orga­niz­ers with con­tact infor­ma­tion for work­ers in advance of a rep­re­sen­ta­tion election.
Osten­si­bly, the Board, which will almost cer­tain­ly remain in con­trol of Repub­li­cans until 2021, is recon­sid­er­ing Oba­ma-era rules that sped up the time­line of union elec­tions and added phone num­bers and email address­es to the list of con­tact info that unions must be fur­nished before an elec­tion. But out­go­ing Board Chair­man Phil Miscimarra's belly­ach­ing about ​"employ­ee rights of free choice and pri­va­cy" implies open­ness to remov­ing any legal right of union orga­niz­ers to talk with poten­tial members.
The very fact that Trump's NLRB is invit­ing pub­lic com­ment indi­cates that it is con­sid­er­ing revers­ing a much old­er prece­dent: the 52-year-old Excel­sior rule that employ­ers should pro­vide a list of names and address­es of eli­gi­ble vot­ers in an upcom­ing union cer­ti­fi­ca­tion elec­tion. Sharon Block, a for­mer mem­ber of the NLRB and cur­rent Exec­u­tive Direc­tor of the Labor and Work­life Pro­gram at Har­vard Law School, has argued that the slew of hasti­ly-decid­ed rever­sals of sec­ond-term Oba­ma prece­dents ​"seemed to be a rush to set the clock back on work­ers' rights as much as possible."
The Excel­sior rule makes employ­ers pro­vide union orga­niz­ers with a list of eli­gi­ble vot­ers and their home address­es a few days before an elec­tion. It's an essen­tial tool in a cam­paign, and any cut is a blow to unions. How­ev­er, it is also impor­tant to remem­ber that Excel­sior was a bad com­pro­mise, and a real solu­tion lies in actu­al free speech in the work­place. That will require that unions wage a free speech fight to regain our voice at work.
Cap­tive-audi­ence meet­ings ver­sus knock­ing on doors
As soon as the Nation­al Labor Rela­tions Act was passed in 1935, employ­ers were already chal­leng­ing the legal frame­work for work­ers to orga­nize and bar­gain collectively.
In six short years, the boss­es suc­ceed­ed in demol­ish­ing the Act's man­date of employ­er neu­tral­i­ty by stren­u­ous­ly appeal­ing to the Supreme Court that the stan­dard restricts boss­es' First Amend­ment right to inform their work­ers about just how strong­ly they oppose union­iza­tion. Six years after that, a Repub­li­can Con­gress cod­i­fied this unequal appli­ca­tion of free speech in the Taft-Hart­ley Act.
For a brief time after Taft-Hart­ley, the NLRB enforced an equal time stan­dard by grant­i­ng union orga­niz­ers access to talk to work­ers on the job when an employ­er con­duct­ed cap­tive-audi­ence meet­ings. In an all-too-famil­iar pat­tern, the Board ping-ponged back and forth between dif­fer­ent legal stan­dards on employ­er speech and union access, depend­ing on which polit­i­cal par­ty was in the White House, until 1966.
That was the year of Excel­sior Under­wear, Inc ., the NLRB deci­sion that estab­lished the right for unions to be fur­nished with a list of names and address­es of eli­gi­ble vot­ers. It was issued on the same day that the Board declined to rein­state the equal time rule. The case that we should have won that day was Gen­er­al Elec­tric Co. and McCul­loch Corp.
Loathe to tram­ple on management's rights and pri­vate prop­er­ty, the Demo­c­ra­t­ic major­i­ty begged the unions in that case to try vis­it­ing work­ers at home and see if that effec­tive­ly counter-bal­anced the boss's work-time campaigning.
Any­one who has worked as a union orga­niz­er will tell you that an Excel­sior list is no match for the manda­to­ry round-the-clock cam­paigns of intim­i­da­tion that union-busters con­sid­er ​"management's most impor­tant weapon" in beat­ing back an orga­niz­ing drive.
Kate Bron­fen­bren­ner, direc­tor of Labor Edu­ca­tion Research at Cor­nell Uni­ver­si­ty, has been doc­u­ment­ing employ­er union-bust­ing tac­tics for decades. Her most recent study, cov­er­ing the peri­od of 1999 to 2003, found that 9 out of 10 employ­ers use cap­tive-audi­ence meet­ings to fight a union orga­niz­ing dri­ve. Boss­es threat­en to cut wages and ben­e­fits in 47 per­cent of doc­u­ment­ed cas­es, and to shut down entire­ly in 57 per­cent of union elec­tions. Incred­i­bly, in one out of 10 cam­paigns employ­ers hired ​"con­sul­tants" to imper­son­ate NLRB agents.
That report is near­ly nine years old. It is like­ly that when Dr. Bron­fen­bren­ner updates her research, all of these num­bers will be even high­er — par­tic­u­lar­ly the instances of out­right lies and deception.
With­in the Gen­er­al Elec­tric Co. and McCul­loch Corp. deci­sion, the NLRB explic­it­ly invit­ed unions to press the issue of equal time if expe­ri­ence were to prove that knock­ing on work­ers' doors was no match for manda­to­ry cap­tive-audi­ence meet­ings. Labor law schol­ars Charles Mor­ris and Paul Secun­da were clever enough to notice this half-cen­tu­ry-old invi­ta­tion. Last year, they orga­nized 106 of their lead­ing peers to sign on to a peti­tion to the NLRB to rein­state the equal time rule.
The right to free speech
We shouldn't hold our breath wait­ing for Trump's NLRB to respond to that peti­tion, but we also shouldn't be patient about demand­ing change. This past sum­mer, I pro­posed that unions wage a con­sti­tu­tion­al bat­tle to chal­lenge the most unequal aspects of labor law and fight for work­ers' con­sti­tu­tion­al rights on the job. Call it Labor's Bill of Rights.
At the heart of the prob­lem is that the Nation­al Labor Rela­tions Act derives its con­sti­tu­tion­al author­i­ty from the Com­merce Clause. That means that when work­ers' rights are chal­lenged in the courts, judges are weigh­ing cor­po­ra­tions' First Amend­ment claims against unions' claims that work­ers' rights to orga­nize and go on strike are good for business.
Under that frame­work, boss­es' rights and busi­ness inter­ests have trumped work­ers' free speech and human rights. Con­sid­er union cer­ti­fi­ca­tion elec­tions. These are offi­cial legal elec­tions con­duct­ed by an arm of the fed­er­al gov­ern­ment. At stake is whether the gov­ern­ment will enforce cer­tain statu­to­ry rights of the work­ers who wish to form a union. The rules of the elec­tion are deter­mined by the gov­ern­ment through court deci­sions, con­gres­sion­al action and NLRB rule-mak­ing. In this sim­ple ​"yes" or ​"no" vote about whether there shall be a union, only an employ­er — and only one advo­cat­ing a ​"no" vote — can force vot­ers to attend speech­es where they will tell them how to vote And if any vot­er declines to attend, she can be fired. This is com­pelled polit­i­cal speech and a mas­sive vio­la­tion of work­ers' free speech rights.
Per­verse­ly, Trump's NLRB could be doing us a favor if it real­ly does kill Excel­sior lists by mak­ing the imbal­ance of free speech rights in union orga­niz­ing cam­paigns that much stark­er. Regard­less of what new form of union bust­ing the Trump NLRB endors­es, we should start wag­ing a cam­paign to restore the equal time rule now.
What this free speech fight would look like as a cam­paign is this: every time an employ­er stages a cap­tive-audi­ence meet­ing in advance of a union elec­tion, we should file an Unfair Labor Prac­tice charge. And every time a union los­es an elec­tion where the employ­er con­duct­ed cap­tive-audi­ence meet­ings (which, again, is almost always), we should file an appeal to have the elec­tion results overturned.
We should be fil­ing these cas­es now, even with a Trump Board that will dis­miss them all. If we can file a cou­ple hun­dred chal­lenges and make enough noise about them, we can turn the free speech fight over cap­tive-audi­ence meet­ings into an obvi­ous con­tro­ver­sy that the next Demo­c­ra­t­ic-major­i­ty NLRB must respond to.
A Demo­c­ra­t­ic NLRB with a mod­icum of decen­cy would — at a min­i­mum — re-estab­lish the rule that con­duct­ing cap­tive-audi­ence meet­ings while pro­vid­ing union advo­cates no right of response is grounds to void an elec­tion and order a re-run. Bet­ter would be a rule mak­ing the very act of con­duct­ing cap­tive-audi­ence meet­ings an Unfair Labor Prac­tice sub­ject to court injunc­tions, unless union advo­cates are grant­ed an equiv­a­lent plat­form — in work loca­tions, on work time — from which to cam­paign for a union yes vote.
If the NLRB were to rule in our favor, we should expect the first employ­er to face sanc­tions to resist and drag the case into the fed­er­al courts. And then we're off to the races with a well-deserved counter-attack to the cyn­i­cal right-wing Har­ris, Friedrichs and Janus efforts to use free speech as a cud­gel against union rights.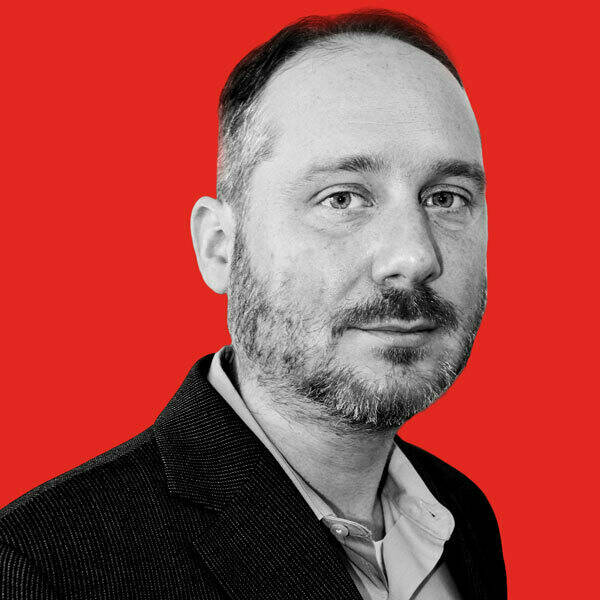 Shaun Rich­man
is an In These Times con­tribut­ing writer and the Pro­gram Direc­tor of the Har­ry Van Ars­dale Jr. School of Labor Stud­ies at SUNY Empire State Col­lege. His Twit­ter han­dle is @Ess_Dog.