Republicans Will Turn the NLRB into a Force for Union Busting. We Can Turn It Back.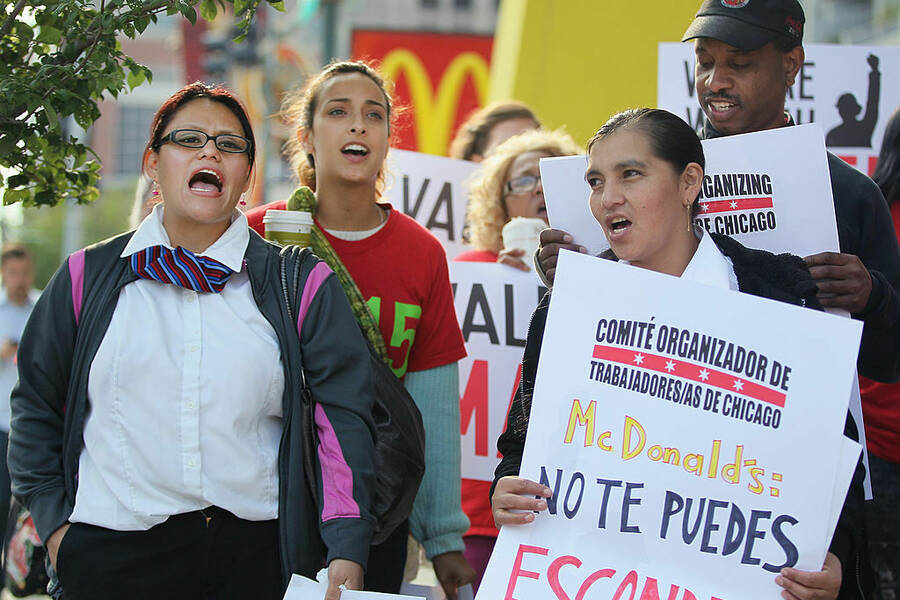 Here comes the anti-union crackdown.
Accord­ing to a recent Bloomberg report, Don­ald Trump has sub­mit­ted the names of two anti-union lawyers to the FBI for vet­ting. This is a pre­cur­sor to nom­i­nat­ing them to the Nation­al Labor Rela­tions Board (NLRB) by June to cement a Repub­li­can major­i­ty that will reverse many of the pro-work­er deci­sions and poli­cies that the fed­er­al agency has advanced in recent years.
Mar­vin Kaplan works for the Occu­pa­tion­al Safe­ty and Health Review Com­mis­sion. William Emanuel is a lawyer at the union-bust­ing firm, Lit­tler Mendel­son. Either of these gar­den-vari­ety union-haters could have been appoint­ed by Jeb Bush, John Kasich or what­ev­er bland man in a navy suit the Repub­li­cans might have nom­i­nat­ed if the real­i­ty TV star hadn't bum­bled his way into the GOP nom­i­na­tion and presidency.
On the poten­tial chop­ping block are the board's expe­dit­ed elec­tion rules, the orga­niz­ing rights of grad­u­ate employ­ees and work­ers at char­ter schools, the rights of sub­con­tract­ed employ­ees to join their cowork­ers in a union, the abil­i­ty of unions to orga­nize small­er units with­in a larg­er enter­prise and the cul­pa­bil­i­ty of a par­ent com­pa­ny for a subsidiary's ille­gal behav­ior.
As inevitable as this right turn is for our nation's work­ers' rights board, so, too, should be our planned counterattack.
Don't ignore the NLRB
Last sum­mer, I wrote about the NLRB's turn towards pro-work­er activism. I not­ed that most unions were slow to notice the change and slow­er still to press an agen­da of legal activism at the board. The next few years will demon­strate why unions tend to view the NLRB as a hope­less venue for work­ers' rights and a place where orga­niz­ing cam­paigns go to die.
There is a macho com­po­nent to labor's pref­er­ence to orga­nize and bar­gain with­out appeal­ing to state inter­ven­tion (even when voiced by women!). And it is absolute­ly true that if more unions adhered to an orga­niz­ing mod­el that pri­or­i­tized orga­niz­ing com­mit­tees made up of work­place lead­ers, face-to-face con­ver­sa­tions and esca­lat­ing actions that chal­lenge the boss' author­i­ty that more unions would win with­out hav­ing to resort to the NLRB as an umpire. But even that kind of orga­niz­ing would only bring a cou­ple thou­sand work­ers into unions — the ones unions are cur­rent­ly spend­ing mil­lions of dol­lars to put orga­niz­ers into the field to orga­nize—not the tens of mil­lions of work­ers that we need to organize.
The plain fact of the mat­ter is that before the Nation­al Labor Rela­tions Act (NLRA) was passed in 1935, unions only had an endur­ing pres­ence in the coal and gar­ment indus­tries and a hand­ful of skilled crafts. Amer­i­can employ­ers have always fought unions with a fierce inten­si­ty. For cry­ing out loud, Andrew Carnegie hired a pri­vate army to gun down his strik­ing employ­ees and their fam­i­lies! Unions need the pow­er of the state to curb the worst abus­es of cor­po­rate America.
And they do them­selves no favors by not tak­ing the NLRB as seri­ous­ly as the right wing con­sid­ers the board. The Wall Street Jour­nal blared, ​"Don't Ignore the Labor Board" in an edi­to­r­i­al just four days after Trump was sworn in. The right's think tanks and law firms spent eight years hon­ing their anti-union agen­da and the nation's lead­ing busi­ness paper was eager to imple­ment it. I wish I could tell you that unions and their allies were devot­ing any­where near the brain­pow­er and enthu­si­asm to the sub­ject of what the next Demo­c­ra­t­ic-major­i­ty NLRB could accomplish.
Part­ly, this is a prob­lem of insti­tu­tion­al mem­o­ry. When Bill Clin­ton took office in 1993, most activists could only recall the NLRB as being an awful adju­di­ca­tor of work­ers' right for the 12 years of Ronald Rea­gan-George H. W. Bush (and only kind of ​"meh" dur­ing the 1970s).
Take, for instance, the biggest missed oppor­tu­ni­ty of that peri­od: restor­ing the legal right to strike. Employ­ers in the 1980s blew the dust off of an obscure 1938 Supreme Court deci­sion, called NLRB v. Mack­ay Radio & Tele­graph Co., to legal­ly jus­ti­fy fir­ing and per­ma­nent­ly replac­ing work­ers who went on strike. That deci­sion con­tained two mas­sive caveats: that an employ­er could not have union bust­ing as its pri­ma­ry moti­va­tion for per­ma­nent­ly replac­ing the strik­ers and that it would go out of busi­ness if it was not able to replace the strik­ing workers.
The Rea­gan-Bush NLRB did its best impres­sion of a fake wrestling ref­er­ee and looked away, nev­er seri­ous­ly inves­ti­gat­ing an employer's jus­ti­fi­ca­tion for hir­ing scabs to steal union mem­bers' jobs. The AFL-CIO pushed a bill in the 1990s to restore the right to strike, but it was killed by a Sen­ate fil­i­buster. I am aware of no sus­tained effort by unions to con­vince a Demo­c­ra­t­ic labor board to revert to the con­sti­tu­tion­al stan­dard and force union-bust­ing employ­ers to prove that they're not union bust­ing and that they would go out of busi­ness if they couldn't fire all of their strik­ing employees.
Revers­ing the rever­sals and push­ing forward
Late in its term, the NLRB under Barack Oba­ma actu­al­ly did issue a rul­ing that nar­rowed employ­ers' abil­i­ty to hire per­ma­nent replace­ments because an employ­er was stu­pid enough to admit that its goal was, in part, to pun­ish the union. That new stan­dard is cer­tain to be reversed or sim­ply ignored by Trump's NLRB. But it is an exam­ple of the kind of reform that unions should push the board to adapt in the first year of a Demo­c­ra­t­ic administration.
Aside from restor­ing the right to strike, unions should push the next Demo­c­ra­t­ic major­i­ty to move quick­er to restore the Oba­ma board's poli­cies and prece­dents. How many grad­u­ate stu­dents grad­u­at­ed out of the bar­gain­ing units they were orga­niz­ing, wait­ing for the Oba­ma board's recog­ni­tion of their rights? Giv­en how naked­ly par­ti­san these actions have become, let's just get it over with right away.
In terms of a proac­tive agen­da, my favorite reform is to push the NLRB to re-estab­lish an equal time rule for pro-union speak­ers if an employ­er forces employ­ees to attend a manda­to­ry cap­tive audi­ence meet­ing. Such a stan­dard used to exist, and the NLRB is on record since 1966 as invit­ing unions to make a case that it should be restored. (Again, that pesky insti­tu­tion­al mem­o­ry caused a real blind spot.)
Anoth­er thought, while Yale grad­u­ate employ­ees are fight­ing for recog­ni­tion of the ​"micro-units" they won under Obama's NLRB, is for unions to resume a vig­or­ous pur­suit of bar­gain­ing unit cer­ti­fi­ca­tion any­where that enough work­ers want rep­re­sen­ta­tion. As Charles Mor­ris doc­u­ment­ed in his 2005 book, The Blue Eagle At Work: Reclaim­ing Demo­c­ra­t­ic Rights in the Amer­i­can Work­place, the ear­ly NLRB used to cer­ti­fy minor­i­ty unions as the bar­gain­ing agent for that union's mem­bers only.
The direc­tive that unions have to win major­i­ty sup­port and must rep­re­sent all work­ers regard­less of their desire to be a part of the union was nev­er the inten­tion of the framers of the NLRA. But that bur­den has become a part of the sys­tem that traps us and restricts our growth and power.
Unions and their allies should be con­ven­ing research teams to plot out a cam­paign of reg­u­la­to­ry and judi­cial activism. That work should begin now.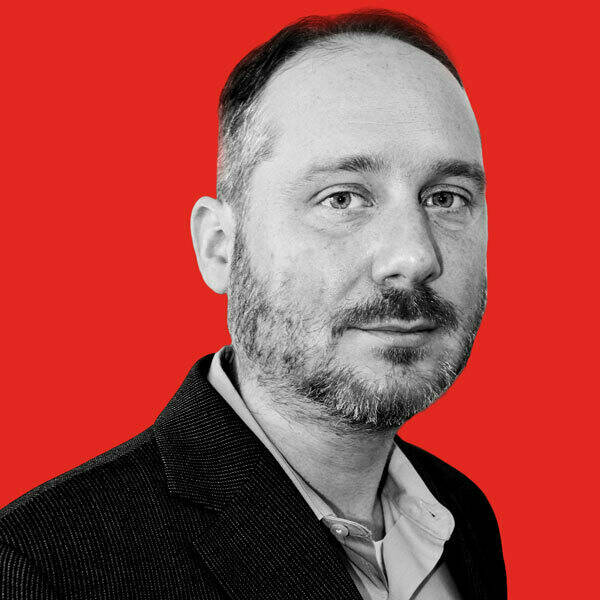 Shaun Rich­man
is an In These Times con­tribut­ing writer and the Pro­gram Direc­tor of the Har­ry Van Ars­dale Jr. School of Labor Stud­ies at SUNY Empire State Col­lege. His Twit­ter han­dle is @Ess_Dog.