#ResistTrumpTuesdays Launches Nationwide
The coalition is seeking to pressure Democrats to oppose Trump's Cabinet nominees, as well as push for progressive change.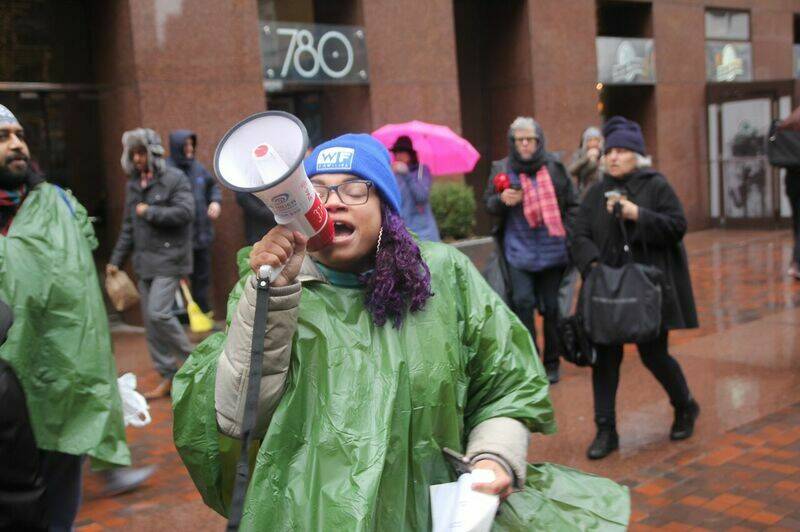 Hun­dreds of New York­ers turned out in the pour­ing rain Tues­day to show their oppo­si­tion to Pres­i­dent Don­ald Trump's Cab­i­net appoint­ments and to demand the same of their elect­ed rep­re­sen­ta­tives. The demon­stra­tion was held out­side the Man­hat­tan offices of Sens. Kirsten Gilli­brand and Chuck Schumer as part of a day of nation­wide protests called #Resist­TrumpTues­days.
"The message to Democrats was clear: Cave to Trump and there will be consequences."
There were more than 100 actions in cities across the coun­try, accord­ing to orga­niz­ers, who plan to protest every Tues­day. The next planned action in New York City will take place out­side Sen. Schumer's home in Brooklyn.
"We're going to come out every Tues­day," says Neli­ni Stamp, an orga­niz­er with the Work­ing Fam­i­lies Par­ty, one of the groups that called for the demon­stra­tion. ​"We're out here to block Trump's Cabinet."
In addi­tion to the Work­ing Fam­i­lies Par­ty, the coali­tion that called for #Resist­TrumpTues­days includes MoveOn​.org and People's Action. Orga­niz­ers esti­mat­ed that between 800−1,200 peo­ple attend­ed the New York action, which stretched eight rows back from police bar­ri­cades for much of the afternoon.
The protests come just days after the Wom­en's March, which saw mil­lions around the coun­try and the world show their oppo­si­tion to Trump's agen­da, and the small­er but more con­fronta­tion­al actions known as #DisruptJ20 that took place on Inau­gu­ra­tion Day. Tak­en as a whole, these actions make it clear that the Trump admin­is­tra­tion is fac­ing coor­di­nat­ed grass­roots protest from the out­set of his first term.
The event called for Democ­rats to oppose all of Trump's appoint­ments, but sev­er­al nom­i­nees gar­nered extra crit­i­cism. Bet­sy DeVos, who Trump tapped to head the depart­ment of edu­ca­tion, was a main focus of the crowd and orga­niz­ers who led chants. Numer­ous signs also sin­gled out Okla­homa Attor­ney Gen­er­al Scott Pruitt, Trump's pick to head the Envi­ron­men­tal Pro­tec­tion Agency, and Andrew Puzder, chief exec­u­tive of CKE Restau­rants, par­ent com­pa­ny of fast-food chains Carl's Jr. and Hardee's, and a long­time oppo­nent of unions, who Trump has tapped to head the labor department.
"Puzder, Pruitt, DeVos — they only serve the inter­ests of the pri­vate sec­tor and cap­i­tal," says Stamp. Trump is in the process of putting togeth­er the wealth­i­est Cab­i­net in the mod­ern era, with some esti­mates putting the nom­i­nees' com­bined net worth at some $14 billion.
In an ear­ly sig­nal of what Trump's ener­gy and envi­ron­men­tal poli­cies will look like, the pres­i­dent signed exec­u­tive orders Tues­day reviv­ing the Dako­ta Access and the Key­stone XL pipelines, two projects long-opposed by envi­ron­men­tal groups. The Oba­ma admin­is­tra­tion had waf­fled on both, but by the end of his term the projects had been put on hold fol­low­ing intense pub­lic pressure.
The con­struc­tion of new pipelines isn't the only dan­ger to the envi­ron­ment, either. Pruitt, Trump's EPA pick, has sued the agency he may now over­see 13 times. ​"I oppose Pruitt. He will wipe out the EPA," says Lori Chlapows­ki. She held a sign that read ​"No Silent Spring," a ref­er­ence to Rachel Carson's book that was instru­men­tal in launch­ing the envi­ron­men­tal­ist movement.
Chlapows­ki was joined by her friend, Lau­ra Beth-Kerr Gilman, who marched on Sat­ur­day in New York City. Watch­ing the Sen­ate con­fir­ma­tion hear­ings was par­tic­u­lar­ly infu­ri­at­ing for her. ​"I was so angry, my blood was boil­ing," Gilman told In These Times. ​"You know how Trump said [Meg­yn Kel­ly] had blood com­ing out of her wher­ev­er? Blood is com­ing out of my everywhere."
The mes­sage to Democ­rats was clear: Cave to Trump and there will be con­se­quences. Reuben Hayslett, one of the demonstration's orga­niz­ers, led the crowd in chant­i­ng a col­lec­tive promise. ​"Democ­rats who cut deals, we're com­ing for you," he shout­ed. ​"We'll remem­ber in November."
A rep­re­sen­ta­tive from Sen. Gilli­brand's office spoke with Stamp briefly, and then with the soak­ing wet participants.
"Sen­a­tor Gilli­brand sup­ports and is grate­ful to all the New York­ers who stood up and demand­ed action today," spokesman Marc Brumer said lat­er. ​"She oppos­es Bet­sy's DeVos's nom­i­na­tion and has seri­ous con­cerns about Pres­i­dent-elect Trump's oth­er Cab­i­net nominees."
Sev­er­al mem­bers of a new­ly-formed group called Pub­lic School Watch­dogs were present at the action, pri­mar­i­ly in oppo­si­tion to DeVos. ​"We've spread by word of mouth from just me in front of my school col­lect­ing let­ters to par­ents from about 25 NYC schools col­lect­ing over 4,000 let­ters to Sens. Schumer and Gilli­brand oppos­ing DeVos," Lizzie Scott, who found­ed the group, told In These Times.
"It's spread like wild­fire," Scott added. ​"It's been so easy to orga­nize because to pub­lic school par­ents and their kids, the appoint­ment of Bet­sy DeVos is an emer­gency — as seri­ous an emer­gency as ACA [Afford­able Care Act] reform. She's hos­tile to chil­dren with spe­cial needs, to LGBT and gen­der-non-con­form­ing stu­dents, to teach­ers. She's basi­cal­ly hos­tile to the whole idea of pub­lic school. And that's terrifying."
Scott says her group has had ​"suc­cess meet­ing with Gilli­brand's staffers, but we've been pret­ty much ignored by Chuck Schumer's office." His office also did not imme­di­ate­ly respond to a request for com­ment from In These Times.
"We orga­nized a let­ter deliv­ery with the chil­dren who'd worked so hard, and Schumer's office would­n't even let them in," said Scott. ​"It's been a frus­trat­ing and sad les­son to the kids about how lit­tle our rep­re­sen­ta­tives care about some­thing so incred­i­bly impor­tant to so many people."
John Kne­fel
is an inde­pen­dent jour­nal­ist cov­er­ing nation­al secu­ri­ty and civ­il lib­er­ties. He is also the co-host of Radio Dis­patch, a dai­ly left­ist polit­i­cal podcast.