Richard Nixon's Blueprint for Twenty-First Century America
Why we still live in a Nixonian world.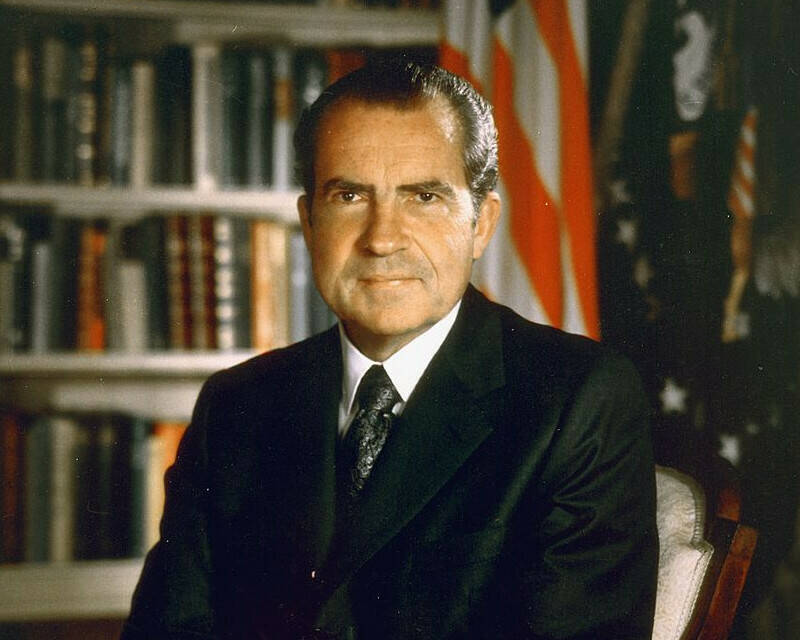 Let me give you a reason that's anything but historical for reading Tim Weiner's remarkable new book, One Man Against the World: The Tragedy of Richard Nixon. Mind you, with the last of the secret Nixon White House tapes finally made public some 40 years after the first of them were turned over to courts, prosecutors, and Congress, this will undoubtedly be the ultimate book on that president's reign of illegality.
What was one man's mania for bugging and recording his world has become, in the 21st century, the NSA's mania for bugging and recording the whole planet.
Still, think about the illegal break-in (or black-bag job) at the office of Daniel Ellsberg's psychiatrist committed by a group of Nixon White House operatives dubbed ​"the Plumbers"; the breaking into and bugging of the Democratic National Committee's headquarters at the Watergate office complex; the bugging, using warrantless wiretaps, of the phones of administration aides and prominent media figures distrusted by the president and National Security Adviser Henry Kissinger; the slush funds Nixon and his cronies created for his reelection campaign; the favors, including ambassadorships, they sold for ​"donations" to secure a second term in office; the privatized crew of contractors they hired to do their dirty work; the endemic lying, deceit, and ever more elaborate cover-ups of illegalities at home and of extra-constitutional acts in other countries, including secret bombing campaigns, as well as an attempt to use the CIA to quash an FBI investigation of White House activities on ​"national security grounds." Put it all together and you have something like a White House-centered, first-draft version of the way the national security state works quite ​"legally" in the twenty-first century.
As a bonus, you also get a preview of the kinds of money machinations that, with the backing of the Supreme Court four decades later, would produce our present 1% democracy. The secret political funds Nixon and his cronies finagled from the wealthy outside the law have now been translated into perfectly legal billionaire-funded super PACs that do everything from launching candidate ad blitzes to running ground campaigns for election 2016.
Read Weiner's new book — he's also the author of a classic history of the CIA and another on the FBI — and it turns out that the president who resigned from office in disgrace in August 1974 provided a blueprint for the world that Washington would construct after the 9/11 attacks. If Weiner's vision of Nixon is on the mark, then we never got rid of him. We still live in a Nixonian world. And if you need proof of that, just think about his infamous urge to listen in on and tape everyone. Does that sound faintly familiar?
Nixon had the Secret Service turn the Oval Office (five microphones in his desk, two at a sitting area), its telephones, the Cabinet Room (two mics), and his ​"hideaway" in the Executive Office Building into recording studios. He bugged his own life, ensuring that anything you said to the president of the United States would be recorded, thousands and thousands of hours of it. He was theoretically going to use those recordings for a post-presidential memoir (from which he hoped to make millions) and as a defense against whatever Henry Kissinger might someday write about him.
But whatever the initial impulse may have been, the point was to miss nothing. No one was to be exempted, including Nixon's closest companions in office, no one but the president himself. He would know what others wouldn't and act accordingly (though in the end he didn't). What was one man's mania for bugging and recording his world has become, in the twenty-first century, the NSA's mania for bugging and recording the whole planet; a president's mad vision, that is, somehow morphed into the modern surveillance state. The scale is staggeringly different, but conceptually it's surprising how little has changed.
After all, the NSA's global surveillance network was set up on the Nixonian principle of sweeping it all up — the words, in whatever form, of everyone who was anyone (and lots of people who weren't). A generation of German politicians, Brazilians galore, terror suspects as well as just about anyone with a cell phone in the tribal backlands of the planet, two presidents of Mexico, three German chancellors, three French presidents, at least 35 heads of state, the secretary general of the U.N., and so on. The list was unending. As with Nixon, only officials of the national security state were to know that all our communications were being logged and stored. Only they were to be exempt from potential scrutiny. (Hence their utter outrage when Edward Snowden revealed their racket to the world.) Like Nixon, they would, in the end, be left with the same hopeless, incriminating overload of words. They would sweep it all up and yet, drowning in data, they wouldn't hear a thing.
So pick up Tim Weiner's new book and don't for a second imagine that it's ancient history. Think of it as the book of Genesis for the American national security state's Bible. You can read an excerpt from the book, ​"The Most Dangerous Man in America," and get a little taste of the lead-up to the last days of Richard Nixon — of the moment when his system began to cave in and threatened to bury him alive. Someday, we can only hope, the same thing will happen to those responsible for similar acts on an unimaginably larger scale in our own time.
Support this work
Reader donations, many as small as just $5, are what fund the work of writers like this—and keep our content free and accessible to everyone. If you support this work, will chip in to help fund it?

It only takes a minute to donate. Click here to make a tax-deductible donation.
Tom Engelhardt
is a co-founder of the American Empire Project and the author of
The United States of Fear
as well as a history of the Cold War,
The End of Victory Culture
. He runs the Nation Institute's TomDis​patch​.com. His new book is
Shadow Government: Surveillance, Secret Wars, and a Global Security State in a Single-Superpower World
(Haymarket Books).
Help support this work
As a reader-supported, nonprofit publication, all of the journalism In These Times produces is made possible by readers like you. If you support this work, will you chip in $5 or more to help fund it?