Richard Nixon's Blueprint for Twenty-First Century America
Why we still live in a Nixonian world.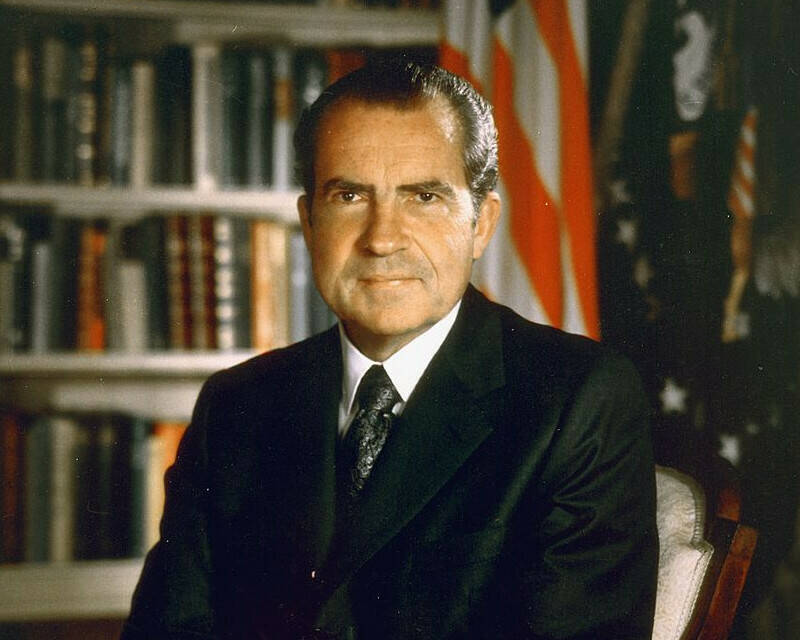 Let me give you a rea­son that's any­thing but his­tor­i­cal for read­ing Tim Weiner's remark­able new book, One Man Against the World: The Tragedy of Richard Nixon. Mind you, with the last of the secret Nixon White House tapes final­ly made pub­lic some 40 years after the first of them were turned over to courts, pros­e­cu­tors, and Con­gress, this will undoubt­ed­ly be the ulti­mate book on that president's reign of illegality.
What was one man's mania for bugging and recording his world has become, in the 21st century, the NSA's mania for bugging and recording the whole planet.
Still, think about the ille­gal break-in (or black-bag job) at the office of Daniel Ellsberg's psy­chi­a­trist com­mit­ted by a group of Nixon White House oper­a­tives dubbed ​"the Plumbers"; the break­ing into and bug­ging of the Demo­c­ra­t­ic Nation­al Committee's head­quar­ters at the Water­gate office com­plex; the bug­ging, using war­rant­less wire­taps, of the phones of admin­is­tra­tion aides and promi­nent media fig­ures dis­trust­ed by the pres­i­dent and Nation­al Secu­ri­ty Advis­er Hen­ry Kissinger; the slush funds Nixon and his cronies cre­at­ed for his reelec­tion cam­paign; the favors, includ­ing ambas­sador­ships, they sold for ​"dona­tions" to secure a sec­ond term in office; the pri­va­tized crew of con­trac­tors they hired to do their dirty work; the endem­ic lying, deceit, and ever more elab­o­rate cov­er-ups of ille­gal­i­ties at home and of extra-con­sti­tu­tion­al acts in oth­er coun­tries, includ­ing secret bomb­ing cam­paigns, as well as an attempt to use the CIA to quash an FBI inves­ti­ga­tion of White House activ­i­ties on ​"nation­al secu­ri­ty grounds." Put it all togeth­er and you have some­thing like a White House-cen­tered, first-draft ver­sion of the way the nation­al secu­ri­ty state works quite ​"legal­ly" in the twen­ty-first century.
As a bonus, you also get a pre­view of the kinds of mon­ey machi­na­tions that, with the back­ing of the Supreme Court four decades lat­er, would pro­duce our present 1% democ­ra­cy. The secret polit­i­cal funds Nixon and his cronies fina­gled from the wealthy out­side the law have now been trans­lat­ed into per­fect­ly legal bil­lion­aire-fund­ed super PACs that do every­thing from launch­ing can­di­date ad blitzes to run­ning ground cam­paigns for elec­tion 2016.
Read Weiner's new book — he's also the author of a clas­sic his­to­ry of the CIA and anoth­er on the FBI — and it turns out that the pres­i­dent who resigned from office in dis­grace in August 1974 pro­vid­ed a blue­print for the world that Wash­ing­ton would con­struct after the 9⁄11 attacks. If Weiner's vision of Nixon is on the mark, then we nev­er got rid of him. We still live in a Nixon­ian world. And if you need proof of that, just think about his infa­mous urge to lis­ten in on and tape every­one. Does that sound faint­ly familiar?
Nixon had the Secret Ser­vice turn the Oval Office (five micro­phones in his desk, two at a sit­ting area), its tele­phones, the Cab­i­net Room (two mics), and his ​"hide­away" in the Exec­u­tive Office Build­ing into record­ing stu­dios. He bugged his own life, ensur­ing that any­thing you said to the pres­i­dent of the Unit­ed States would be record­ed, thou­sands and thou­sands of hours of it. He was the­o­ret­i­cal­ly going to use those record­ings for a post-pres­i­den­tial mem­oir (from which he hoped to make mil­lions) and as a defense against what­ev­er Hen­ry Kissinger might some­day write about him.
But what­ev­er the ini­tial impulse may have been, the point was to miss noth­ing. No one was to be exempt­ed, includ­ing Nixon's clos­est com­pan­ions in office, no one but the pres­i­dent him­self. He would know what oth­ers wouldn't and act accord­ing­ly (though in the end he didn't). What was one man's mania for bug­ging and record­ing his world has become, in the twen­ty-first cen­tu­ry, the NSA's mania for bug­ging and record­ing the whole plan­et; a president's mad vision, that is, some­how mor­phed into the mod­ern sur­veil­lance state. The scale is stag­ger­ing­ly dif­fer­ent, but con­cep­tu­al­ly it's sur­pris­ing how lit­tle has changed.
After all, the NSA's glob­al sur­veil­lance net­work was set up on the Nixon­ian prin­ci­ple of sweep­ing it all up — the words, in what­ev­er form, of every­one who was any­one (and lots of peo­ple who weren't). A gen­er­a­tion of Ger­man politi­cians, Brazil­ians galore, ter­ror sus­pects as well as just about any­one with a cell phone in the trib­al back­lands of the plan­et, two pres­i­dents of Mex­i­co, three Ger­man chan­cel­lors, three French pres­i­dents, at least 35 heads of state, the sec­re­tary gen­er­al of the U.N., and so on. The list was unend­ing. As with Nixon, only offi­cials of the nation­al secu­ri­ty state were to know that all our com­mu­ni­ca­tions were being logged and stored. Only they were to be exempt from poten­tial scruti­ny. (Hence their utter out­rage when Edward Snow­den revealed their rack­et to the world.) Like Nixon, they would, in the end, be left with the same hope­less, incrim­i­nat­ing over­load of words. They would sweep it all up and yet, drown­ing in data, they wouldn't hear a thing.
So pick up Tim Weiner's new book and don't for a sec­ond imag­ine that it's ancient his­to­ry. Think of it as the book of Gen­e­sis for the Amer­i­can nation­al secu­ri­ty state's Bible. You can read an excerpt from the book, ​"The Most Dan­ger­ous Man in Amer­i­ca," and get a lit­tle taste of the lead-up to the last days of Richard Nixon — of the moment when his sys­tem began to cave in and threat­ened to bury him alive. Some­day, we can only hope, the same thing will hap­pen to those respon­si­ble for sim­i­lar acts on an unimag­in­ably larg­er scale in our own time.
Tom Engel­hardt
is a co-founder of the Amer­i­can Empire Project and the author of
The Unit­ed States of Fear
as well as a his­to­ry of the Cold War,
The End of Vic­to­ry Cul­ture
. He runs the Nation Insti­tute's TomDis​patch​.com. His new book is
Shad­ow Gov­ern­ment: Sur­veil­lance, Secret Wars, and a Glob­al Secu­ri­ty State in a Sin­gle-Super­pow­er World
(Hay­mar­ket Books).