How Scrappy Community and Labor Activists Took on a California Oil Giant—and Won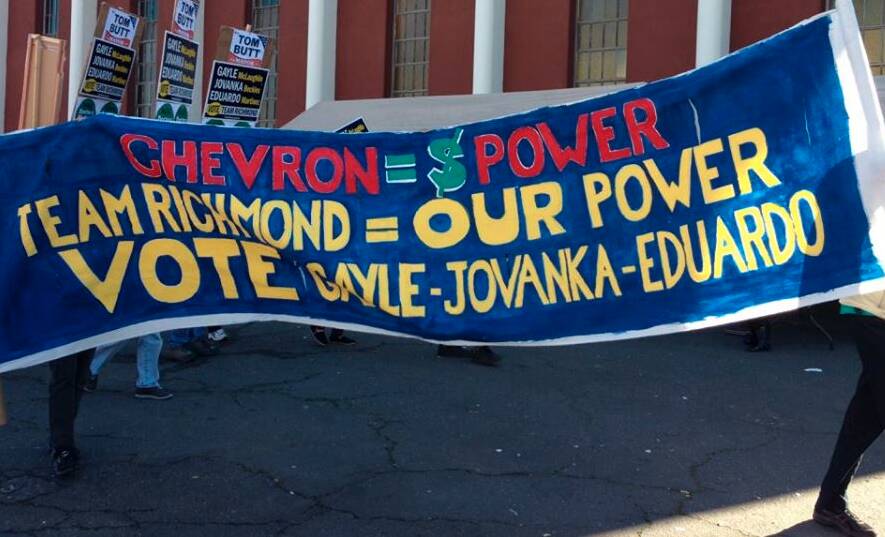 First pub­lished at Labor Notes.
It's not often that a city coun­cil race in a city of 100,000 draws nation­al atten­tion. It hap­pened in Rich­mond, Cal­i­for­nia, this fall because one big cor­po­ra­tion was so shame­less in its open attempt to buy the election.
But even more remark­able was the fact that the cor­po­ra­tion got beat. Up against the Demo­c­ra­t­ic Par­ty estab­lish­ment, plus $3 mil­lion in cam­paign spend­ing by Chevron — the third-largest com­pa­ny in the world — a grass­roots group won.
Rich­mond, north of Berke­ley in the East Bay, grew up dur­ing the ship­yard boom and war pro­duc­tion of World War II, when work­ers from oth­er parts of the coun­try flood­ed in. More recent­ly, it's been known for its prob­lems: pop­u­la­tion loss, high crime, bank­rupt­cy, the hol­low­ing out of down­town, dirty air, pover­ty. The city is now 40 per­cent Lati­no, 26 per­cent Black, 17 per­cent white, and 14 per­cent Asian. A fifth of the pop­u­la­tion was born out­side the U.S.
Rich­mond was long dom­i­nat­ed by Chevron, whose mas­sive refin­ery sits on the shore­line belch­ing oil byprod­ucts into the atmos­phere. Chevron is the town's biggest tax­pay­er and largest employ­er — but only 7 per­cent of employ­ees live in Rich­mond. The execs cer­tain­ly do not.
In 2012, a fire at the refin­ery nar­row­ly missed killing work­ers and spread tox­ic mate­r­i­al over a wide area of the city. After­ward, the com­pa­ny put on a PR cam­paign called ​"Rich­mond Proud" to win sup­port for a mod­ern­iza­tion and expan­sion project.
But Chevron was annoyed that it had to con­tend with a coali­tion of local orga­ni­za­tions that said mod­ern­iza­tion should result in clean­er air and few­er green­house gas­es. Two mem­bers of the Rich­mond Pro­gres­sive Alliance (RPA), Jovan­ka Beck­les and Green Par­ty mem­ber May­or Gayle McLaugh­lin, were on the city coun­cil that had to approve per­mits for the project.
The Rich­mond Envi­ron­men­tal Jus­tice Coali­tion pro­posed a host of com­mu­ni­ty ben­e­fits that Chevron could offer, like help­ing keep open a local hos­pi­tal that was on the verge of shut­down. If Chevron's neg­li­gence set off anoth­er fire, they asked, would peo­ple have to wait half an hour for an ambulance?
In addi­tion, the city was suing for dam­ages caused by the fire, includ­ing plum­met­ing prop­er­ty val­ues. Chevron want­ed pli­able peo­ple in office, peo­ple who would give the com­pa­ny a cheap settlement.
So this fall, Chevron set out to install its own can­di­dates — two of them lived else­where but moved to the city in order to run — and to smear Beck­les, McLaugh­lin, and their run­ning mate, retired ele­men­tary school teacher Eduar­do Martinez.
Chevron PR Blitz
For weeks Rich­mond res­i­dents were bom­bard­ed with bill­boards, TV ads, and mail­ers either dis­tort­ing the facts about the three ​"Team Rich­mond" can­di­dates or sim­ply invent­ing lies. One mail­er showed a pic­ture of Mar­tinez with a ban­dage on his face and implied he'd been injured fight­ing the police dur­ing Occu­py Oak­land. The pho­to was a Hal­loween pic­ture lift­ed from Martinez's Face­book page.
It was not unusu­al for vot­ers to receive four mail­ers a day, all labeled ​"major fund­ing by Chevron." In ​"inde­pen­dent expen­di­tures" alone, Chevron spent more than $150 per per­son who actu­al­ly vot­ed. The RPA can­di­dates spent around $220,000 alto­geth­er, includ­ing pub­lic match­ing funds, a ratio of 1 to 15 against Chevron's dollars.
Chevron's cam­paign­ing was so intense it prompt­ed the Los Ange­les Times to write, ​"For a cor­po­ra­tion to manip­u­late a munic­i­pal elec­tion on this scale should be ille­gal." Rachel Mad­dow on MSNBC devot­ed three shows to Chevron's audacity.
But the three RPA can­di­dates won deci­sive­ly, as did the can­di­dates they sup­port­ed for may­or and for a fourth open seat. The results showed a clear slate vote.
How'd They Do It
How did the Davids of RPA beat the Chevron Goliath?
Chevron's over­reach allowed RPA to make cor­po­rate dom­i­na­tion the issue. The company's can­di­date, Nat Bates, said open­ly that his first act as may­or would be to go to Chevron and ask what it want­ed. It was easy for RPA to argue, ​"Do you want inde­pen­dent can­di­dates who can't be bought?"
In the months before the elec­tion, RPA ques­tioned Chevron's civic con­cern again and again as its mod­ern­iza­tion project was debat­ed. A poll showed vot­ers were less like­ly to vote for can­di­dates they knew Chevron supported.
Chevron's dirty cam­paign ener­gized RPA mem­bers but also had the unfor­tu­nate effect of turn­ing off oth­er vot­ers, who saw the nas­ti­ness and turned away. Turnout was low.
RPA had a record of accom­plish­ments in office and in the com­mu­ni­ty: the law­suit against Chevron; a $13 min­i­mum wage; munic­i­pal ID cards to aid the undoc­u­ment­ed; an end to driver's license check­points; com­mu­ni­ty polic­ing and a low­er crime rate; attract­ing a huge lab to Rich­mond with the poten­tial for good new jobs; low­er util­i­ty bills through an arrange­ment with a green ener­gy com­pa­ny; clean­er air.
RPA mem­bers and office­hold­ers had stopped a bid to build a casi­no, fought to keep a hos­pi­tal open, and float­ed the idea of the city's tak­ing over under­wa­ter mort­gages through emi­nent domain, to avoid fore­clo­sures. The hos­pi­tal fight earned them sup­port from local mem­bers of the Cal­i­for­nia Nurs­es Asso­ci­a­tion and the union itself.
RPA had a record of let­ting oth­er groups use its down­town office space. It worked close­ly with an array of envi­ron­men­tal groups, such as the Sun­flower Alliance, Sier­ra Club, Asian Pacif­ic Envi­ron­men­tal Net­work, and Com­mu­ni­ties for a Bet­ter Envi­ron­ment, as well as a faith-based com­mu­ni­ty orga­niz­ing group.
The Sier­ra Club phonebanked its mem­bers for the RPA can­di­dates. The Sun­flower Alliance made its own ban­ners and held them at busy intersections.
RPA cam­paigned in a way that built its base. The cur­rent elec­tion wis­dom is that door-knock­ing can­vassers should spend 30 sec­onds at each door, to iden­ti­fy whether a vot­er is already a sup­port­er. Then when Elec­tion Day comes, the orga­ni­za­tion returns to those vot­ers and trans­ports them to the polls. ​"Knock and drag" is how one union staffer described it.
But RPA, an all-vol­un­teer orga­ni­za­tion, had no mon­ey or infra­struc­ture for such a mas­sive Elec­tion Day oper­a­tion (though 200 peo­ple did come out to vol­un­teer that day). It chose instead to start with house par­ties, which gave time for real dis­cus­sions and solid­i­fied support.
Then the group spent its time at the doors, in the weeks lead­ing up to the elec­tion, actu­al­ly try­ing to con­vince new peo­ple to vote for the RPA team. The can­vassers weren't like­ly to get into deep polit­i­cal dis­cus­sions, of course, but they did try to out­line the major issues and answer questions.
After the elec­tion, RPA esti­mat­ed that close to 400 peo­ple con­tributed more than 20,000 hours to rough­ly 100 events and projects, not includ­ing the thou­sands of hours talk­ing with peo­ple in per­son, writ­ing let­ters, bring­ing food to events, call­ing friends, and mak­ing signs.
Role of Unions
Unions' role in the cam­paign was not huge but was impor­tant. Ear­ly endorse­ments from pub­lic work­ers and health care unions boost­ed cred­i­bil­i­ty. Ser­vice Employ­ees Local 1021, which rep­re­sents city work­ers, not only endorsed but also cam­paigned inde­pen­dent­ly for the RPA candidates.
The police and fire unions and the con­struc­tion trades backed the Chevron can­di­dates. The Teach­ers, and the Steel­work­ers at Chevron, stayed quiet.
Since the elec­tion, though, the build­ing trades have shown inter­est in work­ing with RPA — fear­ful that the pend­ing lab project will be con­tract­ed non-union.
And what of the Demo­c­ra­t­ic Par­ty, which got its head hand­ed to it? Its lead­ers were not inter­est­ed in sup­port­ing the kind of anti-cor­po­rate work that RPA does, nor in its con­sis­tent refusal to run can­di­dates who took cor­po­rate funding.
At a meet­ing held to decide Demo­c­ra­t­ic par­ty endorse­ments, the mem­bers present vot­ed to sup­port the incum­bent Beck­les and anoth­er incum­bent backed nei­ther by RPA nor (open­ly) by Chevron. But par­ty lead­ers chose instead to endorse two Chevron-backed candidates.
Five seats on the Rich­mond city coun­cil are now held by RPA mem­bers or those they backed. A sixth is held by Chevron's defeat­ed can­di­date for may­or. The sev­enth seat will be appoint­ed by the new council.
RPA showed that it's pos­si­ble to take on a big cor­po­ra­tion and win — by being clear that you are tak­ing on that big cor­po­ra­tion. RPA didn't strad­dle the fence or make nice. It promised to stand up for the needs of the com­mu­ni­ty over Chevron's profits.
Like David, RPA had a weapon that worked, and didn't shy from using it.