Ricky Maclin, Leader of Historic 2008 Republic Windows and Doors Factory Occupation, Dies at 61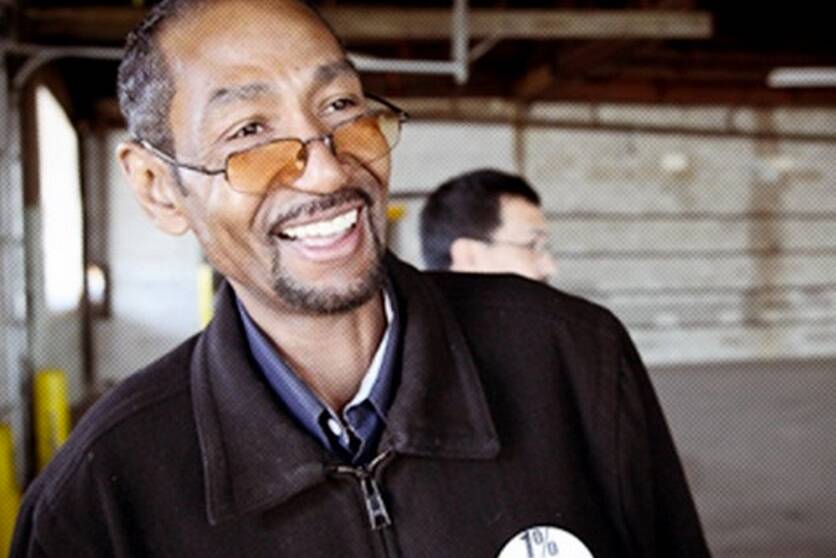 Melvin ​"Ricky" Mau­rice Maclin, Vice Pres­i­dent of Unit­ed Elec­tri­cal Work­ers Local 1110, leader of the his­toric six-day fac­to­ry occu­pa­tion of Repub­lic Win­dows and Doors in Decem­ber 2008 and found­ing mem­ber of New Era Win­dows Coop­er­a­tive, died on May 5, after being diag­nosed with stage four pan­cre­at­ic can­cer in ear­ly April. He was 61 years old and died sur­round­ed by fam­i­ly in his Chica­go home. The steady stream of vis­i­tors was a tes­ta­ment to the impact he had on so many lives and our move­ment for justice.
"This is a huge loss for me and for our move­ment," said his good friend, Local 1110 Pres­i­dent Arman­do Rob­les, who was also a leader in the Repub­lic occu­pa­tion. ​"He leaves a huge hole in our lives. He was a great friend and a broth­er in struggle."
Ricky was born on March 2, 1954, and spent his ear­ly years in Hay­wood Coun­ty, Ten­nessee, on his grand­par­ents' farm, where they grew cot­ton and raised cows, chick­ens and pigs. He lived with his grand­par­ents, with whom he was very close, his moth­er and step­fa­ther, and his younger sis­ter Bren­da. His Aunt Helen, his mother's sis­ter, described Ricky as ​"a fast learn­er and very smart. He caught on to any­thing he want­ed to." While his giv­en name is Melvin Mau­rice, his moth­er took to call­ing him Ricky because she was fond of that name and it stuck (though the fam­i­ly nick­name ​"Gigi Pig Squeak" did not). His cousin May Car­olyn Reed said, ​"Ricky was a real charmer. We called him ​'Pret­ty Ricky,' like the singer."
His par­ents moved Ricky and his sis­ter to Chica­go when Ricky fin­ished ele­men­tary school. He attend­ed CVS High School in Chica­go. After grad­u­a­tion, Ricky entered into what fam­i­ly mem­bers called the ​"street life," but even­tu­al­ly became reli­gious and turned his life around.
Ricky worked for many years in the restau­rant indus­try before land­ing a job at Repub­lic Win­dows and Doors in 2002. A few years lat­er, he met Cyn­thia and mar­ried her. She recalled how ​"I had decid­ed I didn't want to get mar­ried. But an elder­ly lady who Ricky helped take care of set us up on a blind date. She called me and said I just had to meet this very nice man. From the moment we met nine years ago, we were inseparable."
Repub­lic Win­dows and Doors work­ers orga­nized into UE Local 1110 in 2004 and Ricky became a shop stew­ard. In 2007, he was elect­ed vice pres­i­dent of the local. He helped lead the suc­cess­ful work­er occu­pa­tion of the Repub­lic fac­to­ry in 2008, chal­leng­ing Bank of Amer­i­ca to take respon­si­bil­i­ty after the bank received a $25 bil­lion fed­er­al gov­ern­ment bailout dur­ing that year's Wall Street cri­sis, and then cut off cred­it to cred­it to the win­dow fac­to­ry, wip­ing out jobs. The UE mem­bers' coura­geous action received mas­sive nation­al and inter­na­tion­al media atten­tion, mak­ing them work­ing-class heroes at a time of so much vil­lain­ous action by the 1 per­cent, and the occu­pa­tion end­ed when they won the back pay to which they were enti­tled. It also led to the plant reopen­ing under a new own­er, Seri­ous Ener­gy, and with the UE con­tract intact.
In ear­ly 2009, Ricky par­tic­i­pat­ed in the Repub­lic Work­ers Vic­to­ry Tour, speak­ing in sev­er­al cities around the coun­try to encour­age oth­er work­ers to take bold action to defend their rights. He loved to tell oth­er work­ers, ​"If you don't fight, you've already lost. But if you do fight, you can win."
In 2012, Maclin helped lead a sec­ond work­er occu­pa­tion of the win­dow fac­to­ry, when Seri­ous Ener­gy decid­ed to close the plant with lit­tle notice. Out of that occu­pa­tion came the idea of work­ers buy­ing the com­pa­ny and start­ing a work­er-owned coop­er­a­tive, and a com­mit­ment by Seri­ous to sell them the equip­ment they need­ed to make that hap­pen. Ricky was one of three of the orig­i­nal team that began the process of found­ing, with help from The Work­ing World, what is now New Era Win­dows Coop­er­a­tive.
Dur­ing the first plant occu­pa­tion, Maclin fre­quent­ly spoke to the news media on behalf of his fel­low work­ers. Cap­i­tal­ism: A Love Sto­ry, Michael Moore's 2009 doc­u­men­tary about the finan­cial cri­sis and the injus­tice of the eco­nom­ic sys­tem, high­light­ed the Repub­lic work­ers' action as one of the few sto­ries with a hap­py end­ing, and Ricky Maclin is fea­tured. He's also shown and quot­ed exten­sive­ly in Work­ers' Repub­lic, Andrew Friend's excel­lent doc­u­men­tary film on the occu­pa­tion, and in UE's own short video about the Repub­lic strug­gle pro­duced by Andrew Dinkelaker.
UE Gen­er­al Pres­i­dent Bruce Klip­ple said, ​"Ricky Maclin was amaz­ing. What he and his fel­low work­ers in Local 1110 did is unbe­liev­able, and made a huge con­tri­bu­tion to this union, the entire labor move­ment and the work­ing peo­ple of this country."
"Ricky was one of the most inspi­ra­tional rank and file lead­ers I have ever met," says Carl Rosen, UE West­ern Region pres­i­dent. ​"He had a knack with com­ing up with the most per­cep­tive com­ment for any sit­u­a­tion and say­ing it with a very dis­arm­ing smile. And he always knew which side he was on. UE and the whole labor move­ment have lost a great leader."
Ricky Maclin is sur­vived by his wife Cyn­thia Maclin; three stepchil­dren, 14 grand­chil­dren and three great-grand­chil­dren; his sister's two kids and 10 great-nieces and ‑nephews; and his cousin Shan­non, who he con­sid­ered a lit­tle sis­ter. He will be remem­bered by all who love jus­tice and strug­gle to build a fair and kinder world.
Funer­al ser­vices will be held on Fri­day, May 15 in Chica­go. The wake is from 10 am to 11 am at the Tay­lor Funer­al Home at 63 E 79th Street. The funer­al ser­vice will be held from 11 am to 12 pm at Carter Tem­ple CME Church locat­ed at 7841 S Wabash Ave. View­ing will take place Thurs­day May 14, 8 am to 8:30 pm at Tay­lor Funer­al Home.
Leah Fried
is an orga­niz­er for the Unit­ed Elec­tri­cal, Radio and Machine Workers.