After Janus, Cities and Towns Are Poised to Become the New Battleground Over "Right to Work"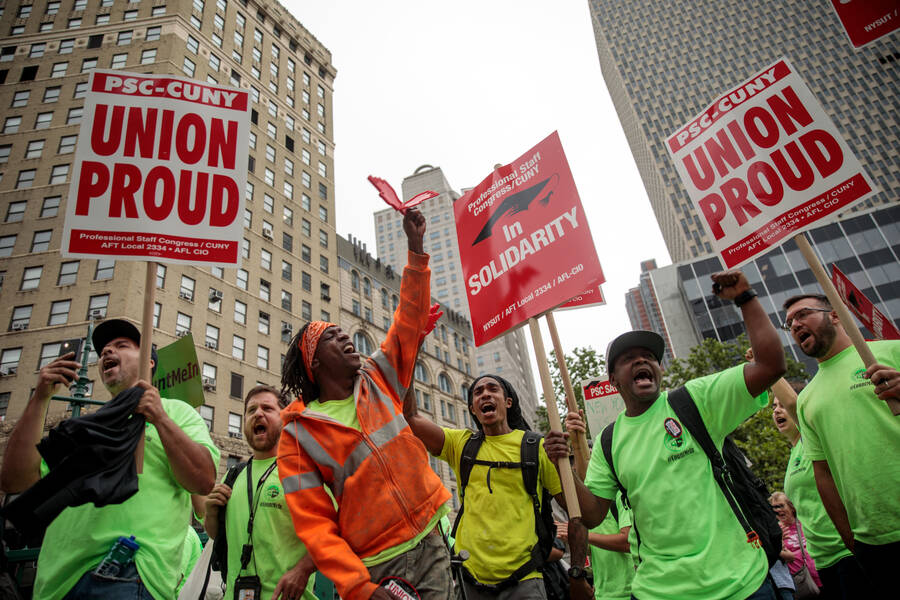 In Decem­ber 2015, Lin­colnshire, Illi­nois, a Chica­go sub­urb with a pop­u­la­tion of a lit­tle over 7,000, passed a right-to-work (RTW) ordi­nance. While a slim major­i­ty of states have enact­ed RTW laws over the past sev­er­al decades, RTW mea­sures at the coun­ty or munic­i­pal lev­el are rare in com­par­i­son. A group of unions quick­ly sued to strike down the ordi­nance, and after near­ly three years of lit­i­ga­tion, the next stop for the legal bat­tle might be the Supreme Court.
The unions have been suc­cess­ful so far in their fight against the ordi­nance, win­ning first in the U.S. Dis­trict Court and then again after Lin­colnshire appealed to the Sev­enth Cir­cuit Court of Appeals. But on Feb­ru­ary 14, Lin­colnshire filed a peti­tion with the Supreme Court, which will now decide whether it will hear the village's appeal. Lin­colnshire is being rep­re­sent­ed in the law­suit by the Lib­er­ty Jus­tice Cen­ter, one of the groups that rep­re­sent­ed plain­tiff Mark Janus in Janus v. AFSCME, the case that abol­ished pub­lic-sec­tor fair-share fees nationwide.
The legal argu­ments in the case, which is named Vil­lage of Lin­colnshire v. IUOE Local 399, are not par­tic­u­lar­ly com­pli­cat­ed. The Nation­al Labor Rela­tions Act (NLRA) clear­ly allows employ­ers and unions to enter into union secu­ri­ty agree­ments, which require work­ers to pay union dues (or reduced ​"fair-share fees" for non-mem­bers). How­ev­er, a pro­vi­sion in the 1947 Taft-Hart­ley Act allows states to pass RTW laws, which per­mit work­ers to refuse to pay union dues while still enjoy­ing all of the ben­e­fits of union rep­re­sen­ta­tion. The unions argue that the Taft-Hart­ley pro­vi­sion means what it says — that states can pass RTW laws, not coun­ties or cities. Lin­colnshire argues that the law's ref­er­ence to ​"states" actu­al­ly includes states and their sub­or­di­nate polit­i­cal bodies.
Allow­ing local RTW ordi­nances could lead to what the unions described in their Sev­enth Cir­cuit brief as a ​"crazy-quilt" of over­lap­ping and incon­sis­tent reg­u­la­tions. Illi­nois alone could be home to more than 300 dif­fer­ent RTW ordi­nances among coun­ties and munic­i­pal­i­ties with home rule author­i­ty. And numer­ous dif­fer­ent laws could apply to the same col­lec­tive bar­gain­ing agree­ment, as agree­ments com­mon­ly cov­er mul­ti­ple facil­i­ties or job sites.
There is rea­son to sus­pect that the Supreme Court will decide to hear Lincolnshire's appeal. The Sev­enth Circuit's deci­sion in favor of the unions con­flict­ed with a 2016 deci­sion of the Sixth Cir­cuit, UAW Local 3047 v. Hardin Coun­ty, which held that coun­ties and munic­i­pal­i­ties have the legal author­i­ty to enact RTW mea­sures. The Supreme Court will often hear an appeal to resolve this kind of con­flict, which is called a cir­cuit split. Trou­bling­ly, the Supreme Court refused to hear the UAW's appeal of the Sixth Cir­cuit deci­sion, leav­ing that deci­sion as law of the land in Michi­gan, Ohio, Ken­tucky, and Ten­nessee, and poten­tial­ly tip­ping the jus­tices' hands on the issue.
In Janus, the right-wing major­i­ty of the Supreme Court over­turned more than 40 years of prece­dent to make the country's entire pub­lic sec­tor RTW. There is no rea­son to expect Jus­tice Kavanaugh to be any more sym­pa­thet­ic to labor rights than now-retired Jus­tice Kennedy. If the Supreme Court decides to hear the case, it may well be the next step in the steady ero­sion of labor rights that has occurred under the Roberts Court.
Mean­while, local RTW laws have start­ed to spread else­where. Lob­by­ing efforts by the Koch-fund­ed Amer­i­cans for Pros­per­i­ty have made quick progress in New Mex­i­co, with 10 of the state's 33 coun­ties and one vil­lage pass­ing RTW ordi­nances since Jan­u­ary 2018. The group pre­vi­ous­ly used the same coun­ty-by-coun­ty approach in Ken­tucky, where over a dozen coun­ties passed RTW ordi­nances before statewide RTW leg­is­la­tion passed in 2017.
In Delaware, attacks on unions at the local lev­el have been less suc­cess­ful. In late 2017 and ear­ly 2018, two local gov­ern­ments in the state were con­sid­er­ing RTW mea­sures. While a pro­pos­al in Sus­sex Coun­ty even­tu­al­ly stalled fol­low­ing union protests and warn­ings from the Delaware Attor­ney Gen­er­al and the county's own attor­ney that the coun­ty lacked the legal author­i­ty to enact the pro­pos­al, the town of Seaford qui­et­ly enact­ed a RTW ordi­nance with­out hold­ing any pub­lic hear­ings. The Seaford ordi­nance was quick­ly quashed in June 2018 when Gov­er­nor John Car­ney signed leg­is­la­tion per­mit­ting pri­vate union secu­ri­ty agree­ments statewide.
Local RTW laws have been slow to spread in part because local gov­ern­ments like Sus­sex Coun­ty fear that they vio­late the NLRA. But with union busters run­ning out of states in which they could real­is­ti­cal­ly seek to pass RTW laws, they have looked to local RTW laws as a way to make inroads into non-RTW states. If the Supreme Court gives local RTW laws their bless­ing, the sig­nif­i­cant legal risks will be removed and right-wing groups will begin push­ing them on coun­ties and towns through­out the country.
What can the labor move­ment do in the mean­time? One strat­e­gy is leg­isla­tive. In states where Democ­rats hold the gov­er­nor­ship and the major­i­ty in both state leg­is­la­tures, we can push politi­cians to fol­low the Delaware approach and enact laws guar­an­tee­ing the right to enter into union secu­ri­ty agree­ments. But even after sig­nif­i­cant Demo­c­ra­t­ic gains in the midterm elec­tions, there are only 13 of these states oth­er than Delaware.
Anoth­er strat­e­gy is for pri­vate-sec­tor unions to con­duct vig­or­ous inter­nal orga­niz­ing cam­paigns as pub­lic sec­tor unions did in prepa­ra­tion for Friedrichs v. CTA and then Janus. Unlike pub­lic-sec­tor unions, pri­vate-sec­tor unions do not have oner­ous restric­tions on the sub­jects over which they can col­lec­tive­ly bar­gain, which many pub­lic sec­tor unions have been forced to deal with in recent years. These cam­paigns to increase work­er par­tic­i­pa­tion in exist­ing unions and to sign up fair-share-fee pay­ers as full mem­bers will pre­pare unions to con­tend with local RTW laws in unex­pect­ed loca­tions, while also build­ing stronger unions if we are for­tu­nate enough to avoid anoth­er attack from the Supreme Court.