The Wealthy Bosses and Right-Wing Ideologues Behind the Rush to "Reopen"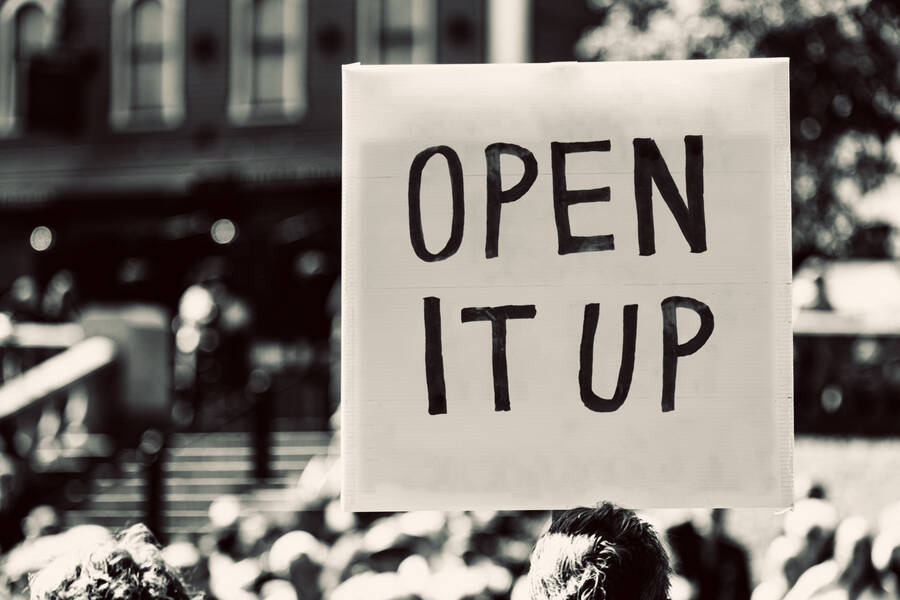 The fed­er­al gov­ern­ment squan­dered the time the states spent in lock­down. We still face a nation­al short­age of COVID-19 test kits and PPE and there is no nation­wide test­ing or con­tact trac­ing pro­gram. The Unit­ed States has 4 per­cent of the world's pop­u­la­tion, but about a third of the world's coro­n­avirus cases.
But some folks were not wast­ing their time. True to form, the rich are doing every­thing they can to ben­e­fit finan­cial­ly from the cri­sis — and their work is pay­ing off. The rich­est 400 Amer­i­cans were already worth a col­lec­tive $2.96 tril­lion last year.
Now many of the super-rich are poised to make even more dur­ing the pan­dem­ic—like the behe­moth Ama­zon, which is pro­pelling CEO Jeff Bezos even clos­er to becom­ing the world's first trillionaire.
The goal of these pow­er­ful actors is twofold: to reopen the econ­o­my on their own terms and to cap­i­tal­ize on the eco­nom­ic cri­sis to push for a long-held wish list of cuts to tax­es and gov­ern­ment ser­vices. They will push for low­er tax­es and to gut ser­vices despite the glar­ing evi­dence, revealed by the pan­dem­ic, that we need more gov­ern­ment, not less.
To do so they must get mil­lions of work­ers to risk their health by return­ing to work. If work­ers aren't work­ing, no prof­its are being gen­er­at­ed. And which is more impor­tant to the cap­tains of industry?
They are work­ing hard to win the tug of war over reopen­ing, hop­ing to over­pow­er the dire warn­ings of the pub­lic health experts and the desires of the pub­lic, which polls con­sis­tent­ly show are more wor­ried about a surg­ing virus than about a flag­ging Wall Street.
A Wash­ing­ton Post poll and a Pew sur­vey both show that laid-off work­ers are more like­ly to sup­port con­tin­ued lock­downs than those still employed.
Their cam­paign has sev­er­al parts:
—Congress's eco­nom­ic relief pack­ages focused more on bail­ing out big busi­ness­es than pro­tect­ing work­ers. Any strings attached about com­pa­nies' keep­ing work­ers employed were flim­sy, and those strings will be snapped com­plete­ly on the rough­ly $500 bil­lion that the Trea­sury Depart­ment will oversee.
—The fed­er­al gov­ern­ment abdi­cat­ed its role in the pan­dem­ic, forc­ing states to buy their own ven­ti­la­tors, test kits, and per­son­al pro­tec­tive equip­ment and devel­op their own con­tact trac­ing pro­grams. That drove up local gov­ern­ment expens­es at the same time that statewide lock­downs have tanked tax rev­enues. Tak­ing advan­tage of the result­ing state bud­get deficits, the con­sor­tium of con­ser­v­a­tives is push­ing states to adopt its long­stand­ing wish list, such as aban­don­ing their pen­sion oblig­a­tions to pub­lic employ­ees, lay­ing off mass num­bers of them, and mak­ing dra­mat­ic cuts to pub­lic services.
—Repub­li­can offi­cials, right-wing media, and cor­po­rate front groups (espe­cial­ly Save Our Coun­try Coali­tion, the Amer­i­can Leg­isla­tive Exchange Coun­cil, the State Pol­i­cy Net­work, and Free­dom­Works) have been loud­ly bang­ing the drums for the econ­o­my to reopen. The U.S. Depart­ment of Labor and sev­er­al state gov­ern­ments are help­ing that process along by threat­en­ing to pros­e­cute work­ers for unem­ploy­ment ben­e­fits fraud if they refuse to return to work out of fear for their health.
—Both Trump and Repub­li­can con­gres­sion­al lead­ers are clear: there will be no fur­ther eco­nom­ic stim­u­lus for states or the unem­ployed with­out a guar­an­tee that busi­ness­es will be held harm­less if their employ­ees con­tract COVID-19 at work. The door is open for neg­li­gence on a grand scale.
The so-called recov­ery from the 2008 Great Reces­sion saw Wall Street prof­its hit all-time highs while work­ers' wages remained stag­nant and union den­si­ty hit an all-time low. ​"Recov­ery for me, pover­ty for thee" is again the cor­po­rate goal for the post-coro­na economy.
Tea Par­ty 2.0
Con­ser­v­a­tive oper­a­tives are try­ing to reignite a Tea Par­ty-like ​"move­ment" to pres­sure states to reopen their economies. A bil­lion­aire-backed net­work of cor­po­rate front groups with deep ties to con­ser­v­a­tive state law­mak­ers and the White House helped mobi­lize a mot­ley crew to protest stay-at-home orders at state leg­is­la­tures and ampli­fied their actions in the media.
"It's like strike-break­ing," said Nan­cy MacLean, author of Democ­ra­cy in Chains: The Deep His­to­ry of the Rad­i­cal Right's Stealth Plan for Amer­i­ca. ​"You can find peo­ple who will do it, but with­out the active role of the employ­er it would nev­er happen.
"The same is true for the anti-lock­down protests. It's only because there are all these cor­po­rate-fund­ed front groups that are sup­port­ed and ampli­fied by Fox News and the right-wing echo cham­ber that they can cre­ate the fic­tion of a mass move­ment and exploit the cri­sis to force through unpop­u­lar poli­cies they know would nev­er hap­pen otherwise."
At the heart of the push to reopen are orga­ni­za­tions like Tea Par­ty Patri­ots and Free­dom­Works and promi­nent right-wing activists like Stephen Moore, a con­ser­v­a­tive econ­o­mist who has worked for the Her­itage Foun­da­tion and Wall Street Jour­nal and once told film­mak­er Michael Moore (no rela­tion) that ​"cap­i­tal­ism is a lot more impor­tant than democracy."
Moore is an eco­nom­ic advis­er to Trump and has been push­ing the White House to fol­low the advice of busi­ness lead­ers and con­ser­v­a­tive econ­o­mists rather than pub­lic health experts.
Moore is also a leader in the Save Our Coun­try Coali­tion (SOCC), which is coor­di­nat­ing the effort for reopen­ing, tax cuts, and leg­is­la­tion to erase employ­er lia­bil­i­ty. He is just one of the many White House con­nec­tions to SOCC. Anoth­er is the Amer­i­can Leg­isla­tive Exchange Coun­cil (ALEC), financed by large cor­po­ra­tions and con­ser­v­a­tive bil­lion­aires. ALEC's mem­ber­ship includes both cor­po­rate lob­by­ists and almost a quar­ter of all state legislators.
ALEC's pri­ma­ry mis­sion is to draft mod­el leg­is­la­tion that ben­e­fits cor­po­ra­tions and can be intro­duced in cook­ie-cut­ter fash­ion in leg­is­la­tures across the country.
Accord­ing to doc­u­ments obtained by the Cen­ter for Media and Democ­ra­cy, ALEC host­ed a call on April 22 on the need to reopen the econ­o­my with Vice Pres­i­dent Mike Pence and 300 state leg­is­la­tors and cor­po­rate lob­by­ists — with promis­es of future calls with Labor Sec­re­tary Eugene Scalia and Edu­ca­tion Sec­re­tary Bet­sy DeVos.
Many Repub­li­can state leg­is­la­tors have encour­aged the anti-lock­down protests in their home states.
Also join­ing the fray is the State Pol­i­cy Net­work (SPN), a nation­al web of cor­po­rate-fund­ed think tanks that pro­duce white papers and pub­lic­i­ty for ALEC's mod­el legislation.
With the pan­dem­ic, SPN affil­i­ates are fol­low­ing a play­book they per­fect­ed ear­li­er when deny­ing cli­mate change and the link between smok­ing and can­cer: they pro­mote skep­ti­cism about the coro­n­avirus death rate and the mod­els used by pub­lic health experts to pre­dict the num­ber yet to die.
These claims have been echoed by Trump, who has pro­mot­ed the con­spir­a­cy the­o­ry that death rates are being inflat­ed to stop his re-election.
Rig­ging a deficit
The pan­dem­ic response has fall­en on the shoul­ders of state gov­ern­ments. Those hit hard­est by the virus now face enor­mous bud­get short­falls and the cor­po­rate-backed net­work is lever­ag­ing the moment to push aus­ter­i­ty everywhere.
Michi­gan, for exam­ple, is esti­mat­ed to be $1 bil­lion to $3 bil­lion in the red. The Mack­inac Cen­ter, a cor­po­rate-financed SPN affil­i­ate, has pub­lished an aus­ter­i­ty wish list of items unre­lat­ed to the pan­dem­ic. It includes lay­ing off a quar­ter of the state's ​"non-essen­tial" pub­lic employ­ees and hik­ing state employ­ees' health care premiums.
Accord­ing to Politi­co, Cal­i­for­nia faces a $54 bil­lion bud­get deficit and is expect­ed to make dra­mat­ic cuts if it doesn't receive fed­er­al assis­tance, includ­ing $18 bil­lion in cuts to schools and com­mu­ni­ty col­leges. Of course, schools need more fund­ing to make social dis­tanc­ing a real­i­ty on cam­pus­es if they want to reopen.
The Cal­i­for­nia Pol­i­cy Cen­ter, anoth­er SPN affil­i­ate, is advo­cat­ing to tran­si­tion the pub­lic employ­ee pen­sion sys­tem from a defined-ben­e­fit plan, which guar­an­tees retirees a month­ly pay­ment, to a defined-con­tri­bu­tion plan, where the employ­er is only on the hook for a cer­tain amount into each employee's retire­ment account each month. If the total runs out after the work­er retires, too bad.
These pol­i­cy pro­pos­als are rever­ber­at­ing through­out the SPN net­work, result­ing in a grow­ing cho­rus of con­ser­v­a­tive think tanks and politi­cians call­ing for states to aban­don their com­mit­ments to their work­ers. ​"Just say no to a pen­sion bailout" wrote the Bea­con Cen­ter of Ten­nessee. Sen­ate Major­i­ty Leader Mitch McConnell has gone so far as to call for states to declare bank­rupt­cy so they can walk away from their pen­sion obligations.
Eco­nom­ic relief for state and local gov­ern­ments is at the cen­ter of talks for the next relief bill in Con­gress, but McConnell has declared shield­ing pri­vate employ­ers from lia­bil­i­ty for reopen­ing a manda­to­ry con­di­tion of any fur­ther fed­er­al stimulus.
The call for employ­er indem­ni­fi­ca­tion and tax cuts for the rich as a con­di­tion of fur­ther relief has been echoed by Trump.
The God­fa­ther principle
Reopen­ing the econ­o­my absent a nation­al test­ing pro­gram is deeply unpop­u­lar. A major­i­ty of Amer­i­cans believe our tax sys­tem is unfair and tax­es should be sub­stan­tial­ly raised on cor­po­ra­tions and the wealthy.
It's not inci­den­tal that Stephen Moore val­ues cap­i­tal­ism more than democracy.
Employ­ers and politi­cians force their poli­cies onto the pub­lic by forc­ing us to choose between two bad options while main­tain­ing the illu­sion that there is no alter­na­tive: Either work unsafe­ly or be kicked off unem­ploy­ment. States must either lim­it employ­ers' lia­bil­i­ty or there will be no fur­ther stimulus.
To keep the cor­po­rate pro­tec­tion rack­et going, employ­ers and politi­cians rely on the God­fa­ther prin­ci­ple: mak­ing us an offer we can't refuse.
This piece was first pub­lished at Labor Notes.
Chris Brooks
is a staff writer and labor edu­ca­tor at
Labor Notes,
where he cov­ers the Unit­ed Auto Work­ers. He is a mem­ber of the Nation­al Writ­ers Union (UAW Local
1981
).