The Right Wing Has a Vast, Secret Plot to Destroy Unions for Good. Here's How to Fight Back.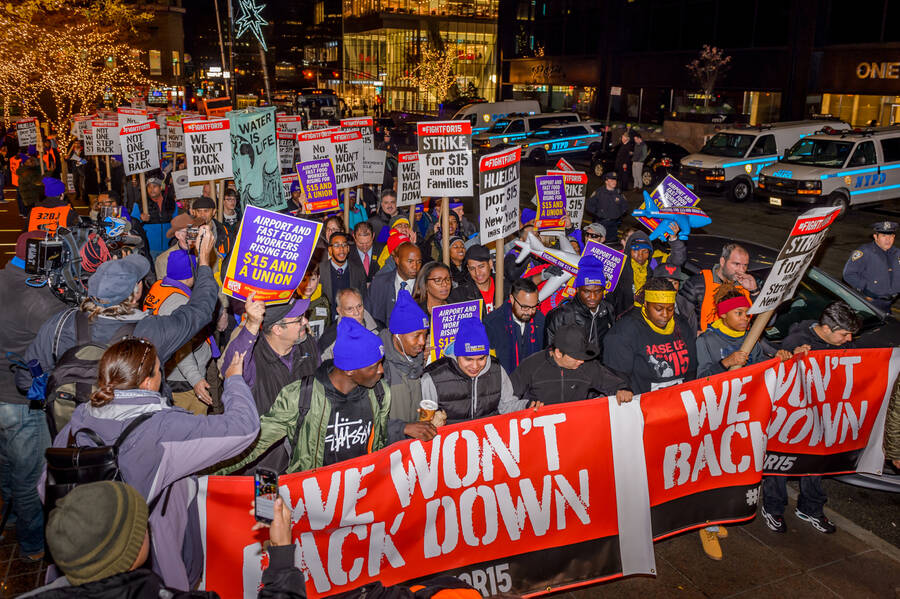 The vast right-wing net­work of Koch broth­er-fund­ed ​"think tanks" is now plot­ting to fin­ish off the pub­lic sec­tor labor move­ment once and for all.
In a series of fundrais­ing doc­u­ments obtained by the Cen­ter for Media and Democ­ra­cy of Madi­son, Wis., and pub­lished in the Guardian, the CEO of a car­tel of 66 well-fund­ed arch-con­ser­v­a­tive state capi­tol lob­by­ing out­fits promis­es fun­ders a ​"once-in-a-life­time chance to reverse the failed poli­cies of the Amer­i­can left."
Tra­cie Sharp, the leader of the States Pol­i­cy Net­work (SPN), goes on to explain that the path­way to per­ma­nent right-wing vic­to­ry is to ​"defund and defang" unions that rely on the legal pro­tec­tions of state labor law.
Though less well-known, the SPN is some­thing of a sis­ter orga­ni­za­tion to the Amer­i­can Leg­isla­tive and Exchange Coun­cil (ALEC), which writes cook­ie cut­ter ​"mod­el leg­is­la­tion" for right-wing state legislators.
SPN affil­i­ates, like Michigan's Mack­inac Cen­ter and Ohio's Buck­eye Insti­tute, pro­mote ALEC's agen­da in the pub­lic sphere and attack orga­ni­za­tions that are opposed to it. Both net­works have effec­tive­ly nation­al­ized the con­ser­v­a­tive agen­da in state legislatures.
The One Per­cent Solution
What's fuel­ing this dri­ve is a com­bi­na­tion of the vast sums of mon­ey that flow into elec­tions in the Cit­i­zens Unit­ed-era along with the ger­ry­man­der­ing that has helped rig elec­tions in favor of Repub­li­cans. The result has fre­quent­ly been ​"triple crown" GOP-led state gov­ern­ments that hold lit­tle account­abil­i­ty to vot­ers but tremen­dous debts to their cor­po­rate masters.
Uni­ver­si­ty of Ore­gon pro­fes­sor Gor­don Lafer has doc­u­ment­ed the rise of the cor­po­rate leg­isla­tive agen­da in all 50 states in his new book, The One Per­cent Solu­tion: How Cor­po­ra­tions Are Remak­ing Amer­i­ca One State at a Time.
Lafer found that state bills pushed by ALEC and the SPN, along with more tra­di­tion­al busi­ness lob­by­ists like the Cham­ber of Com­merce, gen­er­al­ly fall into four broad categories.
The first, and most obvi­ous, are efforts to con­strain or destroy insti­tu­tions that empow­er work­ing peo­ple to fight back, such as labor unions.
Sec­ond are efforts to pri­va­tize pub­lic ser­vices. Lafer found these efforts were pri­mar­i­ly intend­ed to dif­fuse the respon­si­bil­i­ty of pro­vid­ing these ser­vices. ​"If no pub­lic author­i­ty is respon­si­ble," he writes, ​"demands become cus­tomer-ser­vice issues rather than pol­i­cy prob­lems that must be addressed by demo­c­ra­t­i­cal­ly account­able officials."
Third are efforts to block — or pre­empt—rebel cities from pass­ing liv­ing wage or fair sched­ul­ing laws, there­by fore­clos­ing on the abil­i­ty for local­i­ties to defend and advance pro­gres­sive goals.
Final­ly, through tax cuts for the wealthy and aus­ter­i­ty-dri­ven cuts to vital pub­lic ser­vices, Lafer found that this cor­po­rate agen­da seeks a down­ward shift in what peo­ple come to expect for a basic stan­dard of living.
In oth­er words, the One Percent's solu­tion is to con­vince the rest of us, as the Dead Kennedys song goes, that soup is good food; that each new indig­ni­ty is sim­ply our new stan­dard of liv­ing and that we shouldn't expect more.
"Give your­self a raise"
If the States Pol­i­cy Net­work does real­ly strive for this One Per­cent goal out­lined by Lafer, then it's no won­der that the group has been most dogged in pur­su­ing its union-bust­ing agen­da. SPN and ALEC have long under­stood what many Demo­c­ra­t­ic politi­cians are only just begin­ning to real­ize: strong unions help keep right-wing politi­cians out of office while pro­tect­ing the social safe­ty net.
SPN and ALEC have aggres­sive­ly pur­sued so-called ​"right-to-work" leg­is­la­tion as a means of bank­rupt­ing unions and knock­ing out a key com­po­nent of their oppo­nents' get-out-the-vote oper­a­tion. Twen­ty-eight states now have these anti-union laws on the books. Five of them — all for­mer bedrocks of union pow­er — were passed this decade as a part of the anti-union dri­ve described in the doc­u­ments released by the Cen­ter for Media and Democracy.
That's hard­ly the extent of the role of these ​"think tanks" in bust­ing unions. Flush with cash, they've begun vol­un­teer­ing their efforts as union avoid­ance con­sul­tants where no one has asked for their services.
In 2013, I was part of a dri­ve to orga­nize the work­ers at Chicago's Unit­ed Neigh­bor­hood Orga­ni­za­tion Char­ter School Net­work, under the terms of a neu­tral­i­ty agree­ment. The employ­er was get­ting rocked by a finan­cial and insid­er deal­ing scan­dal that was a dai­ly cov­er sto­ry in the local media. The schools' employ­ees join­ing the Chica­go Alliance of Char­ter Teach­ers and Staff (ACTS) was the only pos­i­tive head­line they had to look for­ward to when we launched the card drive.
That didn't stop an SPN affil­i­ate, the Illi­nois Pol­i­cy Insti­tute (IPI), from har­vest­ing teach­ers' email address­es and spam­ming UNO's e‑mail lists with con­de­scend­ing admo­ni­tions to ​"not sign any union peti­tion or autho­riza­tion card unless you are cer­tain that you want union rep­re­sen­ta­tion."
These union busters seemed to assume that the ​"launch" of our card dri­ve meant a bunch of beefy goons were about to descend on the schools to strong-arm teach­ers. In fact, the pub­lic launch of the card dri­ve was the union orga­niz­ing equiv­a­lent of a touch­down dance. The rep­re­sen­ta­tive, demo­c­ra­t­ic orga­niz­ing com­mit­tee we had spent weeks train­ing, edu­cat­ing and empow­er­ing signed up over 90 per­cent of their col­leagues in time for a May Day card count certification.
The Illi­nois Pol­i­cy Insti­tute is bet­ter pre­pared for the upcom­ing Supreme Court case, Janus vs. AFSCME. Orig­i­nat­ing from Illi­nois, the case is a bla­tant do-over of the craven attempt to turn the entire pub­lic sec­tor labor move­ment ​"right-to-work," pre­vi­ous­ly pushed in the Friedrichs case.
Should the Supreme Court vote to make union fees vol­un­tary, the IPI and its sis­ter orga­ni­za­tions are pre­pared to run the moth­er of all ​"open shop" dri­ves. They will like­ly FOIA the names and as much con­tact infor­ma­tion as pos­si­ble of every union-rep­re­sent­ed pub­lic sec­tor work­er and inun­date them with glossy mate­ri­als encour­ag­ing them to ​"give your­self a raise" by quit­ting the union.
How to fight back
The rev­e­la­tion of the SPN's naked­ly par­ti­san agen­da should open every one of its affil­i­ates to chal­lenges over their sta­tus as tax-deductible edu­ca­tion­al char­i­ties. These chal­lenges are worth pur­su­ing, if only to dele­git­imize their role in pub­lic debates. But this won't real­ly affect their bot­tom line — their fun­ders have so much mon­ey they hard­ly need the tax breaks for donat­ing to their favorite polit­i­cal causes.
In prepa­ra­tion for the post-Janus attacks, pub­lic sec­tor unions should behave more like Chica­go ACTS and con­found the SPN's moldy old assump­tions about the source of union pow­er. To do this, we need to great­ly increase mem­bers' demo­c­ra­t­ic involve­ment in their unions. The slick ​"give your­self a raise" pam­phlets will do the most dam­age in places where mem­bers think of the union as sim­ply a head­quar­ters build­ing down­town. If that's the extent of their inter­ac­tion, work­ers could fall for the cheap trick of blam­ing the union for the stag­nant wages and reduc­tion in ben­e­fits that are actu­al­ly the direct result of the GOP's cor­po­rate agenda.
But where mem­bers are involved in for­mu­lat­ing demands and par­tic­i­pat­ing in protest actions, they find the true val­ue and pow­er of being in a union. That pow­er — the pow­er of an active and involved mem­ber­ship — is what the right-wing most fears, and is doing every­thing in its pow­er to stop.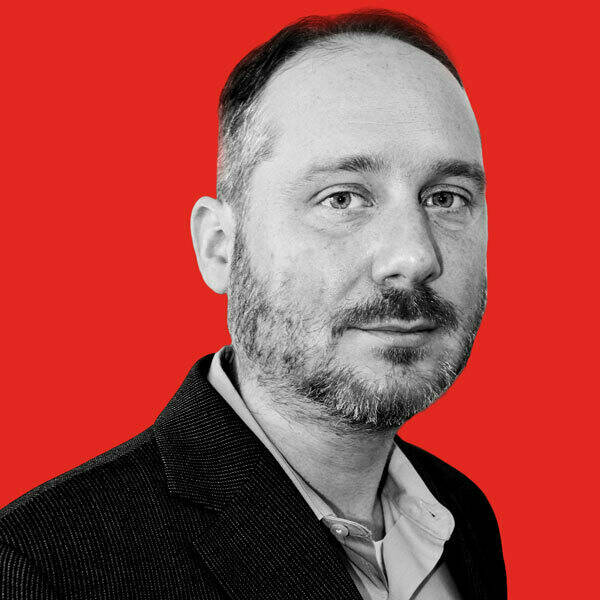 Shaun Rich­man
is an In These Times con­tribut­ing writer and the Pro­gram Direc­tor of the Har­ry Van Ars­dale Jr. School of Labor Stud­ies at SUNY Empire State Col­lege. His Twit­ter han­dle is @Ess_Dog.