Know Your Rights to Paid Leave and Unemployment During the COVID-19 Crisis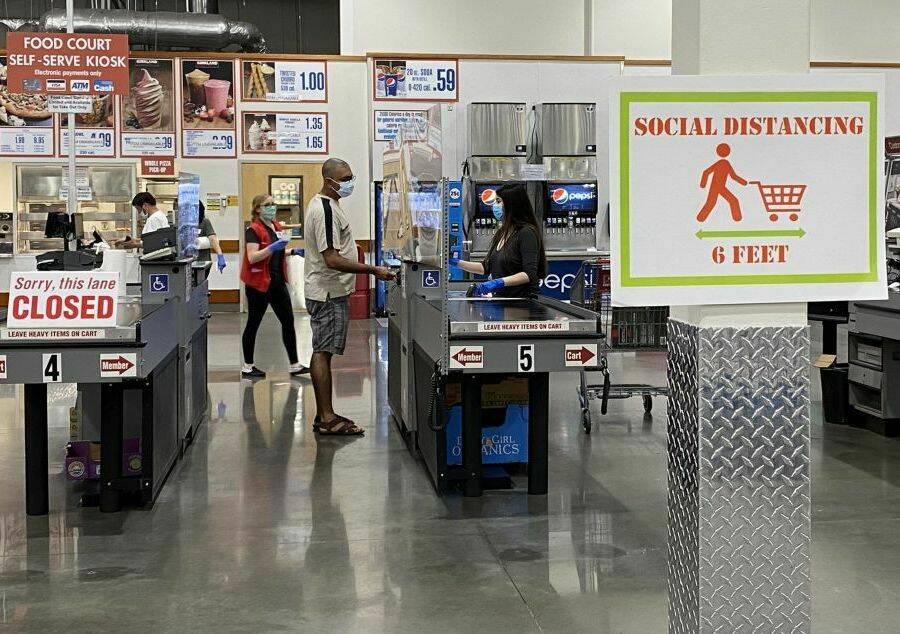 This arti­cle first appeared in Labor Notes.
On March 18 Con­gress passed the Fam­i­lies First Coro­n­avirus Response Act (FFCRA), in part to dis­cour­age lay­offs and in part to guar­an­tee paid leave to work­ers who need to stay home due to the COVID-19 emer­gency. On March 27 Con­gress enact­ed the CARES Act to expand unem­ploy­ment insur­ance eli­gi­bil­i­ty and ben­e­fits. Both laws expire on Decem­ber 31, 2020, unless extended.
What fol­lows is a selec­tion of ques­tions relat­ing to the new laws. Please note that this is a com­pli­cat­ed and rapid­ly chang­ing area. Although the U.S. Depart­ment of Labor has issued sev­er­al reg­u­la­tions and guides, aspects of the pro­grams remain hazy.
More­over, enforce­ment is like­ly to be slow and spot­ty, as a poor­ly staffed fed­er­al Wage and Hour Divi­sion of the Depart­ment of Labor appears unable to effec­tive­ly over­see the leave pro­gram and state UI agen­cies claim to be over­whelmed by the crush of appli­ca­tions. Union work­ers should always review their con­tracts to see if they have stronger protections.
1. Busi­ness shut down due to COVID-19 emergency
Q. Our gov­er­nor has ordered nonessen­tial retail busi­ness­es to close tem­porar­i­ly due to the COVID-19 emer­gency. My employ­er, a depart­ment store, has issued over 300 lay­off notices. Can I col­lect unem­ploy­ment insur­ance (UI) ben­e­fits though I only worked there for a week?
A. Yes. The CARES Act awards UI ben­e­fits to work­ers who are laid off, tem­porar­i­ly fur­loughed, or reduced in hours due to the COVID-19 emer­gency – even if they have a sparse wage his­to­ry. Most states pay approx­i­mate­ly 50 per­cent of wages up to a max­i­mum amount that varies sig­nif­i­cant­ly around the coun­try. Some add more for dependents.
The CARES Act adds $600 to week­ly UI ben­e­fits between March 27 and July 31, 2020 — even if this rais­es ben­e­fit checks above a claimant's reg­u­lar pay. UI pay­ments are taxable.
2. Quit due to COVID-19 safe­ty concerns
Q. I work in a super­mar­ket in close con­tact with cus­tomers and co-work­ers. Social dis­tanc­ing is impos­si­ble. Man­age­ment has not respond­ed to our com­plaints about the lack of prop­er pro­tec­tive equip­ment. Two work­ers have con­tract­ed COVID-19. If I quit because of the virus risk, could I qual­i­fy for unem­ploy­ment insurance?
A. Pos­si­bly. The CARES Act grants UI eli­gi­bil­i­ty to an employ­ee ​"who has to quit his or her job as a direct result of COVID-19." Although the Act does not elab­o­rate, the enti­tle­ment would appear to apply to a work­er who stops work because of a rea­son­able con­cern of con­tract­ing the virus. A state UI offi­cial will ulti­mate­ly decide.
Tip: Put your res­ig­na­tion in writ­ing, mak­ing sure to explain your fears.
3. Paid sick leave dur­ing self-quarantine
Q. My doc­tor has told me to self-quar­an­tine for two weeks due to COVID-19 symp­toms. Does my employ­er have to grant me paid leave for the absence?
A. Yes, unless you are a health care provider or an emer­gency respon­der or work for an employ­er with 500 or more employ­ees (see ques­tions 5 and 6 below).
Under the FFCRA a full-time work­er who needs to quar­an­tine due to COVID-19, or who is expe­ri­enc­ing symp­toms of the virus and seek­ing a diag­no­sis, is enti­tled to up to 80 hours of paid sick leave at a rate of up to $511 per day over a two-week peri­od. Part-timers are enti­tled to pay on a pro-rata basis. The employ­er is reim­bursed dol­lar-for-dol­lar through tax cred­its from the fed­er­al government.
You can­not be required to use oth­er accrued ben­e­fits, such as paid vaca­tion or sick leave, in place of FFCRA leave. Nor can you be required to make up the time.
Your employ­er must con­tin­ue pay­ing for group health cov­er­age dur­ing your leave. If your work­place has 25 or more employ­ees, you must be restored to your reg­u­lar job or an equiv­a­lent posi­tion (unless a lay­off affect­ing you has transpired).
Your employ­er can deny paid leave if 1) you decline an offer of tele­work, or 2) there is no work avail­able. In the lat­ter event, you would qual­i­fy for UI benefits.
After two weeks, if you con­tin­ue in quar­an­tine, or if you are still expe­ri­enc­ing COVID-19 symp­toms (but are not severe­ly ill), you may file for ben­e­fits from your state UI agency.
Note: You are also enti­tled to paid leave to care for a fam­i­ly mem­ber or oth­er per­son with whom you have a rela­tion­ship who is sub­ject to a quar­an­tine order or is advised by a physi­cian to self-quar­an­tine. Your rate will be two-thirds of your reg­u­lar pay up to a max­i­mum of $1,000 per week.
Note: Work­ers request­ing paid sick leave under the FFCRA must give notice to their employ­er as soon as is prac­ti­ca­ble after the first day missed, pro­vid­ing the name of the health care provider who issued the stay-at-home advisory.
4. Paid child­care leave
Q. My ten-year-old child's school has closed due to the COVID-19 cri­sis and I must be home to care for her. Does my boss have to pro­vide me with paid time off?
A. Yes. You are cov­ered by the FFCRA if you have worked 30 days or longer for your employ­er and you are not in one of the Act's exempt cat­e­gories (see ques­tions 5 and 6 below). Eli­gi­ble employ­ees are enti­tled to 12 weeks of pro­tect­ed paid time off if a child's school or day­care cen­ter clos­es due to the COVID-19 cri­sis and no oth­er par­ent or usu­al child­care provider is available.
The pay rate for work­ers tak­ing child­care leave under the FFCRA is two-thirds of reg­u­lar pay up to a max­i­mum of $200 per day. You may sup­ple­ment your check up to your reg­u­lar earn­ings with oth­er avail­able paid leave such as sick or vaca­tion pay. Leaves may be tak­en inter­mit­tent­ly — up to a total of 12 weeks — if your employ­er agrees. Your employ­er may not take adverse action against you because of your time-off request.
Your weeks out of work will count against your annu­al 12-week Fam­i­ly and Med­ical Leave (FMLA) enti­tle­ment. If your employ­er vio­lates your leave rights, you may file a com­plaint with the Wage and Hour Divi­sion of the U.S. Depart­ment of Labor.
A work­er whose request for child­care leave is denied may apply for UI ben­e­fits. UI ben­e­fits may also be avail­able if you need more than 12 weeks time off. You can­not col­lect UI ben­e­fits for any weeks that you receive paid leave.
5. Employ­ers can refuse leave requests from health care providers
Q. I am a hos­pi­tal nurse. My child's reg­u­lar care­giv­er can­not come to my home because of the COVID-19 virus. Am I enti­tled to paid time off?
A. This is a sore point. To guar­an­tee the avail­abil­i­ty of med­ical per­son­nel, the FFCRA allows cov­ered employ­ers, pub­lic and pri­vate, large and small, to deny COVID-relat­ed sick and care­giv­er leave to per­sons who serve as ​"health care providers." A sim­i­lar fed­er­al law (the FMLA) restricts this term to physi­cians and oth­er pro­fes­sion­als qual­i­fied to issue med­ical diag­no­sis. Accord­ing to the Labor Depart­ment, how­ev­er, for pur­pos­es of FFCRA leave the phrase includes every­one employed by a hos­pi­tal, clin­ic, nurs­ing home, phar­ma­cy, med­ical prod­ucts man­u­fac­tur­er, or oth­er sim­i­lar insti­tu­tion. Con­se­quent­ly, your hos­pi­tal can refuse your request.
Note: A hos­pi­tal employ­ee whose request for a COVID-relat­ed care­giv­er leave is denied can stop work and file for UI ben­e­fits under the CARES Act. The pos­si­ble down­side is that the employ­ee may lose his or her rights to paid health insur­ance and reemployment.
6. Large employ­ers can refuse leaves
Q. We work for Gen­er­al Motors. Are we enti­tled to sick and care­giv­er leaves under the FFCRA?
A. Sur­pris­ing­ly, no. Con­gress exclud­ed pri­vate employ­ers with 500 or more employ­ees (across all facil­i­ties) from the FFCRA, sup­pos­ed­ly to pre­vent such employ­ers from claim­ing the Act's tax credits.
7. Pub­lic employees
Q. Are state work­ers enti­tled to paid sick and child­care leaves under the FFCRA?
A. Yes. The FFCRA applies to all state and local gov­ern­ment agen­cies and many, but not all, fed­er­al agencies.
8. Small employ­ers and paid leave
Q. I work for a pri­vate social ser­vice agency with 12 employ­ees. Does the agency have to approve FFCRA leaves?
A. Yes, with one excep­tion. An employ­er with less than 50 employ­ees can deny a COVID-19 child care leave if the employee's absence would pre­vent the employ­er from work­ing at min­i­mum capac­i­ty or would cause expens­es to exceed its revenues.
9. Work­place clos­es dur­ing care­giv­er leave
Q. I am in the midst of a 12-week FFCRA leave to care for my chil­dren. If my com­pa­ny clos­es its work­place dur­ing my absence, can it stop pay­ing me?
A. Yes. Pay to a COVID-relat­ed leave­tak­er can be halt­ed if the employ­er clos­es its doors or oth­er­wise has no work avail­able. You would then be able to apply for UI benefits.
10. Inde­pen­dent con­trac­tors and UI benefits
Q. I dri­ve for Uber. Due to COVID-19, rides have dried up all over the city. Where I used to pull in $1,200 a week, I now make less than $200. Can I file for UI?
A. Yes. The CARES Act allows self-employed per­sons, includ­ing inde­pen­dent con­trac­tors and ​"gig" work­ers, whose incomes have dried up due to the COVID-19 cri­sis to file for total or par­tial UI ben­e­fits through Decem­ber 26, 2020. Suc­cess­ful claimants will receive their reg­u­lar week­ly rate plus the $600 bonus through July 31, 2020. You will have to doc­u­ment or oth­er­wise cer­ti­fy your income loss.
But note: Many state agen­cies are delay­ing deci­sions on claims from self-employed per­sons until they can make changes in their claims ver­i­fi­ca­tion sys­tem. When approved, how­ev­er, your ben­e­fits should be retroac­tive to the first week you lost work due to COVID-19.
11. Part-time work­ers and UI benefits
Q. I was work­ing part-time when my employ­er ceased oper­a­tions due to the COVID cri­sis. Do I have to look for full-time work to receive UI benefits?
A. No. The CARES Act allows per­sons out of work because of the COVID cri­sis to lim­it their job search to part-time work.
12. Undoc­u­ment­ed work­ers and UI benefits
Q. Can undoc­u­ment­ed immi­grants file for UI ben­e­fits due to the COVID-19 pub­lic health emergency?
A. No. Although undoc­u­ment­ed work­ers are deemed essen­tial in some indus­tries, they are still exclud­ed from UI programs.
Robert M. Schwartz
is a retired union-side labor lawyer and author of sev­er­al Labor Notes books, includ­ing The Legal Rights of Union Stew­ards, The FMLA Hand­book, and Just Cause: A Union Guide to Win­ning Dis­ci­pline Cas­es. Order­ing infor­ma­tion is at labor​no​tes​.org for when our online store reopens.