Does Lake Erie Deserve Legal Rights? A Federal Court Hears Arguments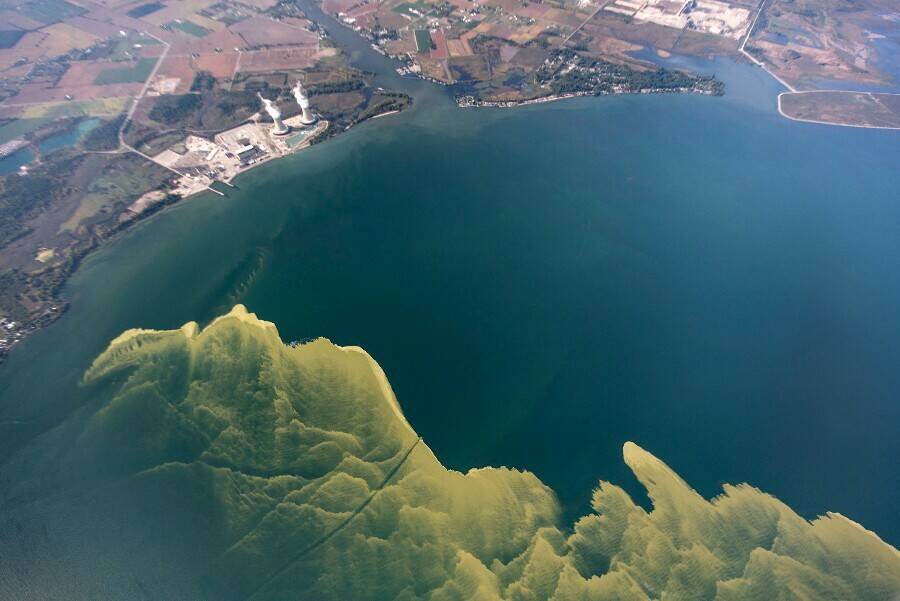 Last week, the Lake Erie Bill of Rights (LEBOR) was debat­ed in fed­er­al court, where argu­ments were pre­sent­ed defend­ing the right of Lake Erie to exist, flour­ish, and evolve, and res­i­dents' right to clean water. The ground­break­ing law was adopt­ed by pop­u­lar vote in Tole­do one year ago, and imme­di­ate­ly chal­lenged by a pur­port­ed agribusi­ness corporation.
The City of Toledo's robust defense of LEBOR includ­ed argu­ments that no agri­cul­ture cor­po­ra­tion has a con­sti­tu­tion­al right to pol­lute, and that the actions of Tole­do res­i­dents are an emer­gency response to a heat­ing planet.
"Indus­tri­al dump­ing and with some of the envi­ron­men­tal issues and pol­lu­tion caused by large scale agri­cul­ture," the city argued, ​"in com­bi­na­tion with cli­mate change, has put the cit­i­zens on notice that they feel that they are in an emer­gency sit­u­a­tion as it relates to water qual­i­ty and the need to pro­tect their water, which is cer­tain­ly a com­pelling and sig­nif­i­cant interest."
"We are mak­ing head­way," stat­ed Tish O'Dell, orga­niz­er for the Com­mu­ni­ty Envi­ron­men­tal Legal Defense Fund (CELDF), which advo­cates for rights of nature. ​"This is the first time the rights of a spe­cif­ic ecosys­tem were argued in a U.S. fed­er­al court. What we are see­ing here is the begin­ning of a new phase for the move­ment, where more detailed and con­crete ques­tions of what it means to enforce the rights of nature get dis­cussed in the broad­er cul­ture. This is an idea whose time has come — regard­less of the judge's decision."
Attor­neys rep­re­sent­ing the cor­po­rate plain­tiff, which seeks to over­turn the demo­c­ra­t­i­cal­ly passed law, artic­u­lat­ed the struc­tur­al sig­nif­i­cance of LEBOR. They point­ed out that LEBOR strips claimed cor­po­rate con­sti­tu­tion­al rights of busi­ness enti­ties that vio­late the rec­og­nized rights and embod­ies an empow­ered local democ­ra­cy, where munic­i­pal­i­ties can expand human and ecosys­tem rights to build on state and fed­er­al protections.
Attor­neys for the State of Ohio made the claim that the state has ​"own­er­ship" of the Lake. This ​"own­er­ship," the state argued, is vio­lat­ed by the way LEBOR seeks to re-allo­cate the State's pow­er by allow­ing the City of Tole­do, and any of its 276,000 res­i­dents, to bring an action to pro­tect the Lake Erie ecosystem.
"This is exact­ly what the peo­ple are attempt­ing to do," said O'Dell. ​"Why? Because the state has not ful­filled its respon­si­bil­i­ty to pro­tect the peo­ple and waters of Ohio. They have repeat­ed­ly issued per­mits that pro­tect the pol­luters and legal­ize harm to the Lake." CELDF assist­ed res­i­dents in draft­ing the measure.
The court pro­ceed­ings con­tained dra­mat­ic and enter­tain­ing moments. A cor­po­rate attor­ney feigned com­plete igno­rance as to com­mon word mean­ings with­in LEBOR:
"They are not com­mon words with com­mon or plain mean­ings. Nat­ur­al water is ripe to mul­ti­ple meanings….Community of organ­isms is also not defined. I have no idea what it means…. Soil is even ripe for mul­ti­ple inter­pre­ta­tions…. Sec­tion 1A [of LEBOR] pur­ports to cre­ate the rights to exist, flour­ish, and nat­u­ral­ly evolve. None of those phras­es, terms, are defined any­where in LEBOR…. It's unde­fined what it means to the right to exist…. What does the right to flour­ish mean for soil?… .Can you plant, or are you sup­posed to just let wild seed go wher­ev­er? Can you har­vest the plants? Can you mow? Can you have a golf course?"
The City attor­ney replied this way:
"In response, Your Hon­or, I'd start by say­ing that this long list of sub­ject­ed hypo­thet­i­cals and fear of what may hap­pen or poten­tial lia­bil­i­ty, as described in the plain­tiff's com­plaint, does not estab­lish Arti­cle III or pru­den­tial stand­ing here. It fur­ther demon­strates not that the law is vague, but that the plain­tiff does­n't have stand­ing to pur­sue the action. And life, lib­er­ty, and the pur­suit of hap­pi­ness have been lit­i­gat­ed in terms of what those terms mean. It pro­vides to cit­i­zens, and it includes things like a healthy and safe envi­ron­ment. In their brief Drewes Farms Part­ner­ship concedes…that pro­tect­ing Lake Erie is a legit­i­mate interest."
"The plaintiff's implied argu­ment that eco­log­i­cal and sci­en­tif­ic con­cepts are too com­plex for the court­room exem­pli­fies a larg­er chal­lenge we face: bring­ing our laws in line with ecosys­tem health and sci­ence," O'Dell added. ​"Let's do this."
A cen­tral point that emerged from the dis­cus­sion was whether the plain­tiff has been ​"harmed" by LEBOR.
CELDF-affil­i­at­ed attor­ney Ter­ry Lodge, who con­sult­ed with the City of Toledo's attor­ney, said, ​"this fed­er­al law­suit should be dis­missed and the peo­ple should get more chances to try to enforce LEBOR and try to define what it means."
Markie Miller of Tole­doans for Safe Water, the group behind the law, respond­ed this way: ​"I think it's crim­i­nal what the state is try­ing to get away with, includ­ing say­ing that we have tram­pled the con­sti­tu­tion­al rights of a com­pa­ny seek­ing the right to pol­lute us."