Toledo Passed a "Lake Erie Bill of Rights" To Protect Its Water. The State Is Trying to Stop It.
A local effort to protect environmental rights—of both people and nature—faces pushback from the state and industry.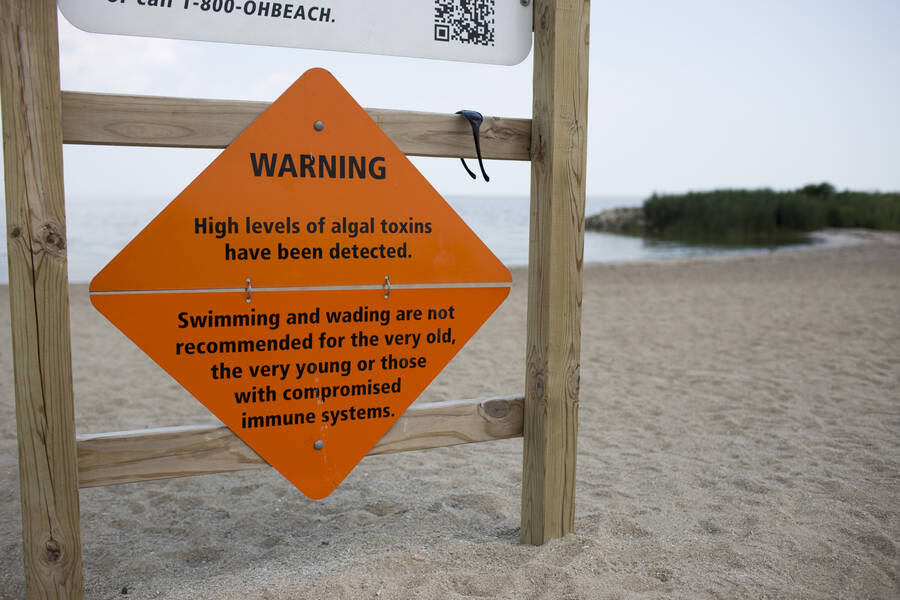 For three days in 2014, the peo­ple of Tole­do, Ohio, couldn't drink the water. A mas­sive blue-green algae bloom pro­duc­ing a tox­in known as micro­cystin was poi­son­ing Lake Erie, the city's pri­ma­ry source of drink­ing water.
Algae blooms are increas­ing­ly com­mon in Lake Erie, caused in large part by runoff from indus­tri­al fac­to­ry farms and warm­ing waters. Things have become so bad that there are now algae ​"fore­casts" pre­dict­ing how large the algae bloom will be each year. Large-scale tox­ic blooms are once again afflict­ing the lake, in sum­mer 2019.
In the face of this grow­ing cri­sis, and see­ing lit­tle help com­ing from their state or fed­er­al rep­re­sen­ta­tives, res­i­dents of Tole­do deter­mined that they need­ed to take steps themselves.
A com­mu­ni­ty com­ing together
Com­mu­ni­ty mem­bers came togeth­er in 2016 to form Tole­doans for Safe Water, a grass­roots orga­ni­za­tion focused on pro­tect­ing the lake and their drink­ing water. As they real­ized that con­ven­tion­al envi­ron­men­tal laws were not going to be suf­fi­cient to pro­tect the water, they decid­ed to advance a new form of pro­tec­tion that secures envi­ron­men­tal rights – of both peo­ple and nature. They draft­ed a new law, the Lake Erie Bill of Rights, to secure rights of the peo­ple to a healthy envi­ron­ment and of the lake itself. Despite $300,000 spent by BP in an oppo­si­tion cam­paign, the law was approved by a city­wide vote in February.
Tole­doans for Safe Water worked with the Com­mu­ni­ty Envi­ron­men­tal Legal Defense Fund (CELDF), a non-prof­it orga­ni­za­tion that has assist­ed some of the first places in the world to devel­op rights of nature laws. (Co-author Mari Margil works for CELDF.)
Efforts to stop the expan­sion of rights
Like move­ments of the past, which focused on expand­ing rights, the peo­ple of Tole­do are see­ing their efforts met by a ready oppo­si­tion. The Ohio leg­is­la­ture recent­ly passed a bud­get bill that strips away the author­i­ty of com­mu­ni­ty mem­bers to defend the rights of nature in court. And this spring, the state of Ohio also joined an indus­try law­suit seek­ing to over­turn the Lake Erie Bill of Rights. The lit­i­ga­tion is ongoing.
Unfor­tu­nate­ly, state-spon­sored efforts to block the fight for more legal rights are all too common.
The his­to­ry of the Civ­il Rights move­ment is rife with exam­ples. This includes going after one of the most effec­tive tools of civ­il rights activists: the boy­cott. By refus­ing to patron­ize seg­re­gat­ed busi­ness­es, African Amer­i­cans were able to demon­strate their eco­nom­ic neces­si­ty to com­mu­ni­ties, lead­ing to many shops and lunch coun­ters open­ing their doors to black cus­tomers. This includes the Mont­gomery Bus Boy­cott, which last­ed 381 days when a fed­er­al court ordered the bus­es desegregated.
The full weight of the law was brought against Civ­il Rights activists, with injunc­tions and laws ban­ning boy­cotts. Mar­tin Luther King Jr. and oth­er activists faced jail and intim­i­da­tion based on such tactics.
Labor rights activists have faced sim­i­lar push­back. Fol­low­ing a wave of work­er strikes in 1945 and 1946, Con­gress passed the Taft-Hart­ley Act. The Act pro­hib­it­ed a num­ber of union activ­i­ties, includ­ing cer­tain types of strikes, boy­cotts and pick­et­ing. Over time, Taft-Hart­ley has stymied advo­ca­cy for labor rights and bet­ter work­ing conditions.
More recent­ly, in the wake of the Stand­ing Rock pipeline protests, leg­is­la­tion and exec­u­tive orders have advanced in a num­ber of states to restrict and crim­i­nal­ize such activ­i­ties. Oklahoma's leg­is­la­ture, antic­i­pat­ing protests against oil pipelines, recent­ly enact­ed H.B. 1123. Among oth­er things, the new law makes mere­ly step­ping onto a pipeline ease­ment pun­ish­able by up to a year in prison. Sim­i­lar leg­is­la­tion has advanced in Ohio.
No time to wait
His­to­ry doesn't tend to look kind­ly upon state-spon­sored sup­pres­sion of people's move­ments. With over a mil­lion species on the brink of extinc­tion, coral reefs bleach­ing and dying off, and the last five years the hottest on human record, we don't have time to wait for history's blessing.
The anti-boy­cott laws did not stop the Civ­il Rights move­ment, and the Ohio Legislature's ban on rights of nature enforce­ment will not stop the move­ment to rec­og­nize rights of ecosys­tems. Fol­low­ing Ohio's ban, Williams Coun­ty, Ohio, res­i­dents sub­mit­ted ini­tia­tive peti­tion sig­na­tures to ban cor­po­rate water pri­va­ti­za­tion and rec­og­nize rights of the fresh­wa­ter Michin­doh Aquifer, press­ing for­ward regard­less of efforts to stop them. Com­mu­ni­ties in oth­er states are advanc­ing laws of their own, to join dozens of munic­i­pal­i­ties and native nations that have rec­og­nized rights of nature in the Unit­ed States, as well as laws and court deci­sions rec­og­niz­ing rights of nature in oth­er coun­tries includ­ing Ecuador, Colom­bia, and Ugan­da. Togeth­er they are advanc­ing crit­i­cal change – what Colombia's Con­sti­tu­tion­al Court described, in rec­og­niz­ing that the Atra­to Riv­er pos­sessed legal rights, a nec­es­sary ​"step for­ward in jurispru­dence" that must occur before it is ​"too late."
Mari Margil is the direc­tor of the Inter­na­tion­al Cen­ter for the Rights of Nature, a project of the Com­mu­ni­ty Envi­ron­men­tal Legal Defense Fund, a pub­lic inter­est law firm that has assist­ed dozens of U.S. munic­i­pal­i­ties, as well as non-gov­ern­men­tal orga­ni­za­tions in dif­fer­ent coun­tries, to devel­op laws that rec­og­nize rights of nature.Ryan Dick­in­son is a law stu­dent at Tem­ple Uni­ver­si­ty Beasley School of Law and a Com­mu­ni­ty Envi­ron­men­tal Legal Defense Fund sum­mer
2019
legal intern.
&
nbsp;