Rolling Strike By Teamsters at US Foods Aims to Protect Union Jobs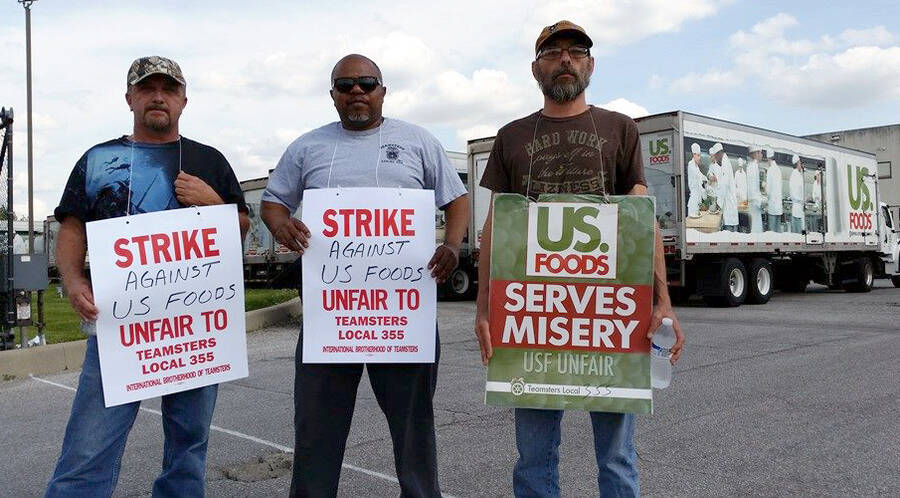 A rolling strike is hitting multiple warehouses operated by the nation-wide grocery distributor US Foods, Inc. as the Teamsters union tries to fight off threats to its jobs by death from a thousand corporate cuts.
The latest in a six-week series of strikes hit a US Foods distribution center in Plymouth, Minnesota, June 8, when truck drivers, warehouse, yard and maintenance workers, and office staff from Teamsters Local 120 honored a picket line manned by Teamsters from Maryland. The job actions have been hitting widely scattered US Foods sites across the country since US Foods triggered a strike in the Baltimore suburb of Severn, Maryland, with a scheme the union says is designed to to fire union workers and shift their jobs to non-union sites.
Teamsters Local 120 of Minnesota joined US Foods workers in New Jersey, Indiana, Colorado, Michigan, Washington, Illinois, New York and Ohio who have taken similar action since the Severn strike began April 27, says union spokesperson Ted Gotsch. All told, some 2,800 US Foods employees have stopped work in the coordinated job actions, according to the Teamsters, and the rolling strikes are expected to continue.
The job actions represent a continuing deterioration of labor-management relations at US Foods in recent years, especially since 2011. The company maintains a ​"double-breasted" workforce, with about 4,300 of its 25,000 employees represented by the Teamsters, and the rest non-union. This provokes on-going tensions, the Teamsters say, as the company attempts to move more work to the cheaper non-union sites. According to a statement from Steve Vairma, Director of the Teamsters' Warehouse Division:
We have seen a pattern of abusive behavior by US Foods for years. It's no surprise that their workers have no choice but to go on unfair labor practice strikes to protest how they are being treated. US Foods is willing to destroy good jobs and local economies so that its private equity owners…can wring every last penny out of the company before they try to sell it… Teamsters know that an injury to one is an injury to all.
Back in 2011, the New York Times reported the labor-management tensions arose from US Foods' ownership by the Wall Street firms Kohlberg Kravis Roberts (KKR) and Clayton, Dubilier & Rice (CDR) — both known for buying up companies and then selling them off without any regard for employees, according to the union.
Things worsened in 2014 when the Teamsters opposed a plan by KKR/CD&R to sell the company to Sysco Corporation in a deal that the union predicted would mean the loss of 2,500 Teamster jobs. (The proposed merger was ultimately nixed by the U.S. Federal Trade Commission on anti-trust grounds.)
"In my opinion, they are trying to bust the union," says Joe Schwabline, a US Foods worker from Baltimore. ​"They had always been a good company," until about two years ago when things changed, he tells In These Times. The company ratcheted up its use of non-union, temporary employees to replace Teamster employees. They began making extreme concessionary demands, he says, and at the same time threatening to close the facility and fire everyone. The regular union contract expired in May 2015 with US Foods implying it would close the Severn warehouse unless the Teamsters agreed to cuts worth $8 million in any new contract, Schwabline says.
The continued refusal by US Foods to negotiate a new contract in good faith sparked the strike April 27. Two Baltimore based union locals — truck drivers Local 355 (Schwabline is a member) and warehouse workers Local 570 — put up picket lines and closed down the Severn distribution center.
Schwabline has been walking the strike line in Severn and has also travelled to US Foods sites elsewhere to man the temporary pickets for the rolling strikes. Under most Teamster contracts, union members have no obligation to cross a legally constituted picket line, so union members in Plymouth, Minnesota, and elsewhere, can honor the strike even though they have collective bargaining agreement in place at their own workplaces, Gotsch explains.
US Foods spokesperson Debra Ceffalio tells In These Times that the company is trying to negotiate an end to the strike, and has been partially successful. In an e-mail message, Ceffalio stated:
"US Foods has reached an agreement with the union that represents warehouse employees regarding the closure of our Severn, Md., distribution center. On June 8, union members ratified the agreement, which provides them with severance, health care and transition assistance. Closing this facility was a difficult decision; however, it was necessary to more cost-effectively service our customers throughout the area by removing excess capacity and reducing overlap between our distribution centers. As part of the agreement, the local union representing warehouse employees has agreed to end its picketing against the company."
The settlement with Local 570 notwithstanding, the strike in Severn is continuing and the rolling strikes will go on, Teamsters officials say. Local 355 plans to continue its round-the-clock strike line for the immediate future. New rolling strike actions are likely, but will not be announced in advance, Gotsch says, as a way of insuring of that they are most effective.
Schwabline, who has spent 23 years working for US Foods, says his own future is uncertain. US Foods appears intent on eliminating his job, he says, but the union seems equally committed to fighting back.
Sean Cedenio, secretary-treasurer of Local 570, summed up in a letter to union members: ​"Let me be clear: The fight with US Foods in Baltimore and across this country is far from over. Teamsters Local 355 US Foods transportation members continue the fight to protect their work and to protect their families. Local 570 pledges our continued support to Local 355 and to each Local Union in the battle for justice throughout the nation. We call on you to do the same."
Bruce Vail
is a Baltimore-based freelance writer with decades of experience covering labor and business stories for newspapers, magazines and new media. He was a reporter for Bloomberg BNA's Daily Labor Report, covering collective bargaining issues in a wide range of industries, and a maritime industry reporter and editor for the Journal of Commerce, serving both in the newspaper's New York City headquarters and in the Washington, D.C. bureau.