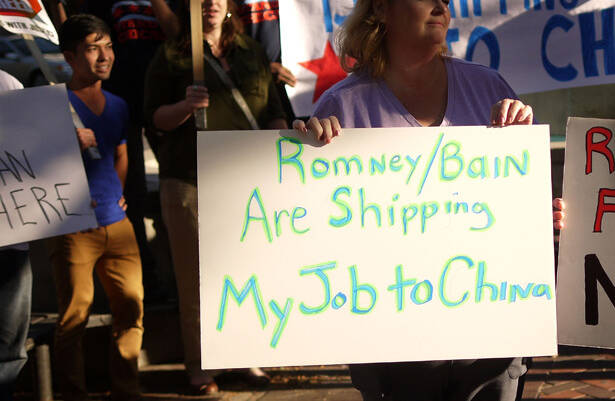 As throngs of eager Republicans and the rains of Tropical Storm Isaac have descended on Tampa, so too have a contingent of workers from companies owned by Bain Capital, the private-equity firm co-founded by presidential nominee Mitt Romney. Calling themselves ​"Ambassadors of the 99 Percent," the workers from Bain-affiliated companies around the country are speaking out about their poor working conditions and wages – and their belief that things would get worse for everyday people under a president with a Bain mentality.
The workers convened at a rally Sunday in Tampa, joining a crowd of people protesting the convention. Nearby, Code Pink members dressed as vaginas to protest the Republican stand on abortion and contraception, dog-owners brought their canines to highlight Romney's famous dog-on-the-roof road trip, and a man carried a six-foot silver spoon with Romney's name on it.
A major protest focusing specifically on Bain Capital is planned for August 30, during Romney's nomination acceptance speech. Occupy Tampa promises that: ​"We will use this opportunity to protest and raise awareness about Bain Capital's business practices. Hopefully this will pressure Bain Capital to behave ethically." (Salon​.com recently noted that Tampa itself is a perfect example of failed Republican social welfare and development policies, due in part to the work of financial firms like Bain.)
For months, Obama backers and workers rights groups have highlighted Bain's reputation for taking over and closing or outsourcing companies, and more recently for poor working conditions and pay at Bain-owned companies.
Unions and workers rights groups have been held actions around the country at Dunkin' Donuts and other well-known companies owned or co-owned by Bain and its subsidiaries. In addition to Dunkin', these include Clear Channel Communications, Outback Steakhouse, Carrabba's Italian Grill, Bonefish Grill, Fleming's Prime Steakhouse & Wine Bar, Roy's Hawaiian Fusion Cuisine, Burlington Coat Factory, Baskin Robbins, Gymboree, Hospital Corporation of America, Michael's Craft Store, Toys'R'Us, Staples, The Princeton Review and Work ​'N Gear.
On Saturday, workers from Bain-owned companies departed for the convention from JFK airport in New York. Organized with the group United NY, they included employees of Dunkin' Donuts, Burlington Coat Factory and Air Serv Corporation.
A group of Illinois workers is heading for Florida from Sensata Technologies, a Bain-owned sensor manufacturer based in Freeport, Ill. As David Moberg recently reported for In These Times, the 170 mostly female workers who will lose their jobs are being forced to train their visiting Chinese replacements as the factory is disassembled.
Three Wisconsin workers left for Tampa from a send-off event at a Dunkin Donuts in Milwaukee. Sam Moore, a Dunkin Donuts worker and a young father of two from Pittsburgh, told local media that he earns $7.25 an hour, not enough to cover gas and basic costs.
Bain and two other equity firms, The Carlyle Group and Thomas H. Lee Partners LP, purchased the company that owns Dunkin' Donuts and Baskin Robbins for $2.425 billion in 2005. (In a strange twist, it's been reported that with the buyout Bain Capital ​"saved" the site of Michelle and Barack Obama's first kiss, at a Baskin Robbins in Hyde Park in 1989.)
in the case of Dunkin' Donuts, prevailing wages were low even before the Bain takeover. While some Bain deals result in outsourcing jobs and squeezing workers, in other cases it's unclear how to what extent Bain is responsible for specific working conditions and wages at its subsidiaries. Certainly workers also face exploitative conditions at non-Bain-owned corporations.
But on a broader scale, the Bain-focused campaigns serve to highlight the conditions of labor in the United States as a whole. It's typical for hugely profitable corporations to pay poverty wages while relying on ethically questionable international supply chains. Bain is certainly no exception; quick Google searches turn up various complaints and charges of labor law violations, poor working conditions or disturbing supply chain issues for almost all the Bain-linked companies.
For example, this year Toys ​'R' Us was named one of the city's worst employers by United NY, along with a chain of car washes, an airline service and the utility company Con Edison. The group said most Toys ​'R' Us workers make less than $10 an hour – a paltry wage, especially in New York City – while the company's CEO makes $8 million a year. ​"If you are making this amount of profit, the least that you can do is pay your workers a decent wage," said United NY executive director Camilla Rivera.
Other Bain subsidiaries have been targeted by activists, employees and the federal government over working conditions:
Bain was also at the center of the controversial anti-Romney ad by a pro-Obama super PAC that insinuated Romney deserved blame for a woman's death from cancer after her husband was laid off from a Bain-owned steel mill, leaving her without health insurance. (The Obama campaign said they had no role in the commercial and did not know the steel worker).
Meanwhile a post on the website About​MyJob​.com – a site for stories venting about degrading conditions, short shifts and annoying customers – sheds light on what it is like to work at Baskin Robbins:
​"You go through all this frustration, for two weeks, and then the paycheck comes. This, to most people is the day when it is all worth it, all the customers, the screaming kids, nope. Not to me. It is a huge let down knowing that in two years, and becoming manager, I only make 60 cents over minimum wage. Yes that's right… only 60 cents. 10 cents at your one year mark people! How exciting right?? Nope… slap in the face."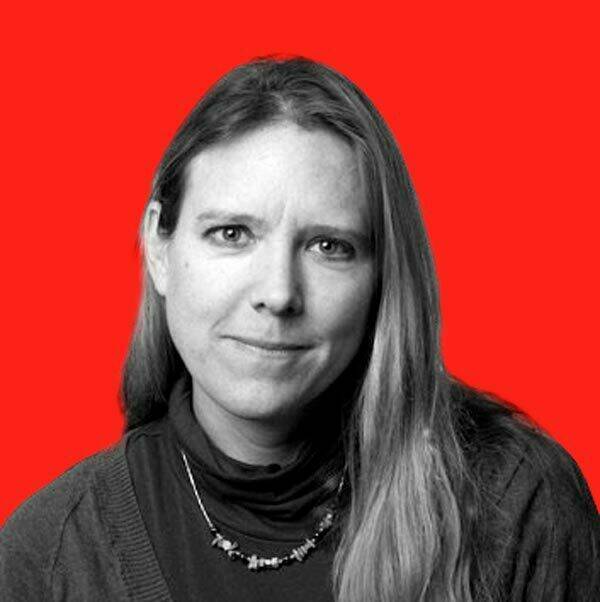 Kari Lydersen is a Chicago-based journalist, author and assistant professor at Northwestern University, where she leads the investigative specialization at the Medill School of Journalism, Media, Integrated Marketing Communications. Her books include Mayor 1%: Rahm Emanuel and the Rise of Chicago's 99%.