Rur­al peo­ple and issues gen­er­al­ly receive lit­tle atten­tion from the urban-cen­tric media and pol­i­cy elites. Yet, rur­al Amer­i­ca makes unique con­tri­bu­tions to the nation's char­ac­ter and cul­ture as well as pro­vides most of its food, raw mate­ri­als, drink­ing water and clean air. The recent pres­i­den­tial elec­tion also reminds us that, though rur­al Amer­i­ca may be ignored, it con­tin­ues to influ­ence the nation's future.
"Rur­al Amer­i­ca" is a decep­tive­ly sim­ple term for a remark­ably diverse col­lec­tion of places. It includes near­ly 72 per­cent of the land area of the Unit­ed States and 46 mil­lion peo­ple. Farms, ranch­es, grain ele­va­tors and ethanol plants reflect the endur­ing impor­tance of agriculture.
But, there is much more to rur­al Amer­i­ca than agri­cul­ture. It includes man­u­fac­tur­ing parks, ware­hous­es and food pro­cess­ing plants strung along rur­al inter­states; sprawl­ing exur­ban expans­es just beyond the out­er edge of the nation's largest met­ro­pol­i­tan areas; regions where gen­er­a­tions have labored to extract, process and ship coal, ore, oil and gas to cus­tomers near and far; tim­ber and pulp mills deep in rur­al forests; indus­tri­al towns strug­gling to retain jobs in the face of intense glob­al com­pe­ti­tion; and fast-grow­ing recre­ation­al areas prox­i­mate to moun­tains, lakes and coastlines.
As a demog­ra­ph­er study­ing rur­al Amer­i­ca, I have doc­u­ment­ed both remark­able con­ti­nu­ity and dra­mat­ic changes in the size, com­po­si­tion and dis­tri­b­u­tion of the pop­u­la­tion spread across the vast rur­al landscape.
Where is rur­al America?
Clear­ly farms on the Great Plains are rur­al and the city of Chica­go is not, but where is the bound­ary between what is rur­al and what is urban? There is no sim­ple answer. The U.S. Depart­ment of Agri­cul­ture, the fed­er­al agency with pri­ma­ry respon­si­bil­i­ty for rur­al Amer­i­ca, has mul­ti­ple def­i­n­i­tions of what is rur­al. The Cen­sus Bureau has yet anoth­er. I rely upon a wide­ly used USDA def­i­n­i­tion in which ​"rur­al areas" include every­thing that is out­side a met­ro­pol­i­tan area. These 1,976 coun­ties were home to 46.2 mil­lion res­i­dents in 2015.
"Met­ro­pol­i­tan areas" include coun­ties with a city of 50,000 res­i­dents or more, togeth­er with adja­cent coun­ties — most­ly sub­ur­ban — close­ly linked to these urban cores. More than 275.3 mil­lion peo­ple live in these 1,167 urban counties.
Demo­graph­ic trends in rur­al America
More that 90 per­cent of the U.S. pop­u­la­tion was rur­al in 1790. By 1920, that num­ber had dwin­dled to just under 50 per­cent. Today, only 15 per­cent of the pop­u­la­tion resides in rur­al coun­ties. Grow­ing eco­nom­ic and social oppor­tu­ni­ties in urban areas, cou­pled with mech­a­niza­tion and farm con­sol­i­da­tion, caused mil­lions of peo­ple to leave rur­al areas over the past cen­tu­ry. The mag­ni­tude of the migra­tion loss var­ied from decade to decade, but the pat­tern was con­sis­tent: more peo­ple left rur­al areas than arrived.
Hun­dreds of rur­al coun­ties have far few­er peo­ple today than they did a cen­tu­ry ago. In many, young adults have been leav­ing for gen­er­a­tions, so few young women remain to have chil­dren. As a result, deaths exceed births in these coun­ties, pro­duc­ing a down­ward spi­ral of pop­u­la­tion decline. There were brief peri­ods when the rur­al pop­u­la­tion rebound­ed in the 1970s and the 1990s. But, gen­er­al­ly, the growth of the urban pop­u­la­tion through­out the 20th cen­tu­ry has far exceed­ed that in rur­al areas. Between 2000 and 2015, the rur­al pop­u­la­tion grew by just 3.1 per­cent. Urban areas grew by 16.3 percent.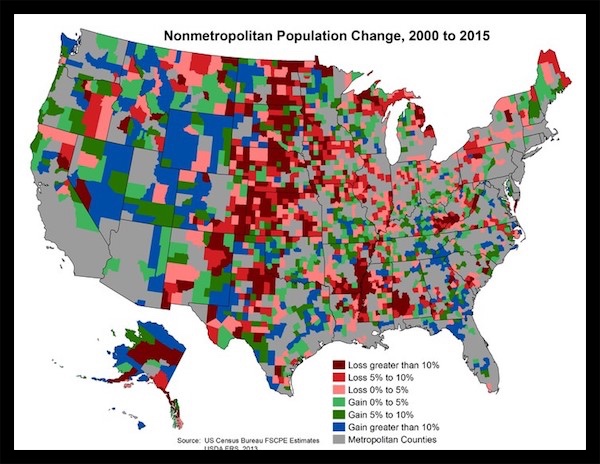 A pop­u­la­tion map depict­ing the chang­ing demo­graph­ics in rur­al Amer­i­ca. (Source: U.S. Cen­sus Bureau FSCPE Esti­mates, USDA ERS, 2013)
Demo­graph­ic trends vary across the rur­al land­scape. Rur­al pop­u­la­tion gains have been wide­spread in the west and south­east, at the periph­ery of large urban areas, and in recre­ation­al areas of the upper Great Lakes, the Ozarks and north­ern New Eng­land. Migra­tion, large­ly from urban areas, fueled this growth. Migrants who ven­ture just beyond the urban edge enjoy the low­er den­si­ty and hous­ing costs of rur­al areas, but retain easy access to urban ser­vices and oppor­tu­ni­ties. In con­trast, urban migrants to rur­al recre­ation­al coun­ties enjoy a relaxed lifestyle in com­mu­ni­ties rich in scenic and leisure amenities.
In con­trast, pop­u­la­tion loss­es were com­mon in agri­cul­tur­al regions of the Great Plains and Corn Belt, in the Mis­sis­sip­pi Delta, in the north­ern Appalachi­ans, and in the indus­tri­al and min­ing belts of New York and Penn­syl­va­nia. Many peo­ple con­tin­ue to leave these regions because eco­nom­ic and social oppor­tu­ni­ties are limited.
Recent­ly, the Great Reces­sion and its after­math dis­rupt­ed estab­lished rur­al demo­graph­ic trends. Both immi­gra­tion and inter­nal migra­tion dimin­ished, as res­i­dents were ​"frozen in place" by hous­es they couldn't sell and by a nation­al job mar­ket that pro­vid­ed few­er incen­tives to move. Fer­til­i­ty rates also dropped to record lows dur­ing the reces­sion and have yet to recov­er.
Few­er births dimin­ished pop­u­la­tion gains in almost all rur­al areas, but migra­tion pat­terns var­ied. Sur­pris­ing­ly, rur­al places that had once been fast-grow­ing — rur­al coun­tries adja­cent to urban areas and recre­ation­al coun­ties — seemed to slow down more. Mean­while, the remote rur­al areas that had his­tor­i­cal­ly lost many peo­ple to migra­tion were less affect­ed, because few­er were will­ing to risk a move in such uncer­tain times. It's not yet clear whether the reduced num­ber of births and dimin­ished migra­tion to rur­al Amer­i­ca in the era of Great Reces­sion will continue.
Oth­er demo­graph­ic changes are under­way in rur­al Amer­i­ca as well. The pop­u­la­tion is rapid­ly becom­ing more diverse. Minori­ties rep­re­sent 21 per­cent of the rur­al pop­u­la­tion, but pro­duced 83 per­cent of the growth between 2000 and 2010. His­pan­ics are par­tic­u­lar­ly impor­tant to this grow­ing rur­al diver­si­ty. Chil­dren are in the van­guard of this change. The rur­al minor­i­ty child pop­u­la­tion has grown sig­nif­i­cant­ly recent­ly, while the num­ber of non-His­pan­ic white chil­dren diminished.
The rur­al pop­u­la­tion is also grow­ing old­er. The medi­an age in rur­al coun­ties is 41.5. That's already more than three years old­er than in urban coun­ties. More than 16 per­cent of the rur­al pop­u­la­tion is over 65, com­pared to 12.5 per­cent of the urban pop­u­la­tion. While these old­er rur­al res­i­dents age in place, young adults con­tin­ue to leave and the rur­al child pop­u­la­tion is diminishing.
Rur­al and urban Amer­i­ca are intertwined
Few peo­ple appre­ci­ate that the fates of rur­al and urban Amer­i­ca are inex­tri­ca­bly linked. Improv­ing the oppor­tu­ni­ties, acces­si­bil­i­ty and via­bil­i­ty of rur­al areas is crit­i­cal — both to the 46 mil­lion peo­ple who live there and to the much larg­er urban pop­u­la­tion that depends on rur­al America's con­tri­bu­tions to their mate­r­i­al, envi­ron­men­tal and social well-being. A vibrant rur­al Amer­i­ca broad­ens the nation's eco­nom­ic, intel­lec­tu­al and cul­ture diversity.
Yet, rur­al areas face unique demo­graph­ic, eco­nom­ic and insti­tu­tion­al chal­lenges. Dis­tances are greater and places are more iso­lat­ed. The advan­tages derived from busi­ness­es and ser­vices clus­ter­ing togeth­er are lim­it­ed. As a result, pro­grams to expand health insur­ance and reform edu­ca­tion may affect rur­al peo­ple and com­mu­ni­ties dif­fer­ent­ly than in the 50 largest met­ro­pol­i­tan areas. Such chal­lenges are fre­quent­ly over­looked in a pol­i­cy and media envi­ron­ment dom­i­nat­ed by urban interests.
Pol­i­cy­mak­ers need to design com­pre­hen­sive poli­cies that can address the mul­ti­fac­eted chal­lenges rur­al com­mu­ni­ties face. Fast-grow­ing rur­al coun­ties need pro­grams capa­ble of man­ag­ing their growth and devel­op­ment. In con­trast, rur­al areas with dimin­ish­ing pop­u­la­tions need poli­cies to ame­lio­rate the adverse impacts of this migra­tion. Sus­tained pop­u­la­tion loss can affect the avail­abil­i­ty of crit­i­cal ser­vices like health care, edu­ca­tion and emer­gency ser­vices. Resources such as broad­band, cap­i­tal and exper­tise can facil­i­tate new development.
In the wake of the elec­tion upset which hinged, in part, on rur­al vot­ers, more media com­pa­nies have dis­patched cor­re­spon­dents to rur­al areas. They, and every­one else with a new­found inter­est in rur­al Amer­i­ca, need to under­stand that the peo­ple, places and insti­tu­tions in this vast area are far from mono­lith­ic. Rur­al Amer­i­ca has been, and con­tin­ues to be, buf­fet­ed by a com­plex mix of eco­nom­ic, social and demo­graph­ic forces.
("Where is ​'rur­al Amer­i­ca,' and what does it look like" was orig­i­nal­ly pub­lished on The Con­ver­sa­tion and is repost­ed on Rur­al Amer­i­ca In These Times thanks to a Cre­ative Com­mons license.)
[If you like what you've read, help us spread the word. ​

"

Like" Rur­al Amer­i­ca In These Times on Face­book. Click on the ​

"

Like Page" but­ton below the bear on the upper right of your screen. Also, fol­low RAITT on Twit­ter @RuralAmericaITT]
Ken­neth John­son
is Pro­fes­sor of Soci­ol­o­gy and Senior Demog­ra­ph­er at the Uni­ver­si­ty of New Hamp­shire. His research has been sup­port­ed, in part, by his Andrew Carnegie Fel­low­ship from the Carnegie Cor­po­ra­tion, by the Carsey School of Pub­lic Pol­i­cy and by the New Hamp­shire Agri­cul­tur­al Exper­i­ment Sta­tion. The opin­ions expressed here are his own and do not rep­re­sent the offi­cial views of the agen­cies sup­port­ing his research.