How We Use Land in the United States and How That Has Changed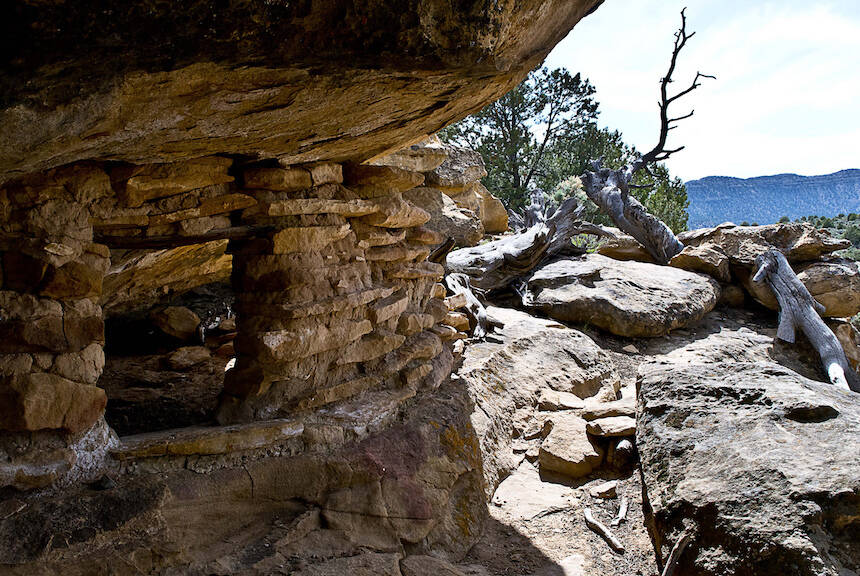 Editor's Note: On Nov. 21, at the annu­al par­don­ing of turkeys on the White House lawn, Pres­i­dent Trump joked that he'd looked into revers­ing the fates of the birds his pre­de­ces­sors had spared but had been told he wasn't allowed. Yes­ter­day, he seri­ous­ly unpro­tect­ed near­ly 2 mil­lion acres of pub­lic lands inside two nation­al mon­u­ments in south­ern Utah — Grand Stair­case Escalante (des­ig­nat­ed by Pres­i­dent Clin­ton in 1996) and Bears Ears (des­ig­nat­ed by Pres­i­dent Oba­ma last year) — so that the areas could be opened up to oil, gas, min­ing, log­ging and oth­er com­mer­cial development.
It's the largest such rever­sal of nation­al mon­u­ment sta­tus in the nation's his­to­ry and Rur­al Amer­i­ca In These Times will report more on this devel­op­ment lat­er. The fol­low­ing report by Daniel Bigelow, an agri­cul­tur­al econ­o­mist for the U.S. Depart­ment of Agriculture's Eco­nom­ic Research Ser­vice (ERS), is part of a larg­er study that looks at how our use of the land has changed over the years. It com­piles 72 years worth of aggre­gat­ed sta­tis­tics to exam­ine how every­thing from com­mod­i­ty prices, weath­er changes, pop­u­la­tion growth, tech­nol­o­gy, con­ser­va­tion poli­cies and gov­ern­ment pro­grams have shaped our eco­nom­ics and, as a result, the mod­ern Amer­i­can landscape:
Although land-use deci­sions are typ­i­cal­ly made by landown­ers at the lev­el of indi­vid­ual plots (or parcels), a con­sis­tent series of aggre­gate sta­tis­tics over time is use­ful for bench­mark­ing broad­er shifts and trends. The ERS Major Land Uses (MLU) series is the longest run­ning, most com­pre­hen­sive account­ing of all major uses of pub­lic and pri­vate land in the Unit­ed States. The series was start­ed in 1945 and has since been pub­lished about every 5 years using the lat­est data from the USDA Nation­al Agri­cul­tur­al Sta­tis­tics Service's Cen­sus of Agriculture.
The U.S. land area totals just under 2.3 bil­lion acres. Agri­cul­tur­al land use has become less com­mon over time, declin­ing from 63 per­cent in 1949 to 52 per­cent in 2012 (the lat­est data avail­able). Grad­ual declines have occurred in crop­land, while grazed forest­land has decreased more rapid­ly. In 2012, 392 mil­lion acres of agri­cul­tur­al land were in crop­land (18 per­cent less than in 1949); 655 mil­lion acres were in pas­ture and range (4 per­cent more); 130 mil­lion acres were in grazed forest­land (59 per­cent less); and 8 mil­lion acres were in farm­steads and farm roads (45 per­cent less).
Nona­gri­cul­tur­al land uses include ungrazed for­est-use land, nona­gri­cul­tur­al spe­cial uses, urban land, and mis­cel­la­neous oth­er cat­e­gories that are not sep­a­rate­ly inven­to­ried (wet­lands, rur­al res­i­den­tial, min­ing areas, etc.). Increas­es in land used for nona­gri­cul­tur­al spe­cial uses, which include nation­al parks and oth­er pro­tect­ed areas, have con­tributed to the rel­a­tive increase in nona­gri­cul­tur­al land use over time. Urban land, which rep­re­sents a rel­a­tive­ly small share of the U.S. land base, has near­ly tripled in area since 1949 to accom­mo­date eco­nom­ic and pop­u­la­tion growth.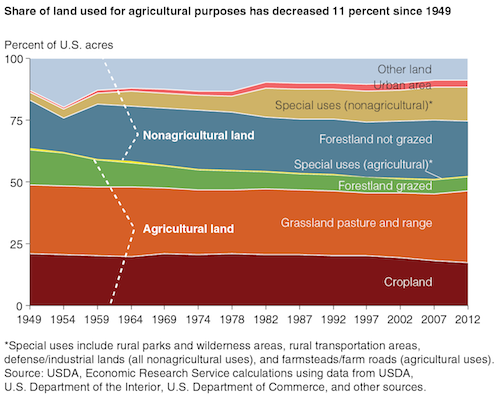 A vari­ety of fac­tors — such as com­mod­i­ty prices, weath­er, changes in tech­nol­o­gy, and Gov­ern­ment pro­grams — affect how crop­land is used. Between 2002 and 2012, a com­bi­na­tion of high com­mod­i­ty prices and drought con­di­tions influ­enced trends in crop­land use. Crop­land har­vest­ed, which accounts for the major­i­ty of crop­land use, increased by 8 mil­lion acres. Ris­ing com­mod­i­ty prices for corn and soy­beans, in par­tic­u­lar, con­tributed to the increase by incen­tiviz­ing farm­ers to plant addi­tion­al acres of these commodities.
In addi­tion, droughts in sev­er­al major crop-pro­duc­ing regions result­ed in above-aver­age failed crop­land acreage, reach­ing 17 mil­lion acres in 2002 and 13 mil­lion acres in 2011. Idled crop­land, a major­i­ty of which is enrolled in the Con­ser­va­tion Reserve Pro­gram (CRP), also increased dur­ing the most recent droughts despite a reduc­tion in land enrolled in the CRP. This sug­gests that some farm­ers vol­un­tar­i­ly removed land from crop pro­duc­tion because of poor grow­ing con­di­tions or con­strained irri­ga­tion water sup­plies. Land used for sum­mer fal­low declined by 3 mil­lion acres in recent years, par­tial­ly due to increased adop­tion of mois­ture-con­serv­ing pro­duc­tion prac­tices such as no-till and mulch-till.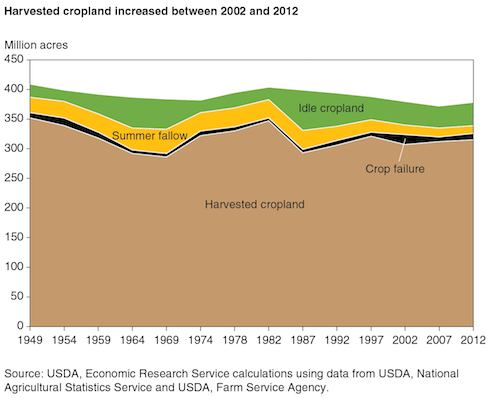 Land used for graz­ing pur­pos­es — com­prised of per­ma­nent grass­land pas­ture and range, grazed for­est-use land, and crop­land pas­ture — has exhib­it­ed a long-term decline since 1949. How­ev­er, between 2002 and 2012, total graz­ing land increased by 15 mil­lion acres. While crop­land pas­ture declined sub­stan­tial­ly in the most recent 10-year peri­od, this decline was more than off­set by a cor­re­spond­ing uptick in per­ma­nent pas­ture. These changes were large­ly a result of a reclas­si­fi­ca­tion of most land for­mer­ly labeled as crop­land pas­ture result­ing from changes in the 2007 and 2012 Cen­sus of Agri­cul­ture questionnaire.
The vast major­i­ty of graz­ing land is in per­ma­nent grass­land pas­ture and range use and, aside from the recent uptick, the acreage of land in this cat­e­go­ry remained rel­a­tive­ly sta­ble at 587 – 604 mil­lion acres between 1969 and 2002. As forests have been cleared from farm­land, a long-term decline in grazed forest­land of 186 mil­lion acres has tak­en place since the start of the MLU series. Between 2002 and 2012, grazed for­est-use land exhib­it­ed a small decline of 4 mil­lion acres.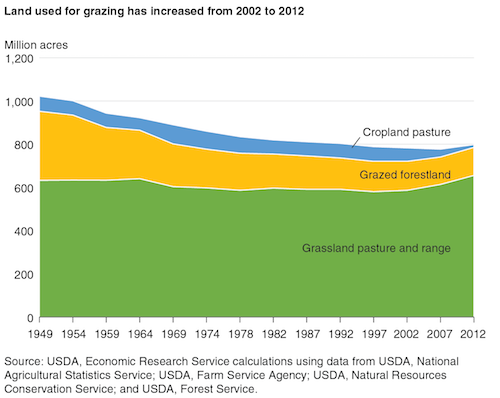 The dis­tri­b­u­tion of both agri­cul­tur­al and non-agri­cul­tur­al land uses varies sub­stan­tial­ly across the coun­try based on fac­tors such as soil, cli­mate, and fed­er­al and local poli­cies and pro­grams. Crop­land is con­cen­trat­ed in the Corn Belt and North­ern Plains regions, where sev­er­al States (includ­ing Iowa, Kansas, and Illi­nois) have more than half of their land base devot­ed to crop­land. Grass­land pas­ture and range account­ed for a large share of land in the Moun­tain (60 per­cent) and South­ern Plains (59 per­cent) regions. For­est-use land is main­ly found along the east­ern seaboard in the South­east (62 per­cent), North­east (59 per­cent), Delta States (58 per­cent), and Appalachia (57 per­cent) regions.
Urban land is most preva­lent in the North­east, where sev­er­al states have urban shares of rough­ly 40 per­cent (New Jer­sey, Rhode Island, Mass­a­chu­setts and Con­necti­cut). Although urban land use makes up a small frac­tion of the land base (3 per­cent), it has con­tin­u­al­ly increased over time in response to pop­u­la­tion and eco­nom­ic growth.
Increas­es in urban land are often off­set by declines in unde­vel­oped rur­al land (e.g., crop­land, pasture/​range and forest­land). Land-use changes between unde­vel­oped cat­e­gories are gen­er­al­ly reversible — but, once devel­oped, urban land rarely reverts back to an unde­vel­oped use. The Nation­al Resources Inven­to­ry reveals most new land devel­op­ment between 2007 and 2012 took place on land that was for­mer­ly in forest­land and crop­land uses.
("A Primer on Land Use in the Unit­ed States" was orig­i­nal­ly pub­lished by Amber Waves, a month­ly online mag­a­zine fea­tured on the USDA ERS web­site. The edi­to­r­i­al con­tent of Amber Waves is in the pub­lic domain and may be repro­duced with­out per­mis­sion. The larg­er ERS report from which this overview was adapt­ed can be accessed here.)
Daniel Bigelow
is a Research Agri­cul­tur­al Econ­o­mist in the Farm Econ­o­my Branch of the Rur­al and Resource Eco­nom­ics Divi­sion. He stud­ies land use and land val­u­a­tion, with par­tic­u­lar empha­sis on the micro­eco­nom­ic foun­da­tions through which aggre­gate land-use pat­terns and trends emerge. Addi­tion­al areas of research in which Dan holds an active inter­est are the eco­nom­ics of cli­mate change and water resources.