Minnesota Farm Towns Get Tired of Waiting, Form Broadband Cooperative With Neighbors
Seven years ago, Winthrop, Minnesota, population 1,400, decided it needed an internet upgrade.
Most local residents were served by companies like Mediacom, which Consumer Reports consistently ranked among the country's worst internet providers. Slow connection speeds made work difficult in local schools and businesses, but farmers outside of town, who increasingly rely on connectivity to do business, experienced the worst of it.
Fourteen miles from Winthrop, in Moltke Township, population 330, one soybean- and wheat-farming family reported its sluggish DSL connection often made it impossible to upload reports to business partners.
Organizers in Winthrop knew they were too small to fund a major internet infrastructure-building project on their own, so they reached out to other neighbors, the town of Gaylord, population 2,305.
And the towns attracted 25 more municipal allies.
Today, in this sparsely populated swath of Minnesota, a grassroots, member-owned cooperative spanning more than 700 square miles and four counties is poised to expand high-speed broadband access — without relying on federal funding. After seven years of development led by local leaders and volunteers, RS Fiber, now in its first phase of construction, is expected to deliver high-speed broadband internet to more than 6,000 rural households by 2021. And unlike companies like Mediacom, the co-op is owned by local customers who have a say in rates and how it's operated.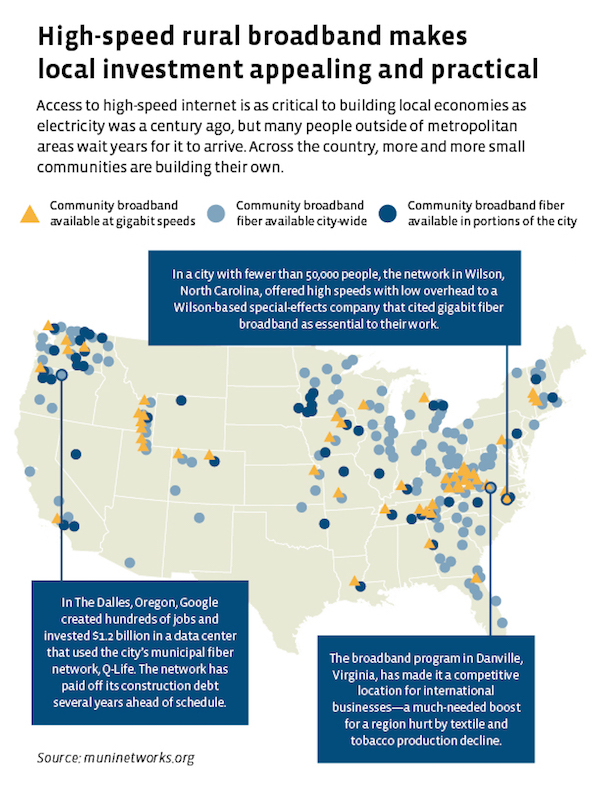 (Image: Yes! Infographic)
Attracting investors to build a high-investment network in low-density communities wasn't easy. To help raise seed funding, ten local governments issued bonds that covered half of the approximately $16 million required for the project's first phase. This model got local banks interested.
As long as local demand meets projections, revenue from the broadband network will more than repay government loans, and taxpayers won't owe a dime.
"That's the win-win," said Chris Mitchell, director of the Institute for Local Self-Reliance's Community Broadband Networks Initiative, who has studied the project. ​"It's a model in which local governments can take on the risk if they're willing, and local banks can get a very reasonable return."
High-speed internet has become as critical to economic development and quality of life as electricity was a century ago — a reality that's sparking community broadband investment from Greenfield, Massachusetts, to Independence, Oregon, to Cedar Falls, Iowa, where President Obama traveled last year to announce his plans to scale up broadband.
"We're going to clear away red tape. We're going to foster competition. We're going to help communities connect," he said to the crowd in Cedar Falls. ​"And the good news is we know it works because of you."
The president's highlighting of Cedar Falls was an obvious choice. Thanks to investments Cedar Falls made in community broadband two decades ago, the city's residents and businesses now have access to internet speeds faster than 1 gigabit per second (Gbps) — nearly 100 times the national average.
That's an asset that has attracted businesses that might otherwise have settled in larger cities with high-speed broadband networks. This distinction as a ​"Gigabit City" has helped turn Cedar Falls, population 40,500, into a Midwestern tech hub with unemployment below 3 percent. The early bet on broadband has helped the city attract and retain high-tech firms like Spinutech, a web design and digital marketing company, and host events like Product Camp Iowa, a conference for entrepreneurs and startup leaders.
"From an economic development standpoint, fiber optic high-speed Internet is the fifth utility," after electricity, gas, water, and sewer, said Lisa Skubal, vice president of economic development for the Cedar Valley Chamber of Commerce. ​"We live in such a globalized society right now that having broadband connectivity is imperative for businesses."
But even as the Gigabit City movement has caught fire, ​"Gigabit Farmtowns" — rural areas and very small towns with high-speed Internet — are difficult to find.
Last summer, Politico reported on the failure of dozens of rural broadband projects that received grants under the American Reinvestment and Recovery Act, the stimulus package that Obama signed in 2009, because of alleged mishandling of funds by the federal Rural Utilities Service (RUS). Meanwhile, projects without government support face even rockier odds of survival because utility companies and banks often consider it too risky to build expensive broadband networks in sprawling rural counties, where small populations don't support the same kind of market.
As a result, about half of rural residents still don't have access to high-speed broadband Internet.
"Those projects generally haven't done well," Mitchell said. ​"They couldn't crack the code for how to get them financed."
However, the RS Fiber project in rural Minnesota could soon flip that script, Mitchell says, because unlike other rural broadband co-ops, RS Fiber relied primarily on county and city bonding authority — not federal loans or grants — to finance the $45 million project. These local government partners then agreed to be repaid last if financial projections don't pan out, making it easier to recruit secondary investors, such as community banks.
"It's an incredible [approach] because it doesn't rely on states or the federal government," said Mitchell, who co-authored a case study about RS Fiber. ​"It allows communities to tap into their existing financial resources and borrowing capacity."
The stakes for RS Fiber's success are high in southern Minnesota, where access to broadband service is becoming increasingly critical for farmers using ​"smart" machinery, local businesses with e-commerce operations, and even students trying to keep up with their homework. One school district in RS Fiber's coverage area, for example, recently spent $335,000 to buy iPads for every high school student — only to find that inconsistent broadband access severely limited their use.
"We'll see students outside our local libraries or on the steps of school after hours, trying to find places to get access to the internet and do school work," said district superintendent Tami Martin.
District officials hope RS Fiber can help close that connectivity gap, though it's still not clear whether the co-op will offer a service option that's affordable for low-income families in the district. Under existing plans, the least expensive plan would cost $49.99 per month.
Still, Martin says she's optimistic, in part because the co-op and its leaders have roots in the community. ​"RS Fiber is out there asking us what we could use," she said. ​"It feels like more of a team effort than when you're trying to work with a big corporation."
Construction on the fiber optic network is already underway, but RS Fiber still faces some potential stumbling blocks, including the threat that rival Internet Service Providers will lower their prices to siphon away demand. If that happens, the venture could end up losing money, leaving taxpayers on the hook to repay government bonds.
But Mitchell thinks that's unlikely. ​"People who don't care about their quality of access might take service from Frontier or Century Link at rock-bottom prices," he said, referring to the fact those companies don't offer high-speed fiber. ​"But I don't think either of those ISPs are likely to engage in a round of updates to be at all competitive on speed."
Once complete, the RS Fiber network is expected to match the 1 gigabit top speeds of cities like Cedar Falls, a milestone that would make southern Minnesota the envy of rural America. According to recent data, only 55 percent of rural residents have access to broadband internet faster than even 25 Mbps (compared to 94 percent of urbanites). Moreover, the investment already holds promise for boosting the local economy. In May 2015, the Minnesota College of Osteopathic Medicine announced plans to set up services in an old school building in Gaylord — a decision officials said was because of RS Fiber's infrastructure investment.
"There's a lot of need out there," said Brandon McBride, who took over as administrator of the then-embattled Rural Utilities Service in 2015. ​"There's a great opportunity to work in these local communities and build out the infrastructure." The RUS is helping expand broadband access to places like McCreary County, Kentucky, and Burnsville, North Carolina, but its annual budget is nowhere near enough to make broadband access universal.
That's why experts like Mitchell are excited about RS Fiber, which could offer other rural communities a framework for financing rural broadband networks without government support. ​"I don't want to say that everyone can do this, but a lot of places could do it if they had this effort," Mitchell said. ​"And I don't think anyone's going to have to go through the same level of challenge again, because now there's a model."
This article was originally featured on the YES! Magazine website and is reposted here in accordance with their sharing policy.
For a limited time:
Donate $20 or more to In These Times and we'll send you a copy of Let This Radicalize You.
In this new book, longtime organizers and movement educators Mariame Kaba and Kelly Hayes examine the political lessons of the Covid-19 pandemic and its aftermath, including the convergence of mass protest and mass formations of mutual aid. Let This Radicalize You answers the urgent question: What fuels and sustains activism and organizing when it feels like our worlds are collapsing?
We've partnered with the publisher, Haymarket Books, and 100% of your donation will go towards supporting In These Times.
Ben DeJarnette
wrote this article for
YES! Magazine
. Ben is a freelancer writer based in Portland, Oregon. His work on rural economic issues has been featured in print and online for InvestigateWest, High Country News, Oregon Business, and others. Follow him on Twitter at @BenDJduck