The Con­ver­sa­tion, an online resource that describes itself as ​"an inde­pen­dent source of news and views from the aca­d­e­m­ic and research com­mu­ni­ty," asked soci­ol­o­gists, econ­o­mists, geo­g­ra­phers and his­to­ri­ans to describe the fac­tors that con­tribute to the dif­fer­ences between life in rur­al and urban Amer­i­ca. Con­trib­u­tor attri­bu­tions are not­ed in ital­ics at the end of their respec­tive sections.
Pover­ty is high­er in rur­al areas
Dis­cus­sions of pover­ty in the Unit­ed States often mis­tak­en­ly focus on urban areas. While urban pover­ty is a unique chal­lenge, rates of pover­ty have his­tor­i­cal­ly been high­er in rur­al than urban areas. In fact, lev­els of rur­al pover­ty were often dou­ble those in urban areas through­out the 1950s and 1960s.
While these rur­al-urban gaps have dimin­ished marked­ly, sub­stan­tial dif­fer­ences per­sist. In 2015, 16.7 per­cent of the rur­al pop­u­la­tion was poor, com­pared with 13.0 per­cent of the urban pop­u­la­tion over­all — and 10.8 per­cent among those liv­ing in sub­ur­ban areas out­side of prin­ci­pal cities.
(Source: 2016 March Cur­rent Pop­u­la­tion Sur­vey Pub­lic Use Micro­da­ta Get the data)
Con­trary to com­mon assump­tions, sub­stan­tial shares of the poor are employed. Approx­i­mate­ly 45 per­cent of poor, prime-age (25−54) house­hold­ers worked at least part of 2015 in rur­al and urban areas alike.
The link between work and pover­ty was dif­fer­ent in the past. In the ear­ly 1980s, the share of the rur­al poor that was employed exceed­ed that in urban areas by more than 15 per­cent. Since then, more and more poor peo­ple in rur­al areas are also unem­ployed — a trend con­sis­tent with oth­er pat­terns doc­u­ment­ed below.
That said, rur­al work­ers con­tin­ue to ben­e­fit less from work than their urban coun­ter­parts. In 2015, 9.8 per­cent of rur­al, prime-age work­ing house­hold­ers were poor, com­pared with 6.8 per­cent of their urban coun­ter­parts. Near­ly a third of the rur­al work­ing poor faced extreme lev­els of depri­va­tion, with fam­i­ly incomes below 50 per­cent of the pover­ty line, or approx­i­mate­ly $12,000 for a fam­i­ly of four.
Large shares of the rur­al work­force also live in eco­nom­i­cal­ly pre­car­i­ous cir­cum­stances just above the pover­ty line. Near­ly one in five rur­al work­ing house­hold­ers lived in fam­i­lies with incomes less than 150 per­cent of the pover­ty line. That's near­ly five per­cent­age points more than among urban work­ers (13.5 percent).
Accord­ing to recent research, rur­al-urban gaps in work­ing pover­ty can­not be explained by rur­al work­ers' lev­els of edu­ca­tion, indus­try of employ­ment or oth­er sim­i­lar fac­tors that might affect earn­ings. Rur­al pover­ty — at least among work­ers — can­not be ful­ly explained by the char­ac­ter­is­tics of the rur­al pop­u­la­tion. That means reduc­ing rur­al pover­ty will require atten­tion to the struc­ture of rur­al economies and com­mu­ni­ties.
– Bri­an Thiede, assis­tant pro­fes­sor of rur­al soci­ol­o­gy and demog­ra­phy, Penn­syl­va­nia State University
Most new jobs are not in rur­al areas
It's easy to see why many rur­al Amer­i­cans believe the reces­sion nev­er end­ed: For them, it hasn't.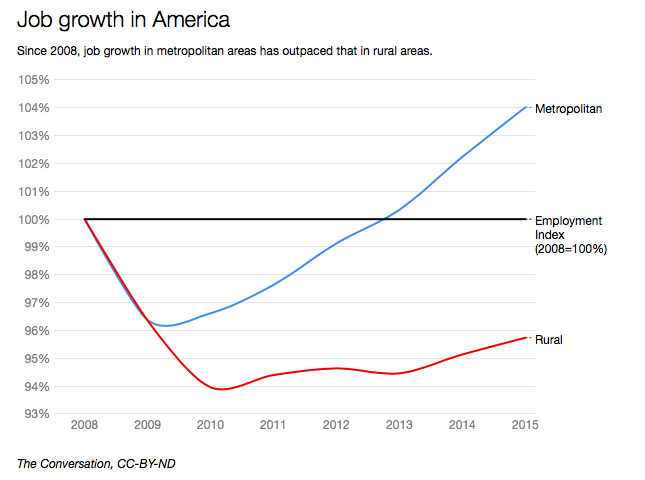 (Source: Inte­grat­ed Pub­lic Use Micro­da­ta Series: Ver­sion 6.0, 2008 – 2015 ACS.)
Rur­al com­mu­ni­ties still haven't recov­ered the jobs they lost in the reces­sion. Cen­sus data show that the rur­al job mar­ket is small­er now — 4.26 per­cent small­er, to be exact — than it was in 2008. In these data are shut­tered coal mines on the edges of rur­al towns and board­ed-up gas sta­tions on rur­al main streets. In these data are the angers, fears and frus­tra­tions of much of rur­al America.
This isn't a new trend. Mech­a­niza­tion, envi­ron­men­tal reg­u­la­tions and increased glob­al com­pe­ti­tion have been slow­ly whit­tling away at resource extrac­tion economies and dri­ving jobs from rur­al com­mu­ni­ties for most of the 20th cen­tu­ry. But the fact that what they're expe­ri­enc­ing now is sim­ply the cold con­se­quences of his­to­ry like­ly brings lit­tle com­fort to rur­al peo­ple. If any­thing, it only adds to their fear that what they once had is gone and it's nev­er com­ing back.
Nor is it like­ly that the slight increase in rur­al jobs since 2013 brings much com­fort. As the resource extrac­tion econ­o­my con­tin­ues to shrink, most of the new jobs in rur­al areas are being cre­at­ed in the ser­vice sec­tor. So Appalachi­an coal min­ers and North­west log­gers are now stock­ing shelves at the local Walmart.
The iden­ti­ty of rur­al com­mu­ni­ties used to be root­ed in work. The signs at the entrances of their towns wel­comed vis­i­tors to coal coun­try or tim­ber coun­try. Towns named their high school mas­cots after the work that sus­tained them, like the Jor­dan Beet­pick­ers in Utah or the Camas Paper­mak­ers in Wash­ing­ton. It used to be that, when some­one first arrived at these towns, they knew what peo­ple did and that they were proud to do it.
That's not so clear any­more. How do you com­mu­ni­cate your com­mu­nal iden­ti­ty when the work once at the cen­ter of that iden­ti­ty is gone, and call­ing the local high school foot­ball team the ​"Wal­mart Greeters" sim­ply doesn't have the same ring to it?
Look­ing at rur­al jobs data, is it so hard to under­stand why many rur­al peo­ple are nos­tal­gic for the past and fear­ful for the future?
-Steven Beda, instruc­tor of his­to­ry, Uni­ver­si­ty of Oregon
Dis­abil­i­ties are more com­mon in rur­al areas
Dis­abil­i­ty mat­ters in rur­al Amer­i­ca. Data from the Amer­i­can Com­mu­ni­ty Sur­vey, an annu­al gov­ern­ment poll, reveal that dis­abil­i­ty is more preva­lent in rur­al coun­ties than their urban counterparts.
The rate of dis­abil­i­ty increas­es from 11.8 per­cent in the most urban met­ro­pol­i­tan coun­ties to 15.6 per­cent in small­er microp­oli­tan areas and 17.7 per­cent in the most rur­al, or non­core, counties.

(Source: RTC: Rur­al Get the data)
While rur­al-urban dif­fer­ences in dis­abil­i­ty have been ana­lyzed pre­vi­ous­ly, researchers have had lit­tle oppor­tu­ni­ty to fur­ther explore this dis­par­i­ty, as updat­ed data on rur­al dis­abil­i­ty were unavail­able until recent­ly. For­tu­nate­ly, the cen­sus released updat­ed new coun­ty-lev­el dis­abil­i­ty esti­mates in 2014, end­ing a 14-year knowl­edge gap.
The release of these esti­mates has also allowed us to build a pic­ture of geo­graph­ic vari­a­tions in dis­abil­i­ty across the nation. Dis­abil­i­ty rates vary sig­nif­i­cant­ly across the Unit­ed States. Although the nation­al trend of high­er dis­abil­i­ty rates in rur­al coun­ties per­sists at the region­al and even divi­sion­al lev­el, it is clear that dis­abil­i­ty in rur­al Amer­i­ca is not homo­ge­neous. Rates of rur­al dis­abil­i­ty range from around 15 per­cent in the Great Plains to 21 per­cent in the cen­tral South.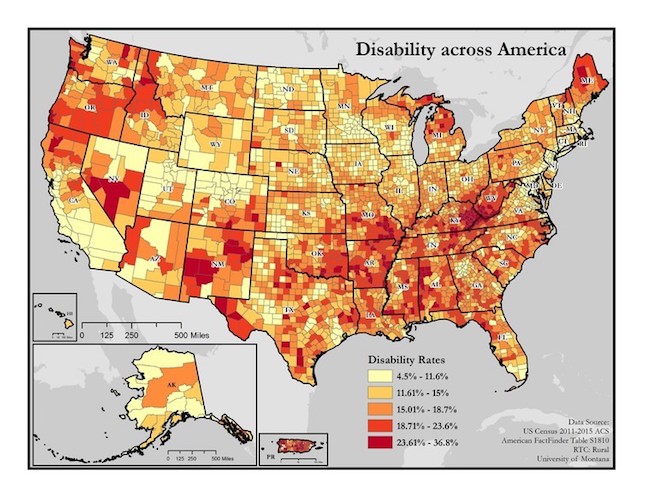 Data reveal notable dif­fer­ences between rur­al and urban Amer­i­ca. (Source: Amer­i­can Com­mu­ni­ty Sur­vey (ACS) 2011 – 2015 5 year esti­mates, Table S1810)
A vari­ety of fac­tors may be behind these region­al and rur­al dif­fer­ences, includ­ing dif­fer­ences in demo­graph­ics, eco­nom­ic pat­terns, health and ser­vice access and state dis­abil­i­ty poli­cies.
While this sur­vey pro­vides a glimpse into the nation­al preva­lence of dis­abil­i­ty and reveals a per­sis­tent rur­al-urban dis­par­i­ty, it is impor­tant to note its lim­i­ta­tions. Dis­abil­i­ty is the result of an inter­ac­tion between an indi­vid­ual and his or her envi­ron­ment. There­fore, these data do not direct­ly mea­sure dis­abil­i­ty, as they mea­sure only phys­i­cal func­tion and do not con­sid­er envi­ron­men­tal fac­tors such as inac­ces­si­ble hous­ing.
– Lil­lie Greiman and Andrew Myers, project direc­tors at the Rur­al Insti­tute for Inclu­sive Com­mu­ni­ties at the Uni­ver­si­ty of Mon­tana; Chris­tiane von Reichert, pro­fes­sor of geog­ra­phy, Uni­ver­si­ty of Montana
Rur­al areas are sur­pris­ing­ly entrepreneurial
The Unit­ed States' con­tin­u­ing eco­nom­ic dom­i­nance is per­haps most attrib­ut­able to the very small­est ele­ments of its econ­o­my: its entre­pre­neur­ial start-ups. Near­ly 700,000 new job-cre­at­ing busi­ness­es open each year. That's almost 2,000 every day, each help­ing to cre­ate new mar­ket nich­es in the glob­al economy.
Most peo­ple mis­tak­en­ly believe these pio­neer­ing estab­lish­ments occur in over­whelm­ing­ly in met­ro­pol­i­tan areas, such as in the now-myth­ic start-up cul­ture of Sil­i­con Valley.
Yet, accord­ing to the U.S. Cen­sus Bureau, it is in fact non­metro­pol­i­tan coun­ties that have high­er rates of self-employed busi­ness pro­pri­etors than their met­ro­pol­i­tan counterparts.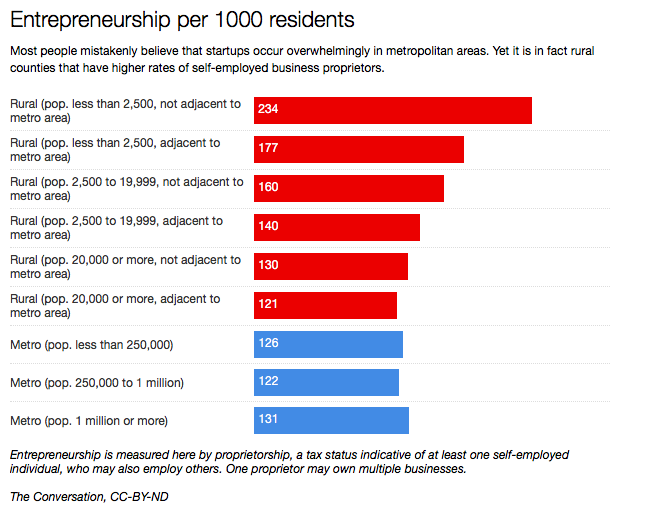 (Source: Authors' analy­sis of data from the Bureau of Eco­nom­ic Analy­sis Get the data)
Fur­ther­more, the more rur­al the coun­ty, the high­er its lev­el of entre­pre­neur­ship. Some of these coun­ties have a farm­ing lega­cy — per­haps the most entre­pre­neur­ial of occu­pa­tions — but farm­ers rep­re­sent less than one-sixth of busi­ness own­ers in non­metro areas. Even for non­farm enter­pris­es, rur­al entre­pre­neur­ship rates are higher.
The real­i­ty is that rur­al areas have to be entre­pre­neur­ial, as indus­tries with con­cen­tra­tions of wage and salary jobs are nec­es­sar­i­ly scarce.
Start-up busi­ness­es have noto­ri­ous­ly dif­fi­cult sur­vival prospects. So it is per­haps even more sur­pris­ing that rel­a­tive­ly iso­lat­ed non­metro­pol­i­tan busi­ness­es are on aver­age more resilient than their metro cousins, despite the con­sid­er­able eco­nom­ic advan­tages of urban areas, which boast a denser net­works of work­ers, sup­pli­ers and mar­kets. The resilience of rur­al start-ups is per­haps due to more cau­tious busi­ness prac­tices in areas with few alter­na­tive employ­ment options.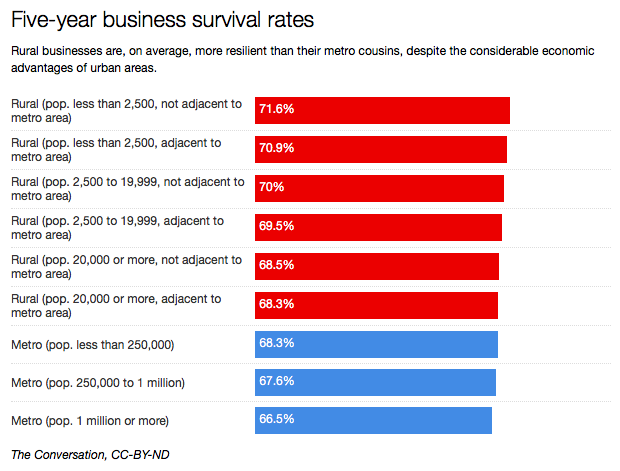 (Source: Authors' analy­sis of data from the Nation­al Estab­lish­ment Time Series Get the data)
This resilience is also remark­ably per­sis­tent over time, con­sis­tent­ly being at least on par with metro start-ups, and reg­u­lar­ly hav­ing sur­vival rates up to 10 per­cent­age points high­er than in metro areas over 1990 – 2007.
– Stephan Weil­er, pro­fes­sor of eco­nom­ics, Col­orado State Uni­ver­si­ty; Tes­sa Con­roy and Steve Deller, pro­fes­sors of eco­nom­ics, Uni­ver­si­ty of Wisconsin-Madison
("Six Charts that Illus­trate the Divide Between Rur­al and Urban Amer­i­ca" was first pub­lished on The Con­ver­sa­tion.)
[If you like what you've read, help us spread the word. ​

"

Like" Rur­al Amer­i­ca In These Times on Face­book. Click on the ​

"

Like Page" but­ton below the bear on the upper right of your screen. Also, fol­low RAITT on Twit­ter @RuralAmericaITT]
The Con­ver­sa­tion
is an inde­pen­dent source of news and views from the aca­d­e­m­ic and research com­mu­ni­ty — deliv­ered direct­ly to the pub­lic through Cre­ative Com­mons repub­li­ca­tion. Aim­ing to rebuild pub­lic trust in jour­nal­ism, the orga­ni­za­tion believes ​
"
Access to inde­pen­dent, high qual­i­ty, authen­ti­cat­ed, explana­to­ry jour­nal­ism under­pins a func­tion­ing democracy."