$44,000 for Air Ambulances, Hour-Long Rides to an ER—The High Cost of Healthcare in Appalachia
Rural hospitals are closing or downgrading at an alarming rate. That could be fatal.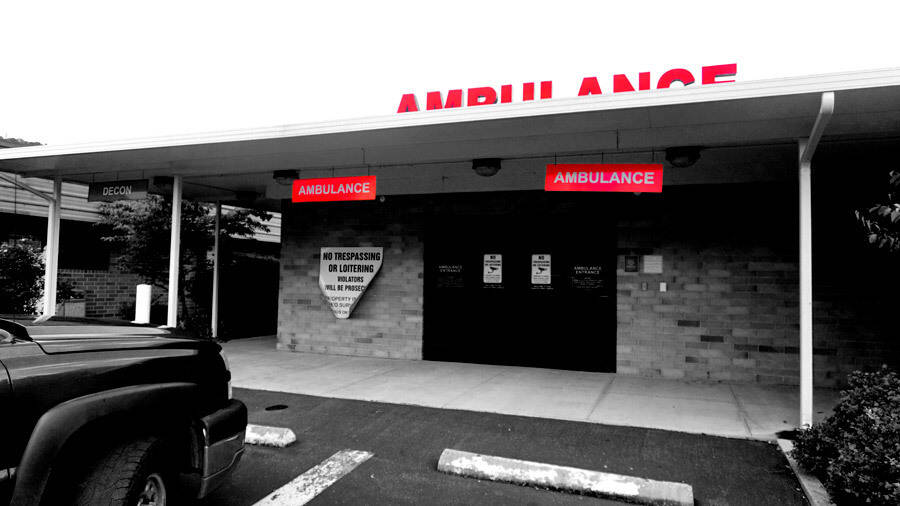 When Heather Edwards' con­trac­tions began three months ear­ly, in March, she wor­ried about the long dri­ve to the hos­pi­tal from her home nes­tled in the Appalachi­an Moun­tains in Jonesville, Va., a town of few­er than 1,000 peo­ple. Edwards, 32, was car­ry­ing quadru­plets and hers was con­sid­ered a high-risk preg­nan­cy. The near­est hos­pi­tal with a neona­tal inten­sive care unit (NICU) was an hour away in Kingsport, Tenn., Hol­ston Val­ley Med­ical Center.
For the residents of rural Appalachia, long drives for emergency care are often a matter of life and death.
A decade ago she could have found an emer­gency room, if not a NICU, 10 min­utes up the road at Lee Coun­ty Region­al Med­ical Cen­ter in Pen­ning­ton Gap, Va., but the hos­pi­tal closed in 2013 due to low com­mu­ni­ty use, a lack of local physi­cians and Virginia's refusal to expand Med­ic­aid, which left the state's rur­al hos­pi­tals to pro­vide uncom­pen­sat­ed care to unin­sured patients. In 2012, the Lee Coun­ty hos­pi­tal was near­ly $2.5 mil­lion in the red.
Neigh­bor­ing coun­ties do have emer­gency rooms, but none offered the NICU care Edwards need­ed. She decid­ed to make the 44-mile dri­ve along twisty moun­tain roads to Hol­ston Val­ley Med­ical Center.
"If I went to [a dif­fer­ent hos­pi­tal], they were just going to fly me to Hol­ston Val­ley or the [next] clos­est NICU," Edwards says. ​"It would have been a waste of time."
Edwards bare­ly made it. Moments after she arrived, ​"every­thing just broke loose, and I went into labor," Edwards says. ​"They tried to stop it and couldn't. I had an emer­gency C‑section."
Edwards con­sid­ers her­self lucky. For the res­i­dents of rur­al Appalachia, long dri­ves for emer­gency care are often a mat­ter of life and death.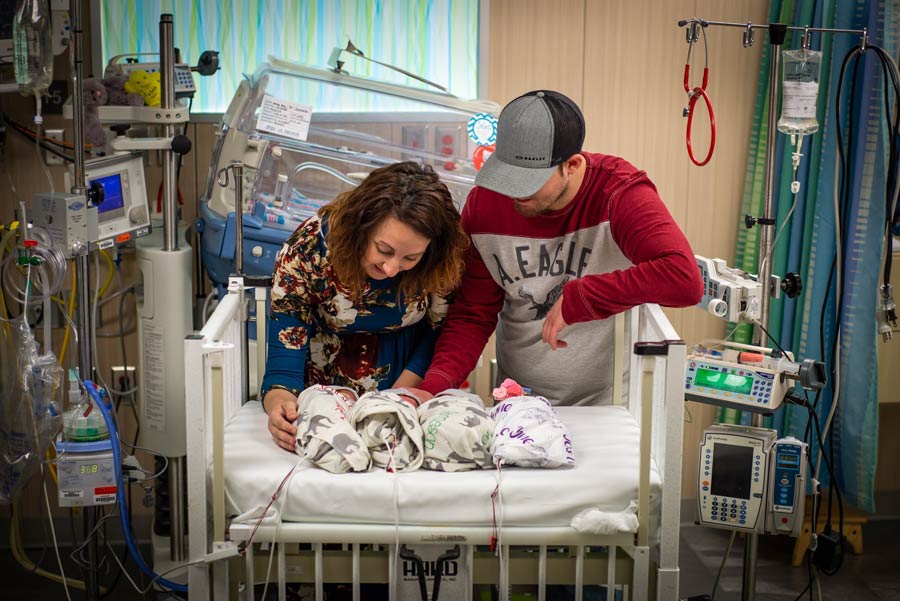 (Heather Edwards deliv­ered quadru­plets at Holton Val­ley Med­ical Cen­ter in March. Edwards was dis­charged two days lat­er, but her babies remained in the inten­sive care unit for weeks. Dur­ing that time, Edwards drove from Jonesville to Kingsport, a two-hour round trip, almost dai­ly. Pho­to cour­tesy of Heather Edwards)
Lee County's pop­u­la­tion reflects that of many rur­al com­mu­ni­ties in Amer­i­ca: aging, most­ly poor res­i­dents who strug­gle with long-term con­di­tions that require ongo­ing, often expen­sive, care. The medi­an house­hold income in Lee Coun­ty is $32,590 — less than half of Virginia's $68,766 and slight­ly more than half of the nation­al $61,937. Lee County's pover­ty rate is 28.2%, and about 12.5% of the county's res­i­dents under 65 are unin­sured, high­er than the statewide aver­age of 10.2%, and the pop­u­la­tion is aging, with all age groups except 65 and old­er in decline.
Despite the need, 113 rur­al hos­pi­tals have closed across the Unit­ed States since 2010, accord­ing to the North Car­oli­na Rur­al Health Research Pro­gram at the Uni­ver­si­ty of North Car­oli­na. Anoth­er 673, about a third of those that remain, were at risk of clos­ing in 2016, accord­ing to the Nation­al Rur­al Health Association.
"For me to dri­ve five miles more to get access to hos­pi­tal care is not a big deal," says George Pink, deputy direc­tor of the North Car­oli­na Rur­al Health Research Pro­gram. ​"But if you're old or dis­abled, if you're poor, trav­el­ing 4, 10, 16 miles — that could be a big enough bar­ri­er to for­go care."
DOWN­GRAD­ING HEALTH
About six months after Edwards deliv­ered her babies, on Sep­tem­ber 1, Hol­ston Val­ley Med­ical Center's NICU closed. On Octo­ber 1, Bal­lad Health, the non­prof­it that owns the hos­pi­tal, also down­grad­ed the trau­ma cen­ter from lev­el 1 to lev­el 3, mean­ing there would be few­er doc­tors and a small­er range of med­ical ser­vices. Now, the near­est lev­el 1 trau­ma cen­ter and NICU are in John­son City, Tenn., 66 miles from Jonesville; the next clos­est are 97 miles away in Knoxville, Tenn., 166 miles in Lex­ing­ton, Ky., and 206 miles in Roanoke, Va.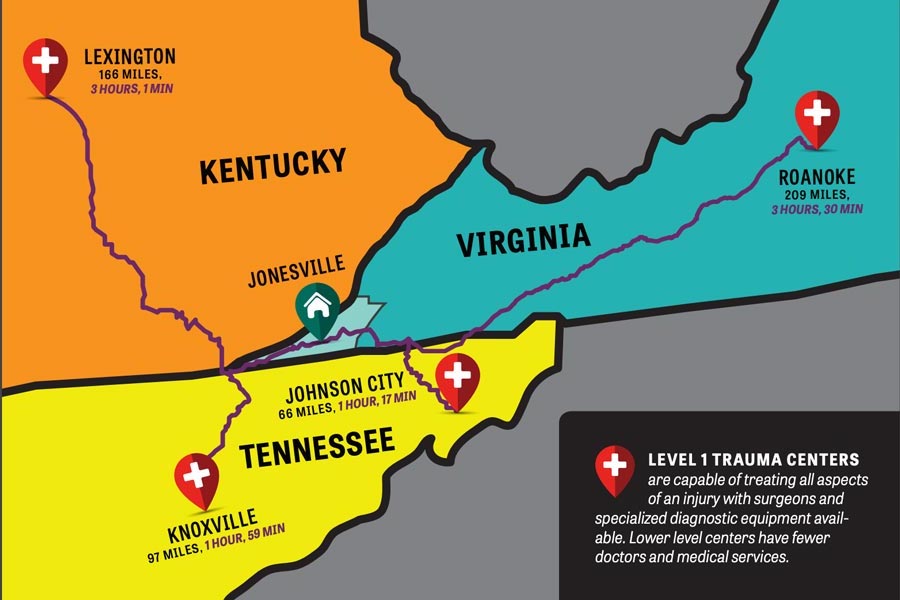 (The 4 clos­est lev­el 1 trau­ma cen­ters to Jonesville, Va.)
Protests began out­side the Hol­ston Val­ley hos­pi­tal May 2, the day after the state of Ten­nessee approved Ballad's plans to close the NICU. Dani Cook, 46, joined because her grand­daugh­ter was born at Hol­ston Val­ley weigh­ing just over a pound; she learned about Ballad's NICU plans a year and a day after her grand­daugh­ter came home.
"I jumped on Face­book Live and said, ​'That's what hap­pens when hos­pi­tals put prof­it over peo­ple, in this case babies,'" Cook says. She has been involved in the protest ever since. She post­ed a wide­ly shared image on Face­book that lists dis­tances from rur­al area com­mu­ni­ties to the clos­est lev­el 1 trau­ma care cen­ter in John­son City, along with the ques­tion, ​"Will you make it??!"
By late June, on the 58th day of the Hol­ston Val­ley protest, Bal­lad banned Cook from the hos­pi­tal grounds, with then-CEO Lindy White writ­ing that Cook ​"repeat­ed­ly inter­fered with patient care by enter­ing patient rooms, dis­agree­ing with nurs­es and physi­cians over treat­ment plans." As this issue went to press in ear­ly Octo­ber, the protests have con­tin­ued for more than 150 days.
Bal­lad has a vir­tu­al monop­oly in the region, part of an emerg­ing trend of rur­al hos­pi­tals owned by large non­prof­its oper­at­ing with lit­tle or no com­pe­ti­tion. With 21 hos­pi­tals serv­ing 1.2 mil­lion peo­ple, Bal­lad dom­i­nates rur­al, eco­nom­i­cal­ly depressed south­west Vir­ginia and north­east Ten­nessee as the lead­ing provider of inpa­tient hos­pi­tal services.
Bal­lad emerged in 2018 from the con­sol­i­da­tion of two com­pet­ing non­prof­its that ran up big debts: Moun­tain States Health Alliance and Well­mont Health Sys­tem. Ballad's Direc­tor of Com­mu­ni­ca­tions Tere­sa Hicks says the debts were incurred due to waste­ful and unnec­es­sary dupli­ca­tion of ser­vices. The non­prof­it received a Cer­tifi­cate of Pub­lic Advan­tage (COPA) — which allows states to approve merg­ers in exchange for var­i­ous legal com­mit­ments — in Ten­nessee and a sim­i­lar coop­er­a­tive agree­ment in Vir­ginia to escape fed­er­al over­sight over poten­tial monop­oly prob­lems, includ­ing effects on pric­ing, access and quality.
In Vir­ginia, Bal­lad agreed to 49 con­di­tions as part of its coop­er­a­tive agree­ment, includ­ing a com­mit­ment to pro­vide 11 ​"essen­tial ser­vices" that include things typ­i­cal­ly found in a hos­pi­tal, includ­ing emer­gency room sta­bi­liza­tion. It was a vic­to­ry of sorts for the Lee Coun­ty Hos­pi­tal Author­i­ty (LCHA), a group formed by the coun­ty board of super­vi­sors in 2014 in an attempt to keep the hos­pi­tal going.
As this issue went to press, Bal­lad offi­cials said the Lee Coun­ty hos­pi­tal would reopen as an urgent care cen­ter in Octo­ber, and as a crit­i­cal access hos­pi­tal by fall 2020, but the process has dragged on and locals remain skeptical.
Alan Bai­ley, who heads up Lee Coun­ty E‑911, a res­cue squad dis­patch­er, says, ​"I'm not going to believe a word I hear out of the Bal­lad folks until I see the doors open and the peo­ple there."
Even if the hospital's emer­gency ser­vices return in 2020, J. Scott Lit­ton Jr., 46, a Lee Coun­ty native and mem­ber of the LCHA who has prac­ticed as a fam­i­ly physi­cian since 2003, says he doubts it will ever be what it once was. ​"We had a ful­ly func­tion­al hos­pi­tal with an inten­sive care unit, a med­ical sur­geon and an oper­a­tion sur­gi­cal suite," Lit­ton says. ​"Prob­a­bly what we'll get … is an emer­gency room and some crit­i­cal beds for access patients. But any­one requir­ing a car­di­ol­o­gy con­sul­ta­tion or sur­gi­cal con­sul­ta­tion is going to be trans­ferred" — to Big Stone Gap, Kingsport, John­son City or some­where else.
In their merg­er appli­ca­tion, Moun­tain States and Well­mont argued that con­sol­i­da­tion was the only way to main­tain high-qual­i­ty, cost-effec­tive care and local gov­er­nance. In 2018, Bal­lad closed four urgent care cen­ters — in Abing­don, Va., and John­son City, Kingsport and Greeneville, Tenn. — where its pre­de­ces­sors had main­tained com­pet­ing facil­i­ties. In addi­tion to down­grad­ing the trau­ma lev­el of the Hol­ston Val­ley hos­pi­tal in Kingsport, Bal­lad will down­grade anoth­er trau­ma cen­ter in Bris­tol, Tenn., in 2021.
Bal­lad offi­cials con­tend these changes will enable it to sur­vive in the fourth-low­est wage index area in the coun­try while cre­at­ing a bet­ter health­care sys­tem. Accord­ing to Ballad's infor­ma­tion sheets, the changes will ​"bet­ter inte­grate our high­ly-skilled trau­ma experts … to ensure assess­ment and rapid trans­port of patients to the cen­ter most appro­pri­ate for the patient's needs."
Cook and oth­er local res­i­dents believe these changes will mean high­er med­ical bills and a crit­i­cal loss of care access. Mul­ti­ple stud­ies have con­sis­tent­ly shown that hos­pi­tal con­sol­i­da­tions result in high­er prices for ser­vices, at least for those with pri­vate insur­ance. Ballad's Hicks says that, since the merg­er, charges for physi­cian vis­its were reduced by an aver­age of 17%, and a 77% dis­count for unin­sured patients was adopt­ed. Hicks also says Bal­lad has increased eli­gi­bil­i­ty for free care, and offers no-inter­est pay­ment plans as low as $50 per month.
Whether con­sol­i­da­tion caus­es loss of access to ser­vices is more dif­fi­cult to assess. Nonethe­less, con­sol­i­da­tion can result in con­fu­sion and frus­tra­tion for patients as they adjust to changes in every­thing from drug prices to what ser­vices are offered at which facilities.
Tere­sa All­go­od, 67, has seen her med­ical costs sky­rock­et since the Bal­lad con­sol­i­da­tion. For four years, All­go­od received infu­sions of INFeD every three or four months to treat her lupus and oth­er autoim­mune dis­or­ders at Kingsport Hema­tol­ogy and Oncol­o­gy, known local­ly as Allen­dale. Each infu­sion took a day to admin­is­ter and cost around $3,500, she says. Once Bal­lad took over, how­ev­er, her reg­i­men changed. Bal­lad enrolled in a fed­er­al drug dis­count pro­gram called 340B, at which point Bal­lad took All­go­od off INFeD and put her on Fer­a­heme. Fer­a­heme infu­sions required com­ing in twice, sev­en days apart, and were much more expensive.
"The bill for the first infu­sion that Bal­lad was respon­si­ble for was $13,449.28," All­go­od says.
In late 2018, Bal­lad closed the Allen­dale facil­i­ty and redi­rect­ed patients to a new can­cer cen­ter at Indi­an Path Com­mu­ni­ty Hos­pi­tal in Kingsport.
Bal­lad again changed Allgood's med­ica­tion, this time to Injectafer. All­go­od received two treat­ments in March and says she is still wait­ing for the bill.
Although All­go­od has now switched back to Fer­a­heme treat­ments with a dif­fer­ent provider, Ten­nessee Can­cer Spe­cial­ists in John­son City, she expects her month­ly insur­ance pre­mi­um to increase because of the more expen­sive treatments.
"Folks end up in court with the attor­neys from Bal­lad suing these peo­ple who nev­er received a bill, and then their bills have been turned to col­lec­tions," All­go­od says. Hicks says Bal­lad does not sue patients who have not received a bill.
Bal­lad filed 5,713 law­suits against patients in its 2019 fis­cal year, seek­ing pay­ment for unpaid med­ical bills. In Vir­ginia, Bal­lad first files a law­suit against patients, which — if Bal­lad wins the case — allows it to more aggres­sive­ly seek pay­ment, some­times by gar­nish­ing a patient's wages.
Since Octo­ber 2018, Bal­lad has filed 88 suits (plus 16 wage gar­nish­ments) against patients in Lee Coun­ty. In neigh­bor­ing Wise Coun­ty, Bal­lad has filed 158 suits (plus 21 wage gar­nish­ments). When patients don't appear in court, which is often, Bal­lad wins by default; when they do appear, they almost nev­er have a lawyer.
Bal­lad is not the only non­prof­it med­ical group to pur­sue debts via law­suits. It's a stan­dard indus­try prac­tice, and one car­ried out by both of its pre­de­ces­sor com­pa­nies. To patients strug­gling on fixed incomes, though, it can feel like a pun­ish­ment for falling ill.
A STATE OF DECLINE
Rur­al areas strug­gle to pro­vide health­care access for a num­ber of rea­sons—includ­ing depop­u­la­tion, a nation­al nurs­ing short­age and the depar­ture of tal­ent­ed young peo­ple, which leave an old­er and poor­er patient pop­u­la­tion than in urban areas. Access to health insur­ance is anoth­er issue. George Pink says rur­al hos­pi­tals tend to serve a big­ger per­cent­age of unin­sured and Med­ic­aid patients than urban hospitals.
South­west Vir­gini­ans have had access to only one insur­er since 2017. For a brief peri­od in 2018, it appeared that 58 local­i­ties, most­ly in west­ern Vir­ginia, would be cov­ered by no insur­er in the fed­er­al mar­ket­place at all, before Anthem even­tu­al­ly became the lone provider.
The major­i­ty of the country's 113 rur­al hos­pi­tal clo­sures are clus­tered in the South, coin­cid­ing with the fact that few South­ern states have expand­ed Med­ic­aid under the Afford­able Care Act, which pro­vides extra fed­er­al fund­ing to ben­e­fit rur­al hos­pi­tals. Despite Med­ic­aid expansion's pop­u­lar­i­ty among vot­ers nation­wide, 13 Repub­li­can-dom­i­nat­ed state leg­is­la­tures in the South reject­ed Med­ic­aid expan­sion over con­cerns about costs — and, arguably, to deny Pres­i­dent Barack Oba­ma a polit­i­cal victory.
Vir­ginia lost two rur­al hos­pi­tals before it final­ly expand­ed Med­ic­aid in Jan­u­ary. Ten­nessee, which still has not expand­ed Med­ic­aid, has seen 12 hos­pi­tals close since 2010.
A LONG WAY TO GO
Lit­ton says before Lee Coun­ty's hos­pi­tal closed, ​"we would have patients come to the office all the time who were short of breath, hav­ing chest pain — and we'd put them in a wheel­chair and roll them down to the ER. Since the hos­pi­tal closed, we've had to call the ambu­lance or call heli­copters to get peo­ple to the care they need."
Not all of those patients make it.
And with­out a hos­pi­tal close by, Lee County's vol­un­teer res­cue squads have much far­ther to trav­el. For much of the 70-mile-wide coun­ty, the near­est hos­pi­tal is in Big Stone Gap, Va. In the west­ern­most end, it's Mid­dles­boro or Har­lan, both in Kentucky.
The rur­al ter­rain adds to the trav­el time. ​"We have iso­lat­ed areas with one road in and one road out," says Lee Coun­ty Sher­iff Gary Par­sons. ​"It may take you 45 min­utes to get an ambu­lance in, and 45 min­utes out before you hit a main road. That's if you can even get an ambu­lance. If there are two crews [on duty], but they're both tak­ing peo­ple to hos­pi­tals some­where else, you could have some­one hav­ing a heart attack, the dis­patch­er beg­ging for help — and an ambu­lance may still be an hour away."
The county's res­cue squads have seen their time spent on each emer­gency call swell since the hos­pi­tal closed. Jonesville Res­cue Squad went from an aver­age of 72 min­utes to clear a call in 2012, the year before the hos­pi­tal closed, to 112 min­utes for the first eight months of 2019, accord­ing to data pro­vid­ed by Alan Bai­ley. The squad in Pen­ning­ton Gap went from 63 min­utes in 2012 to 101 min­utes in 2019.
Bal­lad hos­pi­tals in south­west­ern Vir­ginia also use ambu­lance diver­sion on a reg­u­lar basis, accord­ing to region­al Emer­gency Med­ical Ser­vices. Hos­pi­tals go on diver­sion when they don't have enough beds or staff to treat new patients in a time­ly man­ner, mean­ing ambu­lances must take patients else­where except in dire emer­gen­cies. Hos­pi­tal diver­sion has hap­pened so fre­quent­ly in recent months— includ­ing an inci­dent in which three Bal­lad hos­pi­tals in close prox­im­i­ty went on diver­sion simul­ta­ne­ous­ly — that the South­west Vir­ginia Region­al EMS Coun­cil sent a let­ter in an attempt to relieve ten­sions between hos­pi­tal staff and res­cue crew vol­un­teers. Hicks says the increased hos­pi­tal diver­sion was due to staffing issues, and that diver­sion rates have since returned to normal.
"I could tell you sto­ry after sto­ry," Lit­ton says. ​"Joe Smith calls the ambu­lance because he's hav­ing chest pain, and by the time the ambu­lance gets there and picks him up, Mr. Smith dies. That's hap­pened mul­ti­ple times since the hos­pi­tal closed. Hon­est­ly, would a hos­pi­tal in the area have made a dif­fer­ence? Possibly."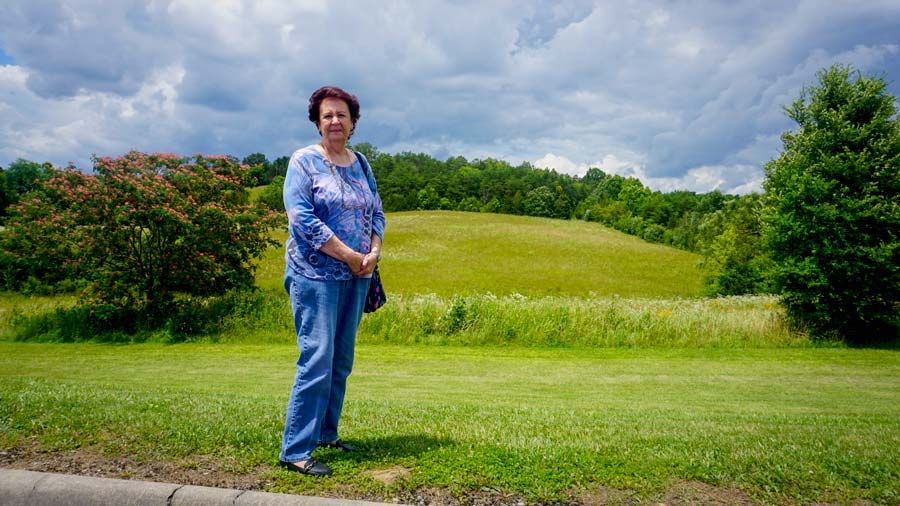 (Ger­ri Kulakowsky received a $44,111.71 bill for an air ambu­lance. Pho­to by Mason Adams.)
A SKY-HIGH PRICE
In a seri­ous med­ical emer­gency, first respon­ders often call heli­copters to fly patients to a large, well-equipped hos­pi­tal. Some­times the flights are cov­ered under insur­ance. In oth­er cas­es, a patient could eas­i­ly see a bill upward of $40,000.
Over the sum­mer, Bal­lad signed a con­tract to part­ner with Med-Trans, an air ambu­lance com­pa­ny. Eric Deaton, Ballad's chief oper­at­ing offi­cer, says Bal­lad has no con­trol over what Med-Trans charges, but encour­ages employ­ers to join the AirMed­Care Net­work mem­ber­ship pro­gram, an insur­ance-like mem­ber­ship that pro­tects against out-of-pock­et trans­porta­tion costs for select companies.
Ger­ri Kulakowsky, 73, lives in Rogersville, Tenn., a moun­tain town of about 4,300. When she woke up dizzy one night in Novem­ber 2018, emer­gency respon­ders put her on a heli­copter to John­son City Med­ical Cen­ter. Kulakowsky is deaf and says first respon­ders mis­in­ter­pret­ed her slurred speech as a stroke; the dizzi­ness was caused by an inner-ear infection.
Kulakowsky did not have spe­cial­ty insur­ance for air ambu­lances and received a $44,111.71 bill for the flight.
Con­gress held hear­ings this sum­mer about sur­prise med­ical bills. A March 2019 study by the Gov­ern­ment Account­abil­i­ty Office found that the medi­an cost for pri­vate­ly insured patients of an air ambu­lance flight was $36,400, with most flights falling out­side insur­ance net­works, leav­ing patients on their own. The oth­er major pri­vate air ambu­lance com­pa­ny serv­ing peo­ple in south­west­ern Vir­ginia is Air Evac Lifeteam, and then there's the Vir­ginia State Police. Patients in emer­gency sit­u­a­tions don't get to choose which heli­copter picks them up — it often depends on a patient's loca­tion, weath­er con­di­tions and the helicopter's esti­mat­ed time of arrival — but if the state police arrive, there's no charge. Even so, ​"the bill charges are not typ­i­cal­ly what a patient will pay," says Shelly Schnei­der, pub­lic rela­tions man­ag­er for Air Evac Lifeteam, like­ly because of insur­ance or settlements.
Kulakowsky still doesn't under­stand her bill, which shows a mys­te­ri­ous cred­it for $41,672.45, even though she under­stands her insur­ance denied her claim.
Leg­is­la­tion to address sur­prise bills and low­er health­care costs intro­duced by Sens. Lamar Alexan­der (R‑Tenn.) and Pat­ty Mur­ray (D‑Wash.) has sat in a Sen­ate com­mit­tee since June. The law would require insur­ers to pay out-of-net­work providers the medi­an in-net­work rate for sur­prise costs like air ambu­lances. In response, Glob­al Med­ical Response, the par­ent com­pa­ny of Air Evac Lifeteam, Med-Trans and AirMed­Care Net­work, spent near­ly $900,000 on ads, many tar­get­ing Ten­nessee and Ken­tucky, urg­ing peo­ple to call their sen­a­tors and ask them to ​"pro­tect access to air med­ical services."
WHAT TO DO
Fol­low­ing the Bal­lad merg­er, Ten­nessee estab­lished the COPA Local Advi­so­ry Coun­cil to col­lect com­mu­ni­ty input and to hold forums for pub­lic com­ment on Ballad's annu­al report. In Feb­ru­ary, the coun­cil held a pub­lic hear­ing in Blountville, Tenn., in which physi­cians and activists expressed con­cerns about the merg­er and its effect on region­al health­care. In Sep­tem­ber, Vir­ginia cre­at­ed a sim­i­lar task force. The Fed­er­al Trade Com­mis­sion also held a pub­lic work­shop in June to assess the impact of COPAs.
Ballad's vir­tu­al monop­oly has also emerged as an issue in a near­by Vir­ginia state house dis­trict race. Star­la Kiser, a physi­cian with a Nor­ton clin­ic, is run­ning as a Demo­c­rat for an open seat against Repub­li­can lawyer William Wampler III, who worked for a con­sult­ing firm that helped Ballad's under­writ­ers refi­nance its debt after the merg­er (although Bal­lad says Wampler him­self was not involved). Kiser wrote an op-ed crit­i­ciz­ing Bal­lad and express­ing her ​"fear that patient fatal­i­ties will increase due to the lack of local care dur­ing a med­ical emer­gency." Kiser faces an uphill bat­tle in a dis­trict where Trump won 77% of the vote.
While health­care pol­i­tics plays out at the state and fed­er­al lev­el, clin­ics and health­care providers have sprout­ed up to fill gaps and pro­vide basic care in south­west­ern Virginia.
Stone Moun­tain Health Ser­vices oper­ates a num­ber of region­al clin­ics that offer a slid­ing scale for patients. The Health Wag­on, found­ed by a nun in 1980 oper­at­ing out of a Volk­swa­gen Bee­tle, runs mobile clin­ics used by many region­al res­i­dents, some of whom are man­ag­ing long-term ail­ments like dia­betes and heart con­di­tions. And Remote Area Med­ical, based in Rock­ford, Tenn., runs free clin­ics pro­vid­ing den­tal, vision and med­ical ser­vices to thou­sands of Appalachians.
Bal­lad points to one of its rur­al Ten­nessee hos­pi­tals as a ​"great pro­to­type" for healthcare's future in the region, replac­ing an aging hos­pi­tal in Uni­coi with a new facil­i­ty with few­er but tar­get­ed ser­vices and an ER. Bal­lad COO Deaton says it is ​"busier than when we had an old­er facil­i­ty, because it meets the needs of the pop­u­la­tion." Bal­lad was also required to keep it open as part of its COPA agree­ment with Tennessee.
Ballad's new Uni­coi facil­i­ty does address a key rea­son why rur­al hos­pi­tals close: their inabil­i­ty to invest in new equip­ment and ser­vices to keep patients com­ing to their local hos­pi­tals, instead of bypass­ing them for more mod­ern facilities.
Over­haul­ing America's health insur­ance sys­tem with a sin­gle-pay­er Medicare for All sys­tem could curb rur­al hos­pi­tal clo­sures, says Adam Gaffney, a crit­i­cal care physi­cian who teach­es at Har­vard Med­ical School and serves as pres­i­dent of Physi­cians for a Nation­al Health Pro­gram (PNHP).
"There are real chal­lenges to pro­vid­ing com­pre­hen­sive health­care in sparse­ly pop­u­lat­ed areas that basi­cal­ly every nation faces (includ­ing attract­ing need­ed per­son­nel) that don't entire­ly dis­ap­pear," Gaffney cau­tions. ​"How­ev­er, one crit­i­cal rea­son for clo­sures and dis­par­i­ties in access is resolved: the fact that health­care infra­struc­ture fol­lows profits."
PNHP rec­om­mends that in a sin­gle-pay­er sys­tem, the fed­er­al gov­ern­ment pro­vide each hos­pi­tal a guar­an­teed glob­al bud­get to cov­er oper­at­ing costs. (This pro­vi­sion is includ­ed in the House Medicare for All bill, but not the Senate's.) Hos­pi­tals wouldn't have to rely on bring­ing in net rev­enue— or what non­prof­it sys­tems refer to as ​"oper­at­ing mar­gins" — to cov­er invest­ments in new tech­nol­o­gy, ser­vices and facilities.
"In our cur­rent sys­tem, if you don't have oper­at­ing mar­gins, you can't get the MRI machine or the new ward you need," Gaffney says. ​"If your com­peti­tor has these new facil­i­ties and ser­vices, you're going to start hem­or­rhag­ing patients. That's the essen­tial issue" behind hos­pi­tal closures.
He notes Medicare for All would solve anoth­er major fac­tor in clo­sures: the lack of reim­burse­ment from unin­sured patients or those with low­er-pay­ing insur­ance. Gov­ern­ment insur­ance would also pro­tect such patients from shock­ing bills.
In Sep­tem­ber, Alexa Beg­ley, 26, friend and cowork­er of Heather Edwards, was in the midst of her own high-risk preg­nan­cy, due Octo­ber 17. She had been see­ing an OBG­YN at Hol­ston Val­ley. Beg­ley learned, how­ev­er, that in the wake of the NICU clo­sure, her doc­tor would no longer deliv­er babies there as of Octo­ber 1, mean­ing Beg­ley would need to trav­el 63 miles from her home in Pen­ning­ton Gap to John­son City to give birth — an hour and a half drive.
"With it being my third preg­nan­cy, you nev­er know how fast the baby can get here," Beg­ley said. ​"It's scary. You may be deliv­er­ing in the car."
For bet­ter or worse, Beg­ley deliv­ered her baby ear­ly, on Sep­tem­ber 20, at Hol­ston Val­ley, just 11 days before her doc­tor moved.
As Bal­lad and oth­er rur­al health sys­tems try to serve rur­al patients with­out run­ning mil­lion-dol­lar deficits, Beg­ley, Edwards and oth­er res­i­dents of south­west­ern Vir­ginia are left with a sense of pow­er­less­ness and uncer­tain­ty — not just for them­selves, but for their children.
How do you get up each day with that hang­ing over you? ​"You just take it as it comes," Beg­ley shrugs.
Mason Adams
grew up in west­ern Vir­ginia and has cov­ered Blue Ridge and Appalachi­an moun­tain com­mu­ni­ties since
2001
. He writes from Floyd Coun­ty, Va.