I live in a place called For­got­to­nia. Oth­ers call it McDo­nough Coun­ty, Illi­nois. Four hours south­west of Chica­go, 3 hours due north of St. Louis. An hour from the mighty Mis­sis­sip­pi Riv­er. With 23 per­cent of the pop­u­la­tion liv­ing below the pover­ty line, we are one of the most impov­er­ished coun­ties in the state and no one seems to care out­side of the 30,000 peo­ple who live here. Some who live here don't care either.
To raise aware­ness of our plight I trav­elled to the Spring­field Capi­tol, and once to Chica­go, every Mon­day for 40 days, as part of the Illi­nois Poor People's Cam­paign for Moral Revival. We are a move­ment that chal­lenges sys­temic racism, pover­ty, the war econ­o­my, and eco­log­i­cal dev­as­ta­tion. We took our inspi­ra­tion, as the 50th anniver­sary of Dr. Mar­tin Luther King's Poor People's Cam­paign approached, from Rev. William Bar­ber of North Car­oli­na and Rev. Liz Theo­har­ris, Co-Direc­tor of the Kairos Cen­ter. They picked up the cam­paign where King left off.
We ral­ly and risk arrest to pres­sure state leg­is­la­tors and the gov­er­nor to attack pover­ty. Most of the activists in Spring­field came from Chica­go, but pover­ty and its inter­sect­ing fac­tors plague rur­al towns, as well, so I, also, made the 75-mile drive.
We began most Mon­day actions in Spring­field with a march from the Ser­vice Employ­ees Inter­na­tion­al Union office to the Abra­ham Lin­coln stat­ue in front of the state house. We sang: Somebody's hurt­ing my peo­ple and it's gone on far too long. We car­ried signs: Sys­temic pover­ty is immoral.
After we gath­ered on the steps, those among us who are poor told their sto­ries about hard times. Try­ing to pay for health care and rent while work­ing for min­i­mum wage. Par­ent­ing chil­dren, keep­ing fam­i­lies togeth­er. Heav­en for­bid, they also want to drink clean water, breath clean air, and avoid gen­dered vio­lence, gun vio­lence, and police brutality.
After lis­ten­ing to these sto­ries again and again, we marched to an inter­sec­tion or entrance to gov­ern­ment offices. Rev. Theo­har­ris and Rev. Bar­ber have encour­aged cam­paign­ers to train in non­vi­o­lent civ­il dis­obe­di­ence. Bar­ber writes, ​"When we get arrest­ed, we do it to arrest the con­scious­ness of the state and to guar­an­tee that what we are doing will not be done in the dark" (quot­ed in Jaffe, p. 164.). In order to demon­strate our will­ing­ness to sac­ri­fice for a bet­ter future for all, some 2,000 poor peo­ple, cler­gy, and allies from rur­al and urban areas in 40 states pre­sent­ed our­selves for arrest. On the mall in Wash­ing­ton, D.C., Rev. Liz Theo­har­ris asked how many of us had risked arrest, and I, like most of the thick crowd around me, raised my hand.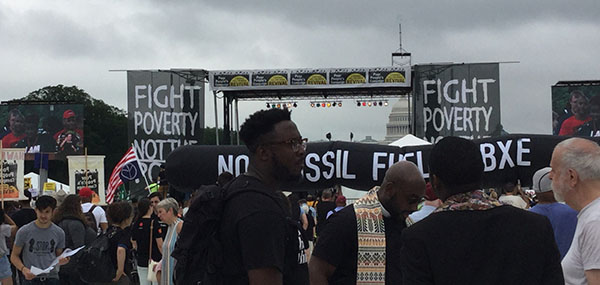 3

hour ral­ly on the Mall in Wash­ing­ton, D.C., after

40

days of moral revival. (Image: Hol­ly Ann Sto­vall / Laid Off Blog.)
In Illi­nois, moral wit­ness­es sup­port­ed those who blocked inter­sec­tions and entrances with chants: Ain't no pow­er like the pow­er of the peo­ple ​'cause the pow­er of the peo­ple don't stop, or, my favorite: Rauner vetoed $15, Veto Rauner ​'18, but civ­il dis­obe­di­ence did not always result in arrest.
In fact, most Mon­days, Illi­nois author­i­ties refused to arrest us. For exam­ple, the first Mon­day in Spring­field, Il, when activists blocked the inter­sec­tion, capi­tol police trained to han­dle civ­il protest blocked the streets lead­ing to the inter­sec­tion, allowed the action to pro­ceed for an hour, then tick­et­ed pro­test­ers. Anoth­er Mon­day in Illi­nois, dozens of Fight For $15 pro­test­ers risked arrest by block­ing the entrance to the sen­ate gallery for over an hour, but left peace­ful­ly when indi­vid­u­al­ly warned by police. But in states such as Min­neso­ta, Indi­ana, South Car­oli­na, and Ken­tucky, author­i­ties arrest­ed activists from the first Mon­day of the campaign.
Police sur­round­ed the direct action, but only arrest­ed activists on week four, when we blocked the entrance to the Depart­ment of Health­care and Fam­i­ly Ser­vices, a state insti­tu­tion that — along with pub­lic uni­ver­si­ties — received no funds due to Gov­er­nor Bruce Rauner's ​"gun to the head" style of ​"nego­ti­at­ing" with the state legislature.
The pre­am­ble to the Illi­nois Con­sti­tu­tion specif­i­cal­ly artic­u­lates the state's vital role in pro­vid­ing for health, elim­i­nat­ing pover­ty and inequal­i­ty, and assur­ing legal, social, and eco­nom­ic jus­tice. Both down-state and in Chica­go, how­ev­er, Illi­nois is fail­ing to real­ize its stat­ed val­ues. Rauner's rad­i­cal­ly con­ser­v­a­tive agen­da is respon­si­ble for much of this failure.
In 2015, when Rauner became gov­er­nor, he prompt­ly forced West­ern Illi­nois Uni­ver­si­ty (WIU) (and oth­er state uni­ver­si­ties) out of the state bud­get, and cut tax­es. The pover­ty rate, of McDo­nough Coun­ty, already high, climbed to almost 24 per­cent. WIU cut jobs and now, at ‑1.8 per­cent from July 2016 to July 2017, McDo­nough Coun­ty has one of the high­est depop­u­la­tion rates in the state. Since 2004, WIU enroll­ment has dropped 40 per­cent from 13,558 to a pro­ject­ed 8,000 for Fall, 2018. When enroll­ment drops, both stu­dents and WIU employ­ees leave the region.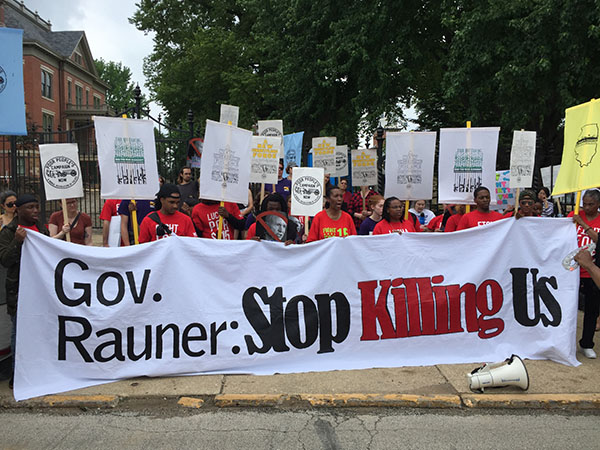 A con­clud­ing pho­to of Fight for

15

hold­ing the ban­ner out­side of Gov­er­nor Rauner's man­sion dur­ing week five of the Poor Peo­ple's Cam­paign. Rauner vetoed the bill to raise min­i­mum wage to $

15

. (Image: Hol­ly Ann Sto­vall / Laid Off Blog.)
This month, WIU fired
24
more fac­ul­ty (sev­en of them tenured!) two aca­d­e­m­ic affairs per­son­nel, and, in addi­tion, elim­i­nat­ed
62
teach­ing posi­tions. This is not only a brain drain of the area, it's an attack on tenure, the tax base, and on our qual­i­ty of life, not to men­tion a goad into even high­er pover­ty levels.
As pro­fes­sion­als are laid off and forced out of the region and the state, we strug­gle to recruit enough vol­un­teers to stock the local food pantry. More than 40 per­cent of stu­dents in the school dis­trict qual­i­fy for free or reduced lunch. Local busi­ness­es fal­ter or fail. Home­less­ness is worse than I have seen since I first moved to Macomb 30 years ago. Health and social prob­lems plague the area: news­pa­pers report unprece­dent­ed vio­lence, and drug sales appear to have replaced law­ful work.
For more than a decade I worked as a pro­fes­sor of Women's Stud­ies at WIU, in Macomb, the McDo­nough Coun­ty seat. Two years ago, WIU elim­i­nat­ed the depart­ments of Women's Stud­ies and African Amer­i­can Stud­ies (along with Phi­los­o­phy and Reli­gious Stud­ies), con­ferred me with tenure, and fired me, all in one month.
Just as our cur­rent Poor People's Cam­paign is an inter­sec­tion­al move­ment — because pover­ty affects peo­ple in var­i­ous sec­tors of soci­ety — Women's Stud­ies is an inter­sec­tion­al area of study. More than 90 per­cent of the stu­dents in my class­es were women. Most of them could not afford books. Many were so finan­cial­ly pressed that they often missed class to work. Most were women of col­or. Many of them came from Span­ish-speak­ing homes. Many were LGBTQA. These are the voic­es the PPC seeks to amplify.
When WIU fired me, I no longer could teach my stu­dents, no longer could guide them in the study of social inequal­i­ties: sex­ism, racism, and a host of oth­er inter­sect­ing fac­tors that block their — and our — pur­suit of hap­pi­ness. I was the only fac­ul­ty mem­ber at WIU who taught class­es on His­pan­ic Women and Women and Cre­ativ­i­ty. WIU stu­dents no longer have access to these classes.
While the Women's Stud­ies depart­ment was killed, WIU expand­ed its Law Enforce­ment pro­gram, includ­ing a minor in Home­land Secu­ri­ty, named for the depart­ment that hous­es ICE.
In his 2016 mem­oir, Rev. Bar­ber writes, ​"King's turn against the war in Viet­nam and towards the Poor People's Cam­paign in the last year of his life was an acknowl­edge­ment of America's deep need to rec­og­nize how mil­i­tary spend­ing abroad was con­nect­ed to pover­ty at home." Today, the Unit­ed States. has extend­ed mil­i­tary spend­ing to weapons and sur­veil­lance at home, even in Macomb, Ill.
This pat­tern of cut­ting pub­lic funds in the lib­er­al arts while spend­ing more in mil­i­tary, police, and sur­veil­lance, is a prime exam­ple of the cri­tique Dr. Mar­tin Luther King espoused in the late 1960s: We invest in war and vio­lence at the expense of the com­mon person's abil­i­ty to pur­sue hap­pi­ness and ben­e­fit from domes­tic tran­quil­i­ty. Dur­ing Mon­day actions for the PPC, we car­ried signs that read, ​"The War Econ­o­my is Immoral."
In Macomb, while there's mon­ey for weapons, we strug­gle to ful­ly fund our K‑12 schools. We have not been able to pay for sex­u­al assault pre­ven­tion train­ing for our teach­ers, prin­ci­pals, staff, and stu­dents. The Macomb school dis­trict faces a $10-mil­lion-dol­lar sex­u­al assault law­suit. If the dis­trict los­es, it is not clear how they would pay out. We could lose our school and be forced to bus chil­dren to anoth­er rur­al school that suf­fers even more than we do. With ade­quate invest­ment in sex­u­al assault pre­ven­tion, of course, this law­suit might have been prevented.
In my last few years at WIU, I fre­quent­ly dodged leak-catch­ing trash­cans in class­rooms, hall­ways, and bath­rooms. Even STEM fields are under­fund­ed: the UPI has report­ed that our sci­ence labs des­per­ate­ly require safe­ty updates.
When the state invests in rur­al West­ern Illi­nois, our com­mu­ni­ty thrives, hous­ing is afford­able, pub­lic-school stu­dents can excel, and we give back to the state. In some ways, the qual­i­ty of life here is very good: Traf­fic is light, so our com­mutes are short, and thus we have time to cook din­ner most nights and share a meal with oth­ers. Because the town is safe and small, our chil­dren can often walk to school; so can WIU employ­ees. We have a farmer's mar­ket, a food co-op, and two Com­mu­ni­ty Sup­port­ed Agri­cul­ture programs.
None of this is pos­si­ble with­out WIU, our region's eco­nom­ic engine. WIU and its employ­ees pro­vide an afford­able uni­ver­si­ty edu­ca­tion to stu­dents from all across Illi­nois (half our stu­dents come from the Chicagoland area), the Unit­ed States, and the world. In addi­tion, WIU offers plays, musi­cals, recitals, and sports events that the com­mu­ni­ty can enjoy.
While the pover­ty rate in rur­al Illi­nois is climb­ing, pover­ty is not inevitable. With ade­quate state fund­ing for WIU, along with the abil­i­ty to ful­ly fund our pub­lic schools and health­care for every­one, we can low­er the pover­ty rate.
We will not be for­got­ten! That is why I trav­eled to Spring­field, where I joined with oth­er peo­ple from across Illi­nois who refuse to accept the sta­tus quo. The rich­est coun­try in the his­to­ry of the world does not have to have any poor people.
We are a fusion coali­tion move­ment: Rur­al and urban, black and white, women and men, queer and straight — pover­ty exists among all these Amer­i­can groups and many oth­ers. Like the Rev­erends King, Bar­ber, and Theo­har­ris remind us, pover­ty is a moral mat­ter. We shall not give up our fight to ensure that poor peo­ple in our rur­al, down­state com­mu­ni­ties — even in For­got­to­nia — are not forgotten!