Rural Stories Making Headlines (August 7, 2016)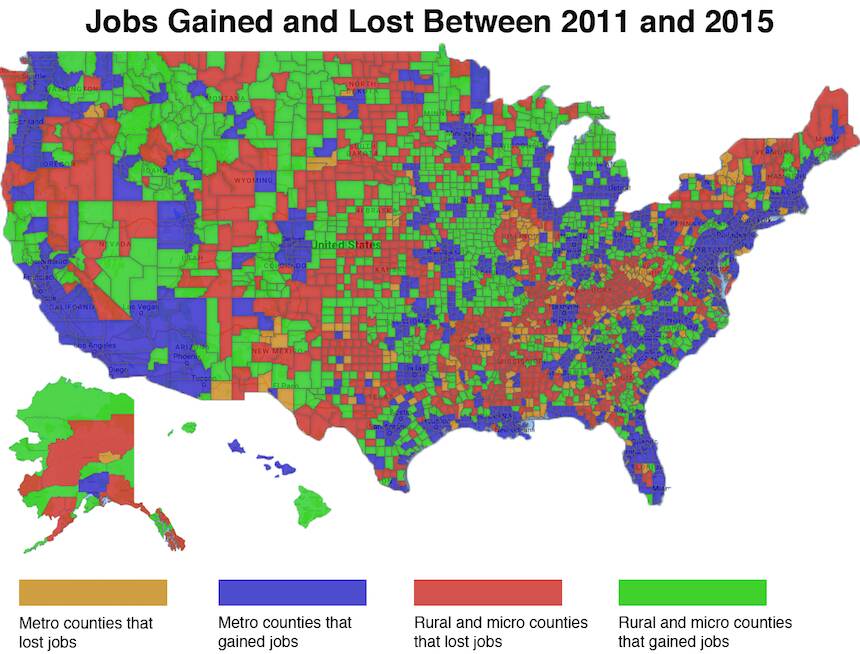 Reader donations, many as small as just $1, have kept In These Times publishing for 45 years. Once you've finished reading, please consider making a tax-deductible donation to support this work.
Before examining the rural issues that made headlines last week (including unexpectedly similar statements from Donald Trump and Hillary Clinton in which both express support for allowing communities to have a say in whether or not they ban fracking) it's worth noting one story that transcends region and politics: Medical Benefits of Flossing Unproven. It turns out that though the federal government has recommended flossing since 1979, rigorous studies requiring proof of its efficacy have yielded little in the way of conclusive benefits. If true our dentists have some explaining to do. Below are stories about the widening gap in broadband connectivity — its effects and possible solutions — and articles regarding the education, employment and health challenges that rural communities face.
Election
2016
In their analysis of the Republican and Democratic conventions, the Farm Forum reports both parties laid out strategies for appealing to rural voters. Democratic consultant Doug Hattaway offered this narrative:
We're the party that works for everybody and makes the economy and government work for every American, not just the powerful and privileged special interests like Donald Trump," he added, before handing out a brochure called, ​"What does it mean to be a Democrat?" While the blue brochure doesn't include the world ​"rural" it focuses on strengths from ​"honest, hard-working people from all walks of life.
Sam Clovis, a senior policy adviser to Trump and national campaign co-chairman, provided a different perspective. Farm Forum reports:
The Trump campaign believes that producers will recognize that they have no alternative to Trump on regulatory issues and that may offset concerns they may have about him on trade, immigration or other matters. ​"When you look at Donald Trump and Hillary Clinton on balance, the choice becomes very clear very quickly," Clovis said. ​"Who's a person that understands business? There's not a farmer in the United States that isn't a premier business person because every farm is a business.
Read ​"Campaigns Courting Rural Voters" here.
Meanwhile, despite the stark differences emphasized at their respective conventions, Clinton and Trump now apparently both agree that states and towns should be allowed to ban fracking. The Washington Examiner quoted Trump:
"I'm in favor of fracking, but I think voters should have a big say in it. I mean, there's some areas that maybe they don't want to have fracking and I think if the voters are voting for it [fracking ban], that's up to them."
(Photo: grist​.org)
Rural America In These Times will be following the candidates' positions on this issue closely in the coming weeks.
Broadband
The divide between rural and urban broadband access continues to provoke controversy. According to Indiana Public Media, a Purdue University study indicates that the connectivity gap in Indiana is widening:
The forthcoming study, which was provided in advance to Indiana Public Broadcasting, says rural areas are adding new Internet providers more slowly than urban places. Between 2012 and 2013, the report says rural counties added an average of 0.64 residential broadband providers, compared to almost twice as many, an average of 1.18, in urban counties.
Read ​"Study: Connectivity Gap Widening Between Rural, Urban Areas" here.
Many advocates of rural broadband expansion argue that the technology brings social benefits, including better health care. A new FCC tool—Mapping Broadband Health in America—allows users to visualize broadband availability and health measures across states.
Meanwhile, in a blog post for The Hill, Christopher Mitchell, Director of the Community Broadband Networks Initiative at the Institute for Local Self-Reliance and the Policy Director at Next Century Cities, proposes a solution to the broadband problem, arguing in favor of greater competition:
Following the most exhaustive data collection in the FCC's history, the Commission is poised to introduce a technology neutral framework that will promote broadband competition and investment to the benefit of all Americans…Ending the digital divide and connecting rural America won't be resolved by this proceeding alone. But it is an important step in allowing competition to flourish and provides a roadmap that can benefit every community that needs a reliable high-speed connection to power the applications of tomorrow. The immediate benefits that broadband offers is clear — precision agriculture, telemedicine and distance learning — but it's more important to consider the yet to be invented applications that can further transform our communities. With clear benefits and an enormous amount of support, I encourage the FCC to finish what it started and bring competition to the business data services marketplace.
Read ​"Building A Competitive Broadband Marketplace for Rural America" here.
Education
Just as rural areas face funding shortages for broadband, health care and infrastructure, they are also dealing with fewer resources for their education systems. But a new report from the National Association of State Boards of Education, mentioned here in the U.S. News & World Report, suggests that improvements have occurred in recent years, and will likely continue with the expansion of broadband and increased flexibility from public officials:
The report paints a familiar picture of the state of rural education — one in which poverty can combine with isolation to create a vicious cycle of underresourced, understaffed and poor-performing schools.

But unlike past analyses, which often harp on the glacial pace at which rural schools' challenges are addressed, the school board report underscores the areas in which some pockets of rural communities are making progress — including through their proclivity for smaller classes and more personalized learning, and by increasing access to technology and more advanced courses.
Rural (un)employment
Following the Great Recession, between 2011 and 2015 the economy added 8.2 million jobs. But, as the Daily Yonder reports, only 3.5 percent of these jobs were in rural areas. While Los Angeles County added 438,000 jobs in four years, rural counties fared far worse:
"Only half of micropolitan and rural counties had job gains. The losses from 2011 to 2015 were particularly severe in eastern coal mining counties. Seven of the eight counties with the largest job loses were in the eastern coalfields — Pike, Harlan, Letcher and Floyd in Kentucky; Mingo in West Virginia; and Lee in Virginia. Mingo County lost a fourth of all its jobs, as did Harlan and Letcher."
Read ​"Rural Employment Stagnate During President Obama's Second Term" here.
Healthcare
As reported by Rural America In These Times, rural health services have struggled to adapt to the Affordable Care Act. The health law has created more demand from newly insured patients than rural healthcare providers can meet. Last week, Kaiser Health News interviewed Shasta Community Health Center CEO C. Dean Germano, who offered suggestions for addressing provider shortages in rural areas:
First of all, the reimbursement rate has to be better.

Secondly, we have not been good at developing training programs, particularly in the primary care specialties but across the board.

I wish there [were] money for post-graduate residency programs for [nurse practitioners and physician assistants] because if we don't have enough family doctors, general internists and pediatricians, then we're going to lean on our PAs and NPs.
Read ​"Obamacare Expansion A Bumpy Ride For Rural Health Clinics" here.
Lastly, here's what never letting a good crisis go to waste looks like:
(Photo: Twitter)
[If you like what you've read, help us spread the word. ​

"

Like" Rural America In These Times on Facebook. Click on the ​

"

Like Page" button below the bear on the upper right of your screen. Also, follow RAITT on Twitter @RuralAmericaITT]
Your donation makes In These Times possible
This blog's mission is to provide the public service of helping make the issues that rural America is grappling with part of national discourse.